Royal County Down and Royal Portrush Golf Courses - An Irish Golf Adventure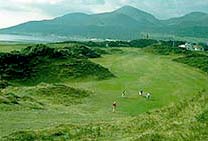 In Northern Ireland, there are two courses that should be on any visitor's must-play list: Royal County Down and Royal Portrush.
Royal County Down
Royal County Down is regarded by many as THE most beautiful golf course in the world. Tom Watson calls the front nine the best nine holes he has ever played. The course hugs the sea and is in the small, Irish Sea-side village of Newcastle, located about 30 miles south of Belfast.
Newcastle, with its tall church steeple and the mammoth Mourne Mountains hanging over it like a sleeping bear, is picture postcard beautiful. Many of County Down's holes offer this view to golfers who can easily get distracted by the scenery when not otherwise engaged in looking for wayward shots. Imagine yourself in a small boat in a storm-tossed sea with its deep crests and swales. County Down is the terrestrial equivalent.
Royal County Down had its origins in 1889 when, according to the minutes of the club founders' meeting, "The Secretaries were empowered to employ Old Tom Morris to lay out the course at a cost not to exceed 4 Pds." In the 1920s, Irish Army Captain George Combe, with advice from the great Harry Vardon added his own stamp, and it is Combe who is generally credited with bringing the course to its current magnificence.
Morris and Combe, without benefit of today's machinery, fashioned holes out of a rugged, sandy geography, never interfering with nature's sculpting powers. County Down is a feast of great golf holes, starting with the par 5 1st, requiring a drive to a treacherously narrow fairway, to the dog-leg par 5 18th, a massive 560-yarder, often played into a prevailing wind. In between is a layout of breathtaking beauty which, like the route of the Holy Grail, is paved with treachery in the form of heather, gorse, whin bushes and a rough so thick with tall sea grass you will often be praying to find your ball. All this makes for a fascinating and nervy golfing experience.
Holes of particular note include the 473-yard par 4 3rd with its split-level fairway, the fairly short par-4 5th requiring an approach to a green partially hidden by two tall sentinel-like mounds; the tiny, deceivingly difficult 130-yard 7th; the 486-yard par-5 9th (from this tee the view of the village and mountains beyond is fabulous!), with its steeply rising and falling fairway that, if it were the sea would be a surfer's delight; and the treacherously long, sharp dogleg par-4 12th which Nick Faldo described as the best par-4 hole he has ever played.
Perhaps the best hole of all is the 217-yard par 4 4th. From a dramatically elevated tee (bring your pitons to get up to it), you must carry a sea of gorse to a well-bunkered green backed by trees and tall grass. Behind you on the tee box some 200 yards to the east is a sand dune that seems to rise to the sky. Don't forget to take your camera.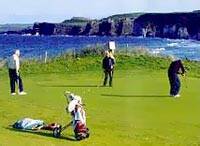 Royal Portrush
You will also want your camera when you play the Dunluce Course at Royal Portrush, a private club in the village of Portrush 50 miles north of Belfast on the North Sea (the club's Valley Course is also excellent). While its tall dunes give County Down a more tunnel-y feel, Portrush, with its sweeping terrain, has a more open, expansive feel. It's the type of terrain where at any moment, Mary Poppins could come skipping over the hill with her children in tow gathering wildflowers. From all points, you can see for tens of miles up and down a magnificent coastline with a broad beach that is the destination of many Irish vacationers. Inland are the green hills and valleys that seem to go on forever in all directions. The course was named after Dunluce Castle, visible from many points on the layout.
Portrush begins with a fairly short, easily negotiable uphill par-4. But that's where her hospitality ends. From then on, golfers face a mix of short and long holes that cavort over hill and down dale that require patience, accuracy and at times length. On this course with its farmland like terrain, each hole has its unique characteristics and flavor and no two holes are alike. The signature hole is the 215-yard par 3 13th with a green perched directly on a 100-foot precipice. The 14th is equally dramatic, requiring a drive to a tight fairway that drops vertiginously to a small, undulating green. If it were snow-covered, this fairway would be very popular with skiers and sledders.
As with all Irish links, the gorse and heather bounding the fairways are wiry and thick. Often, the best escape, if you can get your club on the ball at all, is to chip back out on the fairway.
In all, I found Portrush to be one of the most enjoyable and interesting courses I have ever played. Royal Portrush is private, but, like Ireland's other private clubs, access is usually not a problem with enough advance notice and verification of your handicap.