Fota Island Golf Course - An Irish Golf Adventure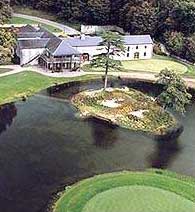 From my base at Perryville House in Kinsale in Ireland's Southwest, I played Old Head GolfLinks at Kinsale and Fota Island Golf Club.
While Old Head is becoming as well known as any course in Ireland, Fota Island is still a relatively unknown golf Club. It is situated (surprise) on Fota Island which is connected by bridge to Great Island, the largest town of which is Cobh. Incidentally, Cobh was the Titanic's last port of call before it sailed for the U.S.
Great and Fota islands lie in Cork Harbour, and Fota Island is about an hour's drive from Kinsale. For those playing Fota Island Golf Club, the amenities in this area are many. Cork is the Ireland's third largest city and has many attractions including beautiful gardens, harbor tours, fishing and jazz, folk, and film festivals held every fall. Also, a short distance from Cork is Blarney Castle where the famous Blarney Stone resides. The Blarney Stone is believed to confer on those who kiss it upside down great powers of eloquence. On Fota Island is Fota Wildlife Park.
Fota Island is the host of the Irish Open of 2001 and 2002. The club, which is a sister club of Mt. Juliet, was conceived and built with major championship golf in mind. The par-71 woodlands layout, which stretches from 5,520 to 6,927 yards, was originally designed by Christy O'Connor Jr. and Irish amateur champion Peter McAvoy.
The original architectural brief called for a resort course but, "The locals wanted a tournament course," according to Club Manager Kevin Mulcahy, whose father, John, developed the modern Waterville GolfLinks. As a result, eight holes were completely redesigned and, strangely, all 18 greens were leveled to remove the original undulations that were deemed to be too severe. The redesign was done by Jeff Howes, who worked with Nicklaus on Mt. Juliet.
During my visit, the evidence of the club's commitment to course quality was obvious though it meant that I had to play a course that was still being coaxed into top condition. Due to very poor subsurface drainage, the club had been engaged in a sanding program, laying down huge amounts of sand in stages so that it would seep and take into the fairway and offer a better substrate. Consequently, the fairways were wet and sandy, but the condition of the large Pencross greens was excellent, among the best I played in Ireland. The club also was landscaping the course, planting gorse, wildflowers and various tree species throughout.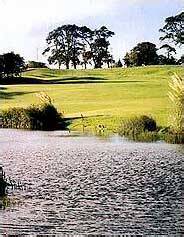 Water comes into play on eight holes of Fota Island. The course is an open one except for the finishing hole and holes 10-13 that are in what is called the deerpark, which is heavily wooded. That string of holes which weaves around a medium-sized lake, is the best part of the course. The 10th is a 500 yard dogleg left to a peninsular green with the bend of the dogleg located some 450 yards out. The landing area is extremely tight with woods on both sides. The tee shot should be placed on the far right side of the fairway or getting home in two is remote, as trees jut out sharply from the left close to the green.
Holes 11 and 13 are 168 and 208 yards, respectively. The tee box on 11 is directly on the lake as is No. 13 green. The strength of the course is its par 3's. The 203-yard 17th is a striking hole as well. No. 3 is also an outstanding hole and one of the course's most colorful. It is 165 yards long to yet another greenside lake. No. 7 is an uphill 180-yarder to a green that is runs diagonally right front to back. It may well be the course's hardest one-shotter.
If the par 3's give players fits, the course gives a little back with its par 5's, which from the whites measure between 479 and 529 yards. The 479 yarder is the excellent finishing hole which begins at the bottom of a crest. The tee shot must thread a narrow wooded chute and the second plays to another peninsular green. The Open players may play this one as a par 4 although from the back tees the hole at 507 yards is still an excellent risk-reward challenge.
Fota Island Golf Club is owned by Dr. Tim Mahony, who owns Killeen Enterprises, parent company of Toyota Ireland, the largest Toyota distributorship in the country. Mahony also owns Mt. Juliet.
My verdict on Fota Island is that it is a fun course for players of all levels. With the A games, accomplished players on a calm day could score very well here, while the higher handicappers should enjoy the course that is not too long, open enough to accommodate sprayed shots and fairly scenic. Once the renovations are completed, guests can expect to see a course in excellent condition. However, don't expect to see a course that is uniquely Irish. It has the look and feel of a U.S. parkland course. As with all other Irish golf clubs, you will be treated very well there.