Mount Juliet Golf Course - An Irish Golf Adventure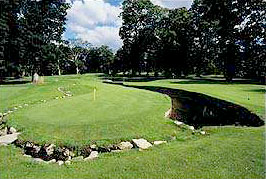 The service is distinctly Irish, warm and friendly, but at three special golf courses in Ireland's Southwest you may feel like you are in the States. Not surprisingly, two of the layouts were designed by Americans, Jack Nicklaus and Robert Trent Jones. The third looks like it was designed by an American but it was Ireland's own Eddie Hackett, who in this case did a good American imitation.
Should you put these three courses on your "must play" list? If you only want to play links courses, no. But if you like interesting golf courses with parkland scenery in a beautiful setting, then by all means Mt. Juliet (Nicklaus), Killarney (Hackett) and Adare Manor (Jones) are worth visiting.
Mt. Juliet is a very high end 1,500-acre country estate outside the village of Thomastown in County Kilkenny some 35 miles north of Waterford and 75 miles southwest of Dublin. It offers several styles of accommodations both in the main house and in extended-stay lodges and villas. The resort also has conference facilities for small meetings. Besides golf, the amenities include fishing, trap shooting, archery, horseback riding, and health and fitness facilities that include an indoor pool. One of the most popular activities among the guests is a par-53 putting course. No other resort I've visited has anything quite like this. Mt. Juliet is set on peaceful, secluded rolling countryside and is first-class in every respect. I loved it.
Built by the Earl of Carrick for his bride, Juliet, the 18th Century house with its 32 individually furnished guest rooms and a superlative kitchen sits atop a bank overlooking the Nore River in a scene out of an Irish romance novel. The Nore and the Kings River, which also runs through the property, offer fine salmon and trout fishing.
Directly across the river are acres of rolling pastureland populated by small herds of cows and horses which graze leisurely under very old maple trees and along brooks. The estate encom- passes Ballylinch Stud Farm, which has produced a number of famous Irish thoroughbreds.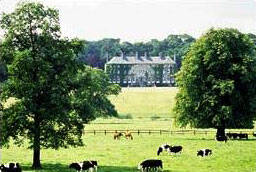 The par 72 Nicklaus signature course opened in 1991 and hosted the Irish Open for three years beginning in 1993. It measures from 5,554 to 7,112 yards. From the white tees it is 6,683 and from the greens 6,286.
In general, I am not a fan of Nicklaus' designs, but this one is terrific - an outstanding resort course that can be set up for championship play. Picture your favorite park where you have picnicked with your family or walked your dog and you have some idea of the setting of the course. It is gently rolling with several lakes on wonderfully maintained fescue and rye fairways. The landscaping is first-rate and there are at least two dozen different tree and plant species on it including lime trees, oaks, horse chestnuts, larch and maples flanking wide open fairways and bordering medium-sized bent grass greens with modest sloping. The bunkering is consistent with the character of the course and what you might expect on an American parkland layout. They are aesthetically pleasing and not overly difficult.
Not every hole is a gem but many are. The 2nd is a beauty of 419 yards, requiring a drive over a creek to a landing area made tight by a severe right-hand dogleg. Thick woods line the fairway from the landing area to the slightly elevated green which is protected right by a hammock of trees. No. 3 is 182 yards with a lake from the tee box to the green with a bail-out on the right. A single bunker snares long approaches. The rest of the 9 includes a 529-yard par 5, a 575-yard par 5 and 229-yard one-shotter that could be improved if either the tee box or green were elevated. It is a bit flat and not well framed.
The back 9 begins with a marvelous par 5 of 553 yards. Two tall trees lie directly in front of the green about 60 yards out, presenting some interesting options on a hole with a split fairway. No. 11 is a short but terrific par 3 of 169 yards that plays over a pond to an elevated green that may be the most sloped on the course. Trees line both sides of this visually exciting hole. Mounds, which are the most striking feature of the 411-yard dogleg left 12th, partially obscure the landing area on a hole where pretty woods backdrop the green. No. 13 is as visually exciting as it is challenging. At 411 yards from the whites (433 from the tips), it is a slight dogleg right that climbs to a crest at the landing area and then drops down to a green set directly behind a small lake and guarded on three sides by trees. It is a fabulous hole.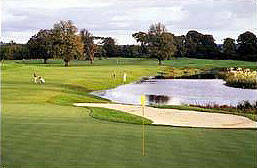 The two excellent finishing holes are separated by yet another lake. The 516-yard 17th with the water on the left features 100-foot high, very old lime trees, stunningly tall specimens that stand like Buckingham Palace guards in the fairway. A tee shot that successfully threads through the small opening between the trees leaves a wood or long iron to an elevated green protected on the left out to about 50 yards by a circle of moderately shallow bunkers. The 18th of 447 yards (474 from the tips) tests your driver, as the tee shot must be long and split a fairway guarded left by the lake and right by a large tree. The lake extends from the green back some 225 yards. Mounds line the fairway on the right side.
Mt. Juliet's service from the genuinely friendly staff is as good as the course. The large pro shop is stocked with name brand items. The pro shop is immediately adjacent the small clubhouse bar and restaurant and both face a small square-shaped staging area that is as quaint as it is practical. The fine practice area is only a minute's walk from the pro shop in a clubhouse/pro shop arrangement that is as convenient as any I've seen anywhere. A magnificent line of copper beaches separate the practice area from the 426-yard 9th hole.
Magnificent is how I would describe the total ambience here. Call me Romeo; I'm a sucker for Juliet, Mt. Juliet, that is. It isn't links golf but it's fun golf on one of Nicklaus' best resort courses. For that and for the convenience, variety of activities and service, it should be a favorite of many American golfers in Ireland.