Dooks and Dingle Golf Courses - An Irish Golf Adventure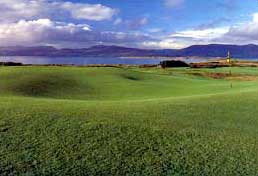 There are three courses you might consider on your next golfing visit to southwest Ireland, particularly if you have the time and are looking for an alternative to the much busier "name" venues. Each of the three are located a short drive from a middle-sized town and offer excellent views of water and mountains.
Dooks
Dooks opened in 1889 as a nine hole course built by erstwhile Dublin-based British artillery officers looking for a recreational alternative to target practice. By 1895, the Great Southern Railway Hotel at Caragh Lake advertised it as a major attraction for visitors. Three years later it expanded to a full 18 holes.
The railway established a stop, called Dooks Halt, just to let visitors off to play the course. The word Dooks is derived from the Gaelic word, Douaghs, or dunes.
The course is located on the northern arm of the Ring of Kerry near Glenbeigh six miles south of the very quaint riverside town of Killorglin, which is famous for Puck Fair, an annual August 3-day street fair that attracts people worldwide. The area features salmon fishing, fine ocean bathing, and wonderful golf.
The course lies on a promontory on the south side of Dingle Bay and commands a lovely view of the bay, the Atlantic, and MacGillycuddy's Reeks to the south and the Dingle Mountains to the north. The course is laid out on sloping terrain that is actually devoid of tall dunes. The subsoil here is a mixture of glacial morrain and beach sand.
The largely treeless site is abundant with furze (commonly known as gorse), heather and other wild flora including chamomile, mayweed, cowslips, stitchwort, mouse ear and bluebells. It also provides habitat for choughs (a seabird), ravens, the merlin (a hawk species) and the natterjack toad.
Believed to be the oldest course in Kerry, Dooks was the pride and joy of the locals many of whom had a hand in the course's simple design. The club is distinguished for its polity. Men and women had equal rank here, and many women over the years have served in prominent club positions.
At 6,000 yards, the course is ideal for all calibers of players, but especially for casual golfers. Modest elevation changes ensure a good but not overly vigorous walk. The signature hole is the 13th, a 150-yard uphiller called "the Soup Bowl," appropriately named because of the green which is a geographical marvel. Devilishly steep and sloped every which way, it will test your patience and putting prowess. To get to some pin locations, you may have to putt in the opposite direction.
Along the 200-yard path to the first tee there is a sign reading, "Only Bona Fide Golfers Beyond This Point." After you get through 13, you may wonder if they'll ever let you back. Don't worry, the people at the club are delightfully warm and you will always be welcome.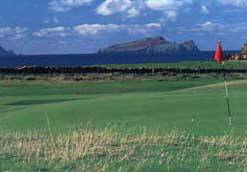 Dingle
Golf Club Ceann Sibeal (Dingle) is the most westerly course in Europe. It is a short drive from Ballyferriter on the western Dingle Peninsula, whose geography is some- what similar to Connemara's, rugged and mountainous with extensive green valleys. Here, in what feels like a very remote and secluded province of Ireland, Gaelic is still spoken.
The 6,690-yard par 72 layout was co-designed by Eddie Hackett and Christy O'Connor Jr. Like Dooks, the terrain is morrainic and sandy, and not so vertiginous you need to jack up your heart rate to play the course, though it is definitely not flat. The architects moved virtually no earth, laying down a route over the land as they found it, using the tall grasses, mounds and environmental areas to good advantage in a simple, straight-forward plan. The most westerly hole is the 200-yard 10th, a beast of an pronounced uphill par 3 to a green with a sharp front and a large dune directly behind. Way out here just off the Atlantic, you can count on strong winds.
When finished with your round, you will find many attractions in this region including Mulcahy's Pottery, high cliffs near Clogher Strand, a Napoleonic fort on nearby Sybil Head, and Ferriter's Castle, belonging to Piaras Ferriter, a 17th Century local chieftain who stood to the last against Cromwell, until he was hanged in 1652.
Speaking of hanging, at the Ring of Kerry Golf & Country Club, the third of the three, you could easily get a hanging lie if you're not careful. The magnificently groomed golf course was laid out by Eddie Hackett on a hillside where level lies are as infrequent as an Irish day without clouds.