Ballybunion Golf Course - An Irish Golf Adventure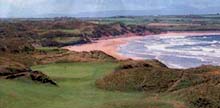 Sixty miles due south of Lahinch at the southern juncture of the Atlantic and the Shannon River in County Kerry is a town known for its seaweed baths - and golf.
Perched on a cliff high above the town and overlooking the wide beach and ocean are the ruins of a 13th Century Norman castle, believed to have played a strategic role in Norman military campaigns. The castle's wall has been incorporated into the logo of yet another of the village's distinctions, its GolfLinks.
The GolfLinks, which lies along the enormous strand just south of the town center, has long been known to home-grown golfers, but it never got located on the world map of until Tom Watson made his first visit here in 1982, pronouncing after his round, "Ballybunion is a course on which many golf architects should live and play before they build golf courses. I consider it a true test of golf."
Legendary golf writer Henry Longhurst was at his most eloquent when he wrote, "Ballybunion is natural golf. It's simple, elemental quality sweeps away the cobwebs of golfing theory and brings home to you once more the original fact that golf is a business not of pivots, hip turns, wrist formation and the rest but of grasping an implement firmly in two hands and banging the ball with it."
Today, golfing pilgrims descend on this hallowed golfing ground by the busload. Come here in high season especially, and Americans populate the place like golf balls on a driving range.
The Old Course
Is the course really that good, or does the reputation dictate the perception? Of course the answer is subjective. I wouldn't classify it as the best course I have ever played. Portrush and Royal County Down are better. Nor is Ballybunion a course that is uniformly excellent. The opening hole, with its walk past a graveyard adjacent the busy coast road, inaugurates an inauspiciously undistinguished string of holes that includes two pedestrian par-5's back to back and the medium-length dogleg left par 4 6th. From there, however, the course begins to sparkle as it winds along the sea among the dunes.
The original 7th (we played an alternate 7th as the course was being prepped for the Irish Open) and the 11th are great challenges. Both measuring well over 400 yards, these wind-blown holes are where you might want to walk a little slower to feel the turf underfoot, see and smell the salty air and seagrasses, and climb over and around dunes. Number 8 is a treacherous delight of a hole, a skimpy downhill 120-yarder to an impossibly narrow green that is VERY long front to back with a huge mound on the right front side. The 390-yard 9th is one of Watson's favorites holes. Playing into prevailing winds, it plays much longer and has a surrealistic green that was created by slicing a dune in two like a melon. Hole 12 is a 203-yarder to an uphill green on a ledge and requires a high long iron or wood. The similar length 15th is downhill to a warped soup-bowl of a green with a monstrous dune front left. This golfer hit there into the impossible grass and faced a shot with the ball practically at chest level. The 16th and 17th are great holes, the first an uphill 500 yard dogleg left with gargantuan dunes along the right side. The 370-yard 17th doglegs left down a step hill. You hit your drive straight out toward the sea on this most picturesque hole.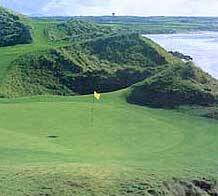 The Cashen Course
As impressive as they are on the old course, the dunes on the south side of the property are even more imposing. This is where Robert Trent Jones carved out the Cashen Course, a target-style layout that is as controversial as it is visually spectacular. In spite of the natural dizzying elevation changes in this site, Jones moved a lot of earth and even created an impossibly difficult hole on top of one of the highest dunes that members had moved.
While some locals think the Cashen Course in time will overtake the Old Course in stature, traditionalists will contend that Jones violated the first law of links architecture when he didn't lay down the course on land as he had found it. The truth is that had he done so, building a course on land completely dominated by some of the highest dunes in Ireland would have been unthinkable.
As for the clubhouse, which serves both courses, it is large and garish affair complete with administrative offices, a restaurant and pub, and appointed pro shop. Its modern design is totally out of keeping with the old course. But don't let that stop you. By all means when you golf in Ireland, don't leave out Ballybunion. It will reward you with an experience of links style golf in an historic atmosphere that you will remember for a long time.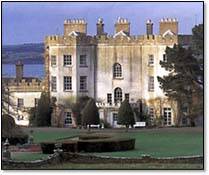 Glin Castle
Need a place to stay that is convenient to Ballybunion, as well as Tralee, Adare Manor or other famous courses in this part of Kerry County? I enthusiastically endorse Glin Castle, located in the village of Glin on the southern bank of the Shannon River, a half hour's drive from Ballybunion and slightly longer to Limerick.
Glin Castle is owned and run as a guest house by Olda and Desmond Fitzgerald, descendants of the Fitzgerald family, hereditary Knights of Glin. It has been in the family for over 700 years.
With its decorative plasterwork, Irish furniture, huge oil paintings of vintage Fitzgeralds going back centuries, and handmade draperies and fine rugs, the castle has a museum-like air. Yet, the atmosphere is unmistakably informal. A young and authentically friendly staff make you feel at home immediately and offer outstanding service. Added to this is the finest French cuisine you will find in all of Ireland.