Golf Bag Storage: The 5 Best Organizers of 2022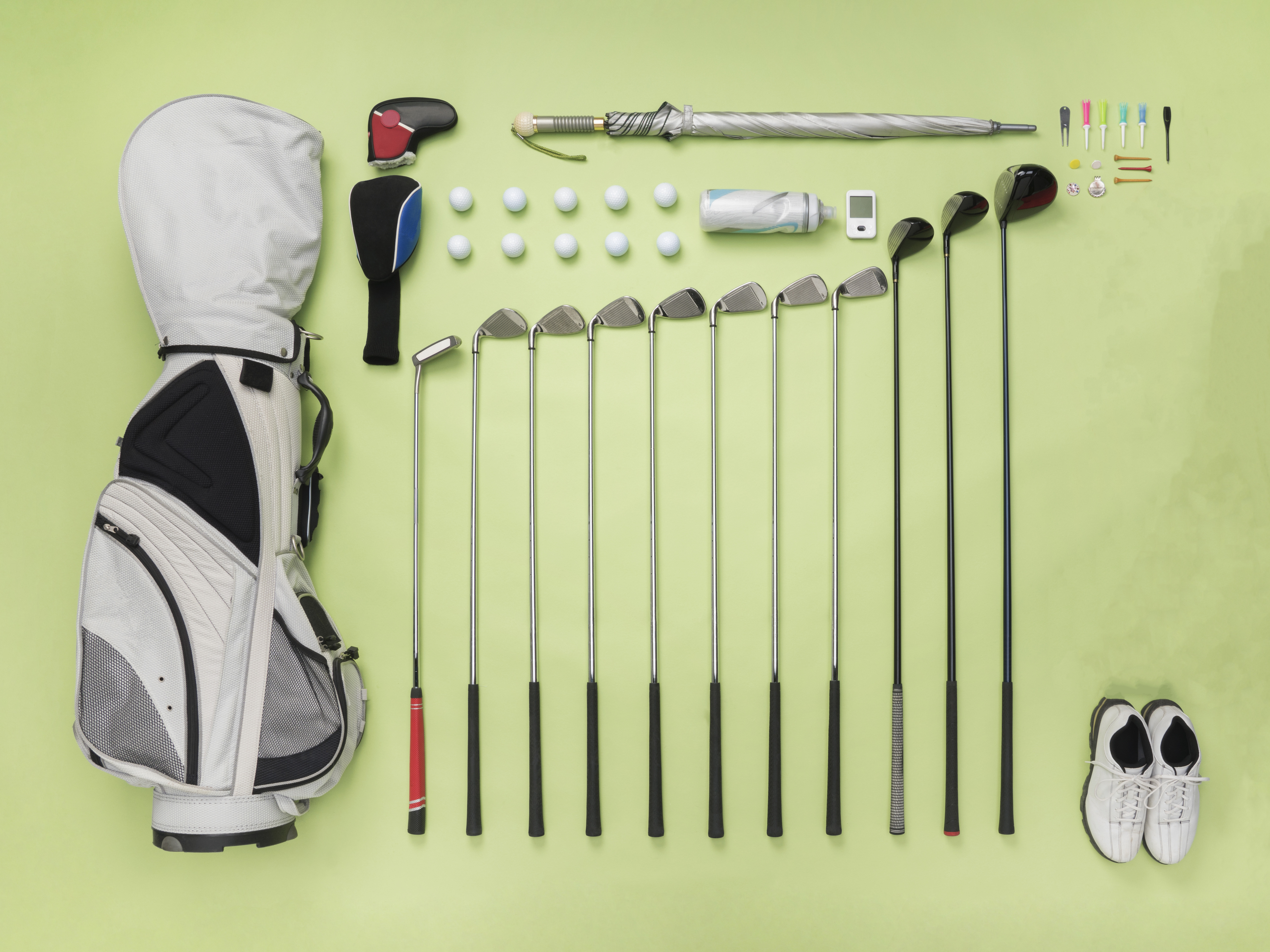 If you're tired of tripping over your golf clubs between rounds, or find yourself rounding up your golf bag, glove, shoes, and hat from every corner of your home before you head to the course, it's time to upgrade your golf bag storage situation.
Why Create Dedicated Golf Bag Storage?
Whether you store your golf clubs after every round or every season, your golf bag storage needs to meet a few essential criteria. The best home golf storage options:
Keep all your golf stuff together;
Is easily accessible;
Protects your golf equipment from potential damage and moisture;
Accommodates all the golfers in your household;
Fits in your available space.
Once you meet those criteria, you've got options. If you want to store your golf stuff in a dedicated golf room, man cave, she-shed or anywhere else that's a popular in-home hangout, you might want something that fits the theme and doubles as a conversation piece. If you're cramped for space, something more minimalistic may whet your appetite.
The Best Golf Bag Storage
With all that in mind, we've rounded up the best golf bag storage ideas. Whether you're on a budget, want a unique DIY golf bag storage project, have limited space or just need something functional, we've got you covered.
MYTHINGLOGIC Golf Storage Rack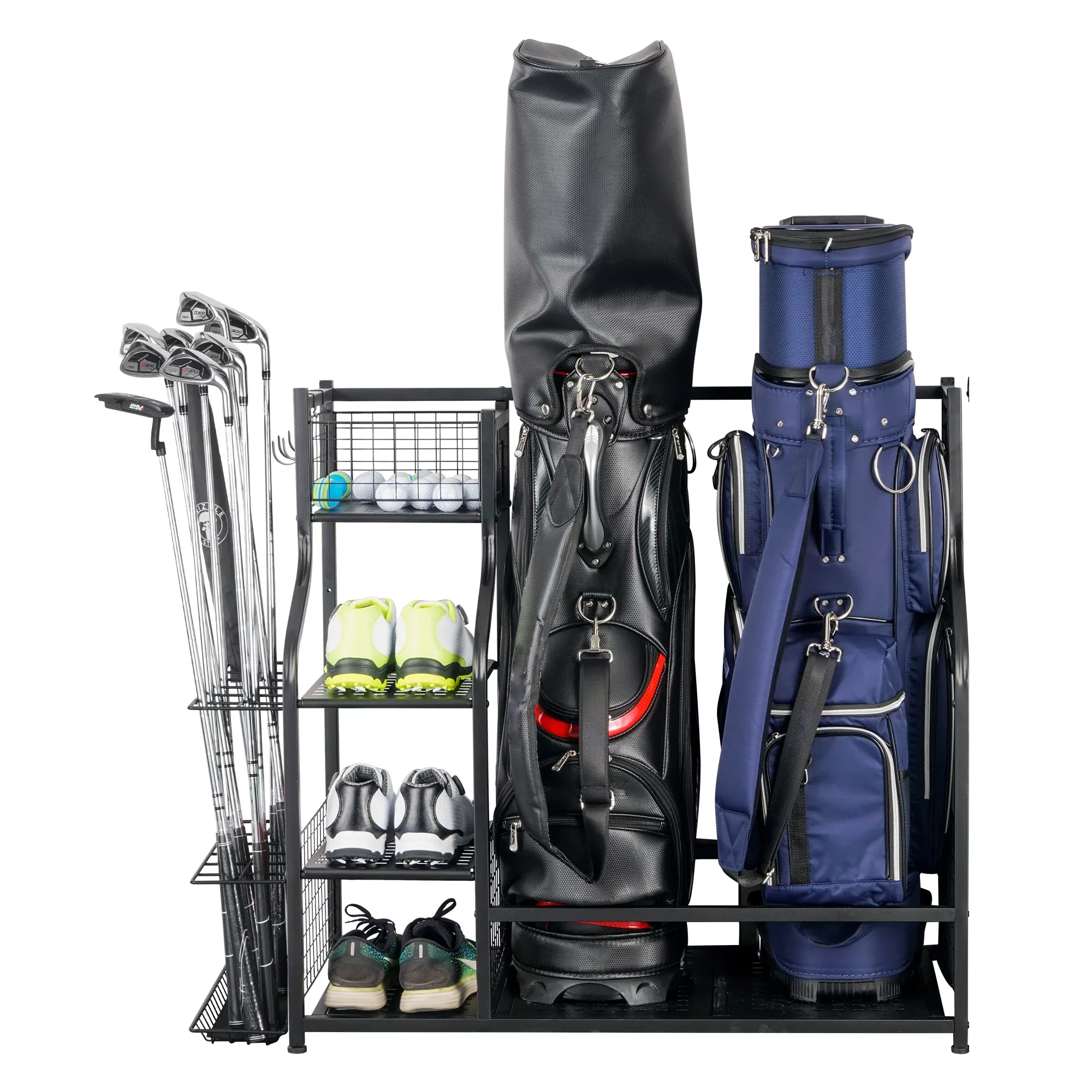 The MYTHINGLOGIC Golf Storage Rack is the only rack on this list that includes two of our favorite features. 
The first is storage for extra individual clubs. Why do we love this feature so much? Golfers are allowed to use 14 clubs during a round, but most golfers own many more than that, and keep several others in the rotation, like a golfer's version of a depth chart. When one putter is acting up, you bench it for another style of putter. When you play a longer course, you swap out one of your four wedges for an extra hybrid or driving iron. This rack keeps all those benchwarmers ready.
The second standout feature of this rack is that it's built to allow one more bag storage unit (sold separately) to attach to the rack, allowing storage for up to three bags. A simple concept, yet one that no other racks incorporate.
Outside of that, it's got all the essentials: room for two bags, shelves for your golf shoes and accessories, and an open-top basket for loose golf balls. This rack was under strong consideration for an "Editors Choice" badge until we found several reviewers complaining of damaged parts, general difficulty to assemble, and sometimes even a lack of assembly instructions.
| | |
| --- | --- |
| Reasons to Buy |  + Extra club storage to easily swap in/out additional clubs |
|   |  + Connectable design to add storage for additional golf bag |
|   |  + Great value |
| Reasons to Avoid |  - Many reviewers complained of difficulty assembling, lack of instructions, and damaged parts upon delivery  |
Best DIY Golf Storage Rack: Simple Golf Storage Design Plans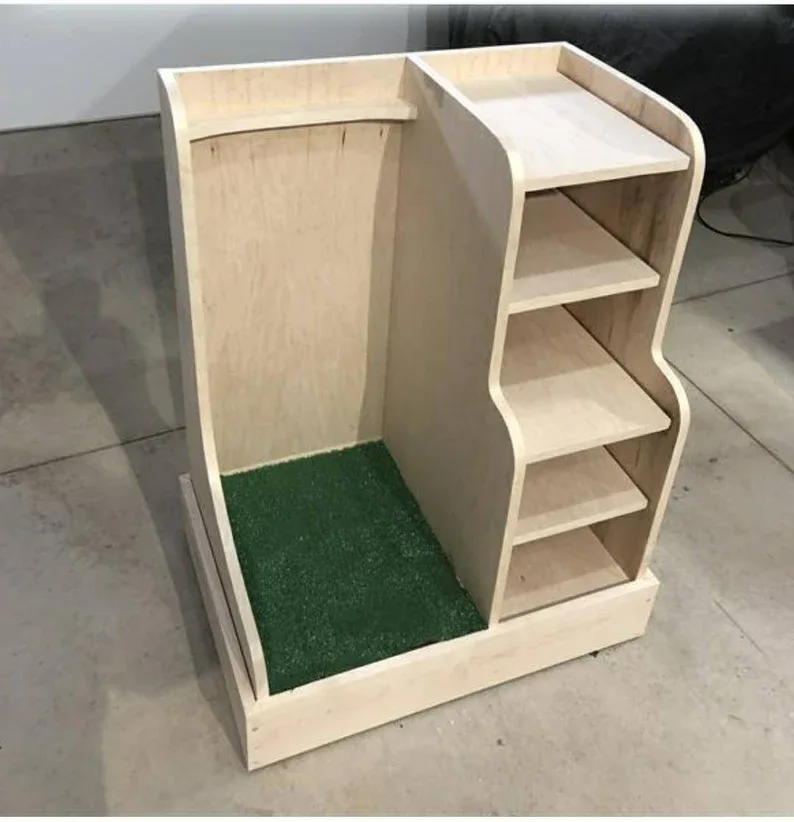 Who says you can't have fashion and function? With a little sweat equity, your buddies will be jealous of this sweet DIY masterpiece. This unique DIY golf bag storage design offers ample room for any sized golf bag, with plenty of shelving for your shoes, gloves, balls, and other accessories. For about $4 you get to download the design plans, complete material list, cut list, tool list, step-by-step instructions, and helpful tips.
One of the great things about building your own storage is you can adapt the design to fit your needs. Do you love this look but need to store two bags? Mirror the bag storage compartment on the opposite side of the shelf. You can choose your own finish, add a custom nameplate, logo or other design. When you do it yourself, the possibilities are endless and the result is truly unique.
All that glory comes at a cost. The cost of lumber and your own customizations will dictate how much this unit costs you, and you'll also have to invest some time and craftsmanship into making this project a reality, but if you have the time and the tools, this is a project you won't regret taking on.
| | |
| --- | --- |
| Reasons to Buy |  + Easy to follow instructions |
|   |  + Rewarding project for the DIY & golfer cross-section |
|   |  + DIYers can customize the design and finish to fit their needs |
|   |  + Great display piece for a golf-themed room |
| Reasons to Avoid |  - More effort required to buy materials, cut, assemble and finish |
|   |  - Several tools required |
|   |  - Design must be modified to accommodate multiple bags |
JEF World of Golf Metal Golf Bag Organizer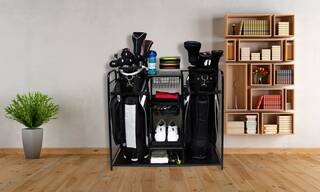 [BUY AT DICK'S SPORTING GOODS]
Of all the store-bought golf bag storage recommendations, this is one of our favorite designs. However, we stopped short of giving it our "Editor's Choice" badge because several reviewers complained of damaged parts and difficult assembly, which is enough to drive anyone crazy.
There's still a lot to like about the JEF World of Golf Metal Golf Bag Organizer. We love that it fits two golf bags easily and is the only option that includes straps to keep your bags upright. After all, protecting your clubs from damage is one of the few requirements, and if your bag topples over, the damage could be very costly.
The other thing we love about this unit are the two baskets underneath the shelves. These simple but efficient storage areas give you extra space for spare gloves, loose golf balls, or tees, reserving the shelves for items that require a little extra care, like your hats and shoes.
| | |
| --- | --- |
| Reasons to Buy |  + Holds two bags plus center storage |
|   |  + Storage baskets and shelves |
|   |  + Straps to secure bags upright |
| Reasons to Avoid |  - Some reviewers complained of damaged parts and difficult assembly |
Suncast Golf Bag Garage Organizer Rack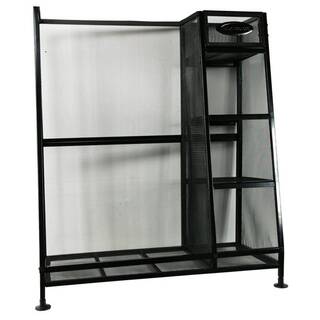 If you need to keep all your golf stuff in one spot and don't have a lot of space to dedicate to it, the Suncast Golf Bag Garage Organizer Rack is probably the best unit for you. This rack has the smallest footprint of any on this list, and still offers ample storage. 
This rack holds two golf bags, albeit snugly, and has three shelves plus an open-top drawer to keep all your other golf belongings nearby.
Some of its best features could also be its downfall, depending on your needs. If you've got two healthy-sized bags and a growing collection of accessories you need to keep organized, this rack might not give you enough space.
| | |
| --- | --- |
| Reasons to Buy |  + Stores 2 bags or a push cart and a bag |
|   |  + Shelving for shoes, balls, and accessories |
|   |  + Affordable |
|   |  + Smallest footprint makes it great for tight spaces |
| Reasons to Avoid |  - Not much room for additional accessories |
|   |  - 2 bags fit pretty tight |
Maxfli Golf Storage Organizer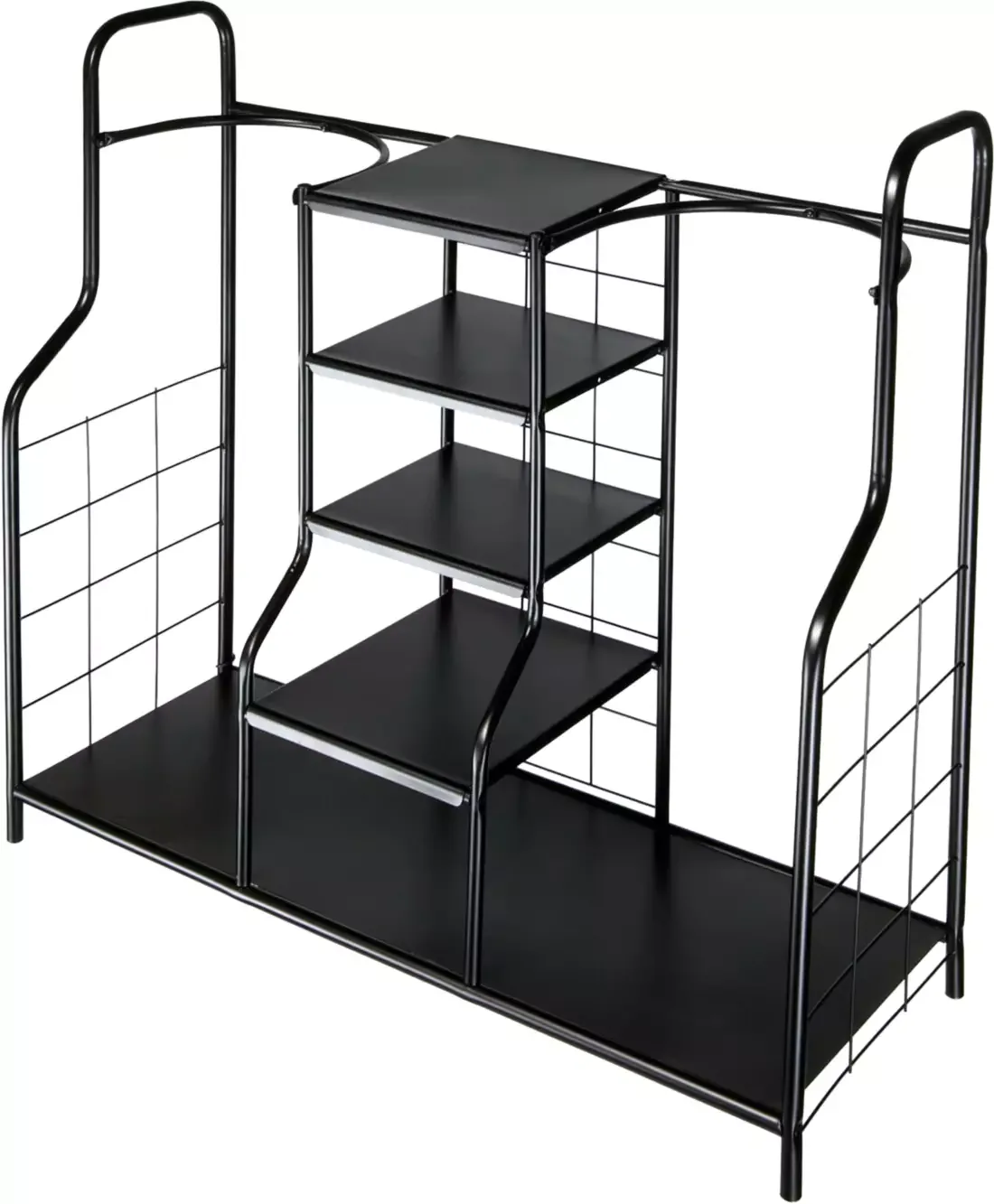 [BUY AT DICK'S SPORTING GOODS]
The Maxfli Golf Storage Organizer brings a lot to the table for golfers looking for a rack to store all their golf stuff, but there are a few considerations to look out for before deciding if this is the rack for you. 
At face value, this rack has it all. Ample room for two bags with five levels of storage shelves for everything you need. That's all good. However, there are few things it doesn't have that could influence your decision.
First, it doesn't offer an enclosed wire basket or drawer like many of the other racks we recommend. That type of drawer is great for loose golf balls, because there's nothing more annoying than the sound of a golf ball rolling off a shelf and into some obscure corner of your garage.
Second, this rack doesn't have either straps to keep your bag upright, or a lip to hold it at the bottom. Straps are ideal, but even the other racks that lack straps have a bottom rail to help prop your bag up. The fact that this rack has neither means it could be more than just a golf ball falling off the rack.
You could easily add your own straps, or lean your bag securly against the side, and add your own basket to the top shelf for loose odds and ends, and this rack would be more than serviceable. Just don't say we didn't warn you.
| | |
| --- | --- |
| Reasons to Buy |  + Comfortably stores 2 bags |
|   |  + Ample space on center rack for shoes, hats and other accessories |
| Reasons to Avoid |  - No straps or bottom rail to hold bag in place |
|   |  - No basket/drawer for loose balls or accessories |
Put it Away
Finding the right storage for your golf bag should be simple. Just determine your space, how storage needs, the right balance of fashion and function, and the effort you're willing to put in. Once you can answer those questions, finding the best fit for you is easy.