Golf Man Cave Ideas You Won't Want To Live Without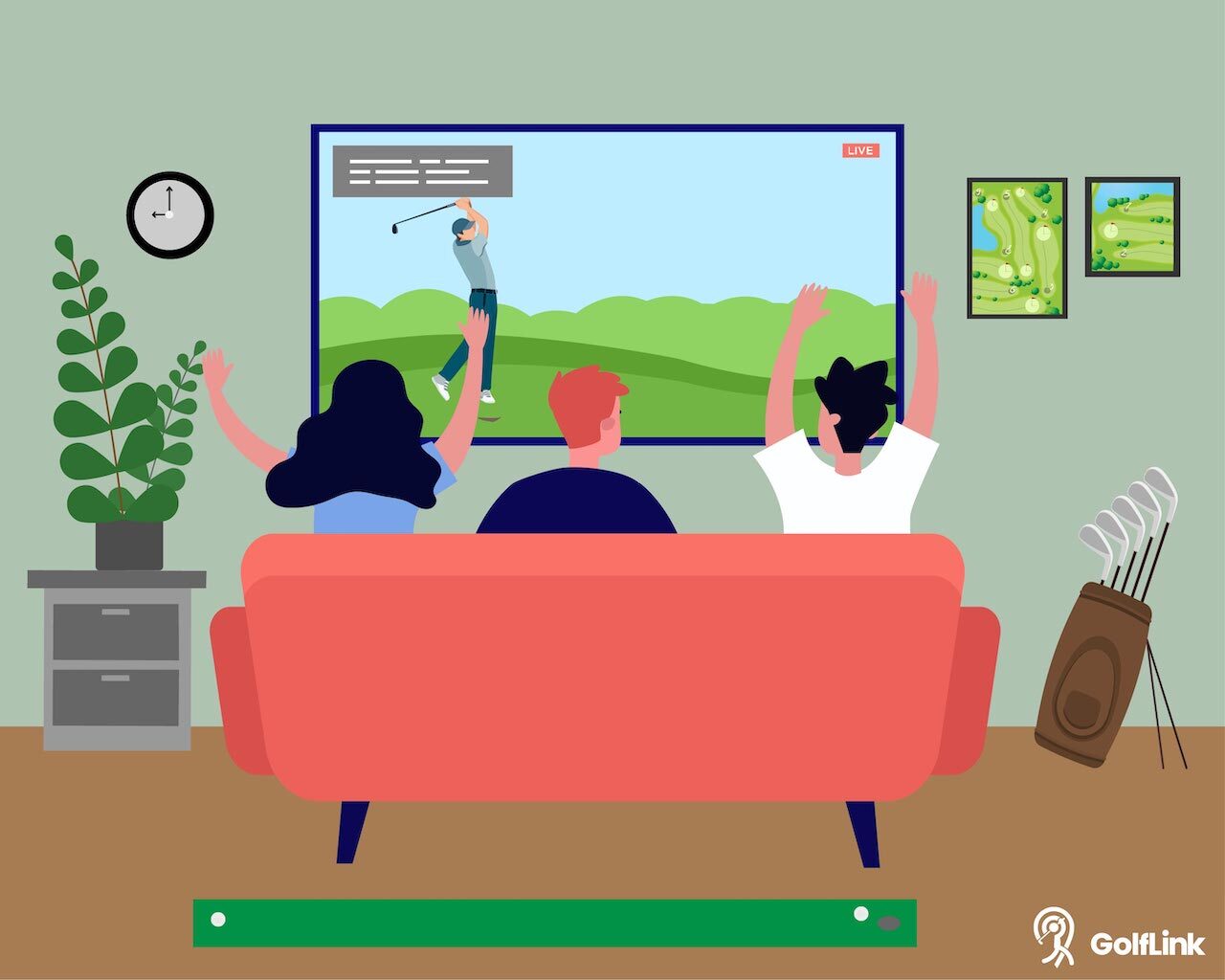 Every golf-obsessed fan, man or woman, wants a golf "man cave" in the comfort of their own home. It's a place for you to kick back, relax, pour a beverage, hang out with friends, enjoy watching your favorite tournament and perhaps work on your game. If you're looking to build the perfect golf man cave, here is a guide to get you headed in the right direction.
Where to Start?
If you already have your spot picked out for your golf man cave, it's time to strategize. Ask yourself the following questions before you transform your space into the spot you've always wanted.
What's your budget? Take into account everything you want and compare it against what you're willing to spend. Try to stick to your budget or you could risk your golf man cave turning into a room of regret.
What's your theme? Are you trying to make your basement look like Butler Cabin? Or, are you going for a more modern or rustic look? Either way, decide the theme of your man cave and work within that theme.
What's your purpose? Think about what you want this space to be and who you want in it. If you're creating a golf man cave for yourself, you'll likely make some different decisions than if you're looking to have friends over every weekend enjoying the cave with you. Do you want to relax and watch golf, or would you rather study technique and practice your stroke?
Who will this impact? It's easy to get carried away when develoing your man cave, and lose sight of anyone else the project impacts. Specifically, if your significant other or children are inconvenienced by the man cave build out, remember to keep life outside of the man cave on the up and up.
Golf Man Cave Ideas
Here are a number of fun, inviting, and techy ideas to consider for your golf man cave. Consider them, but be sure to make the space your own.
Golf Simulator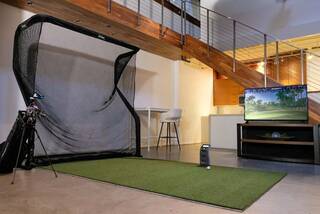 Go big or go home, right? There is nothing better than playing a round of simulated golf from you own home. Plus, a golf simulator is a pre-requisite if you want to call your area the ultimate golf man cave. Thankfully, there are several convenient options today for you to choose from.
Now, a golf simulator can eat up a big chunk of your pre-determined budget. You might not need the exact simulator setup you see at many golf retailers. In fact, there are plenty of do-it-yourself golf simulator options that can get you swinging away with your pals in no time. 
Putting Practice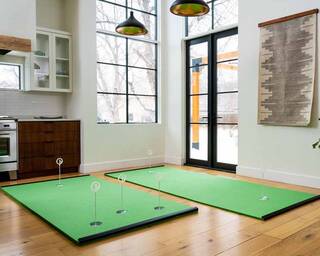 If you don't have the space for a golf simulator, you can still get some practice in while enjoying your golf man cave.
A traditional putting mat is great, but for a worth-evey-penny upgrade, consider a Birdie Ball putting green. You can choose from different stock sizes or create your own custom size. Birdie Ball putting greens are the closest thing to the real deal, so you actually practice with a purpose. A Birdie Ball putting green in your man cave can lead to fewer putts when you actually decide to emerge from said man cave and play a round of golf. Plus, it's a lot of fun to compete against your buddies, or yourself.
TV Placement
If you're not installing a golf simulator, the focal point of your man cave should be the TV. After all, this is where you'll be enjoying some of the most important events in golf and other sports.
Decide early in the process where your TV, or multiple TVs if you're going that route, will go. Be sure to mount a TV that fits the space. Having too small of a TV will be a strain on you and your guests. Having too much TV might sound impossible, but you don't necessarily want the TV to dominate your space.
Furniture
The furniture in your golf man cave should reflect the rest of the theme, if possible. If your goal is to make your cave look like a country club, some more sophisticated leather seating would look great.
However, if you're looking for a more casual setup, a sectional couch or high-top table would fit the bill. Be sure that you map out, and measure, accordingly before buying your furniture. 
Add Some Pop With Decor
Bare walls are sad walls. Add some decor around the room that will catch people's eyes and fit your golf man cave. No company provides better accessories than Lie + Loft. The North Carolina-based company makes some amazing prints and other items that will help bring out the personality of your cave, and Course Maps can create a custom course map of your home course.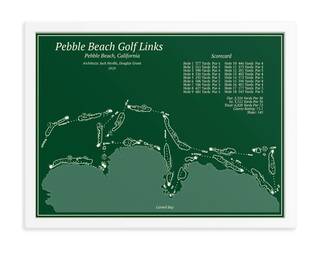 Course Map Collection: This collection features simply laid out course maps of some of the greatest golf courses in the world. If you've ever wanted the full tee-to-green visual of Augusta National, Winged Foot, Riviera, or others, this is a great option.
Space Golf Series: This series has a mix of fun illustrations to go along with famous course maps that look like star constellations. A fun and unique collection for any size space or wall.
Golf Ball Coasters: You'll wonder why you didn't think of this yourself. Golf balls, sliced in half, and placed into sleek-looking coasters. These not only look amazing, but you can even choose your favorite golf ball brand.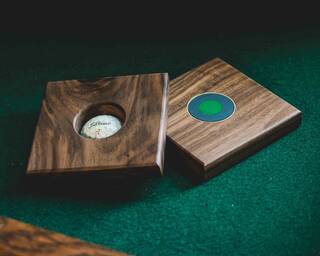 Choose Your Beverages
If you plan on using your golf man cave as a space to have a few beverages with friends, consider putting in a bar or serving area. This can be as small or as big as you'd like, just be sure it fits the space appropriately.
Next, you'll need to stock your shelves. If you're planning on entertaining a lot of guests, gather different types of spirits so everyone has what they want. Consider vodka, whiskey, bourbon whiskey, gin, rum, and tequila.
If you're a beer lover or just enjoy a nice presentation, consider purchasing a kegerator which is a small refrigerator that holds a keg of beer and has a tap.
Consider a Collectible
A golf man cave is a great excuse to display your favorite golf collectible. Don't have one? It's never too late to start a collection from courses that you play. Here are some popular golf collectibles that are easy to display in your man cave.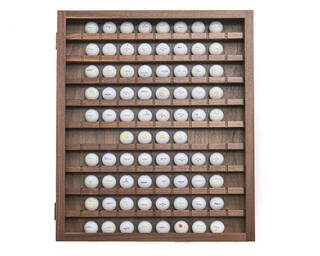 Pro Golf Man Cave Insipration
If you're in search of some additional inspiration for your golf man cave, take a behind-the-scenes look at Kevin Streelman's golf room setup. It's bound to inspire some ideas.
Conclusion
A golf man cave should reflect its owner. The purpose is for you to enjoy the space and surround yourself with the game of golf while having fun with friends. Build yours the way you want it and enjoy years of entertainment and memories.