Which 14 Clubs to Carry (Based on Your Skill and Home Course)
Updated December 6, 2022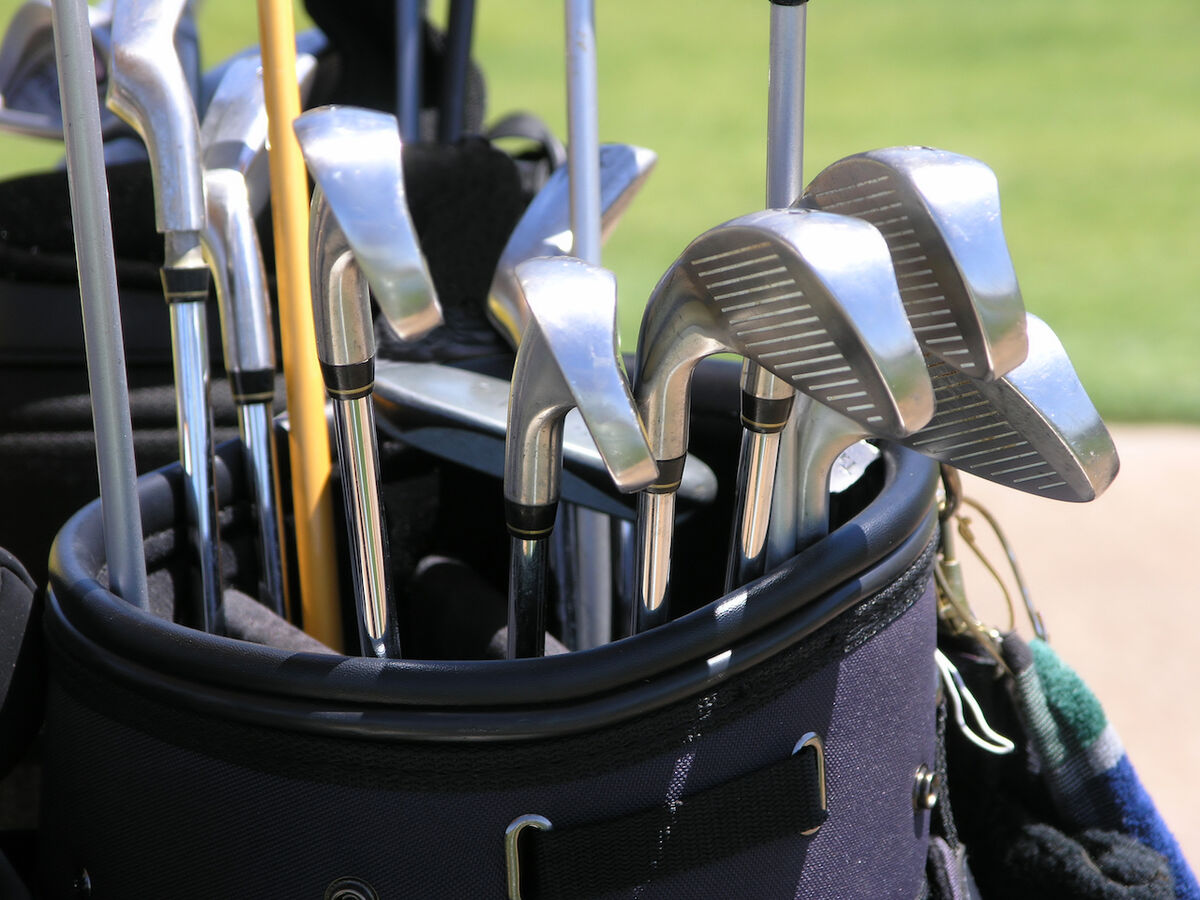 In order to play your round in compliance with the Rules of Golf, you can have up to 14 golf clubs in your golf bag. While it's rare to find players who carry less than 14 clubs, you're free to do so if you choose. How do you choose which clubs make up the 14 in your bag? Here's how to figure that out based on your skill set the courses you play most often.
Which Clubs Should Make Up Your Bag
As golf club technology has advanced over the years, modern clubs like hybrids, 7-woods, driving irons, and gap wedges have completely disrupted the cookie-cutter golf bag setup of the 20th century. Today, it's easier than ever for amateur golfers to build a bag to fit their skillet and needs.
The two areas of your bag that are impacted by your 14-club makeup are the top of your bag (woods, hybrids, long irons) and the bottom of your bag (number of wedges). Weigh these determining factors to decide whether more short clubs (four wedge setup), or more long clubs (three wedge setup) would benefit your game more.
Most iron sets today include a gap wedge and all iron sets include a pitching wedge. If you're new to the game, you might wonder if both are necessary. In short, yes, both are necessary. A gap wedge, also known as an approach wedge,  becomes crucial for shots that go higher than a pitching wedge. However, if you're a new player and you'd prefer to skip the gap instead of an additional hybrid, we couldn't blame you.
Here are two common setups for the 14 clubs in your bag.
| | |
| --- | --- |
| 4 Wedge Setup | 3 Wedge Setup |
| Driver | Driver |
| 3-Wood/5-Wood | 3-Wood |
| Hybrid/3-Iron/5-Wood | 5-Wood/Hybrid |
| 4-Iron/Hybrid | Hybrid/3-Iron |
| 5-Iron/Hybrid | 4-Iron/Hybrid |
| 6-Iron | 5-Iron/Hybrid |
| 7-Iron | 6-Iron |
| 8-Iron | 7-Iron |
| 9-Iron | 8-Iron |
| Pitching Wedge | 9-Iron |
| Gap Wedge | Pitching Wedge |
| Sand Wedge | Sand Wedge |
| Lob Wedge | Lob Wedge |
| Putter | Putter |
3 Wedge Setup: Player Profile
Shorter hitters who require more long club options to reach par 5s, long par 4s, and even long par 3s should consider skipping the fourth wedge in exchange for an extra distance club at the top of the bag.
If your home course is long, you should consider carrying all the woods in your bag you can get. Some would argue this can be solved by playing the appropriate tee box for your distance.
If you aren't confident in your driver, you need more options off the tee box. Consider a four-club committee for that includes a driver, mini driver, 5-wood, and either a hybrid or driving iron.
4 Wedge Setup: Player Profile
Your game is a bit more developed and you require different wedge bounces and lofts around the green to execute different touch shots.
Your home course has collection areas or other variable greenside terrains that require versatility to get up and down.
Your home course has an array of bunkers that require you to carry different wedge lofts.
You're confident with driver off the tee and with a four wedge setup, can still hit your longest iron over 200 yards.
The official USGA Rule on how many clubs you can carry, Rule 4.1b, states: "You must not start a round with more than 14 clubs or have more than 14 clubs during the round. If you start a round with fewer than 14 clubs, you may add clubs during the round, up to the 14-club limit."
As you've read, you can have fewer than 14 clubs in your golf bag. We're not sure why you wouldn't want every advantage allowable in this incredibly difficult game, but to each their own. On a fun note, many amateur golfers in the western U.S. carry a "rock club." Due to the mountainous terrain of desert golf, this is a club you carry that is used to play out of the rocks and it also doubles as a weapon against snakes (we recommend running though).
Here are some other common questions regarding the 14-club Rule:
| | |
| --- | --- |
| Question | Answer |
| What happens if you lose a club? | Unless you find the club, you are not allowed to add a club in its place. |
| If you're right-handed, can you carry a left-handed club? | Yes, there is no rule against carrying certain clubs of dexterity. |
| If you have an adjustable driver, when can you adjust it? | All adjustable clubs must be adjusted before you tee off on the first hole. No changes after that for the remainder of the round. |
| Can you share clubs with another player? | No. |
| What happens if my club breaks? | If it broke while making a stroke, you are able to repair or continue playing with it. You are not allowed to replace it. |
| What if I pick up a lost club and put it in my bag? | You can pick up a club that you find on the course without penalty, even if it makes 15 clubs in your bag, but you may not use it. |
Use this article as a guide to getting your golf bag set up in the way you like it. You might find that as you advance in the game and you improve your skill set, your needs change from needing maximum distance and forgiveness to precision feel and touch. As long as you're doing it with 14 clubs, you're all good.