Golf Simulator Guide: Understand Your Options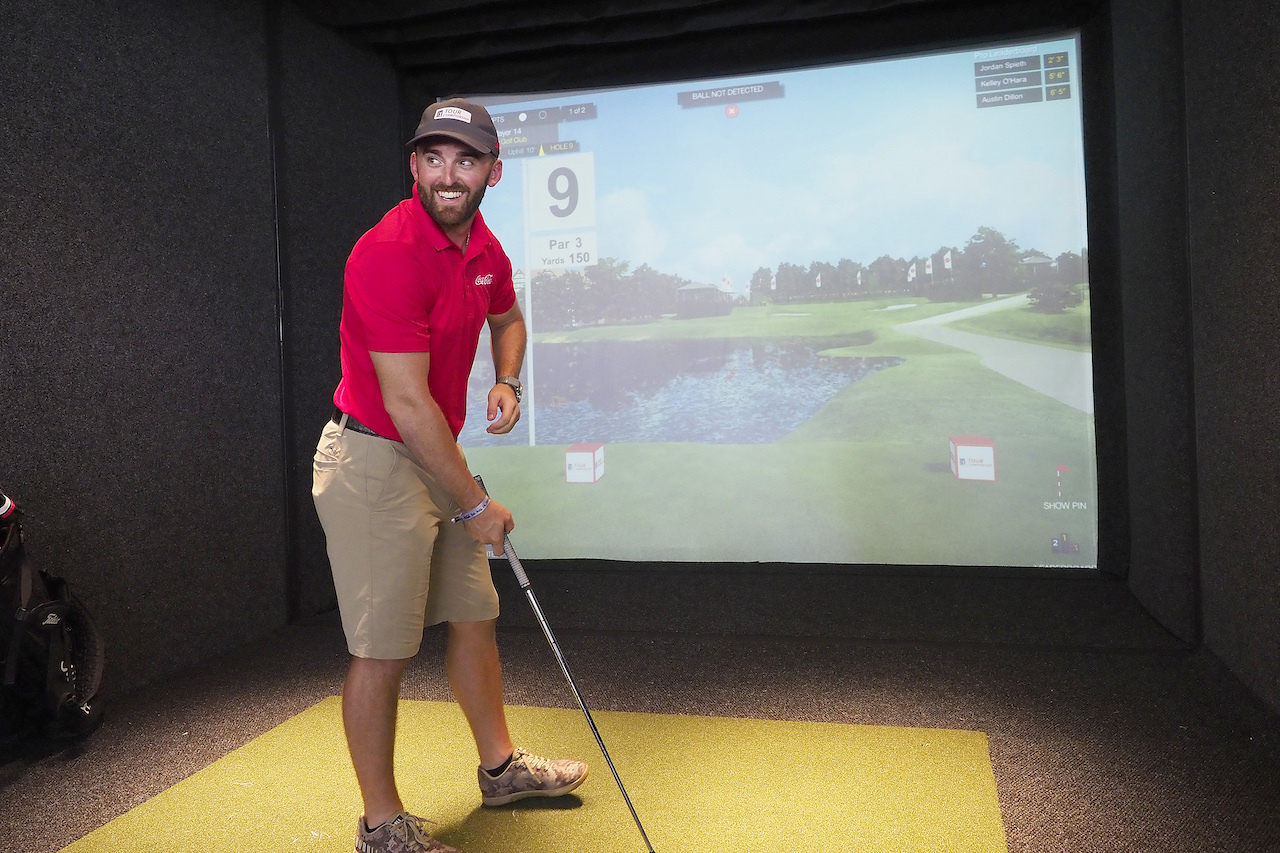 Thanks to the emergence of golf simulators, you no longer have to kiss your golf season goodbye at the first sight of snow. These high-tech, fun experiences are easily accessible just about anywhere and golf simulators have helped expand the game in many ways. Here's an overview of golf simulators, where you can find them, and what to expect if you've never tried one before.
What are Golf Simulators?
The main part of a golf simulator is the launch monitor that gathers and displays all of your swing data. If you've been fit for golf clubs at a major retailer in the past ten years, chances are you've experienced a golf simulator. In case you haven't, a simulator is a bay that you step into to hit golf shots to either collect data or simulate a real-life golf experience. As golf simulators are becoming more popular, they can be found at traditional green grass golf facilities, inside golf retailers, as standalone business, and golfers can even create their own DIY simulators in their homes.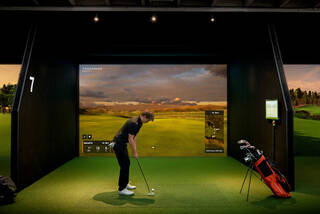 A typical golf simulator has a golf mat for you to stand and swing on. The mat usually spans the entire floor of the bay. The bay also has a screen directly in front of you that you hit your shots into. Simulators come in all different shapes and sizes with some less expensive options made from a pipe and drape, while top-of-the-line simulators are incorporated into the structure of a business or home and are surrounded by permanent walls.
Golf simulators also have a projector which is typically mounted in the ceiling and displays the simulated course or driving range on the screen, and shows your shot data after every shot.
How Do Golf Simulators Work?
The launch monitor is typically located on the ground, close to where your clubhead makes impact with the golf ball. There are other launch monitors that are installed in the ceiling that sit over you and the golf ball, but they are not as common. The launch monitor collects data from your golf swing and instantly sends it to the screen as if you're watching your actual shot on a golf course or driving range.
There are two common ways for launch monitors to collect data, depending on the model. The first way is Doppler Technology, which is the same radar that is used to convey weather information. The second way is data collected with high-speed cameras that collect impact data. Both types of launch monitors are extremely accurate.
The club data that launch monitors capture includes clubhead speed, attack angle, swing plane, loft at impact (dynamic loft), face angle, spin, and attack angle. Meanwhile, launch monitors also capture significant data on the ball, including ball speed, smash factor, spin, time in flight, side spin, launch angle, and apex. The difference between the simulated results and the actual results on the course will be nearly unnoticeable for amateur golfers.
Simulated Golf
In the last five years, simulated rounds of golf have improved tremendously on golf simulators. When golf simulators first hit the scene, you had your choice of playing a handful of fictional golf courses (think early days of Golden Tee) with sub-par accuracy and details.
Today, thanks to licensing agreements, golfers can play some of the most renowned golf courses in the world, virtually speaking of course. In addition to course availability, the way that the courses play is far more accurate. Rough length, green speed, chipping, putting, and every other aspect of an actual golf course is represented in the simulated version.
Indoor Driving Range
The driving range function is a great practice tool to use with golf simulators. You can take a trip to a simulated driving range and see your accuracy, total distance, club, and ball data. Most simulated driving ranges offer the ability to set the target to a yardage of your choosing.
What Can You Expect?
With any golf simulator experience, you can expect the next best thing to actually being on the golf course. After all, there's no replacement for the fresh air and sunshine.
Prepare for a simulated round of golf in a similar way to an actual round. Wear your golf shoes, clean your golf clubs, and aim to have fun. It's perfectly normal for a round of simulated golf to take some getting used to.
Where to Play Indoor Golf?
Golf simulators are now easier to find than ever before. At many facilities, golfers can even participate in weekly simulator leagues, just as they would play in a traditional golf league throughout the golf season. Here are a few places to look.
Your Local Golf Courses
Many golf courses have some sort of simulator golf, whether it's year-round, or only seasonal. If you're in cold weather climates, many courses will install temporary simulator bays in the pro shop or somewhere in the clubhouse as the golf course closes for the year. In warmer climates, many courses have simulators available for when it's too hot to be out on the course.
Golf Simulator Franchises
With the increasing popularity of golf simulators, there are a growing number of businesses that are growing franchises across the U.S. Finding a golf simulator location near you is almost as easy as finding a bowling alley or axe throwing location.
One of the more popular, and growing, companies is X-Golf.
Golf Retailers
Chances are that your local golf retailer offers simulator play within their fitting simulator system. This can be a great option if you just want to play by yourself.
Pricing
If you plan on booking a time to play simulated golf you should expect to pay anywhere from $35-$60 per hour depending on the location.