Illegal Golf Clubs: Which Clubs & Criteria the USGA Bans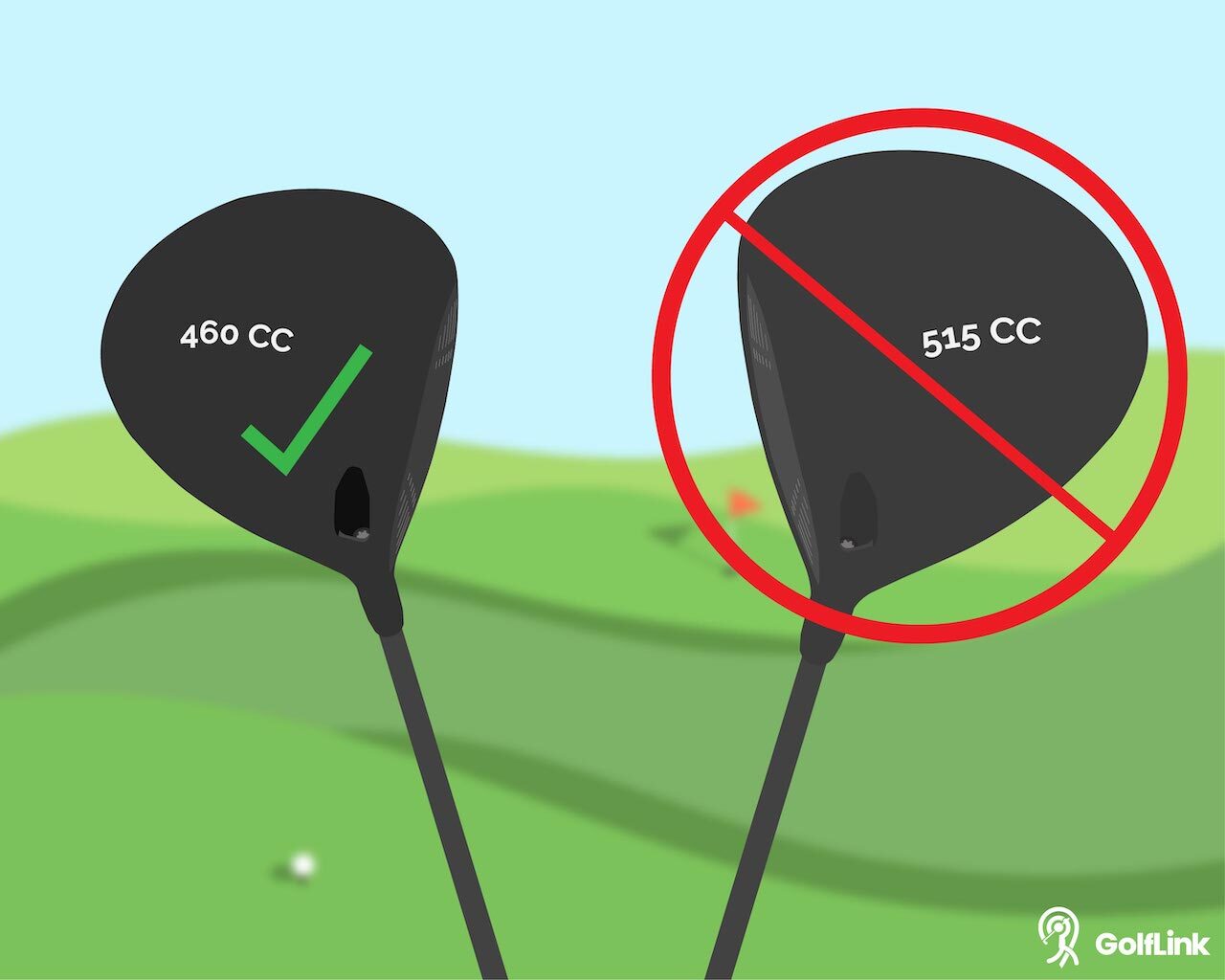 All golf clubs at your local retailer fully conform to the United States Golf Association (USGA) Rules, but did you know there are many models that are deemed non-conforming and are illegal to use under the Rules of Golf? Non-conforming golf clubs, most of which are drivers, are produced by some of your favorite manufacturers, but never see the light of day. What makes golf clubs illegal, and what models are banned? Let's take a look.
What Makes a Driver Conforming?
There are several criteria that a driver head needs to meet in order to be stamped as conforming by the USGA.
The driver must be of a "traditional" shape. As Nike proved in 2006 and 2007, even square driver heads are allowed.
The club must have one head and one shaft.
Pieces that move for adjustability must stay in place during the golf swing and cannot be easily manipulated during play.
No holes of any kind in the clubhead.
Protrusions or depressions must not extend to the clubface.
Heel to toe length can't exceed five inches.
Overall driver head size can't exceed 460 cubic centimeters.
The clubface must be rigid and smooth.
The clubface can't produce a coefficient of restitution (COR) rating that exceeds 0.83. This refers to the trampoline effect the ball has on the clubface.
The legal maximum length of a driver is 48 inches.
The USGA provides an updated list of conforming golf clubs every Monday. Major golf club manufacturers who need their clubs to be approved as legal by the USGA before they can be sold to the masses, so this list is a great way to find out what's in the pipeline for some of those well-known golf manufacturers.
Benefits of Illegal Clubs
There are significant benefits to using drivers and other golf clubs that exceed the allowed specs of the USGA.
Drivers that go beyond the 0.83 COR rating give players significant gains in distance. This is in relation to how thin the face of the driver is and how much it acts as a trampoline for the golf ball to launch from. The COR of a driver can atually evolve the most it is used, and with pro-spec clubs already pushing the legal limits, some golf tournaments randomly test drivers to ensure this criteria is met.
Exceeding 460 cubic centimeters in head size allows for a larger face, more surface coverage, and a non-conforming amount of forgiveness.
Total driver length is capped at 48 inches because longer drivers have the potential to create more speed
Holes are not allowed in the clubhead to prevent air from passing through the club, which would create an excessive amount of speed not allowed by the USGA.
If the face of a driver is not rigid and smooth, or grooves are too deep, players would likely see gains in spin control.
Some Non-Conforming Golf Clubs
Here is a list of some of the more popular golf clubs that are not legal under the rules of golf, along with where they break with USGA's criteria.
| | |
| --- | --- |
| Club | Why It's Illegal |
| Juggernaut XXL 515cc Driver | 515cc head size, forgiveness |
| Bridgestone Tour Stage V800 | Illegal curvature on sole. |
| Callaway E.R.C. II | COR exceeds 0.83 rating |
| Diamond Tour Felon 2.0 | 485cc head size |
| Diamond Tour Felson 2.0 Offset | 485cc head size |
| Mizuno BlueFire Driver | COR exceeds 0.83 rating |
| Mizuno JPX E300 Driver | COR exceeds 0.83 rating |
| Mizuno Intage X3 Driver | COR exceeds 0.83 rating |
| Mizuno Grand Monarch Royal Cresta | COR exceeds 0.83 rating |
| DeadAim 3D Putter | Has a laser attached for aiming |
| Nike Ignite+ 460 Driver | COR exceeds 0.83 rating |
| Nike X Face Driver | COR exceeds 0.83 rating |
| TaylorMade R510 TP Driver | COR exceeds 0.83 rating |
| Money Club HL Driver | 520cc head size |
| PineMeadow PGX 500 Driver | 500cc head size |
| Intech Behemoth Driver | 520cc head size |
| Roketto D2 Driver | COR exceeds 0.83 rating |
| Polara HL1 Driver | 475cc head size |
| Nike Covert VRS Driver | COR exceeds 0.83 rating |
| Krank Formula 11 Driver | COR exceeds 0.83 rating |
Conclusion
Ask you can see, there are plenty of non-confirming golf clubs for you to get your hands on if you so desire. If you're playing a casual round of golf with no handicap implications, there's no harm in trying illegal golf clubs. If you choose to play against other players in any fashion, or if you intend to record your score, any of the clubs mentioned need to stay at home.