The 11 Best Drivers for Beginner Golfers in 2022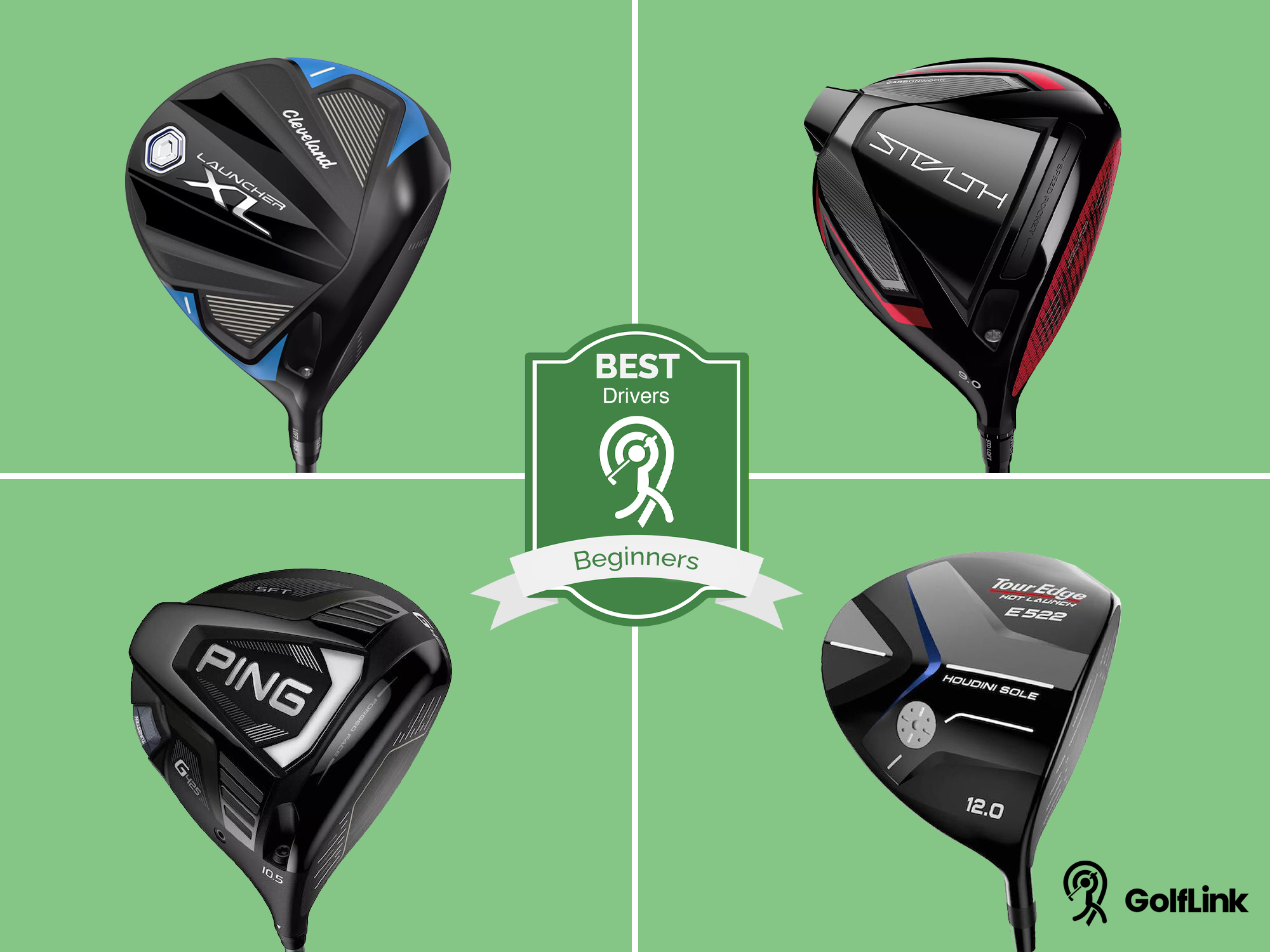 Watching a commercial for one of the latest drivers is almost like watching a foreign film, especially if you're relatively new to golf. Terms like Jailbreak, Flash Face, Carbonwood and MOI are thrown around like you're actually supposed to know what they mean. We took it upon ourselves to sift through all that marketing jargon to decipher what features actually make the best drivers for beginners and high-handicap golfers, and we boiled it all down to these 11 drivers.
The Best Drivers for Beginners & High Handicap Golfers
Here is our list of the 11 best drivers for beginners and high-handicap golfers. Check out why each of these drivers made the cut and which one is the best for your needs.
| | | | |
| --- | --- | --- | --- |
| Driver | Price | Player Profile | Standout Feature |
| | $400 | Players with moderate or above swing speeds who want forgiveness in a well-priced driver | Highest ever MOI (forgiveness) in a Cleveland driver  |
| | $350 | Player who fights a slice or desires a draw, wants increased distance through faster swing speed and a great value | Weighting and offset designed to beat a slice and hit more fairways |
| | $400 | Players seeking a driver with optimal distance and forgiveness while improving their swing | Adjustable hosel and weights to match your swing as you improve your skills |
| | $580 | Players who fight a slice or players who want to add distance through a draw | Designed to hit the desirable high draw (HD) shot shape |
| | $550 | Players who fight a slice or want an easier draw shape | Straight Flight Technology to help find more fairways |
| | $200 | Budget-concious players who crave a top-caliber driver with adjustability | Great performance and value at an introductory price |
| | $250 | Minimalist looking for great value and sleek aesthetics | Unique sleek all-black design |
| | $120 | Budget-concious players who want an easy-to-hit driver | Rear and low weight helps optimize launch and spin |
| | $300 | Players seeking distance and higher trajectory with driver | Two rear weight options to favor either forgiveness (10g) or speed & distance (3g) |
| | $250 | Players in need of extreme game improvement | Multiple high launch lofts |
| | $350 | Wants distance and forgiveness without premium price | Effortless high ball flight |
How to Choose a Driver as Beginner or High Handicapper
Beginners and high-handicappers have a lot in common when it comes to shopping for drivers. Of course many high-handicappers are beginners, but even those who have been playing to a 20-something handicap for years share a lot of common ground with golfers in their first few years of taking up the game. 
Both players should look for a driver with the right blend of adjustability, forgiveness, and price, and here's why.
Adjustability
Whether you're a beginner or a high-handicap golfer, your swing is a work in progress. Maybe you have a severe slice today, but you're working hard on building a move that favors a straight flight or even a nice draw. Perhaps you struggle to get the ball airborne with your current swing, but after a few lessons you could be launching it with ease naturally.
Using a driver with adjustable weights and an adjustable hosel gives you maximum adaptability. Move the weight to the "draw" bias or set the loft to the highest setting while you learn how to eliminate your slice or launch the ball in the desired window. Then as your swing improves, adjust those settings to best fit your needs without dropping a few hundred more dollars on another new driver.
Drivers with adjustability may cost a little more, but if you use that adjustability to keep the club in your bag twice as long than a cheaper driver, that extra cost will more than pay for itself in the long run.
Forgiveness
Forgiveness is such a nice word, but what does it actually mean when it comes to a driver? Well, it simply means that when you hit the ball somewhere other than the center of the club face, you still hit it a long way, and pretty straight.
Forgiveness is achieved in a couple different ways. First, the faces on today's drivers are often designed to produce high ball speeds away from the center. Of course, you still get maximum ball speed from hitting the center of the face, but you simply don't lose as much as you stray from that elusive sweet spot.
That's great for distance, but what about accuracy? In drivers, lateral forgiveness is measured in MOI, which stands for Moment of Inertia. A higher MOI means a the club head rotates less into impact, keeping it as square to the target as possible, resulting in straighter shots. Higher MOI is achieved through perimeter weighting. MOI can be as complicated as you make it, but it all boils down to the higher the MOI, the straighter you'll hit the ball.
Price
Everybody has budget constraints, and if you're a beginning golfer, you're probably already spending left and right to equip yourself with balls, gloves, tees, attire, lessons, driving range sessions, and buy or replace a starter set of clubs. All these expenses of playing golf can make the thought of purchasing a $600 driver unthinkable.
Fortunately there are great drivers in all price ranges. As we mentioned earlier, if you have some cash up front, you can save money in the long run by snatching an adjustable driver that will grow with your game. If you prefer a less expensive driver that will get the job done for now,  there are plenty of great options as well, and you can eventually graduate into one of the best drivers for mid-handicap golfers when the time comes.
Best Driver for Beginners & High-Handicappers: Cleveland Launcher XL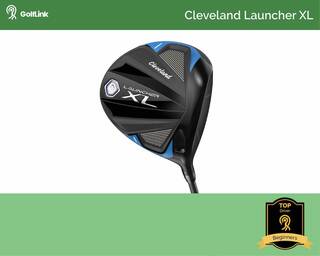 | | |
| --- | --- |
| Player Profile | Players with moderate or above swing speeds who want forgiveness, well-priced driver |
| Price | |
| Lofts | 9, 10.5, 12 |
| Adjustable Hosel | Yes |
| Adjustable Weights | No |
The Cleveland Launcher XL earned our nod as the best driver for beginners and high-handicap golfers because frankly, it checks all the boxes we listed above – adjustability, forgiveness and price – quite nicely.
The Launcher XL has an adjustable hosel that allows you to tune the loft in half-degree increments from 9 degrees all the way up to 12 degrees. That's some serious control over your launch, and once you find the ideal loft for your swing speed and optimize your launch, you're well on your way to getting the maximum distance that your swing speed will allow. The Launcher XL does not have adjustable weights, but it includes the option of either a "distance mode" or "accuracy mode" shaft. The distance shaft is 45.75-inches, one inch longer than the accuracy shaft, and can create higher ball speeds and more distance. At 44.75-inches, the accuracy shaft is easier to control to emphasize finding the fairway.
Regardless of which shaft is in the Launcher XL, it's a very forgiving driver. In fact, the Launcher XL boasts the highest MOI ever in a Cleveland driver, at 5,200 g/cm2. Whether you hit it on the heel or toe, or high or low on the face, you've still got a good chance of finding the fairway with some serious distance with the Launcher XL, which is just what beginners and high-handicapper need in order to shoot lower scores and get more enjoyment from the game.
The Cleveland Launcher XL checks in at $400. While that may sound high, golfers who have checked out the TaylorMade Stealth lineup or the XXIO 12 driver, for example, realize today's drivers easily span into the $600 and $700 range, so we'll actually put the Launcher XL's $400 price tag into the win column. 
Pros:
Highest MOI of any Cleveland driver (5,200 g-cm2)
8g counterbalance (CB) weight promotes sound swing mechanics
Easy to launch
Various shaft length options to favor distance or accuracy
Cons:
The large footprint of the head can be a turnoff for some players
Cobra AIR-X OS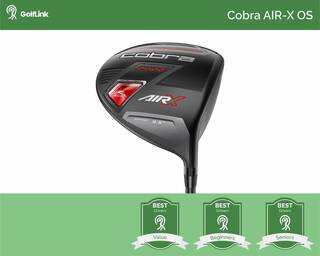 | | |
| --- | --- |
| Player Profile | Player who fights a slice or desires a draw, wants increased distance through faster swing speed and a great value |
| Price | |
| Lofts | 9.5, 10.5, 11.5 |
| Adjustable Hosel | No |
| Adjustable Weights | No |
One of the first breakthroughs golfers make as they transition from beginners to high-handicappers is that they can consistently hit the ball in the air. However, this milestone is often accompanied by the most notorious miss in the game of golf, the slice. The joyous feeling of seeing the golf ball launch high off the tee box is short-lived when you begin to see it curve uncontrollably to the right. While improving your swing mechanics will eventually steer you back into the fairway, a draw-biased driver such as the Cobra AIR-X OS can be a great co-pilot.
The AIR-X OS is not only designed to fight the right miss (for right-handed players), but it's created with seniors and women in mind with design elements to help players who don't have top-end swing speeds. A lighter head, shaft and grip helps you swing the AIR-X faster with normal effort.
The head features a fixed draw-biased weight towards the rear heel to help you avoid that pesky slice. The second slice-fighting technology in the AIR-X OS is the offset head, which is where the "OS" in the name comes from. The offset head helps you square the club face through impact and hit straighter shots. However, if you don't need that extra draw-bias, the AIR-X is also available in a straight-neck version. At $350, the Cobra AIR-X checks in at around half the price as some of today's premium drivers. 
For golfers who want to upgrade their entire bag, the AIR-X is also available in a complete set for men and women.
Pros:
Offset to help reduce slice and promote a draw
Great value
Lightweight materials promote faster swing speeds and more distance
Cons:
No adjustability
Offset head is not for all players
No ideal for players who already swing 95+ mph
Callaway Epic MAX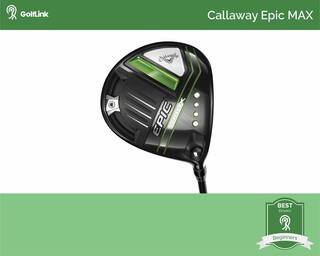 | | |
| --- | --- |
| Player Profile | Players seeking a driver with optimal distance and forgiveness from an evolving swing at an affordable price |
| Price | |
| Lofts | 9, 10.5, 12 |
| Adjustable Hosel | Yes |
| Adjustable Weights | Yes |
Beginners who are hooked on golf and want to invest in a driver that will help them now, and when their skills improve should take a good hard look at the Callaway Epic MAX driver. This big dog checks all the boxes. The head includes Callaway's "Jailbreak" technology, which gets its name from the prison-bar-looking rails inside the face to provide stability and ultimately, more ball speed. 
The Epic MAX also features Callaway's AI-designed flash face, which without context is just  another catchy, but confusing, name. The fact is, Callaway uses Artificial Intelligence to evaluate golfers' strike locations and design a face that provides the highest ball speeds possible on any part of the face. On the inside, the result resembles various ripples, peaks and valleys behind the face (not that you'd ever see the inside of your driver's face). On the outside, it looks like more distance, and more fairways.
Two more reasons beginners should consider the Epic MAX are its adjustability and the price. We already mentioned that we love adjustability because it allows a single club to fit an evolving game for a much longer period of time than a fixed club, and the Epic MAX features adjustable weight and an adjustable hosel. Callaway claims the rear weight allows for up to 20 yards of shot shape correction. 
Meanwhile, the $400 price tag is a pro and a con. That may feel high for a beginner, but if you can't get enough golf and know you're going to be playing for years to come, it's worth noting that the Epic MAX could easily suit your game for a decade or more, and hitting longer, straighter drives makes golf more fun. You can't put a price tag on that.
Pros:
Through adjustable loft, 17g sliding weight, and shaft variations, it fits almost anyone
Better value than most premium tour-brand drivers
Minimal dropoff on mishits
Cons:
$400 is still a big investment for a beginning golfer
TaylorMade Stealth HD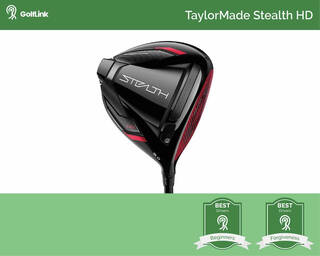 | | |
| --- | --- |
| Player Profile | Players who fight a slice or want to add distance through a draw |
| Price | $580 [Buy at Golf Galaxy] |
| Lofts | 9, 10.5, 12 |
| Adjustable Hosel | Yes |
| Adjustable Weights | No |
With the TaylorMade Stealth HD, you'll want to watch replays of your high draws in high definition. The HD – yes, that stands for high draw – member of the Stealth family gives you the same Carbon Twist Face found in the other Stealth drivers, with 15 yards of beautifully satisfying high draw bias built in. Whether that means less of a slice, or your dream draw shape, the Stealth HD is helping golfers find more fairways and pull more wedges and short irons on approach shots.
The 60X Carbon face is just that, 60 layers of carbon that create one face that's 40% lighter than an equivalent titanium face. The Stealth HD offers the highest MOI of any driver in the Stealth family, giving it the nod as the most forgiving with the Stealth tag. 
On the downside, the Stealth HD doesn't offer adjustable weights. Hopefully you're committed to hitting that high draw for years to come, because the nearly $600 stock price tag doesn't lend itself to most short-term buyers.
Pros:
Designed to give 15-yard draw bias
Spins more than Stealth Plus
Cons:
TaylorMade warns its 45.75" driver may exceed the USGA length limit of 46" due to "a slight variance in how we measure club length compared to the USGA"
Large investment
PING G425 SFT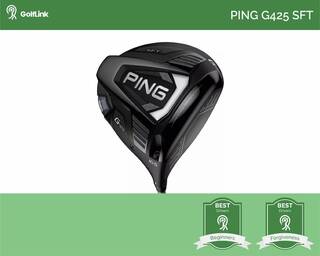 | | |
| --- | --- |
| Player Profile | Players who fight a slice or want an easier draw shape |
| Price | |
| Lofts | 10.5 |
| Adjustable Hosel | Yes |
| Adjustable Weights | No |
PING has a reputation for making the most forgiving, hence beginner-friendly, drivers, and the PING G425 SFT is the most forgiving of the super long, super straight G425 lineup. SFT is short for "Straight Flight Technology" and it's the only thing short about the driver. The entire G425 lineup is impressively long, and the SFT is no different. But it's the Straight Flight Technology that sets the SFT apart from the rest.
The G425 SFT provides 25 more yards of draw bias than the G425 MAX. That's thanks to a 23-gram weight in the back that's fixed in a draw-bias location, and a lighter D1 swingweight. In other words, the G425 SFT is an anti-slice driver. The fact is, most beginners experience a slice sooner or later. Some out-grow it quickly, while others are tortured by the seemingly incurable miss. Some players get to the point where they refuse to even hit the driver because they simply have no confidence they can hit it straight. The G425 SFT brings more shots back into the fairway, and when paired with one of the straightest-flying golf balls, you can step onto the tee and swing away with confidence. That makes the game much more fun.
Pros:
Fixed 23-gram weight promotes 25 yards of draw compared to G425 MAX
Loft and lie adjustment
Three shaft options
Cons:
Tommy Armour 2021 845-MAX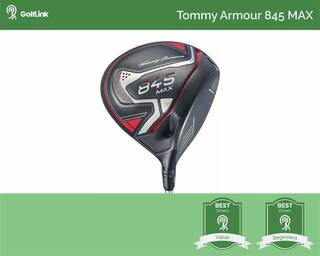 | | |
| --- | --- |
| Player Profile | Players who want forgiveness, adjustability and great value |
| Price | $200 [Buy at Golf Galaxy] |
| Lofts | 9 (RH Only), 10.5 |
| Adjustable Hosel | Yes |
| Adjustable Weights | No |
There are so many elements of the Tommy Armour 845-Max Driver that make it a great choice for beginners. For starters, the price tag won't have you reconsidering your decision to take up golf. At just $200, you can put a top-end driver in your bag and have some cash leftover for a few lessons.
Secondly, the 845-Max is designed to produce great ball speed across the entire club face. The face actually has 11 different thicknesses to produce great ball speed no matter where you strike it. That means you don't have to worry about hitting it directly in the center to hit bombs. That's a huge relief, because let's face it, whether you're a beginner or experienced player, hitting the sweet spot is an accomplishment.
Lastly, the 845-Max gives you all the adjustability you need to optimize your launch and shot shape. It offers six different settings that allow you to choose low, high or neutral launch, with draw, fade, or neutral shot shape bias. Find you're optimal setting and let 'er rip!
Pros:
Fast ball speeds across the face
Great value at $200
Launch and shot shape adjustability
Mitsubishi Tensei CK stock shaft
Cons:
Not as draw-biased (slice-fighting) as other options on this list
9.0 degree option is available for right-handers only (10.5 degrees available to RH and LH golfers)
Stix Golf Driver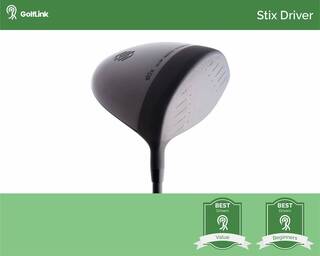 | | |
| --- | --- |
| Player Profile | Minimalist looking for great value and sleek aesthetics and competitive performance |
| Price | $250 [Buy at Stix Golf] |
| Lofts | 10.5 |
| Adjustable Hosel | No |
| Adjustable Weights | No |
If you haven't heard of Stix golf clubs, that's because you won't find them in most retailers, or see their commercials during a weekend golf broadcast. Stix is a direct-to-consumer club-maker that produces sleek-looking and high-performaing clubs at a nice price.
Stix is known for its complete set of clubs, but you can also purchase individual clubs, including the Stix Golf Driver. The driver features an eye-catching all-black design from the head to the grip. The only pop of color is a subtle orange dot on the crown, which serves as an alignment aid. For $250, you can get the Stix driver in left or right-handed, with a regular, stiff or senior "active" shaft, and five length options, standard and up to one inch in either direction in half-inch increments. On the flip side, those are the only spec options. Once your driver is built, there's no adjustability, and you don't have the multiple stock shaft options that many other manufacturers offer.
But if you're just beginning, there's nothing wrong with keeping it simple. Especially given the fact that from a performance standpoint, the Stix driver is no joke. It churns out legitimate distance to rival brands that charge more than double for a driver.
Pros:
Great value
Sleek look
Useful club-length selector tool
legitimate top-end distance
Cons:
Limited spec options
Hard to find in retail to test before purchasing
No adjustability
Tour Edge Bazooka 470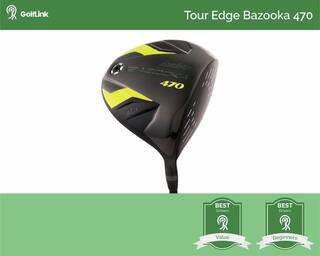 | | |
| --- | --- |
| Player Profile | Budget-concious players who want an easy-to-hit driver |
| Price | |
| Lofts | 9.5, 10.5, 12 |
| Adjustable Hosel | No |
| Adjustable Weights | No |
If you want the most budget-friendly, high-performance driver, check out the Tour Edge Bazooka 470 driver. Golfers who need to purchase more than just a driver will love the $120 price tag, and the easy launch and forgiveness on strikes away from the sweet spot makes it a great compliment to most golfers' games, especially beginners.
The Bazooka 470 is available in 9.5, 10.5 and 12 degree lofts, and doesn't offer any loft adjustability or weighting adjustability. The weight is fixed in the rear sole for a deep CG, which is what helps the Bazooka 470 easily launch high. For players who have seen worm-burner tee shots swallowed up by the rough before they even reach the fairway, high launch is a welcomed feature. It also helps the ball stay in the air longer, resulting in impressive distance.
That lack of adjustability means this club may not be your forever driver. If you're a younger beginner, you'll likely grow out of the need for a made-to-launch-high driver as your swing speed increases, and benefit more from a driver with a penetrating flight. But with the minimal $120 investment, you won't have to stress so much in a few years when it's time to find a great driver for a mid-handicap golfer.
One nit-picky complaint we have about the Bazooka 470 is the name. Specifically the 470 part. Given the legal limit of clubhead size is 460cc, and many brands used to put 460 in the name of their drivers to indicate it featured the largest legal head, the Bazooka 470 may lead golfers to believe the club is illegal with a head larger than the legal limit. Rest assured, the Bazooka 470 features a perfectly legal 460cc club head.
Pros:
Easy to launch high
Great value
Forgiving design results in great distance even on off-center strikes
Cons:
Not available in left-handed
No adjustability
Confusing name
Wilson Staff D9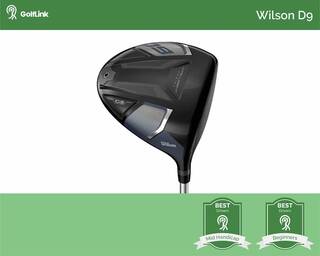 | | |
| --- | --- |
| Player Profile | Players looking for a good all-around driver without much complication |
| Price | $300 [Buy at Golf Galaxy] |
| Lofts | 9, 10.5, 12 |
| Adjustable Hosel | No |
| Adjustable Weights | Yes |
Wilson really emphasized the face when designing the D9 driver. Specifically focusing on creating a face that would produce the fastest ball speeds from the widest area. The result is a highly forgiving driver that beginning golfers and experienced players alike will love.
The adjustable weight system in the D9 driver is a little different than the standard track system many other brands use. Wilson gives you two weights, a 10-gram and a 3-gram weight, that fit into the sole of the club. Utilizing the 10-gram weight allows you to boost forgiveness. Swap it out with the 3-gram weight to go all in on speed and distance.
With the D9 driver, you can choose between three stock lofts of either 9, 10.5, or 12 degrees. Unlike the weighting, there is no adjusbability with the loft in the D9. 
Considering the D9 features a carbon crown, it produces a louder, more explosive sound at impact. That's because of the (K)Composite Crown. The K represents the layer of Kevlar in the crown, the middle layer of the three-layer construction.
Pros:
Wide sweet spot
Two rear weight options to favor either forgiveness (10g) or speed & distance (3g)
Cons:
Shots lower on the face were met with noticeable distance loss
No hosel adjustability
Tour Edge Hot Launch E522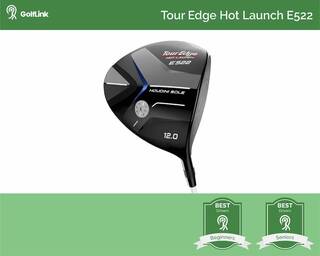 | | |
| --- | --- |
| Player Profile | Players in need of extreme game improvement |
| Price | |
| Lofts | 10.5, 12, HL |
| Adjustable Hosel | No |
| Adjustable Weights | No |
You've probably heard, or know from experience, that the driver is the most difficult club in your bag to hit. Part of the reason for that is because it's the longest club in your bag, making it the most difficult to control and strike consistently. That loss of control dimishines the efficiency of your strike (affectionately known as smash factor), which is why your best drives seem to fly for miles, while your others come up significantly shorter.
The Tour Edge Hot Launch E522 addresses efficiency through what it calls a Control Length Shaft, which is golf marketing speak for a shorter shaft. The idea is that you can control the club head better with a shorter shaft, and transfer more of your club head speed into the ball, resulting in evern more distance than you would get from a faster swing with a less efficient strike. That concept is actually becoming more popular, and is one we believe more golfers should subscribe to.
The Hot Launch E522 features a fixed weight in the heel and a slight offset to provide a draw bias. Even though it's designed for you to find the sweet spot with ease, with Tour Edge founder David Glod calling it "the easiest driver you will ever hit," the E522's has 42 different thick and thin diamond shaped impressions behind the face to provide maximum ball speed on off-center strikes just in case you miss the sweet spot.
At $250, the E522 is undoubtedly one of the best dollar-for-dollar drivers available in 2022.
Pros:
Control Length (shorter) shaft improves accuracy and efficiency
Great value
Draw bias
Cons:
Wilson Launch Pad 2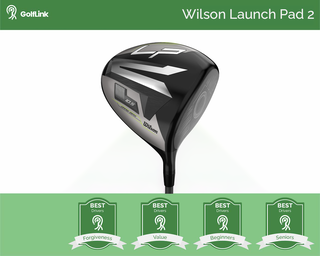 | | |
| --- | --- |
| Player Profile | Players who want distance and forgiveness without premium price |
| Price | |
| Lofts | 9, 10.5, 13 |
| Adjustable Hosel | No |
| Adjustable Weights | No |
The Wilson Launch Pad 2 is another draw biased driver to help you eliminate the right miss (for right-handed players) and find more fairways, something beginners can always use more of. Wilson achieves this through heel-weighting and a slight offset. 
The Launch Pad 2 also boasts a forgiving face designed to produce peak ball speeds no matter where on the face you hit the ball. To help boost distance, Wilson made the Launch Pad 2 driver lightweight, and paired it with a lightweight Evenflow shaft, so you can easily improve your swing speed, and get more distance. Given that the Launch Pad 2 is so lightweight and easy to swing fast, we also think it's one of the best drivers for senior golfers.
The Launch Pad 2 is a fixed driver, there's no adjustability with weighting or loft. However, it is available in 9, 10.5 or 13 degree heads, so you can determine which head gives you the best launch conditions through a quick fitting, and head to the tee box with confidence.
At $350, the Launch Pad 2 is noticeably less expensive than some of today's top-tier drivers, but it's still an investment.
Pros:
Draw bias
Lightweight and easy to swing fast
High launching
Cons:
Which Driver is Best For You?
You've probably noticed a few trends within this list. These drivers tend to feature two or three of the most important traits for beginning golfers: distance, forgiveness, slice-fighting ability, adjustability, and great value. It's up to you to determine which of those qualities you absolutely need, and which you can live without. Then find which drivers fit your needs and compare them head-to-head in a fitting to make sure you're getting the best driver for your game, and for your money.