What Is the Difference Between Ladies & Mens Golf Clubs?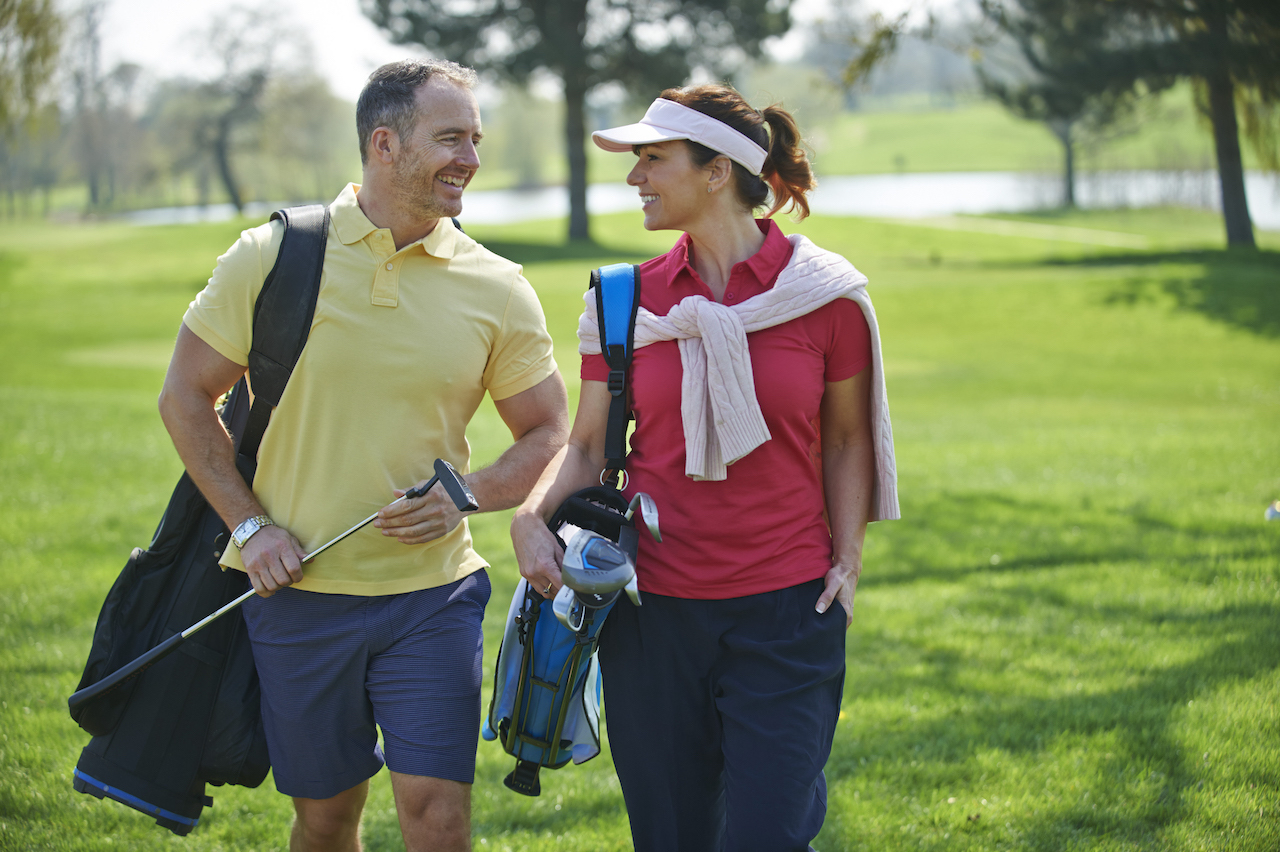 There are many differences between ladies and men's golf clubs, all of which are necessary for the individual player to get the most out of the equipment that they're playing. Golf club technology has helped advance materials, especially in the ladies category. Here are some of the main differences to know ahead of shopping for ladies' or men's golf clubs.
Ladies' golf clubs took a tremendous turn for the best in the early 2000s when club manufacturers decided to devote more Research & Development dollars towards helping advance golf clubs that actually fit ladies as opposed to just lighter models of men's clubs.
Today, club companies look at everything from the type of metals cast to the rubber that grips are made from in order to advance the playability of ladies' golf clubs. Long gone are the days of ladies having only two options: Beginner type sets and re-shafted men's sets for advanced players.
Grip Size
Standard sets of golf clubs for men typically have grips that have a .600 inch core. Whereas ladies' standard clubs have grips with a .580 inch core.
This is mostly standard to accommodate ladies with smaller hands in order to allow for proper gripping of the golf club. If you are being fit for your golf clubs, however, you have the choice to order whatever grips you'd like, starting with size. It's not uncommon for men with smaller hands to use .580" grips or ladies with larger hands to use .600" grips.
Irons
Ladies' iron sets, as a standard, are shorter than men's irons. For example, a 7-iron in a ladies' set is about 36" long and a 7-iron in a men's set is about 37". While ladies' irons are shorter as an industry standard, there is always the option to lengthen or further shorten them.
Most ladies' irons have graphite shafts that are lighter in weight than steel shafts. Men's irons can also have graphite shafts, but you'll find mostly steel shafts on retail shelves.
Depending on the manufacturer and which stock shaft they've chosen to have in their ladies' irons, the weight of the head might vary compared to than the men's versions in order to achieve the proper swing weight of the club.
Woods
Similar to irons, woods are also shorter in ladies' golf clubs. This is consistent for fairway woods and drivers. A standard men's driver is around 45 inches and a standard ladies' driver is around 44 inches.

Manufacturers have found that they can duplicate popular men's drivers into ladies' models thanks to advancements in materials. It's common to find a comparable ladies' model with additional carbon as opposed to titanium to make the club lighter.
Colors
It sounds trivial, but a big difference between ladies' and men's golf clubs is color. In recent years many manufacturers have listened to their female consumers and now understand that their ladies' golf clubs don't have to be pink. However, many ladies' models still have a more pastel color scheme or a different color design that's considered more feminine.
Conclusion
As the game of golf continues to advance, so does its equipment. The differences between ladies' and men's golf clubs are still aimed towards accommodating different consumers and hopefully those differences and technology make for a more enjoyable day on the golf course.