Golf Irons Explained: Types and How to Choose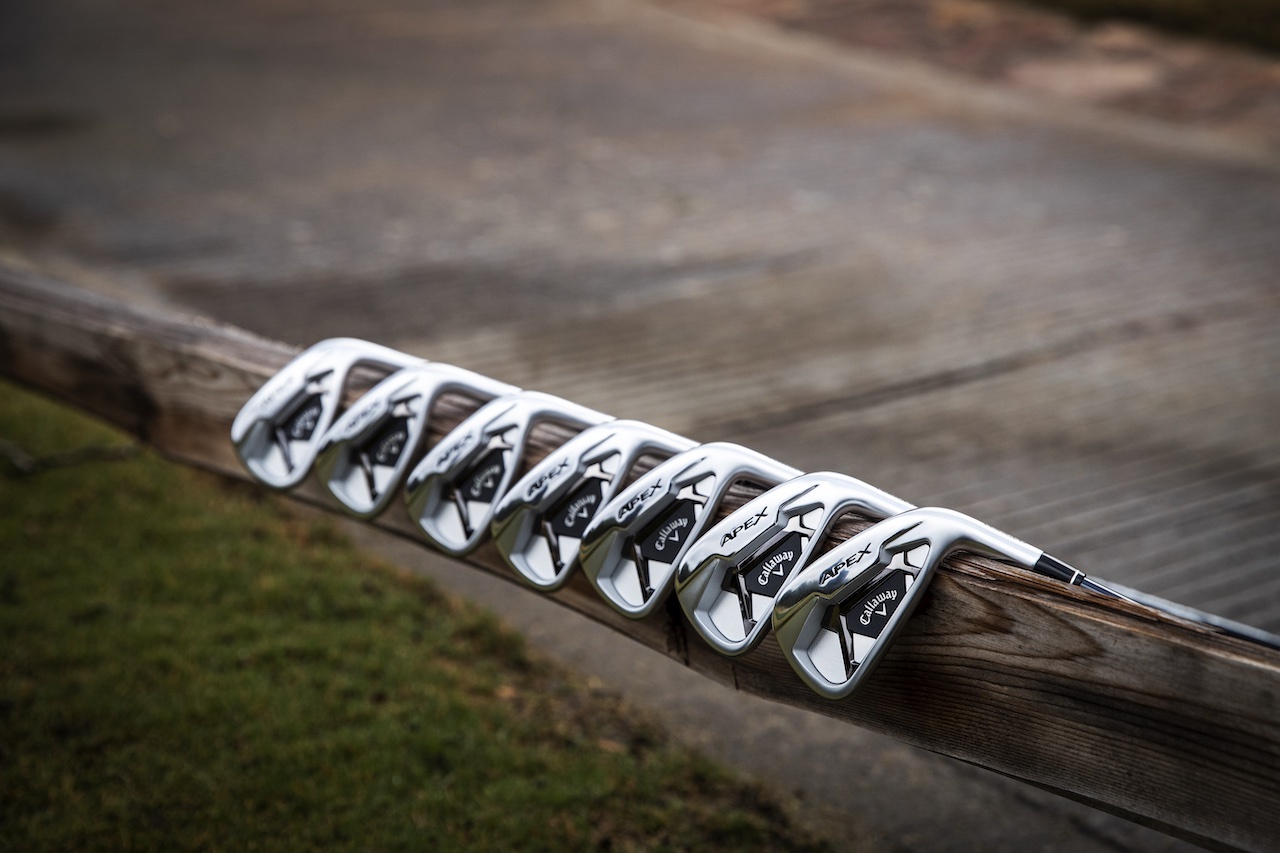 You want to nail your investment in a new set of irons from both a financial standpoint and a performance standpoint. Having irons that fit your game makes golf much more enjoyable and helps you shoot lower scores. This guide details what type of irons are best for each level of golfer, and we give our recommendations of which models to consider in each category.
Types of Irons
Golf irons are just like music and movies. There are different genres, but the lines between two adjacent genres are sometimes blurry. Here are the six different types of golf irons.
| | | | |
| --- | --- | --- | --- |
| Category | Player Type | GolfLink's Pick | Shop |
| Super Game Improvement | Low swing speed (beginners & seniors) | Cleveland Launcher XL Halo | SHOP |
| Game Improvement | Players shooting in 80s & 90s | PING G430 | SHOP |
| Players Distance | Need distance, forgiveness and workability | Mizuno Pro 225 | SHOP |
| Muscle Back | Players shooting in the 70s | Callaway Apex MB | SHOP |
| Players | Skilled players who prefer not to use blades | TaylorMade P7MC | SHOP |
| Blades | 5-handicap or less players who want workability | Wilson Staff Model Blade | SHOP |
In addition to these, there are a couple additional categories of irons which can fall into various categories above. Hybrid irons are typically super game improvement irons, but not all super game improvement irons are a full hybrid set. Cavity back irons can range anywhere from game improvement irons to players irons, and are defined by the cavity in the back of the iron head.
| | | | |
| --- | --- | --- | --- |
| Category | Player Type | GolfLink's Pick | Shop |
| Hyrbird Irons | Need max launch and forgiveness | Tour Edge E522 | SHOP |
| Cavity Backs | Wants distance, forgiveness and feel | Titleist T300 | SHOP |
Super Game Improvement Irons
The super game improvement iron category has been around for less than a decade. There have always been versions of super game improvement irons, but today just about every manufacturer offers its own version.
Super game improvement irons are designed to provide the highest level of forgiveness, launch, and distance that money can buy. They are often paired with graphite shafts or lighter steel shafts to help promote maximum club head speed and distance. Super game improvement sets typically start with a 5-iron and run all the way to sand or lob wedge, eliminating the harder to hit 3- and 4-irons. Irons in this category feature the widest sole of any irons on the market to support consistent contact and forgiveness. They also have the highest level of offset to promote a draw.
Who Should Play Super Game Improvement Irons
Super game improvement irons are best for players with low to moderate swing speeds, and for that reason they tend to fit beginners and seniors more than anyone else.
Beginners benefit from maximum forgiveness as they begin the early stages of learning the golf swing. Meanwhile, seniors who have seen a drop in yardage find that super game improvement irons help with distance.
GolfLink's Super Game Improvement Iron Pick: Cleveland Launcher XL Halo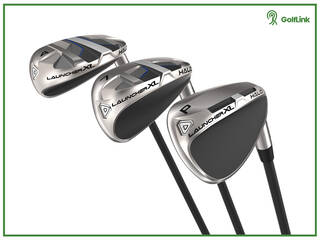 $800 | SHOP NOW
Cleveland dominates the oversized iron game, and the Launcher XL Halo set is simply more proof of that. We love that this set is progresive, meaning the longer irons have the largest, most forgiving and confidence-inspiring heads, while the shorter irons and wedges have sleeker profiles that look playable behind the ball.
Game Improvement Irons
Game improvement irons are a toned-down version of super game improvements irons and they fit a much wider range of golfers. Some players can actually stay in game improvement irons for their entire golf life.
Game improvement irons have a wide sole and large overall footprint and are also offset to help promote a draw, however, the offset is more subtle than on super game improvement irons. Game improvement irons are typically cast iron, as opposed to forged, and can be cavity back (see below) or have a full-body design.
Game improvement irons are sold as either complete sets or combo sets that include hybrids instead of 3-, 4-, or even 5-irons. Some game improvement irons are blended into a set for more advanced players with the 4- and 5-irons fitting the game improvement profile while the 6-iron are players irons.
Who Should Play Game Improvement Irons
Game improvement irons fit a large percentage of amateur golfers, anywhere from a 15 handicap and above, or players who typically shoot scores in the 80s and 90s. Players who want all of the technological advancements available to help them get around the course, but don't need the help of a super game improvement iron should consider this iron profile.
GolfLink's Game Improvement Iron Pick: PING G430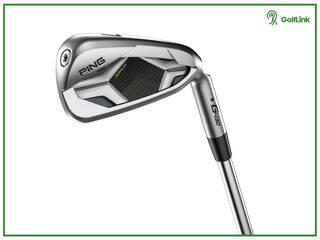 Starting at $950 | SHOP NOW
PING has a decades-long reputation for building the most forgiving golf clubs, which is exactly what players shopping in the game improvement category are looking for. The PING G430 irons, new for 2023, pack distance and accuracy gains while maintaining PING's admirable forgiveness.
Players Distance Irons
The players distance iron genre came out of necessity and consumer demand. Golfers playing game improvement irons who found they weren't getting enough spin on their approach shots but weren't ready sacrifice distance by switching to players irons needed another option. And with that, players distance irons were born.
Players distance irons are typically cavity back irons with a thinner topline. These irons will launch higher than players irons and generate tighter dispersion. If you have a solid swing speed, you won't need to worry about distance with these irons.
Who Players Distance Irons Fit
Players distance irons fit golfers who want a little less offset and more workability than a game improvement iron, with a hint of forgiveness and optimal distance. If you can find the center of the club face with your irons consistently and want to incorporate a draw, fade, or both, into your game without losing distance, you're ready for players distance irons.
GolfLink's Players Distance Iron Pick: Mizuno Pro 225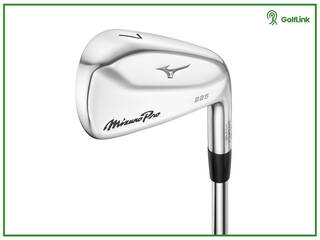 $1,500 | SHOP NOW
Nothing feels like a Mizuno, and these Mizuno Pro 225 irons stimulate more than just your feels with they way they look and sound. If you want to shape and flight the ball as you please, while playing a beautiful iron that churns out impressive distance, you can't go wrong with these.
Muscle Back Irons
Muscle back irons are a more forgiving alternative to the traditional blade. The point of a muscle back iron is to provide feel and workability to better players while incorporating some of the offset and forgiveness found in other types of irons. The word "muscle" refers to the noticeable material you'll see near the sole on the back of the club.
Some of the best players in the world play muscle back irons, including Justin Thomas and Adam Scott. The great thing about muscle back irons is that they can seamlessly blend into an iron set whether you have them at the top of your bag (4, 5-iron) or the bottom (7 -iron-wedge).
Who Muscle Back Irons Fit
Muscle back irons are intended for more accomplished players, typically single-digit handicap players who regularly shoot scores in the 70s. The drawback of muscle back irons, however, is that some high-level players find that muscle back irons don't provide the optimal distance and penetrating ball flight needed for their game.
GolfLink's Muscle Back Iron Pick: Callaway Apex MB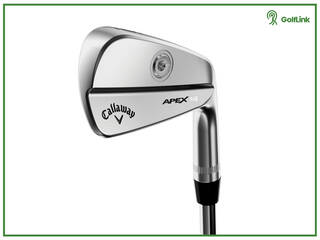 $185 - $1,480 | SHOP NOW
Callaway's Apex irons are an iconic line that dates back to the Ben Hogan days in the 1970s. But make no mistake, the new Apex MB (muscle back) irons and nothing but moden, despite the clean, classic look. Not for the faint of heart, the thin topline and and compact head are proof these irons are built for highly skilled golfers.
Players Irons
Players irons are another broad category, but to to put it simply, they are intended for better golfers. Players irons can take on the design profile of cavity backs or muscle backs, but they typically don't lean towards the blade profile.
Players irons provide a smaller amount of forgiveness because if you're playing these you can consistently find the middle of the club face. This frees up players to shape shots as they please, whereas forgiving clubs are designed to combat left-to-right and right-to-left ball flights.
With the advancements in shaft technology, players irons can be paired with just about any shaft on the market. Whether it be steel, lighter steel, graphite, or heavier graphite, players irons allow golfers to take their next steps to shooting lower scores.
Who Players Irons Fit
Players irons are the best fit for golfers who have graduated from more forgiving types of irons but prefer not to go to a full-fledged blade.
GolfLink's Players Irons Pick: TaylorMade P7MC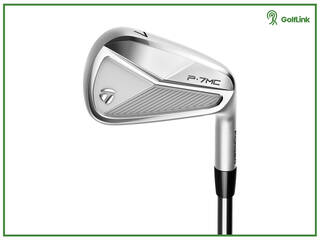 $1,300 | SHOP NOW
The P7MC irons from TaylorMade are built to optimal feel and control, with a touch of forgiveness thanks to some subtle perimeter weighting. After a few swings, you'll notice the hand-crafted feel and appreciate the workability. These irons aren't for higher handicap players, but if you have the game to play these 1025 carbon steel beauties, you won't be disappointed.
Blade Irons
Blades irons feature the thinnest top and bottom line of any golf iron you can find. They are the least forgiving, lowest launching, and overall hardest to hit. Sold yet? No worries, blades aren't for everyone, but for advanced players, blades can be a tremendous asset to your golf game.
The workability players get with blades is unmatched, meaning you can control your ball flight, and hit that draw and fade. The best golfers in the world play and execute blades effectively.
Who Blades Fit
Blades fit a small percentage of golfers. Players with a low single-digit handicap, about 5 or less, who want the ability to work the ball in both directions on command should consider blades.
GolfLink's Blade Iron Pick: Wilson Staff Model Blades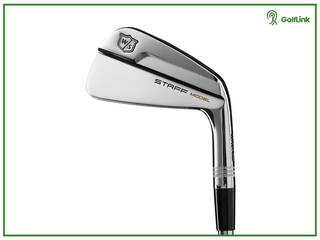 $1,300 | SHOP NOW
The Wilson Staff Model Blade irons are a classic blade from a classic brand. Wilson has been making some of the best golf clubs for over 100 years. These blades are played on Tour by former U.S. Open Champion Gary Woodland, among others. Shape it and carve it however you'd like with these blades. 
Iron Selecting Guide
Now that you know all about every type of iron on the market, it's time to decide which style is best for your game. Use this table to help guide you to the perfect set of irons.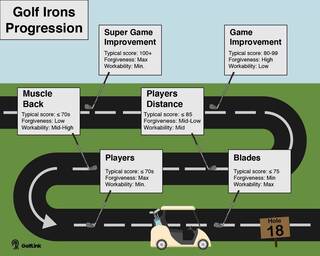 | | | | | | | |
| --- | --- | --- | --- | --- | --- | --- |
|   | Super Game Improvement | Game Improvement | Players Distance | Muscle Back | Players | Blades |
| Typical Score | 100+ | 80-99 | 85 and under | 70s and under | 70s and under | 75 and under |
| Offset | Max | High | Mid | Low | Low | None |
| Forgiveness | Max | High | Mid-Low | Low | Low | Min |
| Workability | Min | Low | Mid | Mid-High | High | Max |
| Distance | Max | Max | Mid-High | Mid | Mid | Low |
More Iron Profiles
In addition to the categories mentioned above, golfers will often see and hear about a couple of other categories of irons as well, including hybrid iron sets and cavity back irons. Here's everything you need to know about these types of irons.
Hybrid Irons
Hybrid golf clubs gained popularity in the early 2000s and were accepted as mainstream, clubs to add to your golf bag. The hybrid movement also ushered in complete sets of hybrid irons. While not every manufacturer offers this type of model, they do have a following and fit certain players well.
Hybrid irons take some getting used to, mainly due to aesthetics. They possess a lot of the same qualities as super game improvement irons in that they're designed to get the ball in the air with ease and provide a boost in distance due to the CG and weighting being almost entirely at the back of the club head. Hybrid irons are typically paired with graphite shafts, but some light steel shafts can be used.
Who Should Play Hybrid Irons
A full set of hybrid irons benefit golfers who are comfortable looking down at hybrids for every iron in their bag, including wedges. Beyond that, it's a toss-up between these and super game improvement irons. Hybrid irons are best suited for seniors looking for more distance.
GolfLink's Hybrid Irons Pick: Tour Edge E522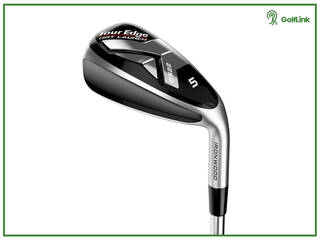 $555 | SHOP NOW
Tour Edge gives you every dollar's worth for your purchase, and the E522 Iron-Woods are no exception. Houdini Sole reduces turf interaction by 35% according to the company. It also allows for the weight of the club to be low and deep, allowing for a ball flight that gets up easily and distance you'll instantly notice. Tour Edge found David Glod boasts these are the "easiest iron you will ever hit" which gives an indication of the intent of this set.
Cavity Back Irons
Cavity back irons span multiple genres of iron sets. They can be game improvement irons, and they can also be players irons. What makes them "cavity back" is the club's material that has been removed behind the club face to reallocate weighting to the perimeter of the club, increasing ball speed and forgiveness on strikes that miss the sweet spot. The one constant with cavity back irons is that they are intended for distance and forgiveness, without sacrificing feel.
Who Should Play Cavity Backs
Due to the varying genres that cavity back irons fall into, it's not cut and dry who these irons fit best. Cavity back game improvement irons can be a great fit for players who shoot in the 80s and 90s, while cavity back players irons can be a fit for players capable of posting scores in the 70s.
GolfLink's Cavity Back Irons Pick: Titleist T300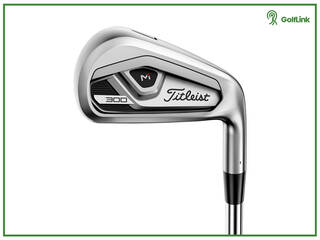 $1045 | SHOP NOW
The Titleist T300 irons offer a forgiving, mid-sized face with a low center of gravity, making them easy to launch. Meanwhile, they're designed to give you feedback at impact, while maximizing ball speed and forgiveness, all in the desireable Titleist aesthetic.
Conclusion
When considering new irons, look at all of your options because so many are out there. We have a thriving golf industry with manufacturers that are giving us so many great options with the best technology the game of golf has ever seen. Take advantage of that by trying everything you can at your local golf retailer to really find out which irons are best for you. Most importantly, make sure you get fit for your irons by a certified club fitter.