Golf Course Acreage for Every Course Size and Hole Length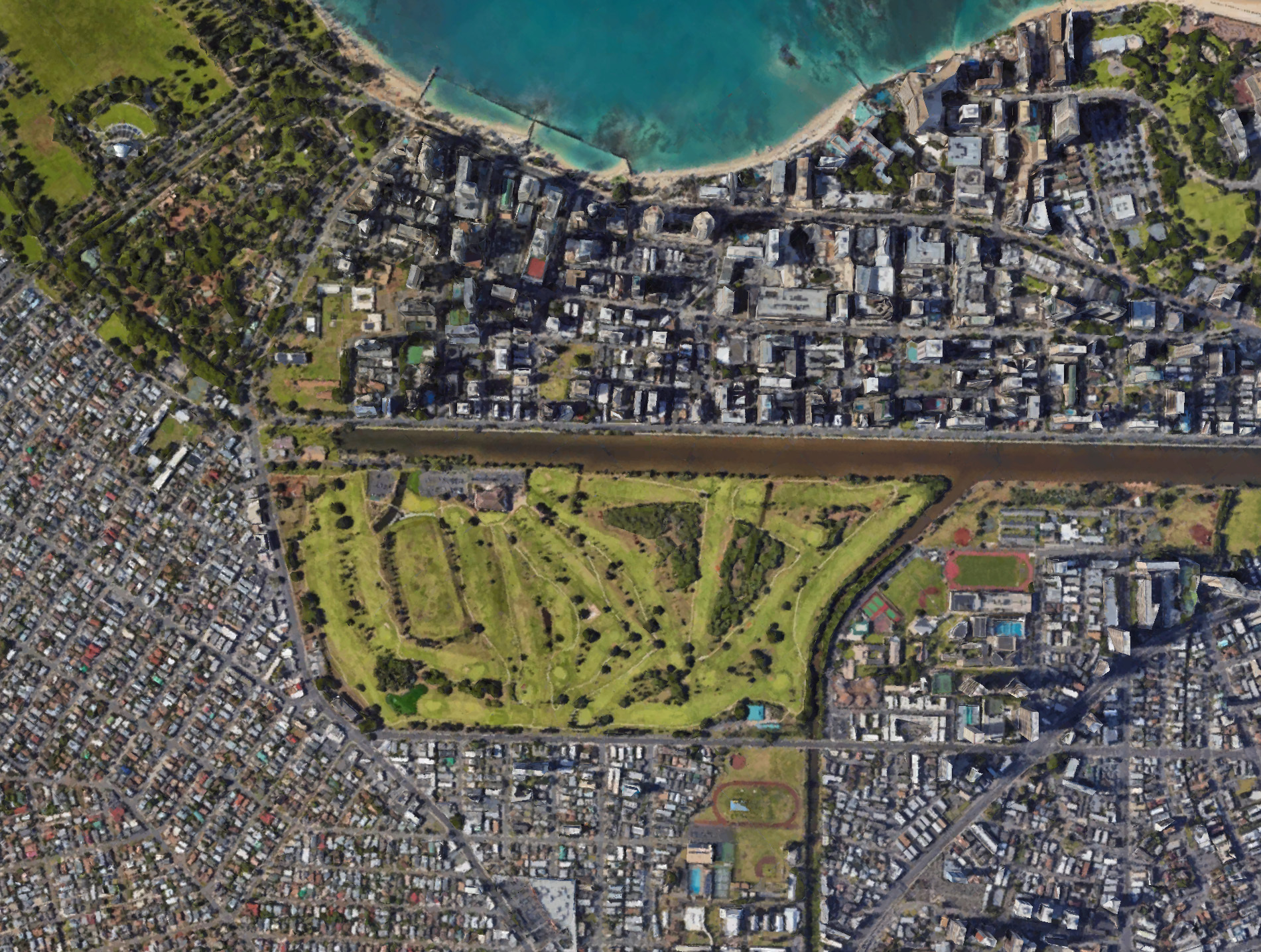 When somebody asks you how big a golf course is, you probably answer in yards. That answer tells part of the story, but if you want to know the size of a golf courses' footprint, you need to know how many acres are on a golf course.
Whether you want to design your own course, build a hole or two in your backyard, or you're just curious, we've got all the golf course acreage answers you need.
Before we get too deep into parsing out the acreage on 18-hole, 9-hole, Par-3, and backyard golf courses, you need a solid understanding of how big one acre really is.
To put it in terms most Americans can understand, one acre is just a little smaller than a football field. If you use the full width of a football field (53 yards), one acre runs from the back of one end zone all the way to the 20-yard line on the other side, 90 yards away. Let's look at how many of those 90-by-53-yard pieces of land it takes to make a golf course.
How Many Acres Are on an 18-Hole Golf Course?
A million factors go into how many acres are in each golf course, so it goes without saying – but we'll say it anyway – there's not one definitive right answer. But using examples from all over the spectrum, we'll give you a pretty clear picture.
Circling Raven Golf Club | Worley, Idaho
| | |
| --- | --- |
| Acres | 620 Acres |
| Max Length | 7189 |
| Par | 72 |
| Architect | Gene Bates |
| Year Built | 2003 |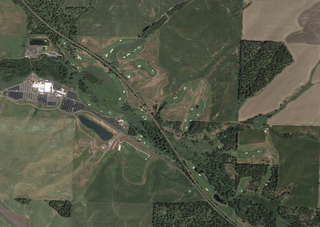 Let's start at the top end of the spectrum. Circling Raven Golf Course in Worley, Idaho, and architect Gene Bates, had the luxury of essentially unlimited land to lay out this 18-hole championship course. The sprawling track sits on 620 acres and plays to a maximum length of 7,189 yards.
Ala Wai Golf Course | Honolulu, Hawaii
| | |
| --- | --- |
| Acres | 145 |
| Max Length | 6208 |
| Par | 70 |
| Architect | Donald MacKay |
| Year Built | 1931 |
About 500,000 tourists visit the Hawaiian island of Oahu each year, and if you've ever been one of them, and you're reading this site, there's a good chance you've noticed an intimate and inviting golf course just a couple blocks from the world-famous Waikiki strip.
Honolulu's population density is high, and spare land is minimal, so every inch must be used efficiently. Ala Wai Golf Course (pictured at top), a flat and friendly muni, is a perfect example. The 18-hole golf course sits on just 145 acres, stretches to 6,208 yards and plays to a par of 70.
How Many Acres is the Average 18-Hole Golf Course?
If you cut out the popular driving range at Ala Wai, the course itself takes up about 125 acres, which is just about the minimum amount of land required for a full-length 18-hole golf course.
The American Society of Golf Course Architects suggests up to 200 acres would be much more comfortable for a par-72 golf course.
How Many Acres Are on a 9-Hole Golf Course?
Who doesn't love a good 9-hole course? Shorter courses have made a comeback in the last decade with the emerging popularity of Sweetens Cove in Tennessee and the ever-charming Winter Park GC in Florida. While these courses require a fraction of the land as their 18-hole counterparts, there is still a pretty huge spectrum from the most sprawling 9-holers, to the most intimate.
Sweetens Cove Golf Club | South Pittsburg, Tennessee
| | |
| --- | --- |
| Acres | 420 |
| Max Length | 3301 |
| Par | 36 |
| Architect | Rob Collins |
| Year Built | 2014 |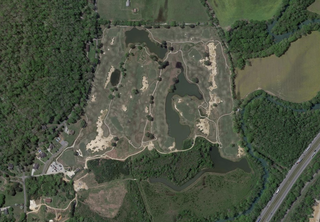 It wouldn't be hard to make the argument that Sweetens Cove made 9-hole courses cool. The eccentric course design debuted in 2014, not long before golf's governing bodies started pushing the "PLAY9" campaign to encourage people to squeeze in more golf. 
Whether or not either of these things influenced the other, Sweetens Cove boomed in popularity and changed the reputation of 9-hole courses.
Sweetens, however, is an outlier among 9-hole courses for many reasons. Not only do the design elements and aesthetics blow most other courses – 9- or 18-holes – out of the water, it sits on a parcel of land large enough for a full 18-hole course, and then some. King Collins Golf says the surface area of Sweetens Cove is 420 acres, far greater than most 18-hole facilities, not to mention its 9-hole peers.
Winter Park Golf Course
| | |
| --- | --- |
| Acres | 40 |
| Max Length | 2559 |
| Par | 35 |
| Architect | Renovated by Keith Rhebb & Riley Johns |
| Year Built | 1914; Renovated 2016 |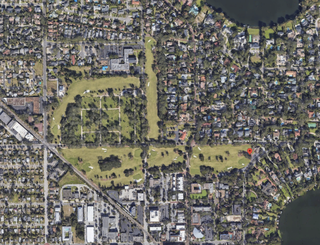 The Winter Park Golf Course, known by many as the Winter Park 9, is a shining example of how great municipal golf can be. The 2559-yard layout sits on just 40 acres, but since renovations in 2016 by Keith Rhebb and Riley Johns, the course has earned a reputation as one of the best 9-holers in the country.
How Many Acres is the Average 9-Hole Golf Course?
At 40 acres, the Winter Park 9 is on the small side of the 9-hole golf course spectrum. Anything from 40 to 80 acres is suitable for a 9-hole golf course, depending on how much of the land is usable and how efficiently the course can be routed.
How Many Acres is a Par 3 Golf Course?
The shorter the course, the less land you need, obviously. An 18-hole par-3 or executive course can sit on as few as 30 acres, with a more relaxed layout that incorporates some par 4s would need a larger footprint, about 75-100 acres, according to the American Society of Golf Course Architects.
A 9-hole par 3 course can sit on 15-20 acres, depending on the length of holes, how much unusable land there is, and how efficient the routing is.
How Many Acres Do You Need for One Golf Hole?
If you're looking to build just one golf hole, or maybe a two or three-hole loop you can play on your own property, you can accomplish that goal without a ton of land.
Consider that the par-3 12th hole at Augusta National Golf Club, one of the most famous par 3s in the world, sits on just over 1.5 acres. If you've got the land, you could build a replica in your backyard. Meanwhile, a typical 400-yard par 4 requires about a 10-acre piece of land.