ECCO Biom H4 Golf Shoe Review
Updated May 3, 2023
GolfLink is a participant in affiliate partnerships, and may receive a share of sales from links on this page. These partnerships do not influence our editorial content.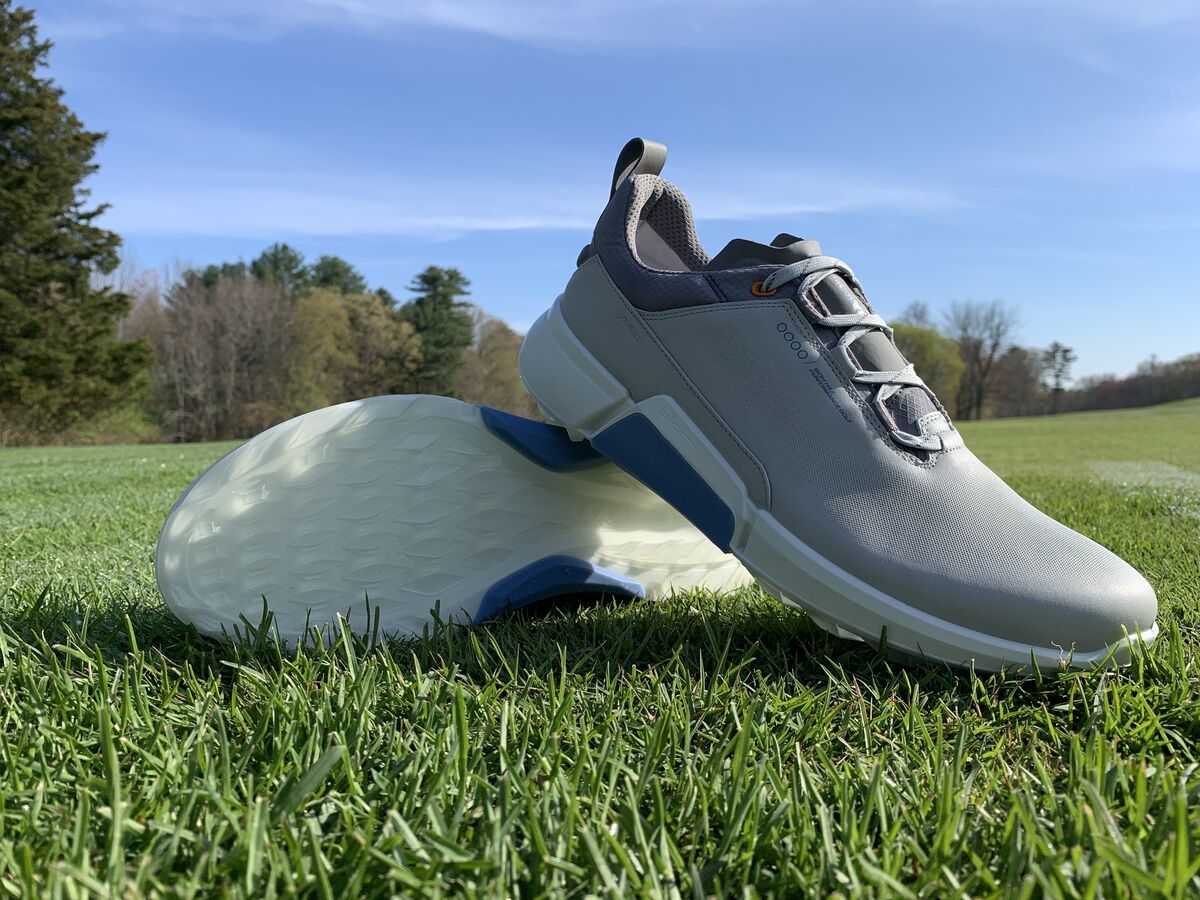 Even before ever slipping a foot into an ECCO golf shoe prior to testing the new ECCO Biom H4, I had lofty expectations. After meeting with an ECCO representative at the 2023 PGA Show, I was convinced that these shoes are simply superior to the other golf shoes out there. When the time came to test out the ECCO Biom H4 golf shoes on the course, I had two burning questions to answer: Do they live up to the expectations? And, are they worth the $220 price tag? 
Check out this complete review of the ECCO Biom H4 to find out.
ECCO Biom H4: The Final Verdict
From a performance standpoint, you'd have a hard time finding a better pair of golf shoes than the ECCO Biom H4. There's no better waterproof warranty than the 3-years ECCO offers with these GORE-TEX protected shoes, and the stability through the golf swing I experienced with the Biom H4 was better than any shoe I've tested. On top of that, they're quite comfortable, and if you prefer walking the course, you know how important that is.
Another element we love about the Biom H4 is that they're available for men's and women's sizes and styles. 
The question is not so much how good are the ECCO Biom H4 golf shoes, rather are they worth it? As the saying goes, you get what you pay for, and if you want one of the best golf shoes of 2023, it's going to cost you. These come with a $220 MSRP.
At that price, they are a bit of an investment. As far as I'm concerned, it comes down to one question: would you rather spend $50 on cheap golf shoes every year for the next five years, or splurge for top-of-the-line quality and performance once, and enjoy them for the long haul?
ECCO Biom H4 Specs and Features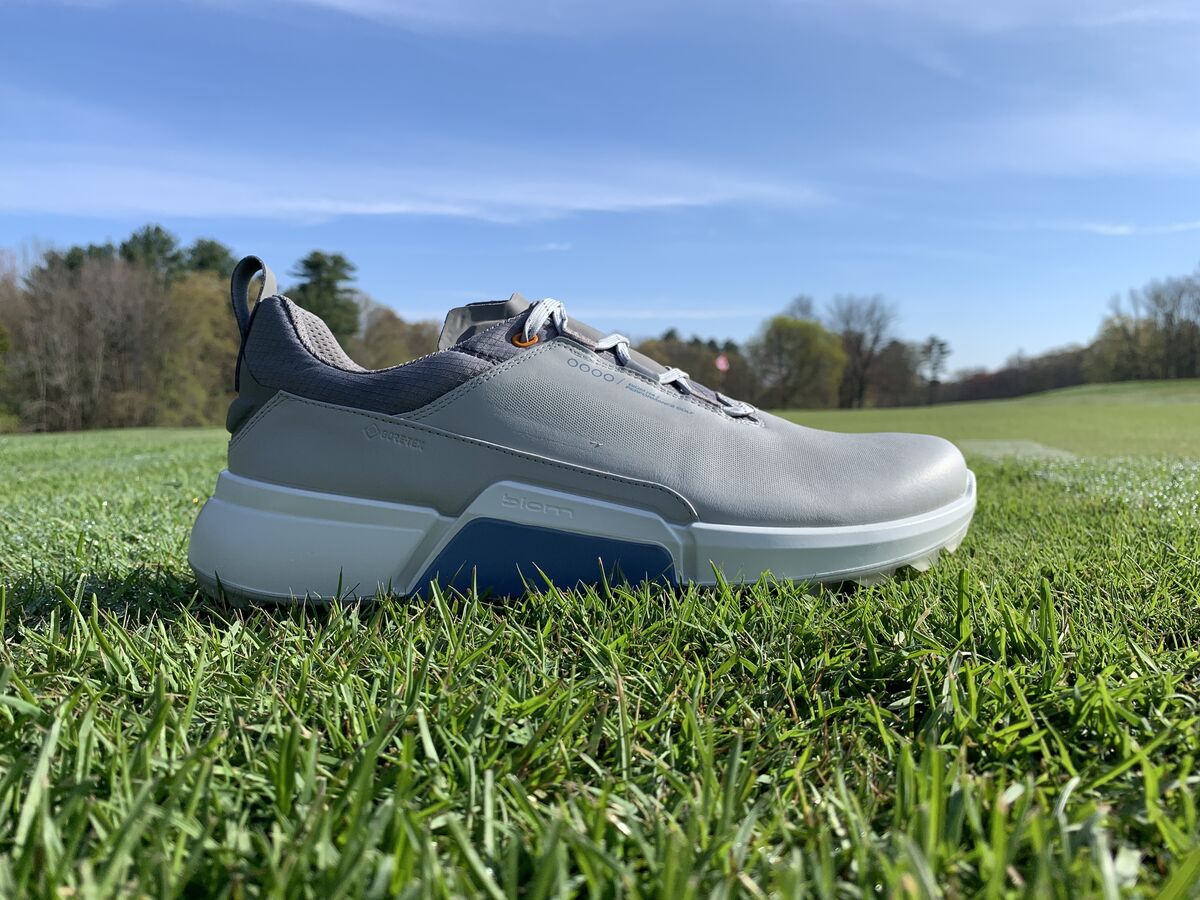 ECCO MSRP $220: SHOP MEN | SHOP WOMEN
| | |
| --- | --- |
| Price | $220 MSRP |
| Shop Men's | |
| Shop Women's | |
| Material | ECCO leather, GORE-TEX waterproof |
| Waterproof Warranty | 3 Years |
| Spikes | Spikeless; ECCO MTN GRIP Outsole |
| Colors | Black, Concrete, White |
ECCO's Biom technology stands for Biomechanical Optimization, and the concept of the technology is to allow your foot to behave naturally, as if it isn't in a shoe. In fact, Biom was inspired by barefoot runners.
The Biom H4 golf shoes use GORE-TEX waterproofing to keep your feet dry in any conditions. On top of that, ECCO's GORE-TEX shoes come with a three-year waterproof warranty, the best you'll find among any golf shoes.
The Biom H4 are spikeless, and feature ECCO's MTN GRIP outsole, which provides the most stability of any golf shoe we've tested, spiked or spikeless. 
Complete Review of the ECCO Biom H4
Taking looks, stability, waterproofing, and comfort into consideration, the ECCO Biom H4 is one of the best all-around golf shoes of 2023. Here's how it fared in each category.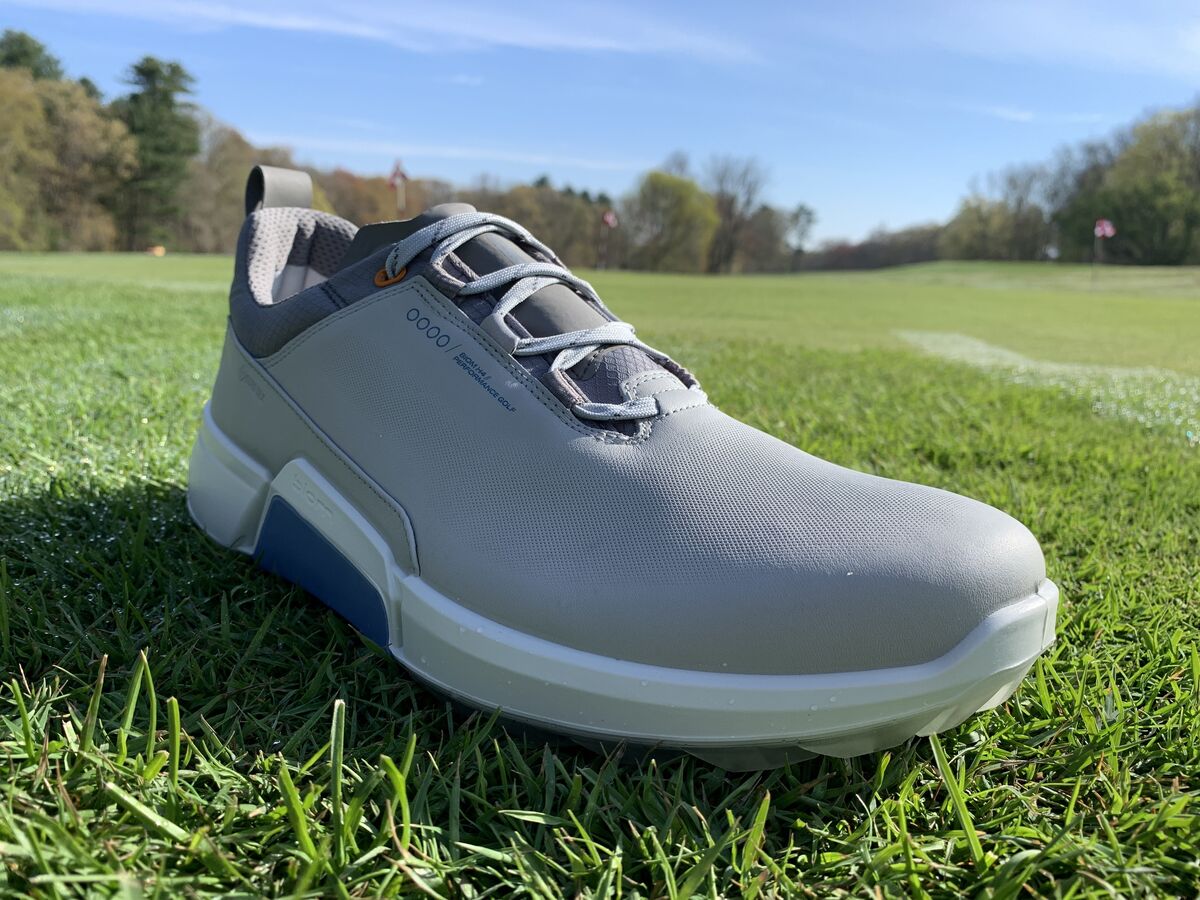 The style of the ECCO Biom H4 golf shoes is subtle. No flashy colors or big, loud features. Instead, they come in three neutral colors, with minimal accents, logos, and distractions. The color patterns are easy on the eyes, even if they aren't the most exciting shoes to look at. 
Personally, I've always preferred an underwhelming style to a louder design, so the Biom H4 suits my taste nicely, but I'd understand people who don't get excited about the looks.
Traction & Turf Interaction: 5/5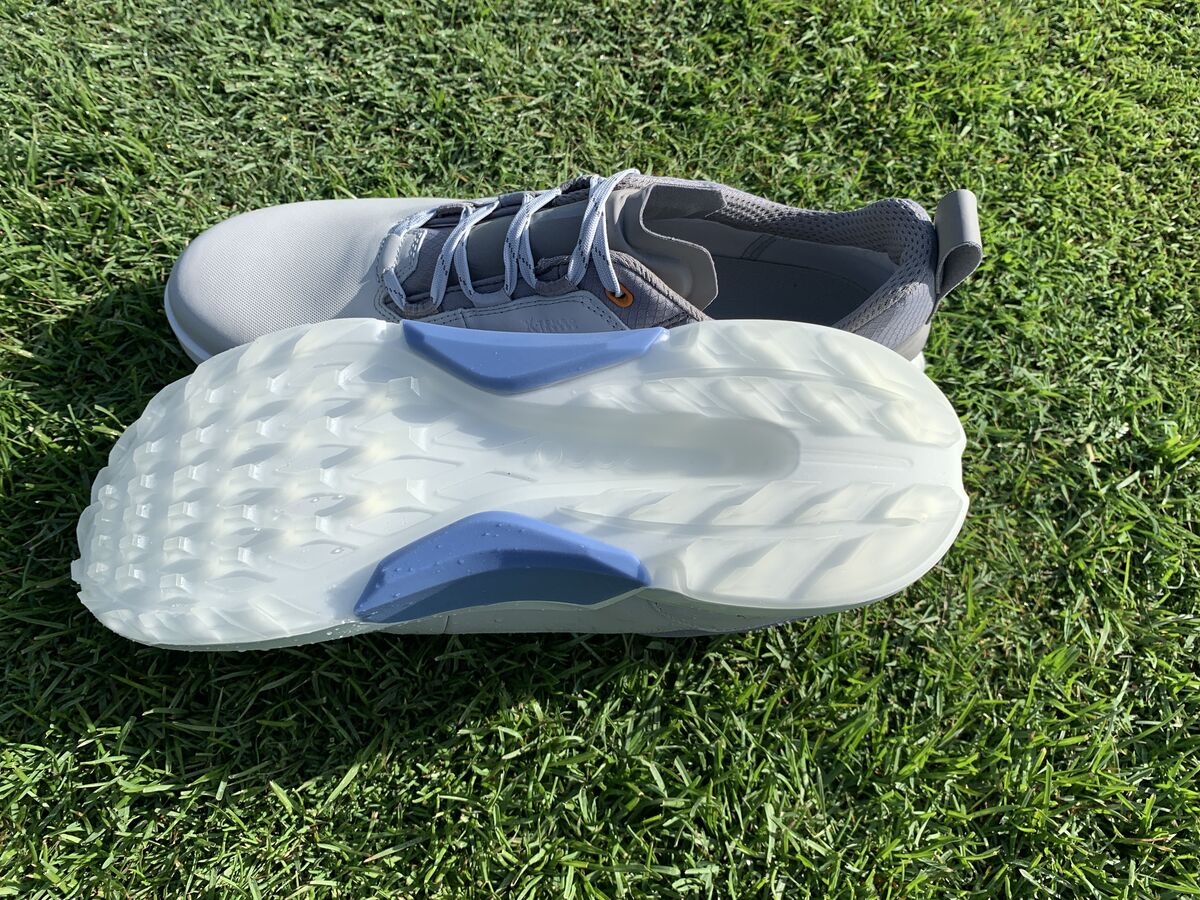 I've always felt somewhat better turf interaction with spiked golf shoes than with spikeless, but then I tested the Biom H4. 
I have no idea what ECCO's MTN GRIP outsole is all about, but I can tell you it offers the best stability and turf interaction of any golf shoe I've tested. I felt anchored to the ground, regardless of my stance, lie, or turf conditions.
The Biom H4 features GORE-TEX waterproof technology, and ECCO backs its GORE-TEX products with a three-year waterproof warranty. Yes, three years.
A three-year waterproof warranty on golf shoes is unheard of, and demonstrates the confidence ECCO has in its GORE-TEX products.
That waterproof warranty is the strongest evidence of the Biom H4's waterproof bravado, but anecdotally, I wore them walking through the dewiest of morning conditions without a drop of moisture reaching my socks.
Straight out of the box, the ECCO Biom H4 golf shoes were stiffer than any other shoe we've tested this year. It was almost concerning, given our high expectations for comfort with these shoes.
However, after walking two holes they began feeling broken in, letting out that elite comfort we expected.
In addition to feeling anchored to the ground, the H4 is lightweight and breathable. They hold your feel well, all while providing cushioning in the right places.
From a sizing standpoint, the 10.5s I wore fit true to size.
The ECCO Biom H4 has a lot to offer, and depending on what you prioritize in a golf shoe, it should get some serious consideration from most types of golfers. After spending some time playing golf and walking the course in the Biom H4 golf shoes, here are the top pros and cons you should consider before making a purchase. 
Pros:
One of the all-around best golf shoes of 2023
Available in men's and women's options
3-year waterproof warranty is the best among golf shoes
Superior stability, traction and turf interaction
Great comfort for walkers
Cons:
Price is a bit of an investment
Muted style may not suit some golfers
Who Should Consider the ECCO Biom H4 Golf Shoes?
The quality, comfort and performance of the ECCO Biom H4 golf shoes is not in question. Ultimately, whether or not to purchase these shoes comes down to two things: style, and price.
Do any of the color options fit your eye and your style on the golf course? They're all neutral enough that at the very least, they shouldn't take away from your style, although if you prefer your golf shoes to make a loud statement, you won't find that here.
Finally, do you want to invest in golf shoes that will last longer than your wedges, and most car loans? A simple wipe-down after your round will keep your ECCO golf shoes in tip-top shape for years to come. Every year you keep these in the rotation, that price tag becomes a little more palatable.