The Best 3 Person Golf Games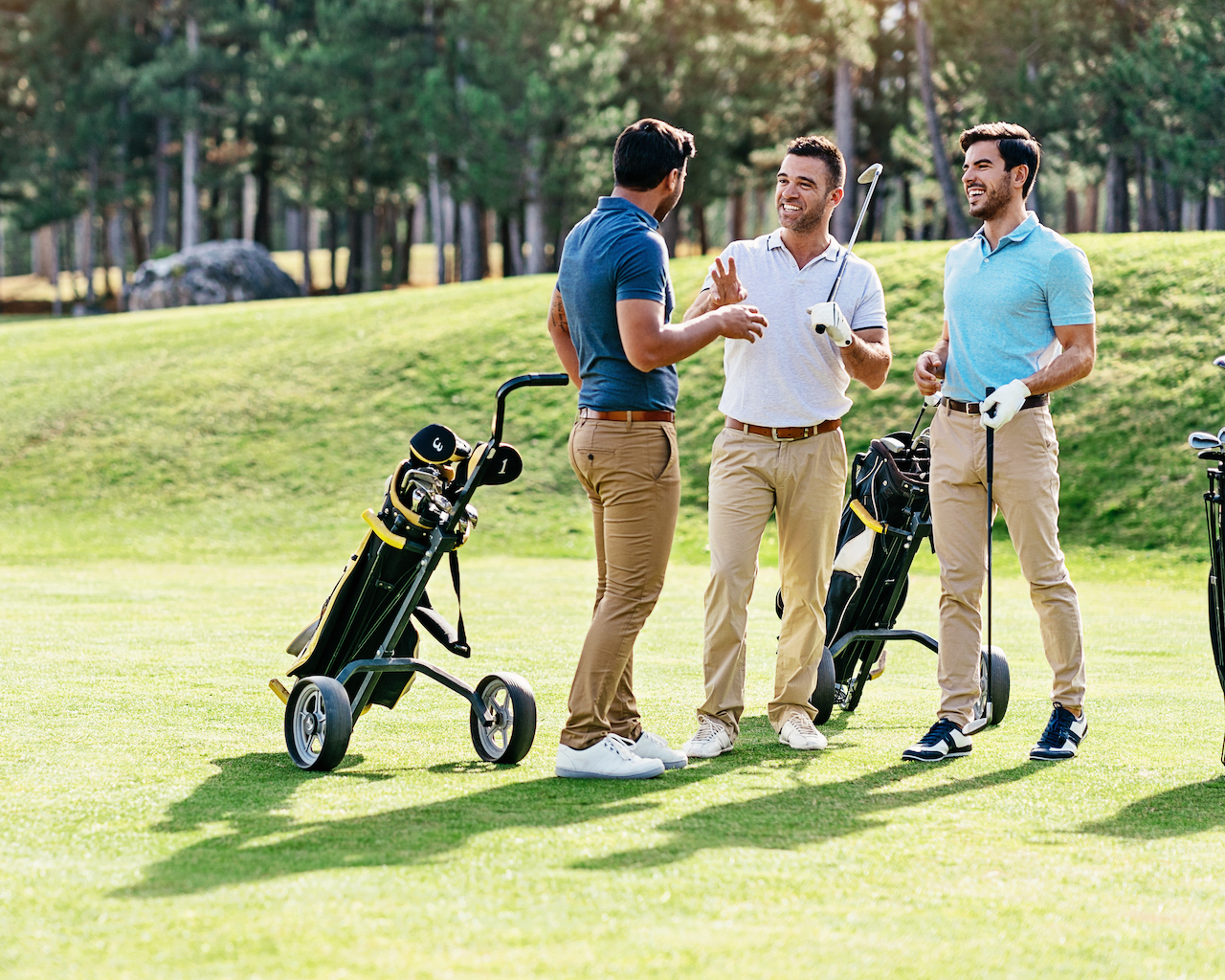 You and two golf buddies are standing on the first tee. You're one player short of a traditional Four-Ball match, or the familiar rowdy round of Wolf, and you want to play a three-person golf game to get the competitive blood flowing. Don't worry, these five golf games are made for three players, and they will not disappoint.
3 Player Wolf
Many golfers know how to play Wolf with four players, but did you know that with a few modifications, you can play it with three players as well? Here's how:
Each player tees off. The second-longest drive, regardless of whether it's in the fairway, becomes the wolf, while the players who hit the longest and shortest drives become the wolf hunters for that hole. On par 3s, the second-closest player to the hole is the wolf, regardless of total distance.
Each player plays their own ball from tee to green and holes out. Double the wolf's net score and compare it to the combined net score of the wolf hunters. If the wolf wins the hole, he or she gets two points. If the hunters win, they each get one point. If it's tied, no points are awarded, no blood.
On holes where there is no blood, those points carry over to the next hole. Since the wolf can gain two points on a hole and the hunters can each only gain one point, it's beneficial to be the wolf on carry-over holes.
Tally all the points at the end of the round and collect, or pay up!
Following these modified Wolf rules is a great way to keep a high-energy vibe in your round even if you're one player short of a foursome.
Split Sixes
Split sixes is the best three-person golf game for keeping it simple because there are no judgement calls, just black-and-white scoring, and it always adds up to six.
In Split Sixes, each hole is worth six points. The low score on each hole gets four points, while the second-lowest score gets two points and the highest score gets no points. Ties between two or all three players are divided as follows:
If two players tie for the best score, they each get three points, and the other player gets no points.
If two players tie for the second-best score, they each get one point while the player with the best score gets four points.
If all three players tie, each player gets two points.
It's that easy, and the best part is you won't need a calculator to figure out the points after each hole.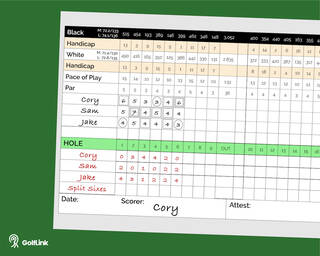 Split Sixes Variation: Niner
An almost identical version of Split Sixes is called Niner. The concept is the same, but in Niner, each hole is worth nine points instead of six, with the lowest score getting five points, the middle score getting three, and the highest score getting one point. Ties are also handled similarly to Split Sixes. 
If two players tie for the low score on a hole, they each get four points while the third player gets one.
If two players tie for the highest score on a hole, the each get two points while the low score gets five.
If all three players tie on a hole, the each get three points.
In Split Sixes or Niner, feel free to apply handicap strokes as fit to level the playing field.
Bingo Bango Bongo
Designed for anywhere from two to four golfers, Bingo Bango Bongo fits perfectly with your threesome. In Bingo Bango Bongo, three points are up for grabs on each hole.
One point to the first person on the green.
One point to the closest ball to the hole after all players are on the green.
One point to the first person to hole out.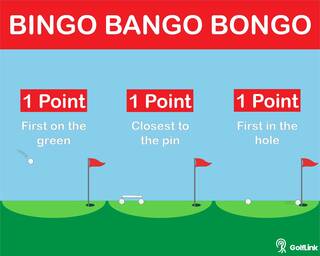 The caveat to Bingo Bango Bongo is that you must follow golf's order of play rules, which can put a damper on your pace of play. This ensures that in order to get points on a hole, you really have to earn them by holing a longer putt than your opponents' or hitting the green from the farthest distance.
On the flip side, Bingo Bango Bongo is a great game to level the competition among a threesome of various skilled golfers. In Bingo Bango Bongo, a shorter-hitting high-handicap player will have more chances to get that "first on the green" point, and have a higher likelihood of getting the "closest to the hole" point if they can hit a good chip shot after missing a green.
Nassau for 3 Golfers
Golfers have been playing Nassau forever, any why not? It's simple to follow and relatively easy to bounce back from a bad hole, or even a bad stretch of holes. 
A Nassau is three separate matches rolled into one: front nine, back nine, and the entire 18-hole round. While a Nassau is traditionally contested between two players, or two teams of two, but it doesn't take much nipping-and-tucking to adapt it to a threesome. Here's how:
Decide a dollar amount for the front, back, and overall, and ante up. Negotiate any handicap strokes given before the first ball is in the air.
The low score in each bet takes that pot.
In a three-golfer Nassau, each pot will be a little bigger, but you'll have to beat two players to get your hands on it, instead of one. With three chances to win among three players, if you go home empty handed, you've got nobody to blame but yourself.
Ghost Vegas
Maybe you had your heart set on the four-person game Vegas but your foursome turned into a threesome at the last minute. If you don't want to pivot to one of the games we mentioned above, use a ghost player and a Sixes (not to be confused with Split Sixes) format. Both concepts are simple and can really open up the doors for more golf games you can play with your threesome beyond just Vegas. This option isn't quite as simple as a Nassau or Split Sixes, but if those don't whet your appetite, give it a try.
Ghost
The ghost is a scratch golfer, and it always makes par. No birdies, no bogeys, all pars. Sounds boring but exciting at the same time, doesn't it? Either way, the ghost is the fourth golfer in your foursome.
Sixes
Most golfers would love to make par on every hole, but very few can. Since we just introduced the most consistent player you've ever seen to your group, it's only right that each actual human player gets to team up with the ghost equally. That's where the Sixes format comes into play. When you're playing with a ghost, rotate the playing partners every six holes and play Vegas, or another one your favorite golf games.
Holes 1-6: Ghost and Olivia vs. Larry and Frank;
Holes 7-12: Ghost and Larry vs. Olivia and Frank;
Holes 13-18: Ghost and Frank vs. Larry and Olivia.
Vegas
Using the ghost and rotating partners every six holes allows you to play Vegas with a three golfers. In Vegas, each team score is the combination (not the sum) of both players' scores.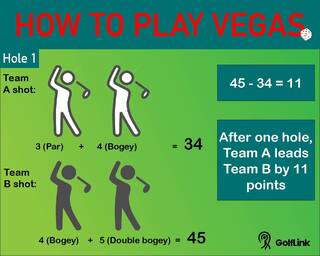 For example, Olivia is paired with the ghost and makes a 5 on a par 4, while the ghost is good for a 4. Olivia and the ghost's score on that hole is 45. Meanwhile, Larry makes a 5 and Frank cards a 6, their score is 56. After one hole, Olivia and the ghost lead by 11 points. 
If you make a birdie, flip the opponent's score so the larger number is in front. In this example, Larry and Frank would have to take a 65 on the hole, and Olivia and the ghost would lead by 20.
Enjoy Your 3 Player Golf Games
Whether you could only round up three golfers, or your fourth couldn't make it to the first tee, there's no reason to take the added layer of excitement and competition that a golf game brings out of your round just because you're playing as a threesome. After all, it's golf. It's supposed to be fun. Make your round as enjoyable as possible with these golf games.