How to Get Your Total Game in Shape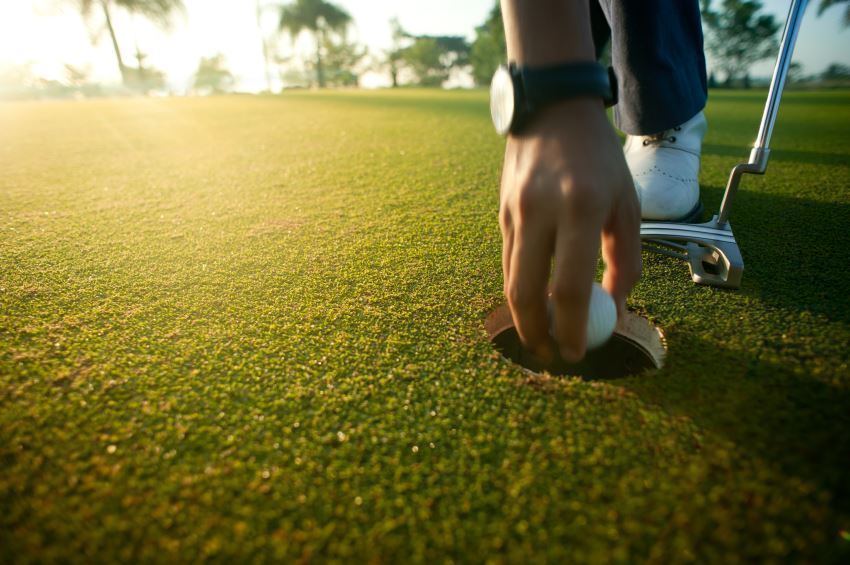 When assessing the strength of your golf game, you need to do a lot more than looking at your scorecard. There are times when you can hit the ball well from tee to green, but your putting will throw your score off a stroke or two. There are other times when you may struggle off the tee, but your short game and your putter will save you. If you want to get your game in shape, start from the green and work backward.
Instructions
Difficulty: Moderately Challenging
Take steps to improve your putting. The first thing you need to do is read greens correctly. On any putt longer than 8 feet, get about 4 feet behind the ball and get down in a catcher's stance. Look for breaks, crevices and breaks in the green. Go with your first impression. If you think long about your putt, you are likely to think wrong about it. You can also practice your putting stroke with a putting machine in your living room---it returns the ball automatically. If you don't have a practice device, you can use a tall drinking glass and turn it on its side.
Work on your short game if you want to score consistently. The key to hitting your pitching wedge, gap wedge and lob wedge is making solid contact with the ball and a high finish with your hands. The more you follow through your follow through, the more backspin you will put on the ball. This will cause the ball to stop shortly after hitting the green, leaving you with a makable putt.
Play your fairway woods and irons midway between your two feet. Many golfers think they have to play the ball closer to their front foot in order to get it in the air. However, on the short grass of the fairway, the ball will fly well with a steady and fundamentally sound swing. Work on your take-away, downswing and follow-through in order to hit the ball well off the fairway.
Hit your driver aggressively. That does not mean you should grip the club tightly or swing as hard as you can. However, when you are able to turn your hips aggressively through the hitting zone and snap your wrist on impact with the ball, you will be able to drive the ball with power and precision.
Make your practice time at the driving range count. Most golfers will spend a majority of their time working on their driving ability. However, you need to hit your fairway woods, your long irons, your short irons and your wedges if you are going to make your time at the driving range pay off.
Tips & Warnings
Stay focused on the task at hand. When you face a fairway shot, don't think about the putt that will follow. Think about what you have to do to execute the correct shot.