How to Hit a Hybrid Golf Club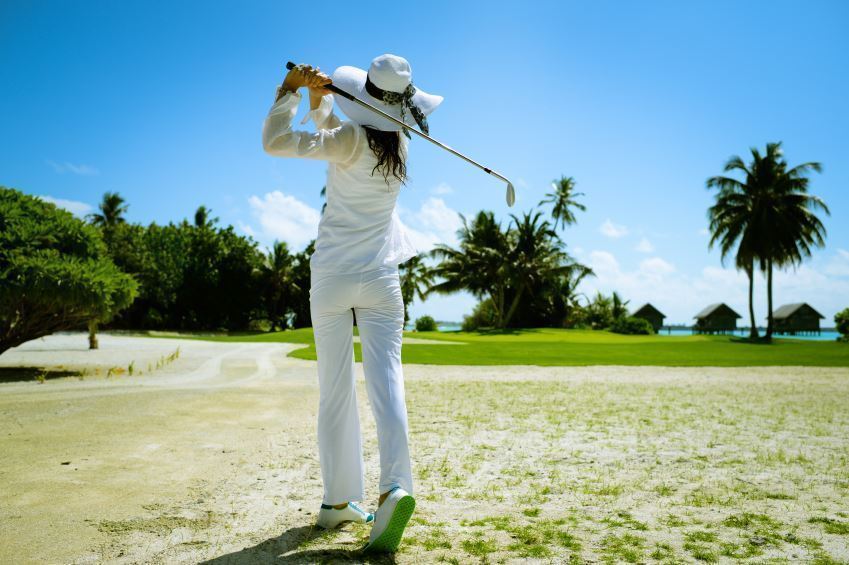 The advent of hybrid, or utility, clubs in recent years has been one of the most helpful innovations for the average golfer, resulting in reduced scores.
Indeed, hybrids benefit more than just the average golfer, as witnessed by the fact that most touring professionals now carry at least one in their bag. Many golfers, however, could benefit even more if they realized the wide variety of uses a hybrid club can be put to in the course of a round.
From the Fairway
Hybrids are more forgiving than long irons. They have a higher ball flight and the ball lands more softly, helping to stop long approaches on the green. Position the ball where you would for your long iron shots and make sure you hit down slightly through the ball. This is more effective with a hybrid than the sweeping motion employed with fairway woods.
From the Rough
A hybrid club is less prone than an iron to twist when hitting from the rough. Its lower profile also creates less drag and makes it a good option for escaping from all but the worst lies. Do be realistic when assessing what club to use from deep rough. There are times when taking your most lofted club to move the ball back out onto the fairway is your only good option.
From the Bunker
The design of the sole of a hybrid makes it a good choice for escaping from fairway bunkers. It is less prone to digging deep into the sand than the sharp leading edge of an iron. Precision is still required to ensure a clean contact. Position the ball an inch farther back than you would when hitting the club from the fairway to help promote striking the ball before the sand. Only use the hybrid if you have a good, clean lie in the bunker.
Chipping
We are often told the art of chipping is to get the ball rolling on the green as soon as possible. If you are close to the edge of the green but your lie is not good enough to putt, a hybrid may be the club to choose.
Choke down on the grip a little, using your putting grip, and basically play the shot as you would a putt. The loft will raise the ball up over the fringe grass and get it rolling on the green.
Hybrid Lofts
The hybrid is probably the most versatile club you can carry in your bag. They are available in lofts that are the equivalent of 2 to 5 irons (16 to 28 degrees) and also in a 6 iron loft for ladies' sets (30-31 degrees). Every golfer should consider carrying at least one and maybe more of these clubs.