Beginner's Guide to Golf Clubs: What to Know Before You Buy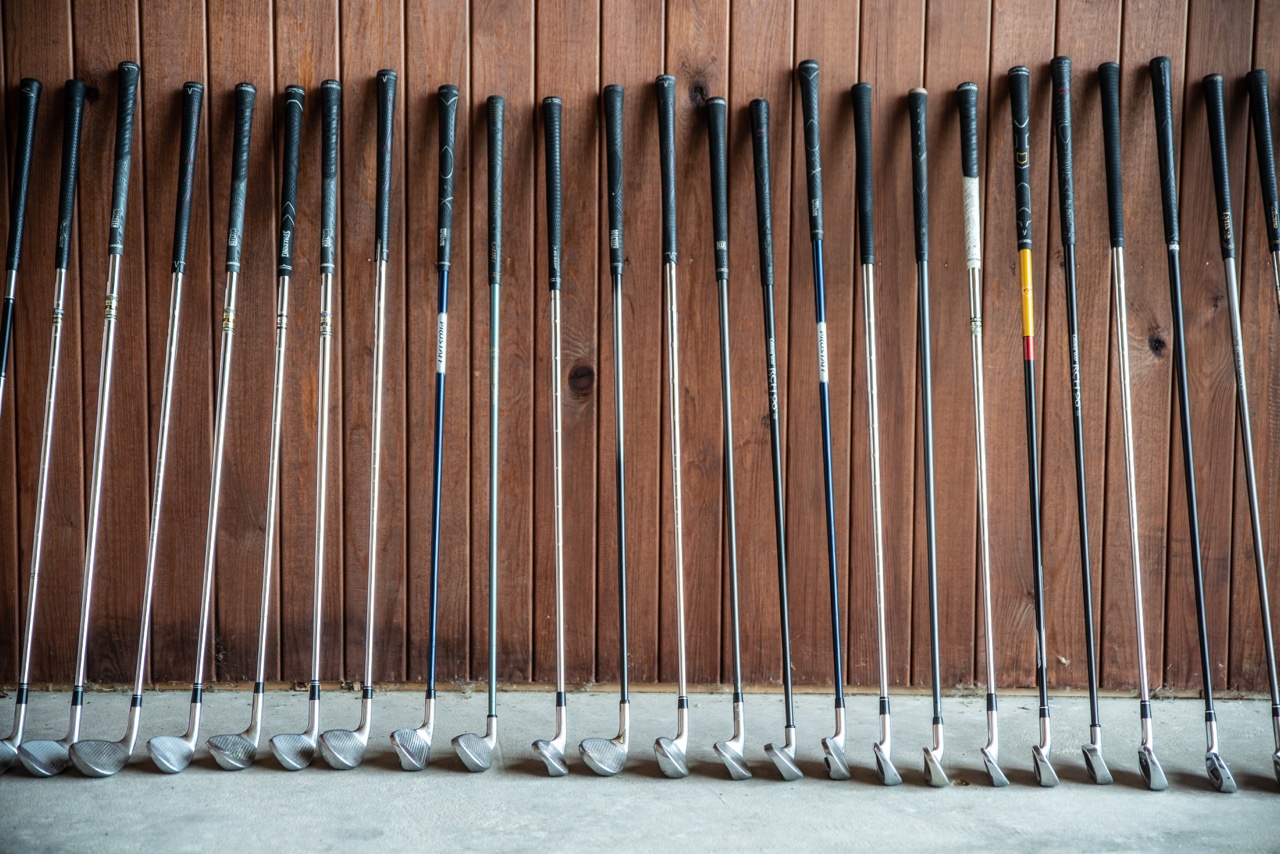 If you're a beginning golfer, you've got company. In 2020 alone, three million Americans played golf for the very first time. But when it comes to buying a set of clubs, the process can be tricky to navigate.
When you begin your search, it's helpful to understand exactly what you need, what you can expect to pay, and what you'll get at each price point.
How Many Clubs Do You Need?
You're allowed to carry up to 14 clubs, but that doesn't mean you should. Having too many clubs in your bag can cause overthinking and frustration for beginning golfers, and will also cost more money.
Most beginners can start with a set of 8-12 clubs then add more as their skills develop. You'll know it's time to add more clubs once you can consistently hit each club to a predictable yardage, and begin to find there are yardages that you don't have a club for.
Woods
As a beginning golfer, it's important to have two to three clubs you can hit for distance off the tee -- a driver and either a 3- or 5-wood, and perhaps a hybrid -- but not necessarily all four. You'll also use your fairway woods and hybrids for longer approach shots.
Irons
Your beginner set should include a few irons. Each iron is built with a different length shaft and different loft, which impact clubhead speed and launch, respectively. The lower the iron number, the more distance it is designed to create, and the higher the number, the higher it is designed to launch. When struck similarly, a 6-iron will fly lower and farther than a 9-iron. Sets that include a 5- 7- 9-iron makeup or 6- through 9-iron are suitable for beginners.
Typically the shorter irons (higher-numbered irons) are easier to hit than the longer irons, and most beginner sets reflect this by exchanging the long irons (3-, 4- and 5-irons) for easier to hit hybrid clubs.
Wedges
Your beginning set of clubs should include one to two wedges. Wedges have more loft than irons and are commonly used around the green and for your shorter full-swing approach shots. The pitching wedge is the lowest-lofted wedge and should be standard with any set. You may also opt for a higher-lofted gap, sand or lob wedge. Having multiple wedges will give you a variety of options for how to play different short-game shots.
Putter
Your set won't be complete without a putter, and statistically speaking, you'll use your putter more than any other club in your bag. Beginners should look for a putter that offers forgiveness and doesn't break the bank. The best putters for beginners can come in any shape, but more often than not a mallet putter is a better fit as you're getting started.
How Much Does a Set of Clubs Cost?
Buying a set of golf clubs isn't cheap. Even the most economical beginners sets start at around $250, while a complete 14-club set from one of the top club manufacturers in the business can cost as much as a used Volkswagen, easily running into the $2,000-$3,000 range. Trying to determine if you're getting good value for your money can be frustrating.
Used
Buying a used set of clubs can be an economical way to get a starter set without breaking the bank. The advantage of buying a used set is you can find a set at almost any price point.
If you're not quite ready to make a hefty investment into your golf equipment, you can likely find a complete set in the $20-$50 range at your local thrift shop, yard sales, or on Facebook Marketplace. Just make sure you piece together a set that contains all the necessities listed above. A great way to breathe some life back into a used set of clubs and make them your own is to re-grip them, which can also be a fun and inexpensive DIY project.
You can also shop used clubs from the major brands online through sites like 2nd Swing and Callaway Golf Pre-Owned. Of course, these will cost a little more than you'd pay at the thrift store.
New Beginner Box Set
If you prefer not to go the used route, but still don't want to go broke on a set of clubs, you can find starter box sets in the $125-$500 range. These sets include every club you'll need to hit the course plus a bag and headcovers.
Strata from Callaway, Wilson, Top Flite and Nitro all offer complete box sets in that price range and can often be found at your local sporting goods store or online.
Direct-to-Consumer
Many industries have seen direct-to-consumer startups disrupt the traditional business model, and the golf club industry is no exception.
Companies such as Bombtech Golf, Robin, Stix, Sub 70 and others aim to provide golfers with affordable, quality golf clubs. The difference between these clubs and the ones you can expect from a complete beginner box set, is that these companies aim to produce clubs that match the performance of the top club-makers in the industry, and according to some outlets, they've succeeded.
Investing in a complete set from a direct-to-consumer club-maker will cost you more than buying a starter set from your local sporting goods store, but will save you significantly compared to the retail price of the industry's well-known original equipment manufacturers (OEMs).
Going the direct-to-consumer route can cost you anywhere from $500 up into the low $1,000s, but you'll end up with a product you can trust and still save considerably compared to buying from one of the major brands.
Major Original Equipment Manufacturers
If you want to skip the introductory set of clubs and are ready to make an investment into a set that you'll use long-term, you can piece together a set from the major brands that you see used every week on the professional tours. But, in addition to the sticker shock you may experience, there are some things to look out for.
While you may enjoy playing the same brand of clubs that the pros do, if you're a beginner, you will not want to play the same model. Each brand offers different categories of clubs aimed at different skill levels. Beginners will want to stay in the super game-improvement and game-improvement categories. These clubs offer perimeter weighting for a larger sweet spot that assists shots struck all over the clubface.
If you're shopping from these manufacturers, expect to pay $500 or more for a driver, $250 for each fairway wood, $200 for a hybrid, $700-$1,200 for an iron set, $100-$150 for each additional wedge, and $200-$400 for a putter.
As you can see, you can easily spend over $2,000 building a set of clubs this way, only to find you still need a bag to put them all in. For this reason, many recreational golfers will start with a less expensive set to cover all the bases, and replace clubs periodically as their skills and interest in the game advance.
Image: Rytis Seskaitis/EyeEm via Getty Images