The Truth Behind Sub 70 Golf & Its Clubs (19 Clubs Tested!)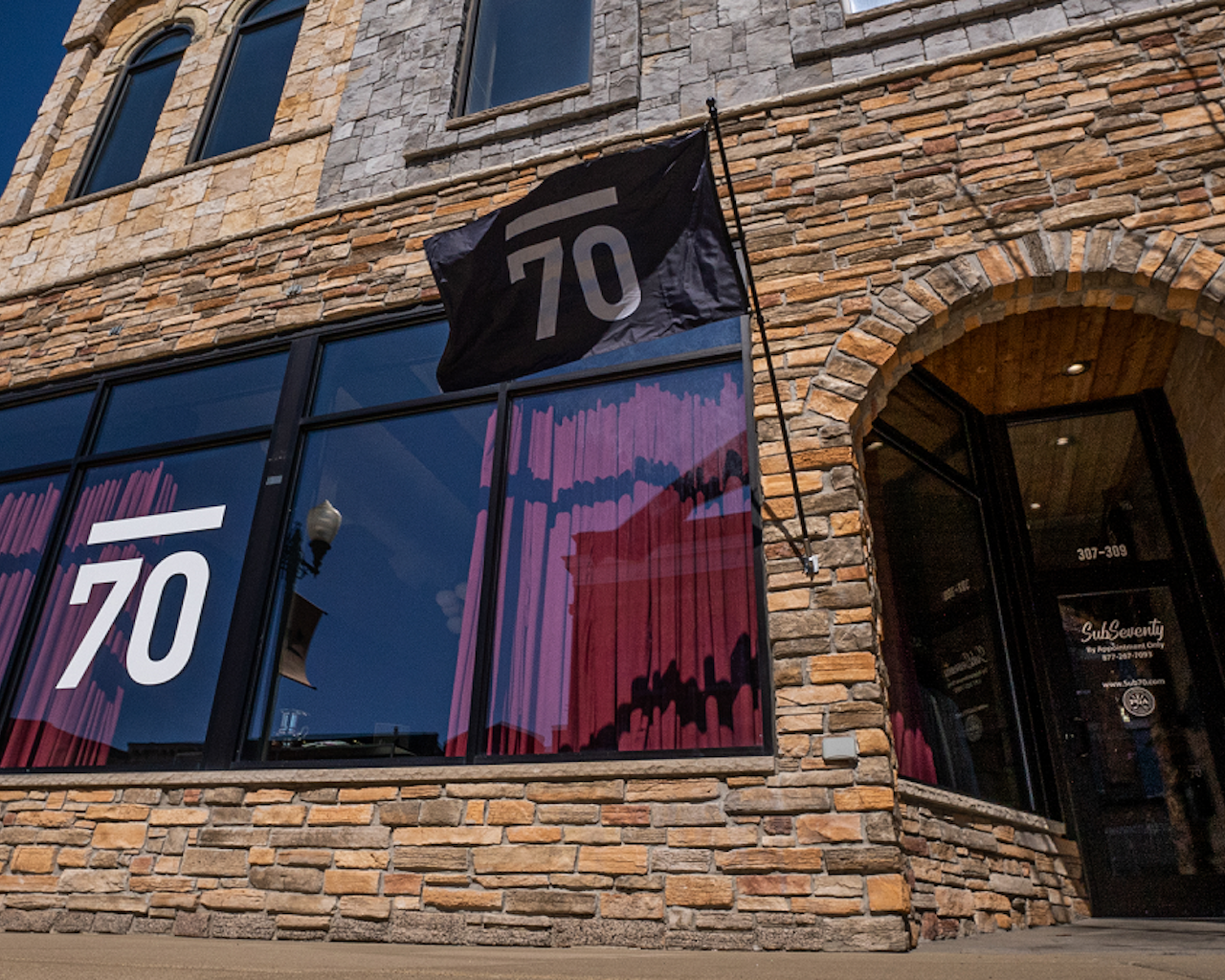 Sub 70 Golf debuted as a direct-to-consumer golf club manufacturer with the mission of making high-quality equipment without the nauseating price tag. Just a few years removed from those beginnings, Sub 70 has developed into one of the premier disruptors in golf, while maintaining its belief that buying new golf clubs should be a fun experience that improves your game. Today, Sub 70 has grown to become not only an equipment but a lifestyle brand that routinely converts doubters into believers with each swing. GolfLink had the opportunity to visit Sub 70 at their home in Sycamore, Illinois, to get the inside scoop on what all the fuss is about.
Sub 70 Background
Jason Hiland is not your typical golf equipment company CEO. He probably has an office somewhere, but I suspect he doesn't spend much time at his desk. He doesn't have a secretary to screen his calls and he doesn't lose sleep over the big picture of his company.
Instead, Hiland is in the trenches of Sub 70, where he likes it best. On a daily basis, he spends his time fitting customers for clubs, talking to prospective customers from other states about product details, and even dropping hand-written thank you notes into orders as they head out the door. He's the type of guy you can meet, have a drink with, and talk about golf, or anything but golf.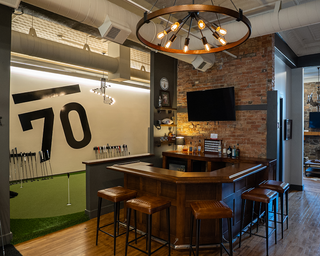 Hiland lives in the now with his creation, and Sub 70 thrives because of his hands-on approach. It's not like he hadn't started a thing or two on his own before. Hiland has been behind the launch of two successful golf companies, Diamond Tour Golf and Hurricane Golf, prior to hitting it big with Sub 70. 
"As my kids got a little older, I found myself in my 40s with the idea of doing a high-end, boutique equipment company," said Hiland. "The timing was right because Diamond Tour and Hurricane were running themselves and I had the time to devote to making this the right way. Plus, I had the warehouse, I had club building, I had relationships. All of that was already in motion, so to speak."
A self-proclaimed small-town kind of guy, Hiland proudly operates all three companies out of Sycamore, Illinois. For those who don't live in the midwest, Sycamore is about an hour west of Chicago's city limits and is home to about 18,000 people. Hiland credits the city and surrounding area as being a huge support system for the Sub 70 brand.
After a short tangent on our shared love of high-end watches and Charleston, South Carolina, Hiland dished on his concept for Sub 70. Fun fact, the idea arose from an experience he had with a direct-to-consumer suit that cost him around $200.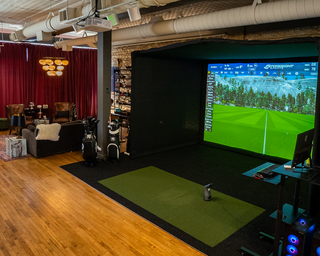 After initial skepticism from friends and admittedly, himself, the direct-to-consumer suit arrived and Hiland was blown away by the quality for his dollar. In that moment, he knew he wanted to duplicate this concept with golf equipment, the right way. You see, direct-to-consumer golf equipment back in the mid-2000s was nothing to brag about. There were a lot of late night infomercials on Golf Channel and BOGO offers in magazines. But when the goods arrived, disappointment usually followed shortly thereafter.
Hiland will be the first to tell you that Sub 70 didn't earn its accolades on his effort alone. He credits his dedicated team for as much of Sub 70's success as his own involvement. Jay Armour, Sub 70's Director of Marketing, is one of those people. Armour is the mastermind behind much of the social media interaction that has earned Sub 70 the eyes and ears of the golf industry.
"We jumped in with a full line of clubs, multiple irons, fairway woods, hybrids, multiple putters, everything," said Armour. "It took us from 2016 to 2019 to develop everything between testing the equipment and putting it through the paces. We knew that if the clubs didn't perform there would be no point in doing this."
Hiland and Armour reminisced about the early days of taking their prototype irons to the local clubs and basically crowdsourcing anyone from high handicappers to single-digit players on the driving range to get some unbiased feedback how their clubs felt.
Between Hiland and Armour, Sub 70 has attracted brand ambassadors that include the legendary Tommy Armour III and an up-and-coming Korn Ferry Tour player named Zack Fischer. In addition, an incredible player with a truly amazing story of perseverance named Willy Wilcox. All of their relationships seem to happen organically, rather than stemming from forced agreements through agents and third parties. 
Our Visit to Sub 70
My visit to Sub 70 was prompted by the same emotion that leads many golf consumers to seek out the company: curiosity.
Although I am an avid golfer and live only an hour from Sycamore, I had never tried Sub 70 equipment before. My main mission for the visit was to help educate golfers who are curious about Sub 70 but don't have the opportunity to hit every Sub 70 club in the lineup. After all, golf equipment is an investment and you want to spend your money wisely.
With that in mind, I headed to The Seventy, the company's point of pride. The Seventy is a brick-exterior golf haven in the middle of downtown Sycamore. More on The Seventy later, but for testing purposes I hit every club in the Sub 70 lineup, and here's what I learned.
My Background
You might wonder what business I have writing about my experience and why you should care which clubs I hit well, and how it all relates to you. Those are all fair questions. I carry a handicap of 11, I've played the game for 28 years (I'm 38 years old), although my rounds per year have significantly declined since becoming the father of two amazing kiddos. I play for enjoyment over competition (that ship sailed a long time ago) but I still value golf club quality and feel. I'm not a brand snob and rely on evidence over marketing. If you can relate to any of this, hopefully my Sub 70 experience can be your guiding light.
Throughout this review, I'll compare Sub 70 clubs to my current gamers. So for those who care to know, here's what's currently in my bag:
Driver: Tour Edge Exotics C721
3-Wood: Tour Edge Exotics EX10
Hybrid (19 degree): Tour Edge Exotics EX10
Irons (4-PW): Mizuno JPX 919 Hot Metal Pro
Wedges (50, 55, 60): Mizuno JPX 900 Hot Metal
Putter: Bettinardi Inovai 6.0
Testing Every Sub 70 Club
Here is my overview of every Sub 70 club, including drivers, fairways, hybrids, irons, wedges, and putters. Well, technically not every putter, but enough to give you an idea of how Sub 70 putters roll.
In all, I bombed, pured, hit, chipped, rolled -- and yes, thinned and toed -- and reviewed 19 different Sub 70 clubs. This is how they each performed for me.
Woods
Sub 70 carries two driver models, the 849D and 849 Pro, and two fairway wood models, the 949X and Pro Fairway, as part of its current lineup.
849D Driver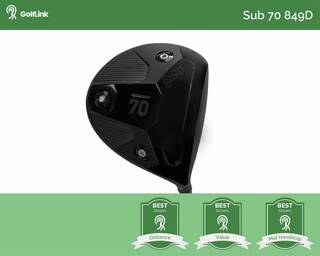 | | |
| --- | --- |
| Lofts | 9, 10.5, 12 |
| Stock Shafts | Project X EvenFlow Riptide, Sub 70- Project X High Launch, Project X HZRDUS Smoke Black (also RDX). Others available for upcharge. |
| Hand | Right & Left |
| Price | $329 |
What Sub 70 Says: "Our new 849D Driver...represents an improvement in technology, and also specifically fills the gap for the golfer looking for forgiveness and assistance, while maintaining the same general design characteristics and customizability as the Sub 70 849 Pro Driver."
My Experience: Bang! If you're a doubter, this driver will make you a believer. I hit the 849D to the exact specs of my current driver. 9.5 degrees of loft with a Project X HZRDUS Black 6.0 shaft. After a few warm up swings my ball speed topped out at 144 mph, 5 mph better than my gamer, despite the fact that I hit both at the same launch angle, between 13.7 and 14.5 degrees.
I poked a few drives to 280-yards, which is about seven yards longer than my usual longest-of-the-day drive. Anyone with a handicap of 10 or above should strongly consider the 849D. The stock shafts are more than adequate, but you can also select from a ton of upgraded shafts for as little as $10.
849 Pro Driver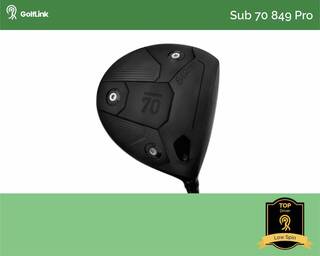 | | |
| --- | --- |
| Lofts | 9, 10 |
| Stock Shafts | Project X EvenFlow Riptide, Sub 70- Project X High Launch, Project X HZRDUS Smoke Black/Black RDX. Others available for upcharge. |
| Hand | Right only |
| Price  | $329 |
What Sub 70 says: "The 849 Pro Driver continues Sub 70's aesthetic of clean, classic lines, dark colors, and performance-driven shapes. The 450cc 849 Pro provides the higher level ball striker maximum distance by utilizing state-of-the-art carbon fiber weight reduction technologies that permit the movement of weight to specific regions of the head in the heel, toe, and rear sections. This decreases backspin and optimizes launch angle."
My Experience: The 849 Pro is definitely above my pay grade, but delivered such a nice feel when I connected with it. However, I can see how this driver would be a phenomenal asset to a single-digit handicap player. It's clearly a low spin, low launch, aim small, miss small kind of driver. As an 11 handicap, I need the extra forgiveness that the 849D provides. That doesn't mean this big dog doesn't have a target audience, it's just not me.
949X Fairway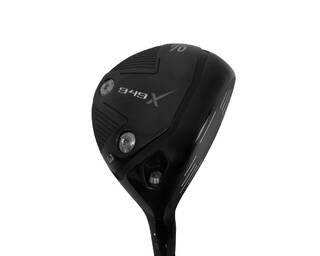 | | |
| --- | --- |
| Lofts | 15, 16.5, 18, 21 |
| Stock Shafts | Project X EvenFlow Riptide, Sub 70- Project X High Launch, Project X HZRDUS Smoke Black/Black RDX/RedRDX. Others available for upcharge. |
| Hand | Right & Left |
| Price | $189 |
What Sub 70 says: "The next generation of the Sub 70 fairway wood is universal in its appeal and playability. The 949x Fairway takes up the mantle of the previous generation in its forgiveness and customizability, while utilizing nascent technologies to improve ball flight, trajectory, and spin characteristics for players in the single to mid-teen handicap category."
My Experience: Full disclosure, I am a Tour Edge Exotics fairway wood loyalist, and have been for 20 years. The 949X gave me all of the feels, though. This metal has serious pop, it's adjustable, and it's super-clean to look down at. I love the fact that it's available as a 3, 4, 5, and 7-wood for players who don't love hybrids. Ball speed, dispersion, spin, were right there with the best fairway woods I've hit.
Pro Fairway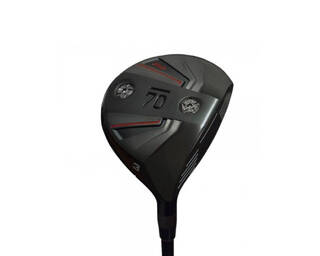 | | |
| --- | --- |
| Lofts | 13, 15, 16.5, 18 |
| Stock Shafts | Project X EvenFlow Riptide, Sub 70- Project X High Launch, Project X HZRDUS Smoke Black/Black RDX/RedRDX. Others available for upcharge. |
| Hand | Right only |
| Price | $169 |
What Sub 70 says: "The Sub 70 Pro Fairway Wood has been designed to provide optimal launch and distance parameters as well as workability for the higher level player. These woods go further and spin less, but retain the ability to work the ball as needed."
My experience: Similar to the Pro model driver, this fairway wood was a bit outside of my skill set, but felt amazing when I hit it on the screws. If you can consistently find the middle of this face, it's an absolute rocket launcher. It comes in a strong 3-wood loft of 13 degrees, which is fun to see, as many manufacturers simply rely on adjustability to get below 15 degrees.
Hybrids
Sub 70 produces two hybrid models, one for your everyday player and one for the more skilled, lower handicaps golfers.
949X
| | |
| --- | --- |
| Lofts | 18 (3), 21 (4), 24 (5), 27 (6) |
| Stock Shafts | Project X Hybrid. Others available for upcharge. |
| Hand | Right & Left |
| Price | $189 |
If you prefer to round out the top of your golf bag with hybrids, this is the way to do it. For less than $200 per club, you can ease your pains of hitting long irons. The 949X hybrid gets the ball up in the air easily and lets it come down soft. The adjustability is a really nice feature, as well. Some hybrids can be chunky in appearance, but these are sleek and provide tremendous distance with tight dispersion.
949X Pro
| | |
| --- | --- |
| Lofts | 16 (2), 19 (3), 22 (4), 25 (5) |
| Stock Shaft | Project X Hybrid. Others available for upcharge. |
| Hand | Right only |
| Price | $169 |
What Sub 70 says: "The most common refrain when asking low handicappers what they dislike about hybrids is the inability to easily shape shots with them, and the tendency for stronger players to over draw them. In response, Sub 70 designed a smaller, more compact head shape that will look and feel far more similar to a long iron at address."
My experience: Well, they certainly aren't lying when they say it's a more compact head. When you put the 949X behind the golf ball it resembles a driving iron more than a hybrid. The launch angle of the 19-degree 3-hybrid, however, was perfect. I didn't have trouble getting hybrid-like height, but I noticed that the couple I hit low or slightly on the toe really punished me for my mistake. I can see single digit handicap players having a field day going into greens with these.
Utility
If you're a fan of utility irons, Sub 70 has your back with the 699U and 699U Pro.
699U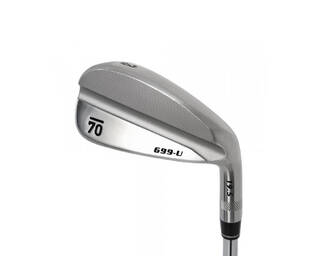 | | |
| --- | --- |
| Lofts | 17, 19.5, 22, 24, 27, 31 |
| Stock Shafts | Project X Hybrid, True Temper Elevate 95 steel, True Temper Dynamic Gold S300 steel. Others available for upcharge. |
| Hand | Right only |
| Price | $119 |
What Sub 70 says: "Developed for the player who prefers the look of an iron over a hybrid, the Sub 70 699 Utility Irons provide the same forgiveness, accuracy and elevated ball speeds associated with hybrids in an iron profile."
My experience: If you've ever wanted to know if you can swing a utility iron, this is the one to get started with. With a low investment of $119, you could end up with a club for life. The 699U is a direct descendent of the popular 699 irons and it feels great. This club can work in several spots around the course, but I love the idea of teeing it up on short par 4's where driver isn't necessary.
699U Pro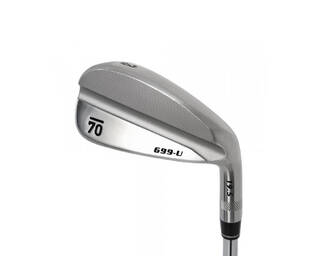 | | |
| --- | --- |
| Lofts | 17, 19.5, 22 |
| Stock Shafts | Project X Hybrid, True Temper Elevate 95 steel, True Temper Dynamic Gold S300 steel. Others available for upcharge. |
| Hand | Right only |
| Price | $119 |
What Sub 70 says: "The 699 Pro Utility takes all that made the original 699 Utility iron successful and distills it into a player's package. While retaining the original 699U's hot face, massive sweet spot, and general good looks, the Pro version has a thinner topline, narrower sole, and less offset."
My experience: The thin topline and general feeling of less forgiveness isn't for the faint of heart, or the high handicap. Better players will be able to get the 699U Pro cooking in the right spots around the course. A majority of my shots were thin and not nearly as rewarded as the standard 699U, but that's by design. The satin finish looks great, but the black finish version is a statement club to carry in your bag.
Irons
One of the great things about the Sub 70s model is that they give customers the option of combo iron sets. For example, if you want more help from your longer irons, but workability with your mid and short irons, it's easy to mix and match your perfect set. All of Sub 70s combo iron sets are comprised of these models.
799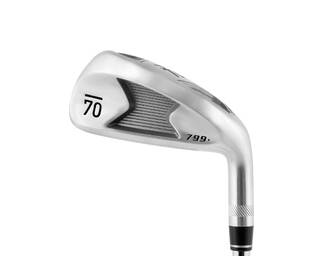 | | |
| --- | --- |
| Category | Game Improvement |
| Stock Shaft | True Temper Elevate 95 steel. Others available for upcharge. |
| Hand | Right only |
| 4-PW Price | $630 |
What Sub 70 says: "The 799 iron is the most forgiving iron we have ever designed. For the player seeking straighter, higher ball flights, the 799 is a literal game changer. The 799 utilizes hollow body technology with the same ultra-thin 1.7mm, 455 Carpenter Steel face as our award-winning 699 iron."
My experience: I don't know if there's an easier iron to hit on planet Earth. Like many game improvement irons, the look is not for everyone. The wide sole screams forgiveness, but the majority of golfers should probably play an iron set like the 799. Getting the ball airborne was effortless, and at contact it felt like a premium, smaller-headed iron. Hiland was not ashamed to tell me he carries this club as a 7-iron in his bag, and I'm guessing he wins a lot of greens with it.
699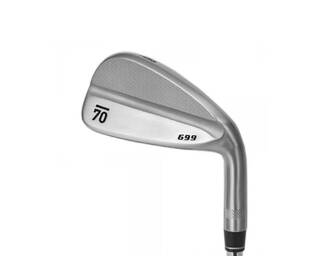 | | |
| --- | --- |
| Category | Players distance |
| Stock Shafts | True Temper Elevate 95 steel, True Temper R300 steel. Others available for upcharge. |
| Hand | Right or Left |
| 4-PW Price | $630 |
What Sub 70 says: "The 699 is the successful culmination of Sub 70's desire to offer an iron that uses the latest in game improvement technology but retains the sleekness of a traditional player's club, inspiring confidence at address and power at delivery."
My experience: This iron played a huge role in Sub 70's success when the golf world's spotlight first noticed the boutique brand.
The 699 was the first iron Jay Armour handed me and I was amazed by what I felt. The feeling at impact rivaled my Mizuno irons, which I put on a pedestal. Hitting a 7-iron, my backspin was consistently around 7,000 RPMs, which is ideal. My current 7-iron distance is 170 yards, with the 699 I was closer to 175 yards with comparable dispersion to what I currently game. If you're in the market for new irons, skip the four-figure investment and give these a go.
699 Pro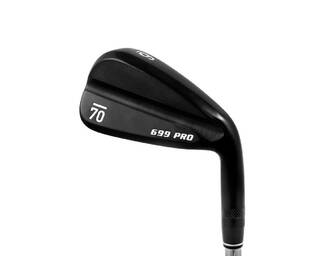 | | |
| --- | --- |
| Category | layers distance |
| Stock Shafts | True Temper Elevate 95 steel, True Temper R300 steel. Others available for upcharge. |
| Hand | Right only |
| 4-PW Price | $630 |
What Sub 70 says: "The Sub 70 699 Pro is for the player looking for a club that combines the best elements of game improvement technology with the playability and classic lines found in the Sub70 639 series."
My experience: Definitely a step to the more player-type iron from the standard 699, but not that difficult to hit. Obviously, the smaller profile won't reward off-center hits as much at the 699, but the benefits of the pro model heavily outweigh anything else. They feel just as good at impact and have a piercing ball flight. My backspin number was a little better with 699 Pro, while my distance remained comparable to the 699, making a 699/699 Pro combo set so sweet to think about.
659 CB Forged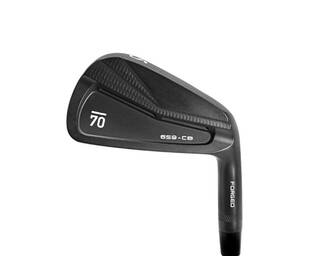 | | |
| --- | --- |
| Category | Cavity Back |
| Stock Shafts | True Temper Elevate 95 steel, True Temper R300 steel. Others available for upcharge. |
| Hand | Right or Left |
| 4-PW Price | $763 |
What Sub 70 says: "The 659 CB is the next iteration of our award-winning 639 CB. The 659 CB maintains the same head size and offset as the 639, but with additional weight added to the bottom of the club to lower the center of gravity and add forgiveness on off center hits."
My experience: I left Sub 70 unsure if the 659 CB or the 699 irons were my favorite. I have a soft spot for the CB's because they remind me of an old set of irons I love, the TaylorMade Tour Preferred CB. These irons are smooth like butter without the sting and unfriendliness of butter knives. I hit both the 659 and the older model, 639, and you can definitely see and feel the craftsmanship in all of them. The 659 CB was easy to shape with just the right amount of offset to keep my natural fade soft. Truly a set of irons that even the lowest handicaps could appreciate.
659 MB Forged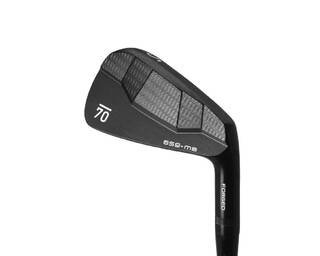 | | |
| --- | --- |
| Category | Players Muscle Back/Blade |
| Stock Shafts | True Temper Elevate 95 steel, True Temper R300 steel. Others available for upcharge. |
| Hand | Right or Left |
| 4-PW Price | $763 |
What Sub 70 says: "The result of countless hours of testing, discussing, and shaping, the 659 MB features a slightly higher center of gravity, which delivers a heavier blow and provides a more optimized ball flight that is focused on penetration through the air and stopping power on the ground."
My experience: This is where my 11 handicap began to show. I struck a few 659 MB's that felt out of this world, but overall distance fell off and dispersion scattered. If I could shave a couple strokes off of my game and increase my accuracy a tad, these would be in my bag. The custom milling and production that goes into these irons make them absolutely stunning to look at. A high single digit handicap could game these with no problem.
659 TC Forged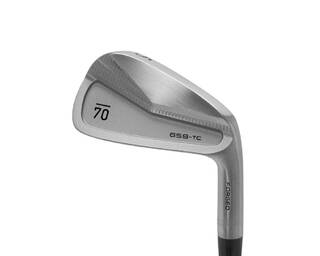 | | |
| --- | --- |
| Category | Players Tour Cavity (TC) |
| Stock Shafts | True Temper Elevate 95 steel, True Temper R300 steel. Others available for upcharge. |
| Hand | Right or Left |
| 4-PW Price | $763 |
What Sub 70 says: "The Sub 70 659 Tour Cavity, or TC, is a new addition to the Sub 70 iron array. The TC is both a bridge and an elevator, in that it is meant to bridge the gap between the CB and MB, allowing players to create the perfect combination set for their unique game, but also as a standalone set that will elevate one's ball striking and ability to shot make."
My experience: I can completely understand a set makeup that includes CB/TC or even CB/TC/MB (they offer them all). The TC is the perfect blend between the CB and the MB models in that they are certainly a player-preferred shape, but they don't rock the boat too much on forgiveness. Shot shapers would be delighted with a full set of TC's because you can flight them to your specific shot. Personally, I felt they swung much closer to the CB, probably because I was actually able to hit them with some success.
TAIII Forged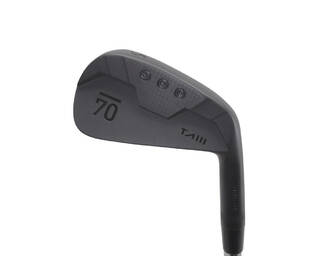 | | |
| --- | --- |
| Category | Players Muscle Back/Blade |
| Stock Shafts | True Temper Elevate 95 steel, True Temper R300 steel. Others available for upcharge. |
| Hand | Right only |
| 4-PW Price | $945 |
What Sub 70 says: "When viewed as a whole, the TAIII irons are a unicorn of construction, wherein each iron was built individually to obtain a specific flight characteristic and playability attribute without changing the look of the irons as they progress from 3 Iron to Pitching Wedge."
My experience: At least I gave Hiland and Armour a few laughs. These irons are the product of Sub 70's collaboration with Tommy Armour III and they are the epitome of a tour-caliber blade. However, I admire the fact that the team devoted a lot of R&D to making these blades playable to the category of player just below tour-level. Available in raw, satin, or black finishes, the TAIII irons are just awesome to look at. My shots were mostly low blocks to the right, but I was able to turn a few over. If you're a blade player, my guess is that you're spending twice as much for your butter knives because they come from a big name in the equipment game.
Wedges
Sub 70 carries two different wedge models, with a third when you take into account a full groove model.
JB Forged Wedge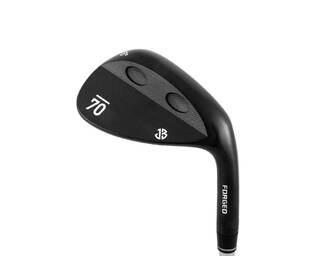 | | |
| --- | --- |
| Lofts | 46, 48, 50, 52, 54, 56, 58, 60, 62, 64 |
| Stock Shafts | True Temper Elevate 95 steel, True Temper R300 steel. Others available for upcharge. |
| Hand | Right or Left |
| Price | $119 |
What Sub 70 says: "Designed for the player with a variety of short game shots in his bag, the Sub70 JB Wedge Series provides a tantalizing array of options around the green. The JB Wedge is designed exclusively by Sub 70 master club builder and former professional golfer, Jeff Bushnell."
My experience: The JB series of wedges will compete with any premium wedge on the market. I loved the quick response on shorter shots and I can see them easily working their way out of bunkers with that sharp leading edge. With its versatility, you naturally lose some forgiveness, but only on full approach shots. If you can spin the ball at will, these wedges will make the golf ball dance however you like. The JB wedges are also available in full groove models.
286 Wedge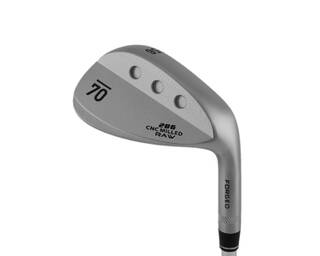 | | |
| --- | --- |
| Lofts | 46, 48, 50, 52, 54, 56, 58, 60, 62, 64 |
| Stock Shafts | True Temper Elevate 95 steel, True Temper R300 steel. Others available for upcharge. |
| Hand | Right or Left |
| Price | $119 |
What Sub 70 says: "The 286 wedge model has a straighter leading edge than the previous model and a third weight port was added to further optimize ball flight. The leading edge was also softened to help ensure solid strikes regardless of your lie."
My experience: The 286 wedges performed great. I tried everything from full to half wedge shots, even played a few back in my stance to see how they run. I was mightily impressed with the backspin and overall green hold, even on a few full shots that I caught low on the face. Anyone from beginners to advanced players could put two or three of these in their bag and be happy with how they perform over the course of a round.
Putters
Sub 70 produces 11 different putter models. They range from your standard blade to mallets, armlock, and even a signature Tommy Armour III model. All of Sub 70's putters are CNC milled from a solid billet of 1045 carbon steel. Their putters have no welds, no castings, and no inconsistencies. The price range for the putter line is between $159-$189. Rather than going into every single model, let's take a look at the flagship blade.
Sycamore 001 Blade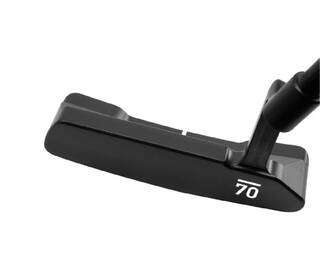 What Sub 70 says: "The Sycamore 001 is our blade, which sports a heel and toe weighted 380 gram head with a plumber's neck offset, a single alignment mark, and 35 degrees of toe hang for swings with more arc."
My experience: Who doesn't love a new take on an old classic? The standard blade putter, for me at least, had never rolled better. I love the simplicity of this putter at address, but when I followed through I knew it was anything but simple. The feel of the milled face is soft, yes, but you can still feel impact, which is non-negotiable for me. I do not like marshmallow putters. This Sycamore 001 runs $159 and could easily end up in my bag, but I did play putter favorites with the 004 Mallet which has the head-shape that I prefer.
Results
After an extensive research and fitting session, I walked away with a true understanding of what Sub 70 is all about. The value is there, yes, but more importantly, the product delivers results. I would be fully comfortable converting my entire bag over to Sub 70. 
My Sub 70 Bag
Between swing data and feel, this is the Sub 70 complete set that I, as an 11-handicap player, would build after testing every club they offer:
| | |
| --- | --- |
| Driver | 849D |
| 3-Wood | 949X |
| 3-Hybrid | 949X |
| Irons | 699U (4) 699 (5-6), 699 Pro (7-AW) |
| Wedges | 286 Forged Raw (54, 58) |
| Putter | Sycamore 004 |
Buying Sub 70 Golf Clubs
If you don't have access to an on-site fitting for an entire bag of Sub 70 clubs, and are hesitant to make a significant investment without trying them out first, that's completely understandable. It's tough to rely on the opinions of others without touching, seeing, and swinging the clubs for yourself.
Thankfully, Jason Hiland understands this as well, which is why he has implemented a second-to-none customer service attitude in Sub 70. Hiland himself even gets involved to make sure customers are completely satisfied with their purchase. Like buying a suit online, you want to be confident your clubs will fit you before entering those credit card numbers. Here's how he built the customer experience to address these hurdles.
Demo Program
If you would like to have Sub 70 demo clubs sent directly to your home, they can make it happen. For a nominal fee that mostly covers shipping, Sub 70 can send you a driver, hybrid, fairway, or utility to try. For iron sets, you receive a 6 and 9 iron to try. The company frequently updates the availability of demos so there's always something new to try.
Pre-Owned Sub 70 Clubs
The Sub 70 site also has a frequently updated list of pre-owned clubs for purchase. This is a great way to snag an even better deal on the irons you're looking for.
60 Day Guarantee
Sub 70 is confident that you'll like your new clubs, but on the off-chance you're not 100% satisfied they offer a 60 day guarantee that allows you to get a full refund after up to 60 days. Hiland added that most concerns that come up can be addressed with a tweak to the already purchased equipment, if need be.
The Seventy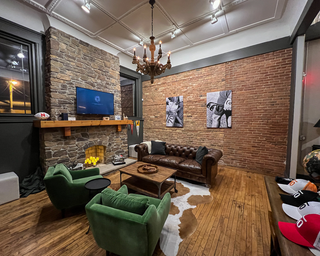 As previously mentioned, my Sub 70 experience didn't take place in a warehouse. I actually experienced the newly opened brick and mortar storefront, The Seventy. If you're in search of ideas for your golf man cave, this place should be your inspiration.
When you enter the brick building, you're greeted by a wall of Sub 70 staff bags, which is quite a statement. Inside you'll find a lounge area with a leather couch that's just begging for you to enjoy a cigar. You can sharpen your skills on the Golden Tee arcade game or pick out some new threads in the Sub 70 Apparel area (more on that below).
From a golf standpoint, Hiland and PGA, Fitting/Instruction Director, Kevin Healy, perform fittings out of their two hitting bays. There is also a putting green lined with every Sub 70 putter model. Before or after getting your club fitting, you're free to enjoy a seat at Sub 70's bar which is stocked with more than enough beverages. The television above the bar is usually tuned to golf or whatever big game is on.
"We couldn't do The Seventy without Kevin Healy," said Hiland. "We knew that we needed a really good fitter and teaching pro and he's both. This entire project exists because of him."
If you're within a few hours drive from Sycamore, getting fitted at The Seventy is as much of an experience as it is a club fitting. Hiland did note that people fly-in to the area just to get the full Sub 70 experience. I can't blame them, this is one of the coolest spots I've been to. As Armour added, "60% hangout, 40% club fitting."
Sub 70 Apparel
Sub 70 apparel is a thing. Recognizing that the Sub 70 logo was in itself, cool, an apparel line was a no-brainer as the concept of the company is easily transferable to a lifestyle brand. And that's just what Sub 70 created by launching a line of t-shirts, hats, polos, hoodies, quarter zips, and much more.
The best part about the apparel line is that it follows the same roadmap as the equipment. You won't find a t-shirt or a hat over $30, and the quality is amazing. So not only can you rep Sub 70 on the course, you can wear Sub 70 apparel wherever you go. 
"It was a natural outreach of the next thing for us," said Hiland.
Added Armour, "We also designed everything as clothing we would want to wear on an off the golf course, and it's going to keep expanding."
Armour's brother, Ryan, is the head of apparel and is credited for being the fashion-forward guy in the group and has been the driving force behind Sub 70 apparel.
Why You Should Consider Sub 70
From a pure performance standpoint, Sub 70 clubs are as good as anything out there. From woods that can keep up with the best, irons that look and feel sleek, and wedges and putters that will greatly increase your precision, Sub 70 deserves every golfer's attention. Plus, Hiland and his team back up everything they put out there with guarantees and customer service that will blow your mind.
Another reason to consider Sub 70 is its very casual, almost non-existent, product calendar. There's nothing more frustrating than paying top-dollar for a new set of clubs only to find that a newer model drops the following month. Hiland isn't looking to come out with new models just for the sake of marketing.
"We're not handcuffed by marketing budgets," said Hiland. "For example, our last forged irons ran for nearly four years. Our new models could run five years, I don't know. Until I can come up with something better, it stays."
Sub 70 is everything that it says it is. It's not trying to be Titleist, Callaway, or any of the larger OEM's. Sub 70 is content with staying in its lane and picking up naysayers turned believers along the way. Hiland and Armour will tell you that they don't know exactly where the Sub 70 bus is headed, but they're excited for the journey.