The 9 Best Drivers for Women of 2023
Updated June 1, 2023
GolfLink is a participant in affiliate partnerships, and may receive a share of sales from links on this page. These partnerships do not influence our editorial content.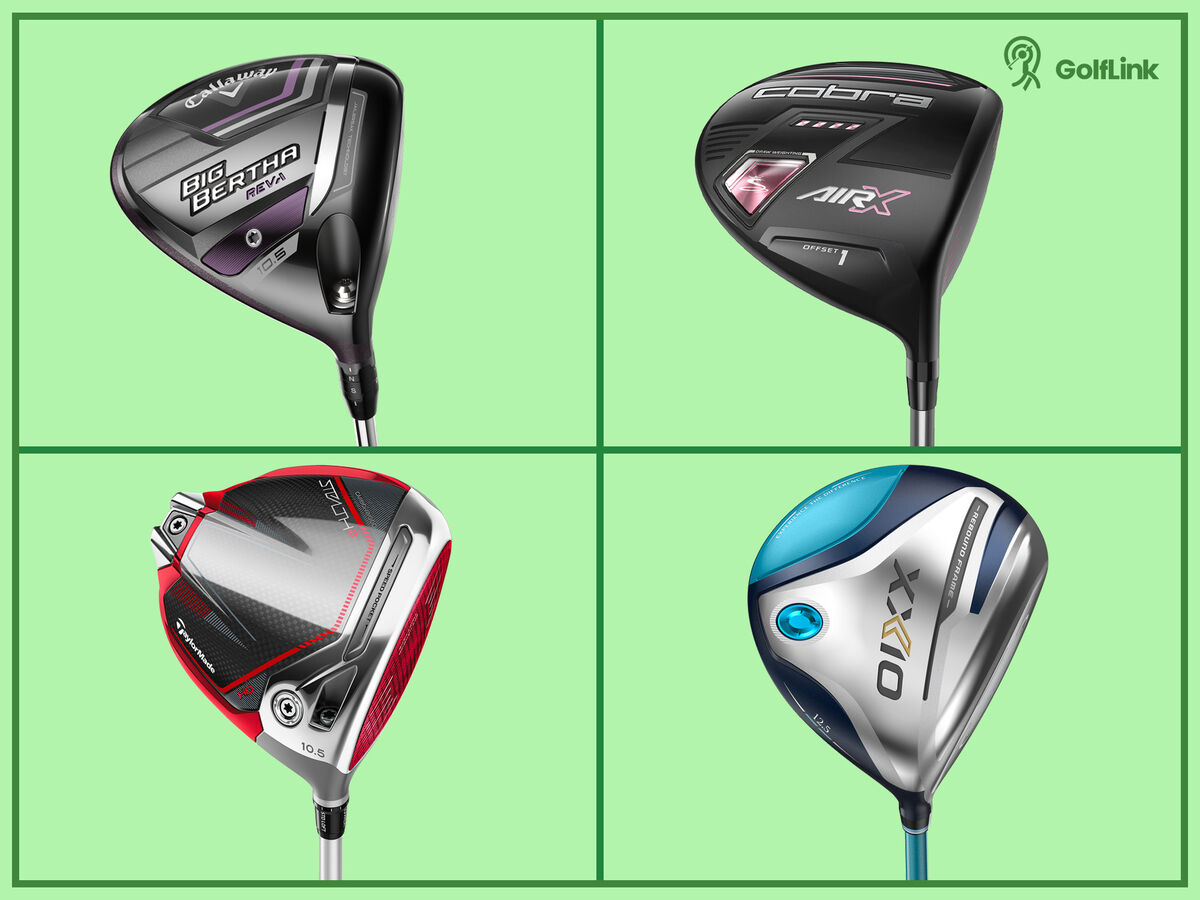 Women's golf clubs have advanced incredibly in recent years. Today, women shopping for a new driver have more choices than ever before. We've done our research and worked with a variety of female golfers to find the best drivers for women of 2023.
As part of our best driver series, GolfLink has found the best drivers currently available for women. While we cannot offer much first-hand experience beyond initial feel and setup, we had the help of several female golfers ranging in handicap from 8 to 20.
| | | |
| --- | --- | --- |
| Driver | Price | SHOP | Standout Feature |
| Callaway Big Bertha REVA 2023 | $499 | SHOP | Best women's driver of 2023 |
| Cobra Aerojet Max Women's Driver | $549 | SHOP | Best for distance |
| Callaway Women's Epic MAX (Used) | $193 | SHOP | Best preowned women's driver |
| Cleveland Women's Launcher XL Lite | $249 | SHOP | Best driver for senior women |
| Cobra AIR-X Offset Women's Driver | $199 | SHOP | Best for beginners/higher handicap players |
| Callaway Women's Rogue ST MAX | $399 | SHOP | Premium performance at a discounted price |
| TaylorMade Stealth 2 Women's HD Driver | $599 | SHOP | Combination of distance, forgiveness and latest technology |
| PING G Le2 | $449 | SHOP | Top-end forgiveness |
| XXIO 12 Women's Driver | $699 | SHOP | Best premium women's driver |
What Makes a Great Women's Driver
Long gone are the days when ladies had just one or two club options at golf retailers. It was not that long ago that women had to choose between off-brand designs or a driver that was simply painted pink. 
Today, golf manufacturers devote serious resources to making great drivers for women, with specifications like the club's weight, shaft flex, and launch tailored towards women's games.
Drivers built for women weigh a little less than their counterparts for men. There are several reasons for this but it all boils down to making the driver easier to hit with better distance and accuracy.
Weight is taken from the shaft and also sometimes from the head. A ladies' driver shaft weight is typically around 40g, as opposed to a standard men's shaft, which is around 50g. In addition, the standard grip on a ladies' golf club weighs less than a standard men's grip.
Women's drivers come with lighter stock shafts that are also more flexible than men's regular shafts. In fact, a stock ladies' shaft is comparable to a standard senior flex shaft.
The additional shaft flex allows ladies to get the driver into a better set position at the top of the swing and ensures proper lag and impact on the follow-through. 
Several factors influence how a shaft performs for your game, most notably swing speed. Ladies with faster swing speeds shouldn't assume a standard women's shaft flex is appropriate for their game. A stiffer shaft may be more appropriate. That's why a proper fitting is the best way to ensure you go home with the best equipment for your game.
The launch angle for standard ladies' drivers is higher than a standard men's driver. Similar to great senior drivers, the loft on women's drivers is usually around 12 or 13 degrees. Slower swing speeds produce less spin, resulting in less airtime, and less distance. By increasing the loft, the ball will hit ideal spin rates with slower swing speeds, stay in the air longer, and travel farther.
Of course, it's worth repeating that many women's swing speeds are fast enough that the extra loft may not be necessary, so it's worth learning your numbers to help find the best driver for you.
Callaway Big Bertha REVA 2023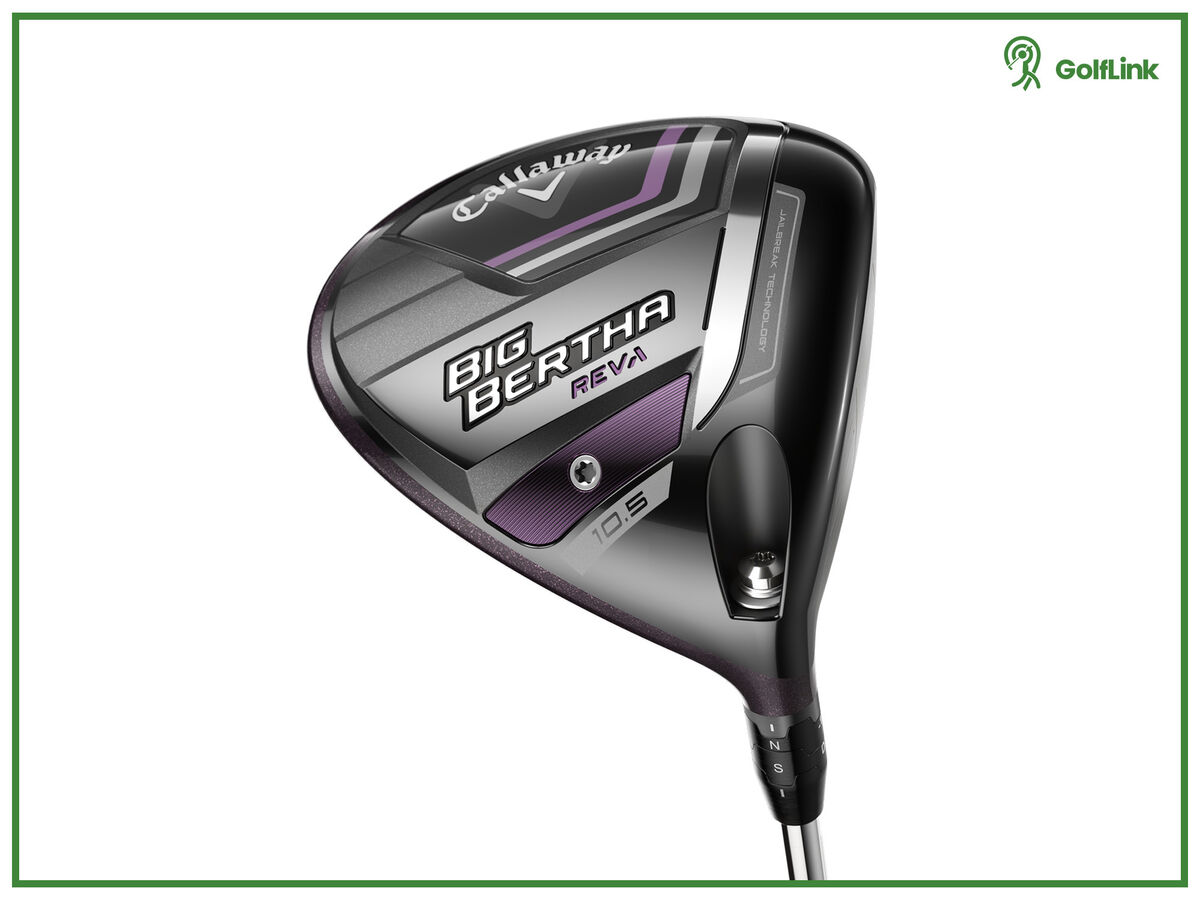 Callaway: $499
| | |
| --- | --- |
| Lofts Available | 10.5, 12.5 |
| Adjustable | Hosel |
| Standout Feature | Elite ball speeds across the entire face |
Callaway is one of the most innovative manufacturers of women's golf equipment. Its past Solaire and Strata collections earned high praise from ladies of all abilities. Today, Callaway's Big Bertha REVA line is leading the charge and the REVA 2023 driver is our top choice for ladies looking for the ideal driver to keep them long and straight in the fairway.
Callaway tailored the Big Bertha REVA 2023 driver to a woman's golf swing in every aspect, from the head to the grip. The 460cc head, shaft, and face were designed for maximum distance and high launch. Callaway used AI to create the face of the 2023 REVA, relying on the machines to determine the best formula for the biggest sweet spot.
The Big Bertha REVA's components are a big factor in performance and comfort. The RCH 40/50 shaft is super-light and the Lamkin women's ST Soft grip provides a great, confident feel no matter what the weather. 
Pros:
Chevron alignment aid
Effortless launch
Distance
Cons:
Natural draw-bias requires hosel adjustment to get dialed-in
Cobra AEROJET Max Women's Driver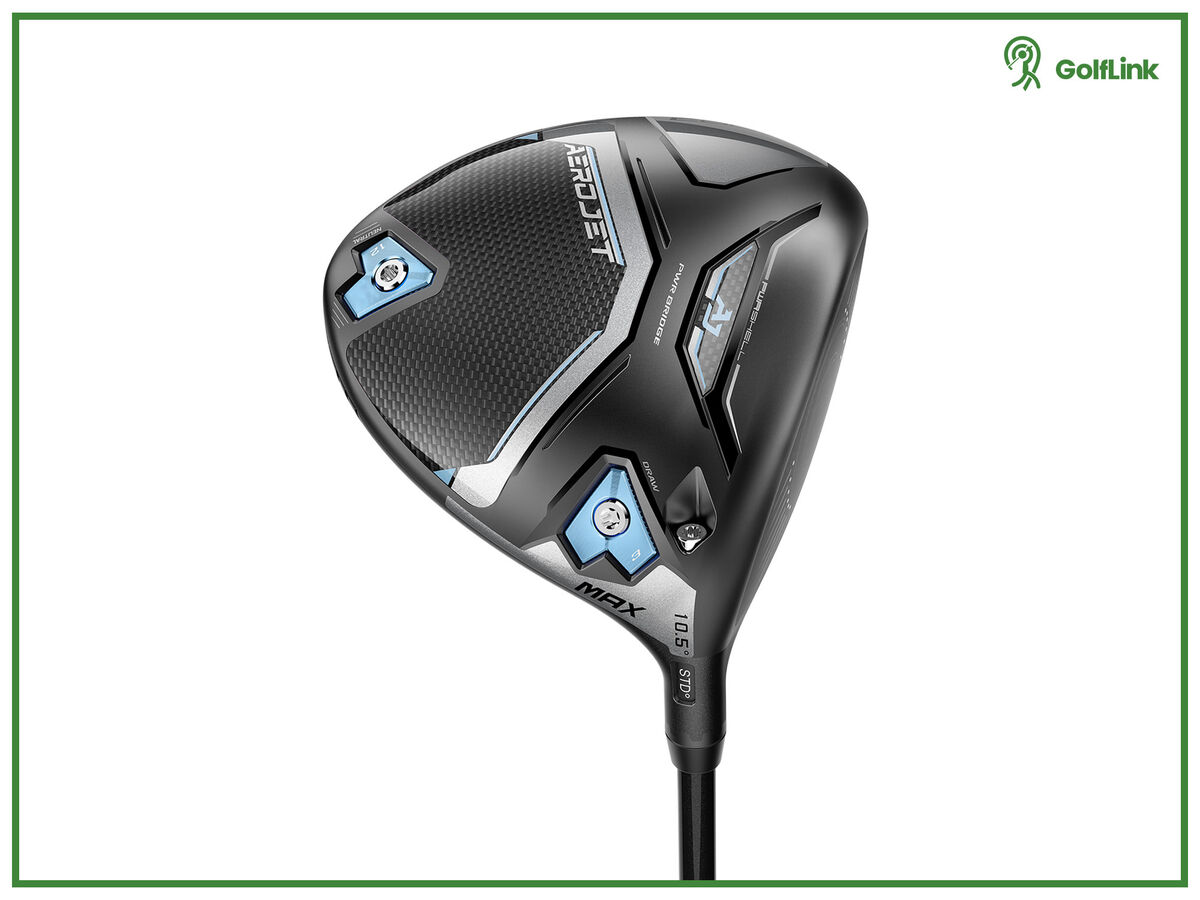 Cobra: $549
| | |
| --- | --- |
| Lofts Available | 10.5, 12 |
| Adjustable | Weights & hosel |
| Standout Feature | Dial in your preferred draw bias with back and heel weights |
The Cobra AEROJET MAX Women's driver is a force to be reckoned with. Cobra has earned a reputation for building lightweight, aerodynamic clubs that increase club head speeds and crank out serious distance, and that's exactly what AEROJET does.
The AEROJET MAX incorporates interchangeable 3g and 12g weights, with ports in the heel and rear of the club head. Drop the 12g weight in the heel for maximum draw bias, or move it to the rear for the most forgiveness possible.
Speaking of adjustability, the AEROJET MAX also has an adjustable hosel, allowing you to move up or down 1.5 degrees from the stock loft. That allows you to choose your preferred launch window to further maximize your performance off the tee. 
Pros:
Fully adjustable from weights to hosel
Easy swing, peak club head speeds
Carbon crown shows a premium look at address
Cons:
Callaway Women's Epic MAX: Best Used Women's Driver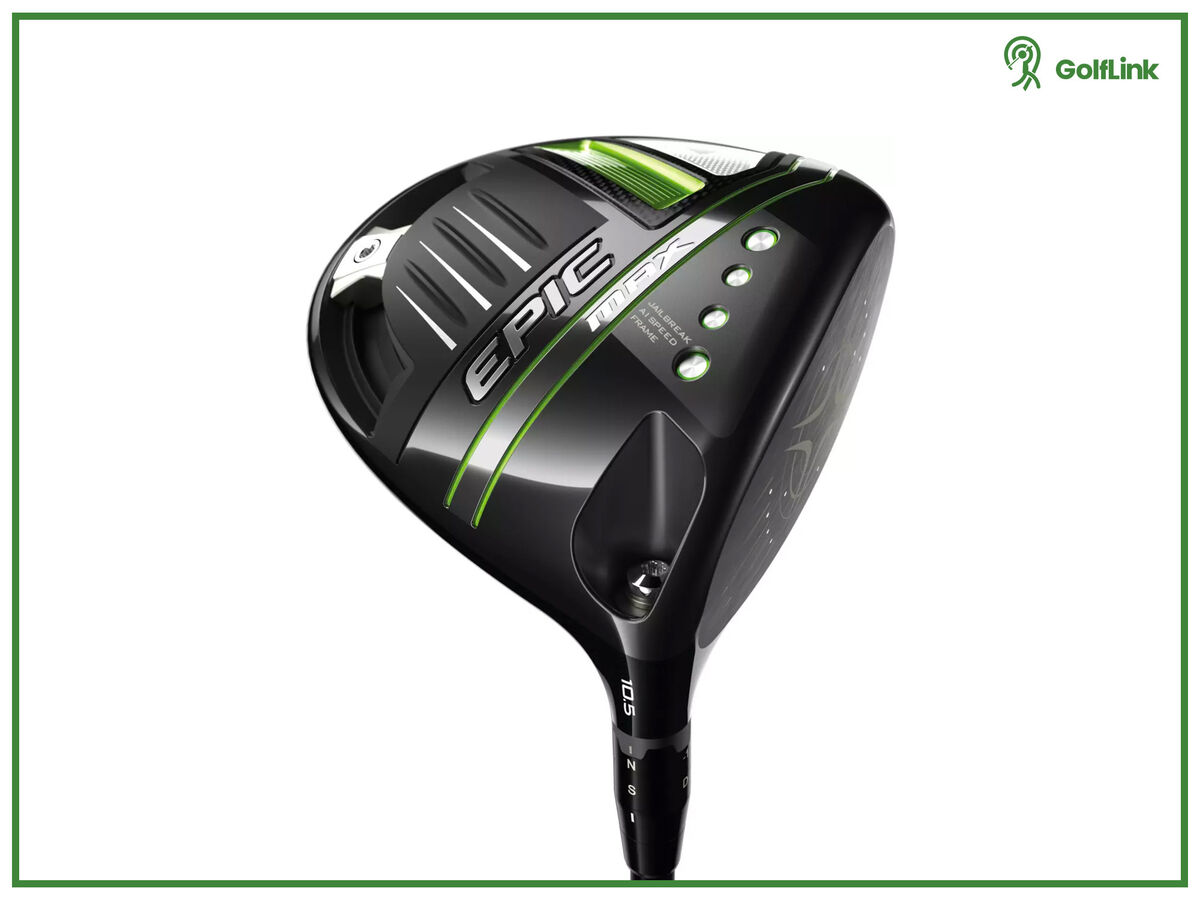 Callaway: Like New From $193
| | |
| --- | --- |
| Lofts Available | 9, 10.5, 12 |
| Adjustable | Hosel and weights |
| Standout Feature | Optimize launch and shot shape with adjustable hosel and sliding weight |
The beauty of shopping Callaway Golf Preowned is that you can get modern equipment at reasonable prices, and this Callaway Women's Epic MAX Driver, for under $200 is a prime example of that. Callaway left no stone unturned when it created this bomber, using Artificial Intelligence to prioritize maximum ball speed and maximum forgiveness.
Pros:
Adjustable hosel to dial in your optimal launch
Sliding rear weight helps you control your shot shape and hit more fairways
AI-designed face for largest possible sweet spot
Cons:
Limited inventory
Torque wrench not included
Cleveland Women's Launcher XL Lite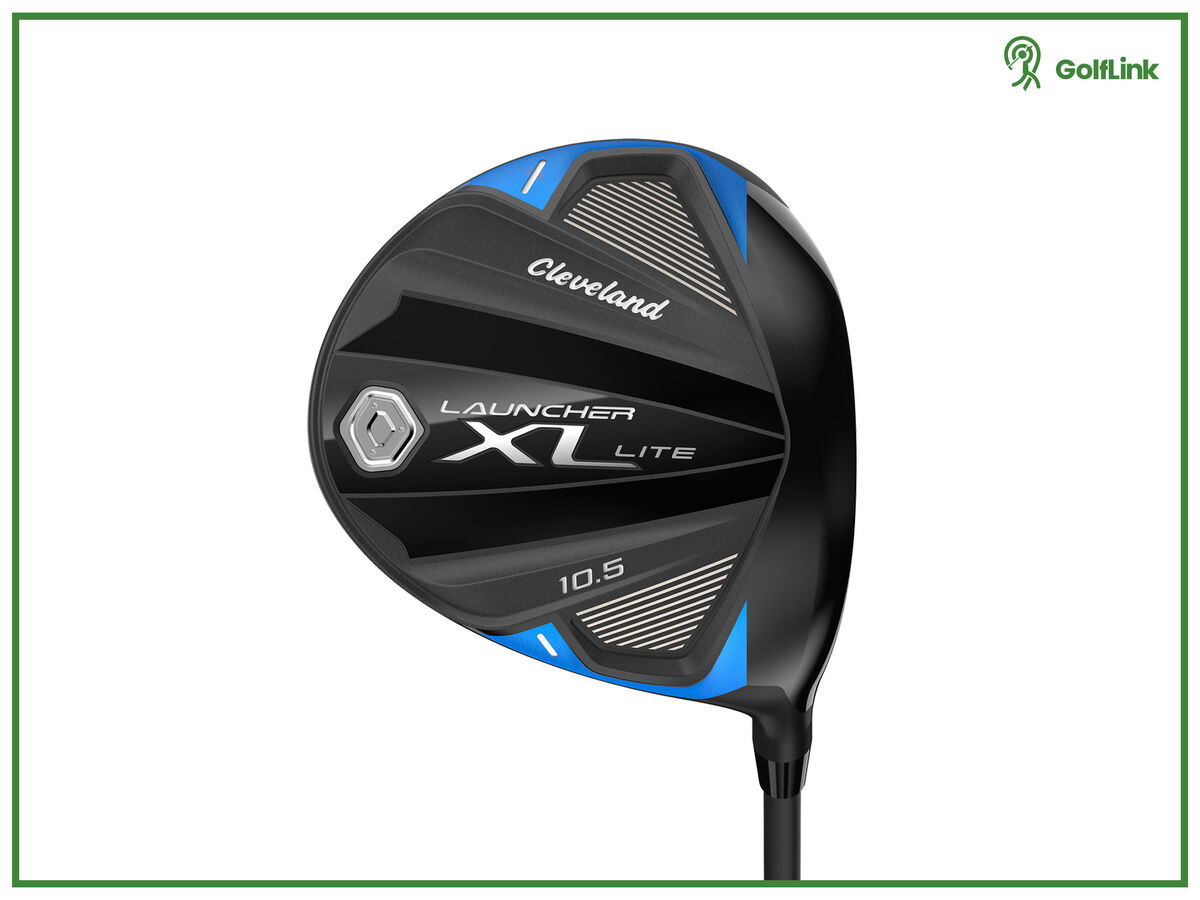 Cleveland: $249
| | |
| --- | --- |
| Lofts Available | 10.5, 12 |
| Adjustable | No |
| Standout Feature | High launch and lite feel |
The Launcher series from Cleveland Golf has always been among the easiest clubs to hit. The namesake rings true, they launch high and possess a lot of great attributes for the average golfer. The Launcher XL Lite driver for women is a great fit for players just getting started or are getting ready to make the jump into a next-level driver. It might be a bit beneath mid-handicaps, but still a great option to consider if that applies to you.
Our testers instantly noticed that this was the lightest driver tested. For the moderate to slow swing speed player, the Launcher XL Lite produced very good ball speed numbers because it's an effortless club to swing. Its Rebound Frame is a face technology you'll find in Cleveland, Srixon, and XXIO clubs and it produces a noticeable jump off of the face. At $350, the Cleveland Launcher XL Lite is also a great value if you're looking to escape the highest price point for a new driver.
Pros:
Very lightweight
High launching
Good value
Cons:
Cobra AIR-X Offset Women's Driver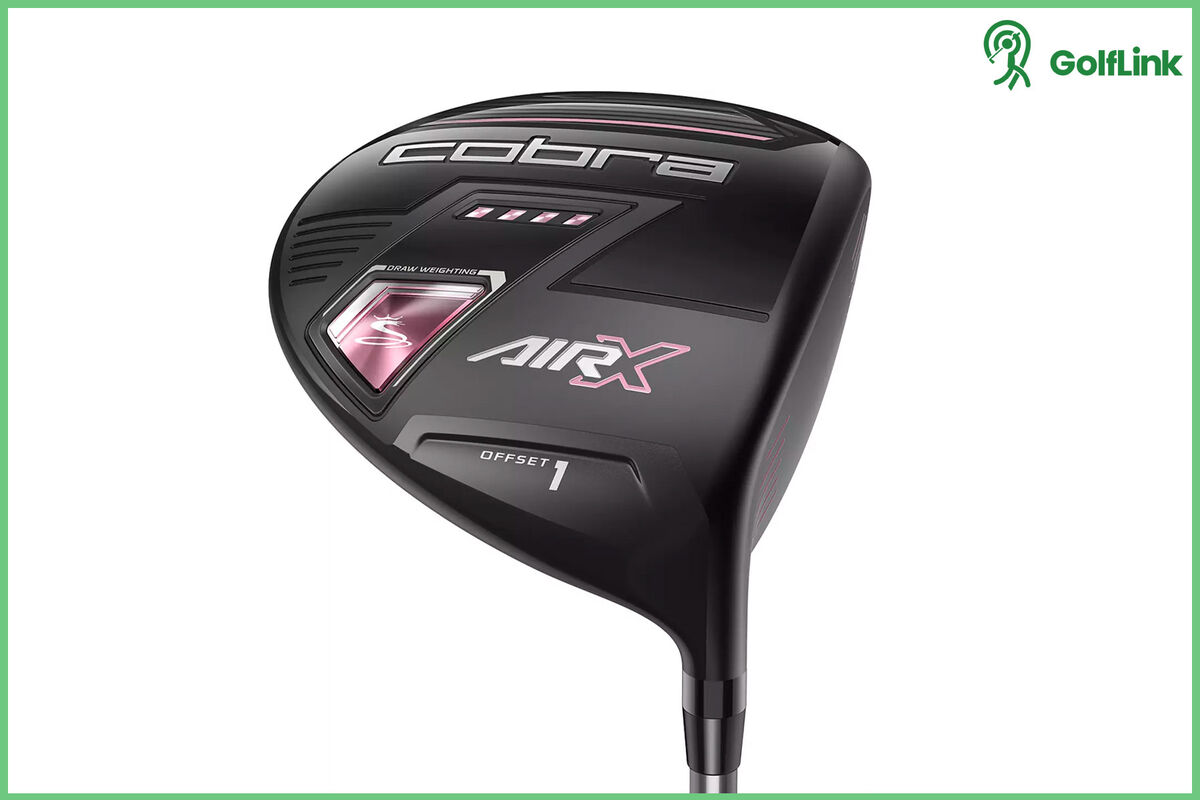 Cobra: $199
| | |
| --- | --- |
| Lofts Available | 11.5, 15 |
| Adjustable | No |
| Standout Feature | Lightweight and easy to swing |
Cobra's goal when it brought the AIR-X line of clubs to market was to create lightweight, draw-bias, easy-to-swing, distance-producing clubs at an affordable price to help beginners and high-handicappers find equipment that makes golf easier and more fun. The AIR-X Offset women's driver has a carbon crown, lightweight 48g shaft and just a 37g grip, making it a featherweight from top to bottom. With some slice-fighting draw-bias technology in the head and strategic weighting, you don't need to swing for the fences to get huge distance and find fairways.
Pros:
Super lightweight and easy to swing
Offset hosel helps produce straighter shots
Heel weight for additional draw-bias and accuracy
Cons:
Callaway Women's Rogue ST MAX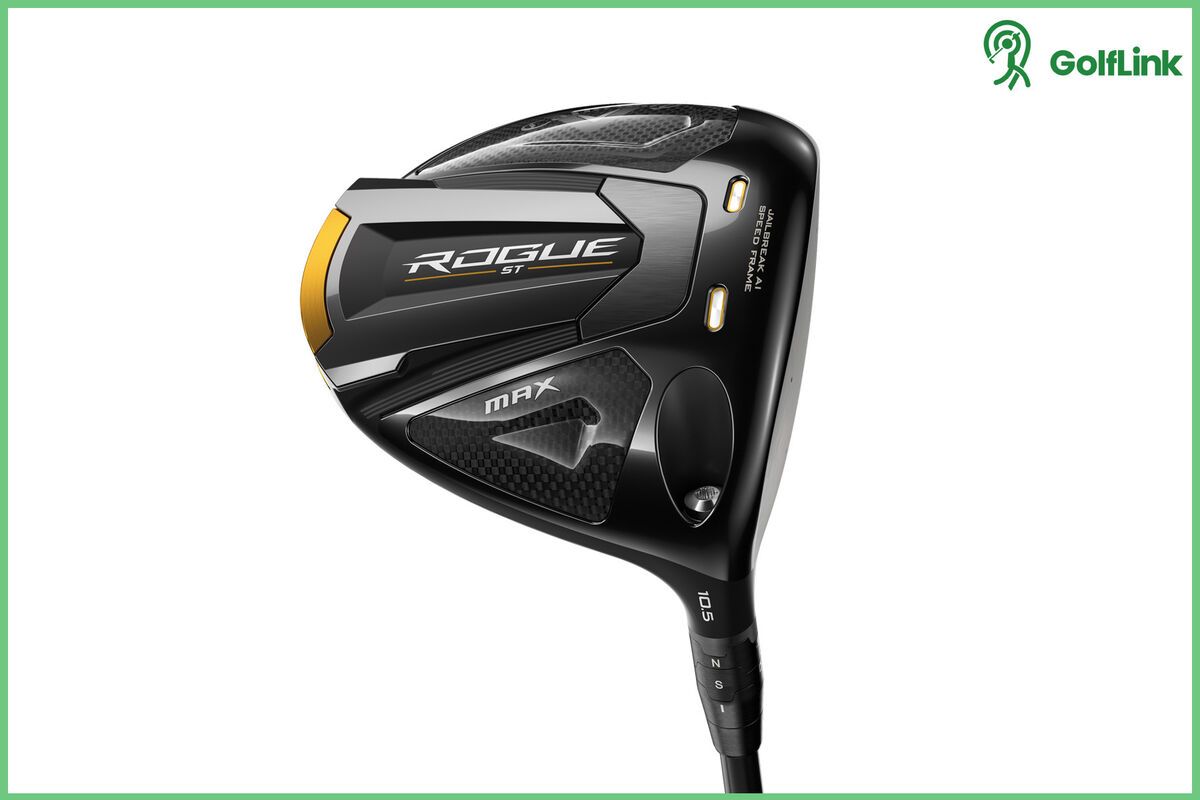 Callaway: $399 / Like New From $214
| | |
| --- | --- |
| Lofts Available | 10.5, 12 |
| Adjustable | Hosel |
| Standout Feature | 26g Tungsten Speed Cartridge |
Callaway released its second round of the Rogue lineup in 2022 and it has been on just about every list of the best drivers that you can find. The Women's Rogue ST MAX produces big distance with a middle-of-the-road ball flight, which will thrill players who are a bit more advanced.
Earlier in this list we showcased the Big Bertha REVA 2023 from Callaway, which is our top overall driver for ladies. The Rogue ST MAX is intended for a different type of player, one with a little more swing speed who can find the middle of the clubface consistently. 
The driver head is the same as the men's version, but when paired with the 40g Project X Cypher Black shaft, it becomes a monster for distance. The 26g Tungsten Speed Cartridge in the back of the head produces a great ball flight that isn't too high, but if needed, an adjustment is only a few clicks away at the hosel.
Pros:
Rear weight produces high launch
Mid ball flight
Distance
Cons:
Not as forgiving as others on this list
TaylorMade Stealth 2 Women's HD Driver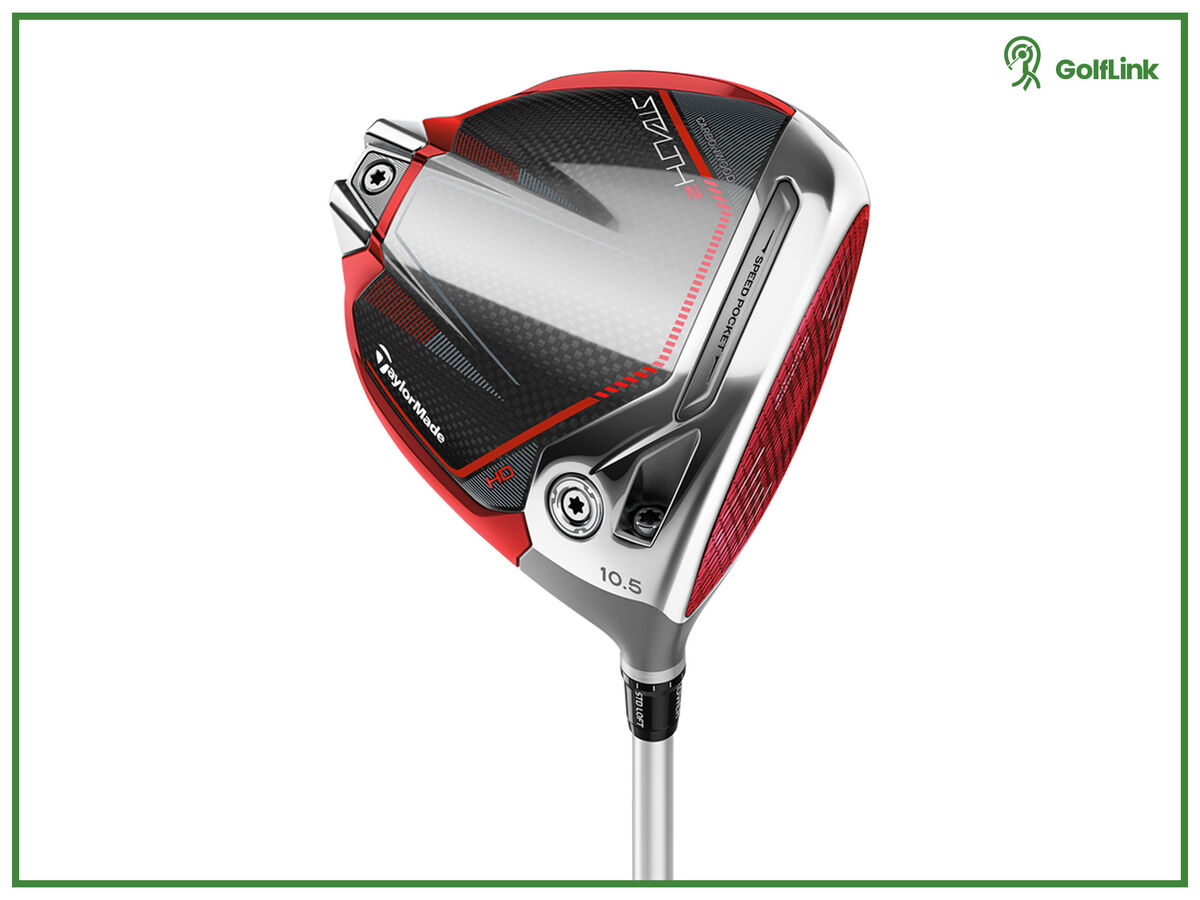 TaylorMade: $599
| | |
| --- | --- |
| Lofts Available | 10.5, 12 |
| Adjustable | Hosel |
| Standout Feature | Forgiving, high-draw design |
Looking for one of the most high-tech, forgiving, and longest drivers of 2023? If you are, look no further than the TaylorMade Steal 2 Women's HD (High Draw) Driver. With TaylorMade's 60-layer carbon face, you get top ball speeds regardless of strike location. The lightweight head makes it easy to swing, and the high draw bias helps you launch it high and hit it straight.
Pros:
Combination of forgiveness across the face with high-draw bias
Lightweight design for maximum clubhead speed
Modern, high-tech design
Cons: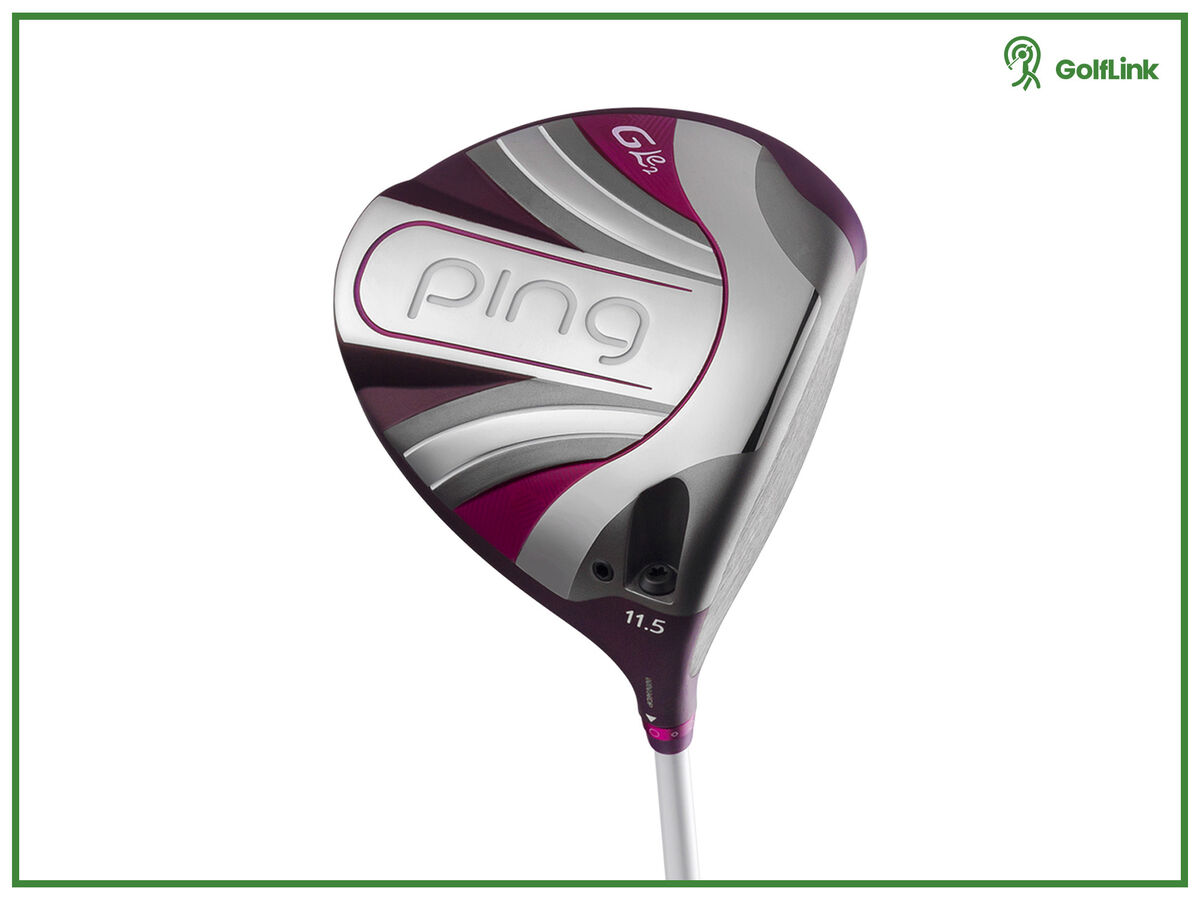 PING: $449
| | |
| --- | --- |
| Lofts Available | 11.5 |
| Adjustable | Hosel |
| Standout Feature | Easy setup and confident feel |
PING had tremendous success with its original line of G Le golf clubs designed for women. The company could easily have rolled out a similar product, but choose to shake things up instead, specifically upgrading the club face and design for the G Le2. 
The biggest advantage that our testers saw with this PING driver is that it serves all handicaps well, from beginners to single-digits. The G Le2 driver might be the most versatile driver available for women today.
The PING ULT240D, the stock shaft in the G Le2, is proof of that. PING offers it in a 52g, which is actually on the heavier side for a women's shaft, or an ultra-lite 44g option. This allows players of all skill levels and swing speeds to get the most distance and ideal launch angle. 
The head is only offered in 11.5 degrees, but it's adjustable to help you further dial in your launch and spin. The rounded head has a topline familiar to many PING players, and the color is somewhere between pink and maroon, depending on how the light hits it.
Pros:
Designed for all players
High launch
Adjustable hosel
Cons: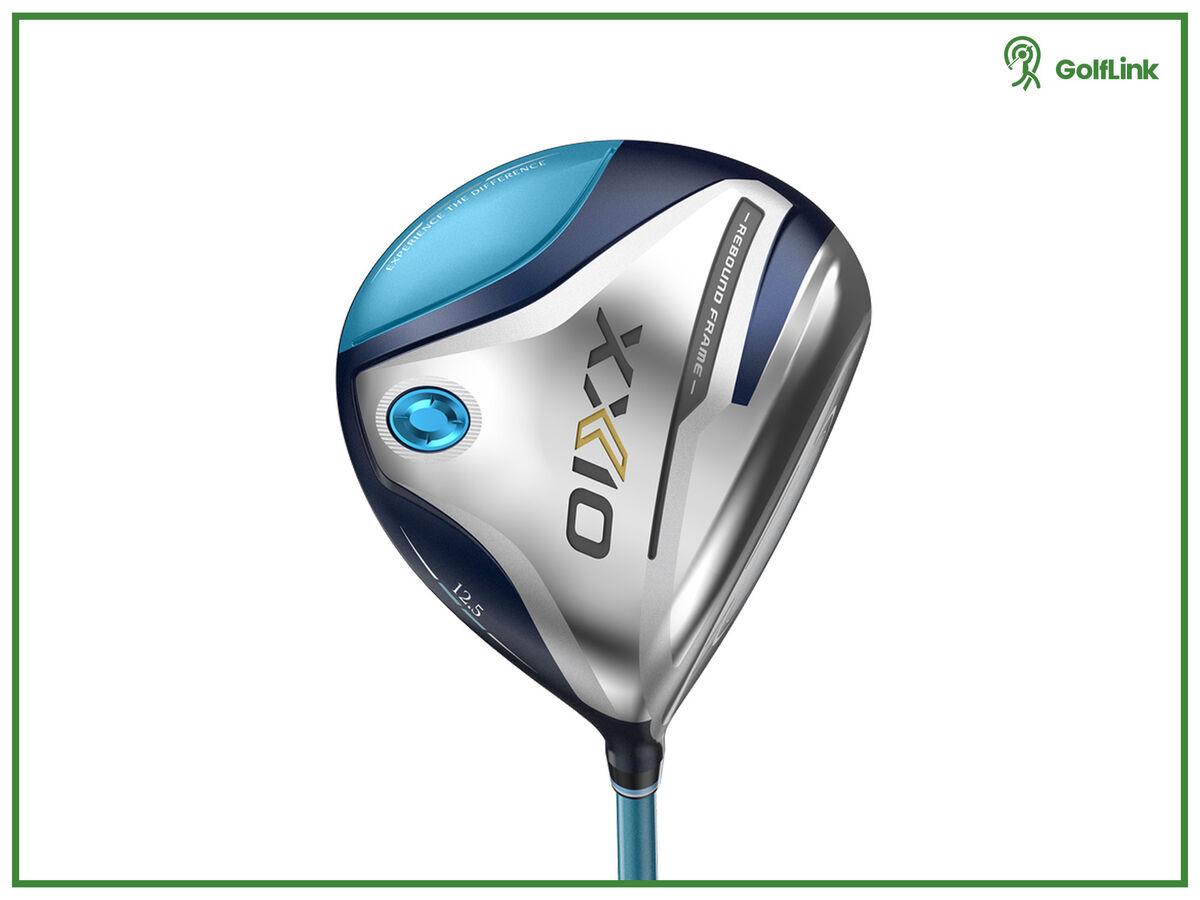 XXIO: $699
| | |
| --- | --- |
| Lofts Available | 10.5, 11.5, 12.5, 13.5 |
| Adjustable | No |
| Standout Feature | Great crown design with alignment aid |
The XXIO 12 Women's driver is what you'd expect from the premium golf manufacturer. It has superior craftsmanship, is extremely light, and is one of the easiest drivers you'll ever hit. 
Our testers found that this XXIO 12 had massive gains in both distance and forgiveness with slower swing speeds. That doesn't mean players with faster swings can't give the XXIO 12 a go, but if that's you, one of the lower lofted options (four to choose from) will produce the best results.
The navy and teal color scheme sets the XXIO 12 apart and looks sleek while remaining understated. The crown of the driver has an extended alignment aid to make setting up on the tee box consistent each time. 
Part of the premium craftsmanship is the XXIO 12 Ladies MP-1200L shaft, which is designed to launch the ball high and keep a tighter dispersion. That's a big part of the reason the XXIO 12 ranked so highly in our accuracy numbers. 
All that performance comes at a premium price of $699, but that investment could be well worth it for ladies with slow to moderate swing speeds.
Pros:
Premium craftsmanship
Easy to hit
Forgiveness
Cons:
With so many driver options now available for women, it can be difficult to decide which one is the best fit for your game. Women's golf clubs are the best they've ever been, which is part of the reason the game is growing among female youth golfers, marking a shift in the game we support 100% and can't wait to see continue to grow.