A Deep Dive Into the 4 Wheel Golf Push Cart and Its Features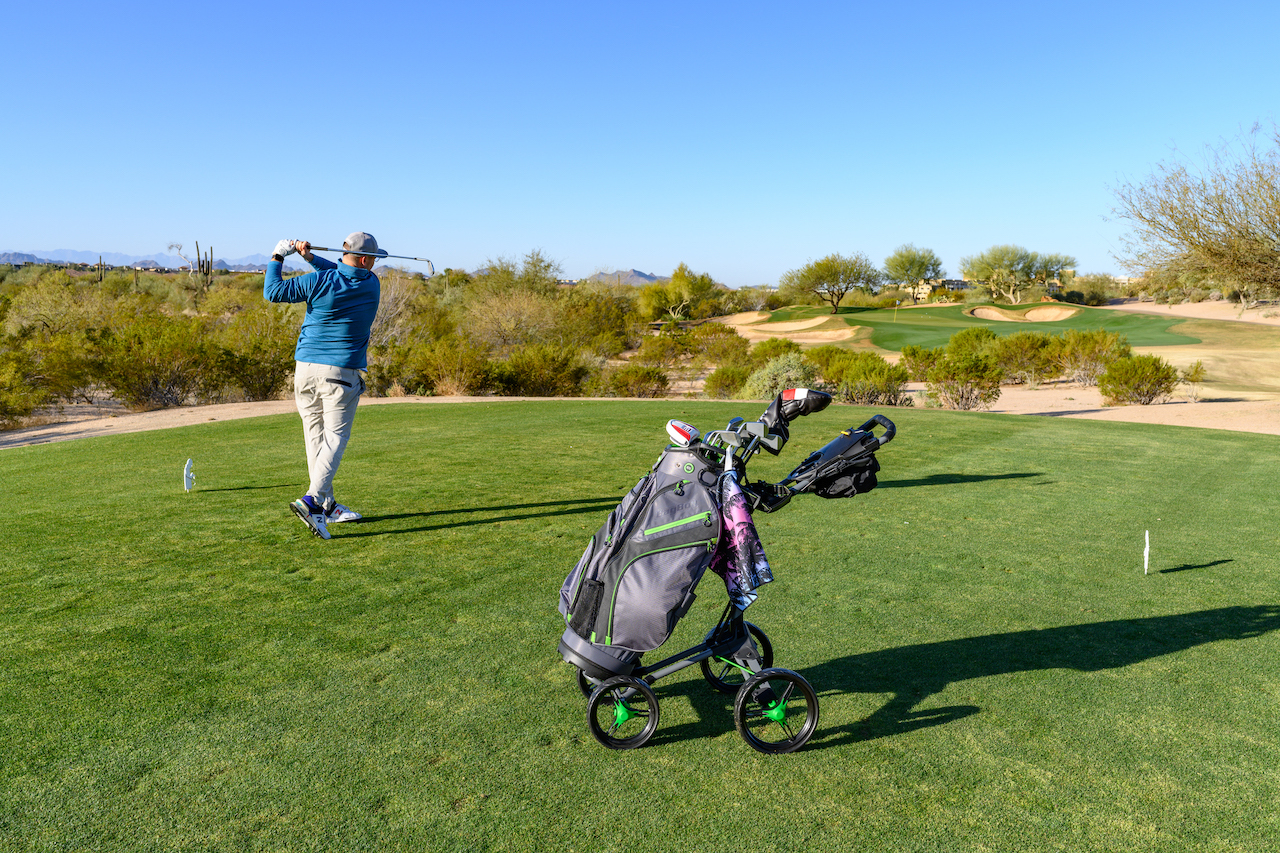 Traditionally, golf push carts have had three wheels. As advances in technology and frame designs came about, many manufacturers began offering four-wheeled push carts. These push carts are now some of the most popular on the market and appeal to buyers for many reasons. Here are some of the top push cart models that have four wheels and how they can benefit you.
Advantages
The advantages of owning a four-wheeled push cart significantly outweigh the disadvantages. The main difference is stability. Sometimes models with three wheels are more likely to tip over, especially due to a golf bag that's too heavy or not strapped in correctly. A four-wheel push cart distributes the weight evenly, so tipping over isn't a problem.
If you play golf courses that have a lot of terrain change, a four-wheel push cart is going to be the best choice for you due to how well these models adapt to hilly conditions.
Having a four-wheel base also allows the cart to be more compact. This can mean better maneuvering around tight spots on the golf course as well as a more compact cart when collapsed. If you have a smaller car with less trunk space, a four-wheel model might be the better route for you.
Disadvantages
The only real disadvantage to purchasing a four-wheel push cart is that you will probably spend a little more money than you would on a three-wheel model. Typically, around $50 more depending on the manufacturer.

BIG MAX Blade Quattro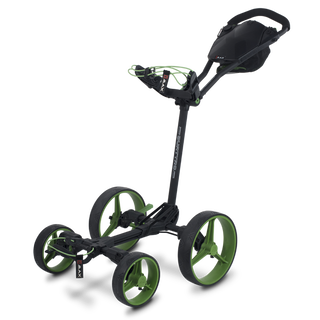 With a compact design, the BIG MAX Blade Quattro unfolds in one easy step and folds back up with ease. Flat Fold Technology means this model is the premier choice for those who still need room in the trunk for golf clubs and groceries. A smart organizer panel fits your accessories and an advanced foot brake keeps the cart in place on all terrains. Available in four color combinations.
Bag Boy Quad XL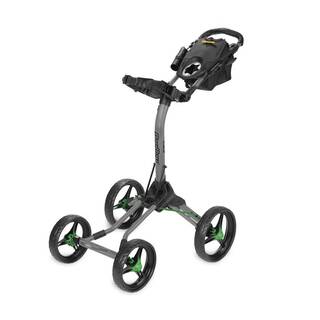 For golfers looking for a compact design, the Bag Boy Quad XL is a great lightweight model with solid maintenance-free tires that stand up to any golf course.
The Quad XL also features TOP-LOK Technology, a patented bag-to-cart attachment system so your golf bag will always stay in place. The full-feature, extra-deep scorecard console includes an integrated beverage holder, mobile device holder, and golf ball storage.
Sun Mountain PX4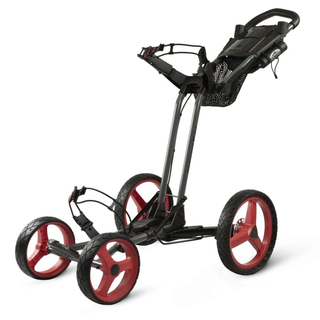 Sun Mountain developed the PX4 as the follow-up to its tremendously popular Pathfinder 4 model. The cart folds and unfolds in two easy steps and a new single-piece handle allows the cart to be pushed with one hand. An updated console tray has dual-umbrella attachments and additional storage is offered with a mesh basket and a velour-lined valuables pouch. Available in seven different color options.
TourTrek One-Click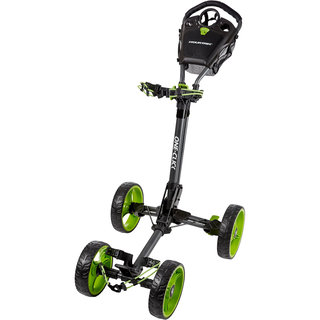 The TourTrek One-Click offers a high-strength metal frame, strong cables to keep your golf bag secured, and wheels that are slightly larger than some other four-wheel push cart models.
A deluxe scorecard holder with pencil clip, drink holder, tee storage, and an internal compartment for balls and accessories are some of the features to get you through your round. A pivoting universal beverage caddy is convenient as is the removable mesh storage pouch for on-course gear and valuables.
Clicgear Model 8.0+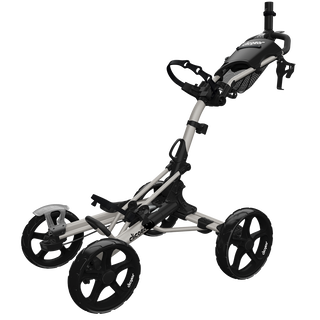 Clicgear has some of the most well-known push cart models. The Model 8.0+ is a durable and stable club trolley that is ready for whatever you throw at it. A silicone strap system keeps your bag tethered, and this model is recommended for use with cart bags. A front brake lever powering dual front-wheel brakes means you never have to worry about your clubs going downhill. A large storage console and basket make this cart a great choice if you're looking for four wheels.