What Is the Best Golf Push Cart for You? A Buyer's Handbook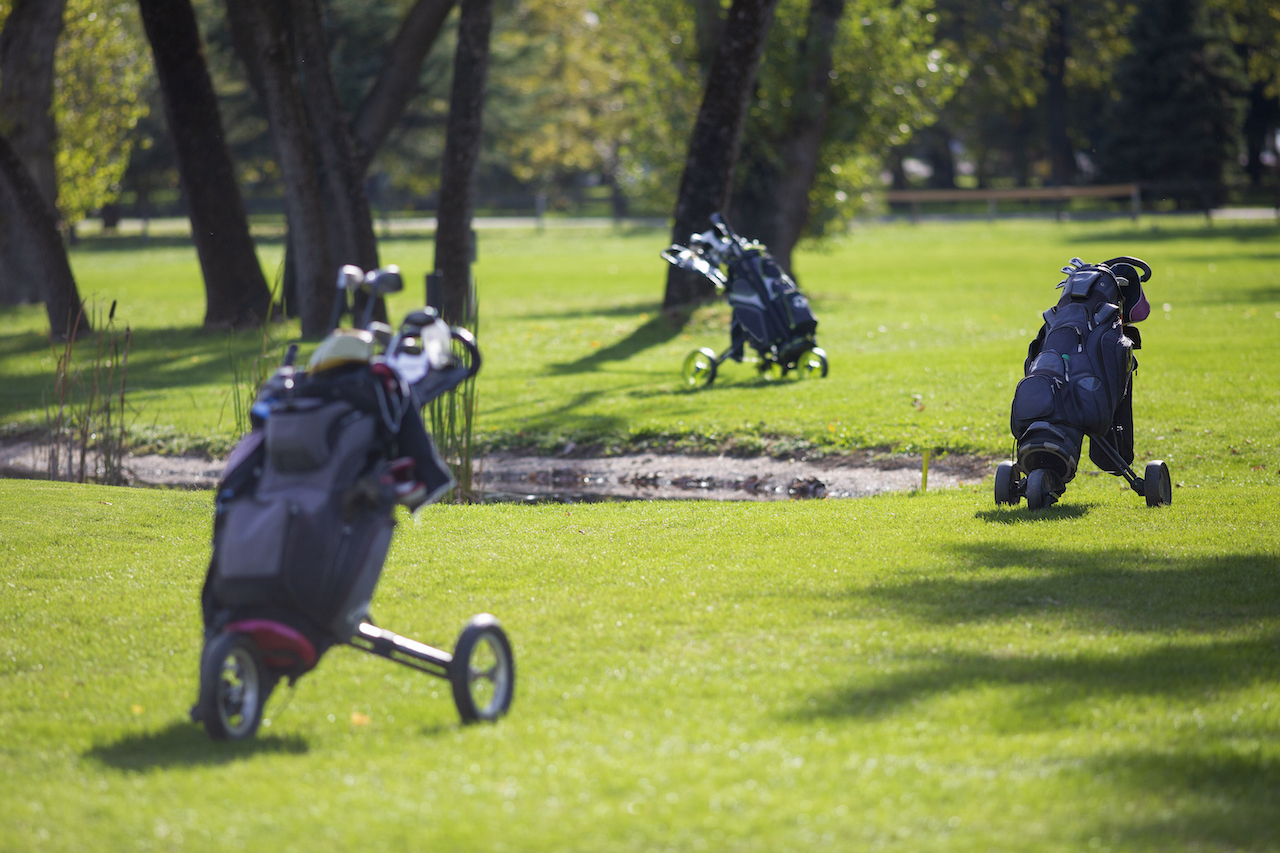 The golf push cart has grown to an incredible level of popularity in recent years. A push cart used to be something you rented, but didn't own, but has now become a must-have item for golfers who enjoy a good walk.
With so many models now available, what separates one from another? Also, if you're going to spend the money, which one is best for your investment?
Push Cart Background
The first push carts began popping up in the mid-1940s. A man named Bruce Williamson decided to take a pair of lawnmower wheels and attach them to a spring-suspension chassis. The idea was revolutionary for the golf industry, and years later, led to the founding of the company BagBoy.
Push carts were and still are commonly referred to as "pull carts," with models able to go in either direction. In the United Kingdom they're commonly referred to as "trolleys."
Prior to this invention, people either carried their bags, used a wagon-like device to pull their clubs, or used a caddie if the club offered that service.
Push carts have gone through a rollercoaster of hot and cold over the years. While you can't deny their functionality, push carts were shunned a bit when the double strap golf bag came out. For younger generations, carrying their golf bag was trendy and their dads were the ones using push carts.
Modern Models
Today, push carts have become a staple yet again. That can be attributed to the fact that manufacturers have engineered designs that are fresh and appealing to all generations, and also in a multitude of color options.
In addition, as the NCAA Golf Championships have gained popularity with more TV coverage you'll notice every player, women and men, uses a push cart. The optics definitely have an impact.
Modern push carts are also available in two, three, and four-wheeled options. You can even splurge and get yourself an electric push cart that runs on batteries and essentially drives itself.
The COVID-19 pandemic actually caused serious problems for push cart manufacturers. As golf was deemed a safe outdoor activity in many places, consumers bought push carts in records numbers in an effort to continue playing golf while also being socially distanced from other players. Manufacturers could not meet the high demand initially, but eventually caught up as the 2021 season began.
What Separates Value from Premium?
The variation in push carts models has never been greater than it is today. You can find models ranging from $99 all the way up to $2,000. There are a few main components that separate the value models from the mid-range, to the premium.
Weight
Heavier is not always better. In fact, many people are in search of the lightest possible push cart they can find. Due to material and production costs, lighter aluminum models cost a bit more. The luxury is that the lighter the weight, the easier it is to lift into your car and generally move around the golf course.
Foldability
It's important to see the model you're interested in completely collapsed. Oftentimes, the trunk space in your car dictates how big of a push cart you can own. Models that collapse and fold into the smallest measurements typically command a higher price.
Wheels
The most common issue with push carts are wheel problems. Carts that are on the less expensive side will typically have lower-quality plastic tires and rims that crack after a reasonable amount of use. In addition, the components that hold the tires in place will begin to give way.
When you pay for a mid to premium level push cart (typically $200 or more) the quality of the tires, rims, and components will be much higher.
Brakes
Push carts typically have two brake options, foot or hand. Foot brakes sit over the tires and require you to engage them every time you stop. Hand brakes are located up near the handle and are a little more convenient. Neither is necessarily better than the other, as long as they do the job and stop the cart from moving.
Details
Keep in mind the details when shopping for a push cart. The straps that hold your golf bag in place along with the closure clasps are typically much more durable on better models.
Storage is another detail you might not consider initially. A good push cart will have a space for your scorecard, perhaps an enclosed compartment at the top. Some have a mesh storage space near the bottom, as well. The more storage space, the higher the price.
Which is Best for you?
Ultimately, that's up to you but you should consider usage and budget above all else.
If you plan on using this push cart weekly, you should consider spending the money on a mid to high-end push cart, again $200 and up will be your investment. If you go with value and use the cart a lot, you'll probably end up having to buy another one, leading you to spend more on the backend.
Everyone has a budget, so try to stick to yours. Are the MGI carts that run on battery power awesome? They sure are. But if that's not in your budget, don't go for it.
If you only plan on using a push cart a couple of times per year, consider just renting one from the course you're playing. Typically, golf course push cart fleets are in decent enough shape to serve your needs.
Best Models
With so many push cart models available, which ones are the best? Here's a list of some of the best options available to you.
TourTrek 2-Wheel
We'll start with the most basic of basic options. The TourTrek 2-Wheel push cart is a modern version of the original push cart model. For $99, this gets the job done without having to pay for any of the extras. It has a durable frame, high-strength support cables, and quick-release wheels for easy storage. With a scorecard holder and spots for two spare golf balls, this basic cart outperforms its price.
BIG MAX Blade IP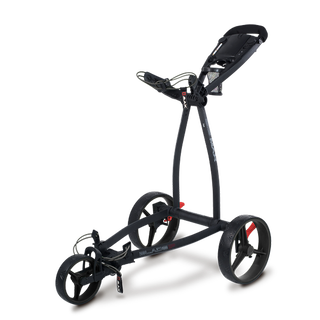 If space is your issue, no carts collapse quite like BIG MAX models. The Blade IP is an ultra-slim design that features BIG MAX Flat Fold technology. It has features including an adjustable upper bracket to accommodate any size bag, double brakes, and a QL base which allows for a multitude of accessories to attach with ease. This model is also available in six color options.
Clicgear Model 8.0+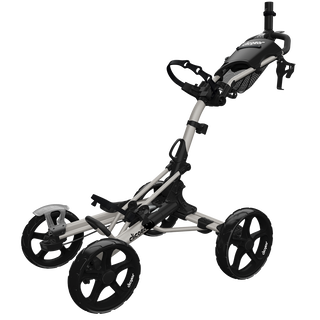 If you desire a 4-wheeled push cart, you won't find one better than the Model 8.0+ from Clicgear. This model tends to work better with cart bags and it features a patented slide-to-close design which allows it to collapse with ease. It also features a silicone strap system, four accessory mounts, a large storage net, and the best umbrella holder in the business.
Sun Mountain Speedcart V1R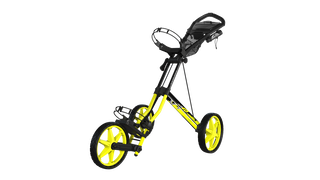 When the Speed Cart was introduced by Sun Mountain in 1999, it was revolutionary because it was the first cart to feature three wheels. This modern version, the V1R, is available in ten awesome dual-color combinations. Improved upper and lower bag brackets mean your bag won't move, no matter how speedy you get. The large mesh headcover tray is perfect for storage, and it easily folds in two simple steps.
Bag Boy Nitron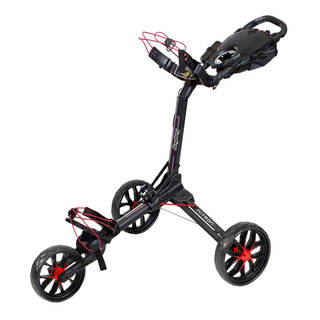 You won't find a push cart that opens or closes easier than this Nitron model from BagBoy. This cart comes equipped with Nitro-Piston Technology, which allows the cart to deploy in one easy step. It's also incredibly easy to collapse. The Nitron also has Top-Lok Technology, which is an attachment system that ensures your golf bag will never come loose, even if the cart were to tip over. There is also ample room for storage and a hand-mounted parking brake.
MGI Zip Navigator
The Zip Navigator from MGI is the top of the push cart spectrum. It runs off of a 24v 380wh battery that gives you 36 holes of free walking, untethered to your golf bag. The Zip Navigator also comes with a remote control that's fully directional, so you'll never have to worry about your clubs getting away from you.
Twin 230-watt calibrated motors give this cart supreme power to get around any terrain, as well. At $1,495, it is by far the most advanced push cart money can buy, and you don't even have to push it.
Conclusion
No matter what type of push cart you're purchasing, good on you for going the walking route. Walking 9 holes is equivalent to about three miles, and 18 holes would be about six miles. It's a great workout and can provide a fresh perspective of the golf course you're playing.
If you stick to some of the guidelines above, you will have a great experience with your new push cart.