The 9 Best Game Improvement Irons of 2023
Updated May 15, 2023
GolfLink is a participant in affiliate partnerships, and may receive a share of sales from links on this page. These partnerships do not influence our editorial content.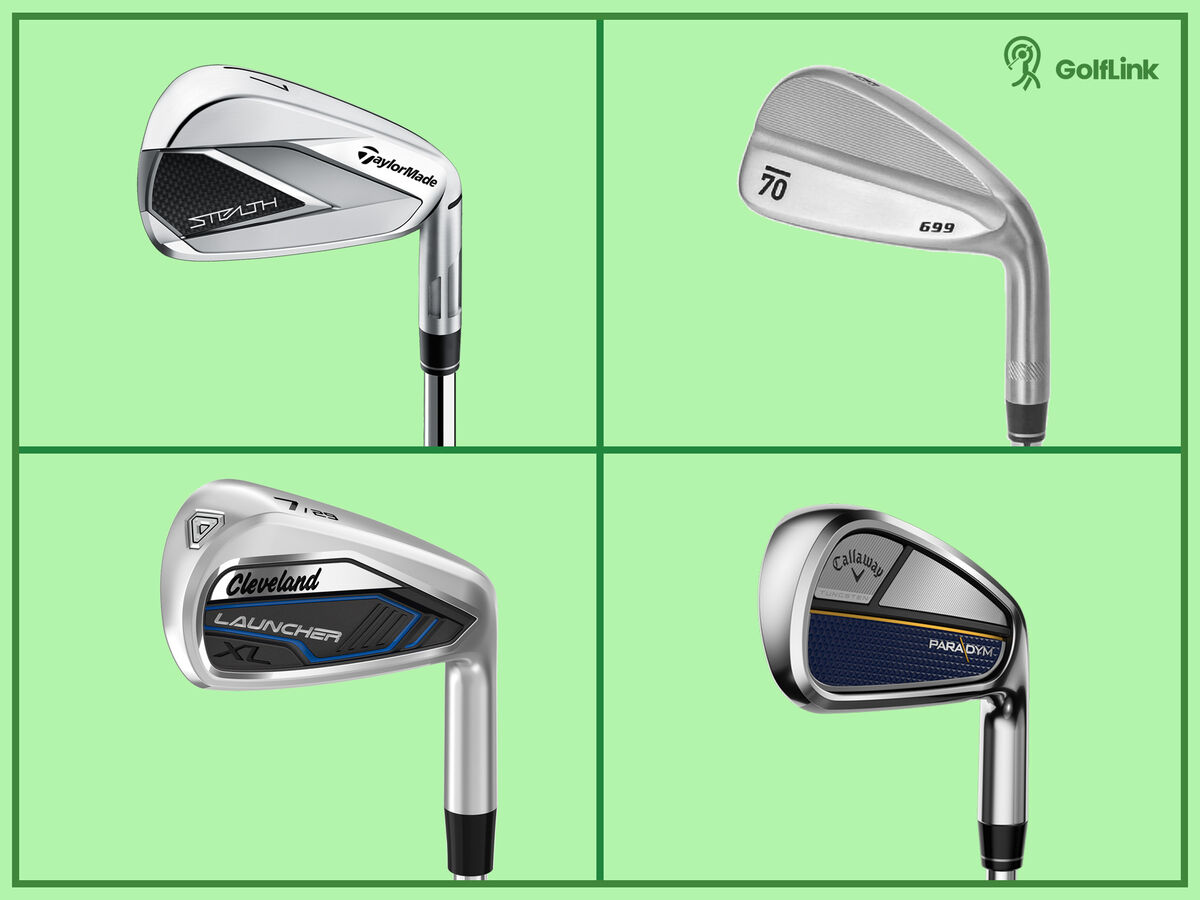 In 2023, 49 percent of male golfers hold a handicap between 10 and 20. That's prime game improvement iron territory, which is why equipment manufacturers invest tons of research and development into making the best game improvement irons possible. They're doing a great job, too. Today's game improvement irons are undeniably impressive.
If you're shopping for new irons, and your handicap falls in the meat of the market – between 10 and 20 – it's most likely a game improvement iron will fit your game better than any other category of iron. 
To help you decide which set might be the best for you, or learn about which ones you need to demo at your next fitting, we've selected our nine favorite game improvement irons of 2023.
The Best Game Improvement Irons in Every Category of 2023
We'll get to why exactly every one of these irons made our list in a moment, but without further ado, we present you our top nine game improvement irons of 2023. Our selections are based on our own personal testing, and feedback from other golfers who have personally tested and used these irons.
| | | | |
| --- | --- | --- | --- |
| Iron Set | Top Benefits | Retail Price (7 clubs) | Shop |
| TaylorMade Stealth | Best Overall | $999 | |
| Cleveland Launcher XL  | Best for Seniors | $599 | |
| Sub 70 699 | Best Value | $560 | |
| Callaway Paradym | Most Accurate | $1,399 | |
| Cobra Aerojet | Easy-to-Hit Sweet Spot | $999 | |
| PING G430 | Most Improved | $1,100 | |
| Callaway Rogue ST Max | Great Value | $799 | |
| Mizuno JPX923 Hot Metal | Best for Improving Players | $962 | |
| Wilson Dynapower | Easy Distance | $799 | |
What Are Game Improvement Irons?
Game improvement irons — sometimes shortened to GI irons — are designed to be easy to hit for average, mid-handicap golfers. They favor forgiveness over workability, and offer a larger sweet spot, higher launch, and more distance compared to player's distance irons, muscle backs, and traditional blade irons.
Game improvement irons utilize offset to help promote a draw and easier ball-striking. Generally speaking, the more offset, the more forgiving an iron is, but some players are turned off by too much offset at address. As a high-level reference point, we've included the amount of offset in the 7-iron in each of the irons we recommend. 
Who Should Play Game Improvement Irons?
You should consider game improvement irons if some of most of these characteristics apply to your game:
You'd prefer to hit the ball straight over trying to hit a draw or fade on command
You want more distance from your irons
You don't hit the center of the club face every time, and want forgiveness on off-center strikes
You want to launch the ball higher in the air
What Makes a Good Game Improvement Iron?
To evaluate game improvement irons, we evaluated their distance, dispersion (left-to-right dispersion, also referred to as accuracy), forgiveness, spin, and price.
In one way or another, each of these criteria impacts our overall recommendation for an iron in the game improvement category.
With all that in mind, here is our breakdown of the nine best game improvement irons of 2023.
TaylorMade Stealth: Best Overall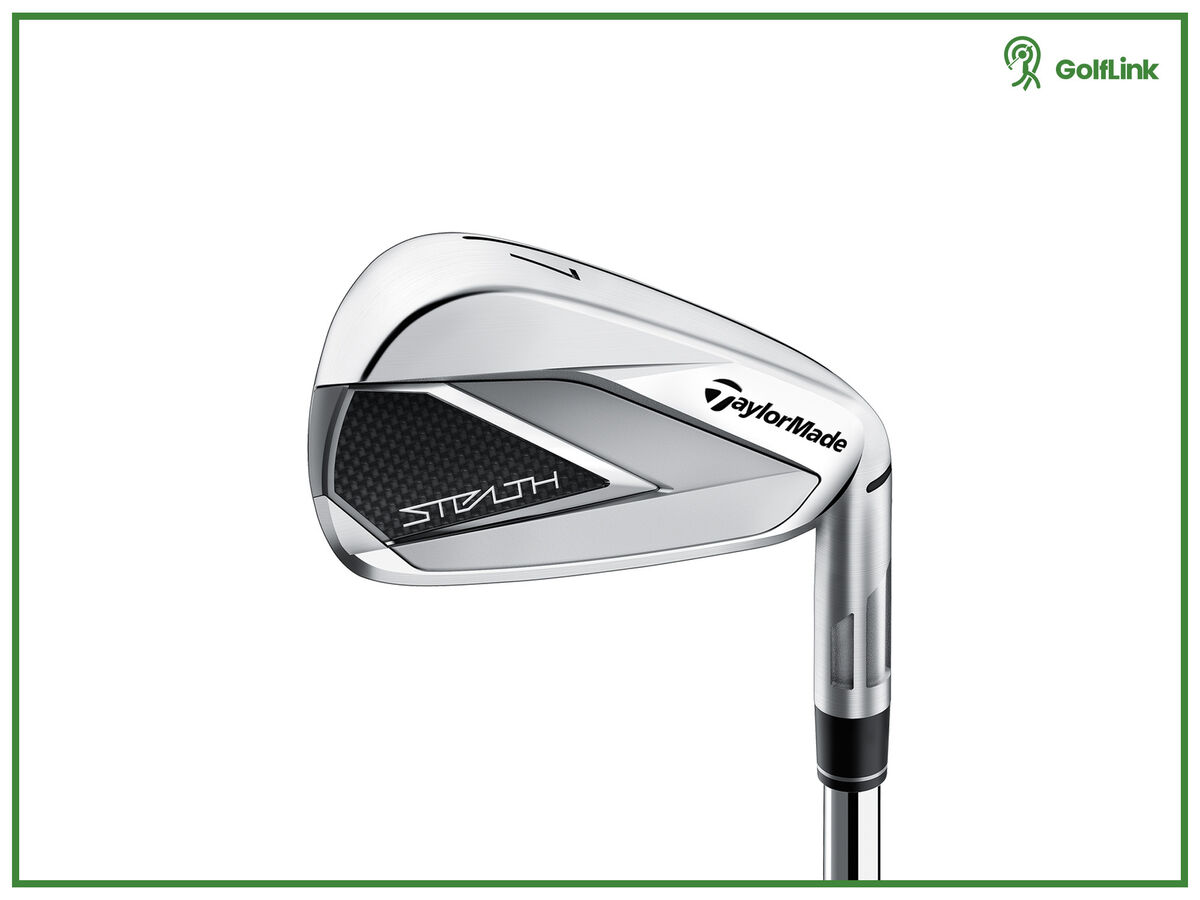 TaylorMade Stealth iron
| | |
| --- | --- |
| Retail Price (7 Clubs) | $999 |
| Shop Men's | |
| Shop Women's | |
| Loft: 5i-7i-PW | 21-28-43 |
| Offset: 7i | 4.1mm |
The TaylorMade Stealth irons take our crown as the best game improvement irons of 2023. They performed best for distance in our testing, and also produced the highest ball speed. From a game-improvement standpoint, the Stealth irons had the easiest sweet spot to find, which is essentially what this entire category comes down to. 
With the capped cavity back and a neutral color scheme, the Stealth irons are pleasing to the eye. TaylorMade carries some of its traditional technology into the Stealth irons, like the speed pocket in the sole of the club, which promotes fastest club speed. That's a nice perk for players who don't want to swing out of their shoes to get max distance. 
Pros:
Top end distance
Forgiving club face
Clean, neutral aesthetics
Cons:
Not the most accurate iron in our testing
Maybe too much offset for players at the top end of the game improvement category
Cleveland Launcher XL: Best for Seniors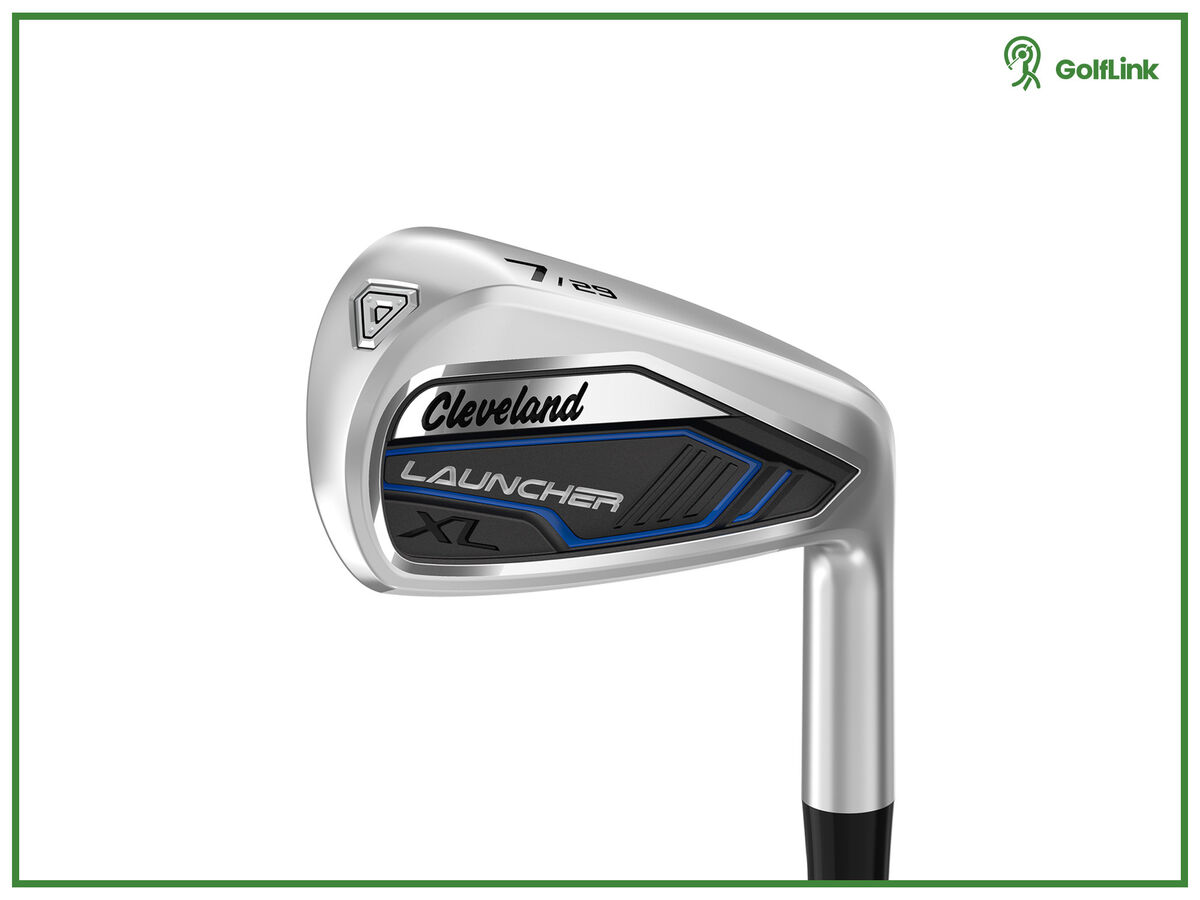 Cleveland Launcher XL iron
| | |
| --- | --- |
| Retail Price (7 Clubs) | $599 |
| Shop Men's | |
| Shop Women's | |
| Loft: 5i-7i-PW | 23-39-43 |
| Offset: 7i | 3.4mm |
Cleveland has carved out a nice niche among avid golfers with decreasing swing speeds. The brand simply makes great clubs for seniors, and the Launcher XL Halo irons are no exception. 
The XL Launcher irons are somewhat of a blended set. The long irons emphasize forgiveness while the short irons prioritize accuracy and control. Every club from the 8-iron up has deeper grooves that are closer together to generate more spin. Meanwhile, the longer irons have larger heads, for more confidence on those tougher shots.
One final feature that's important to note is counterweight in the grip. The 8g weight makes the club head feel lighter and also helps battle a slice.
Pros:
Great value
Counterweight makes them easier to hit straight
Blended set to get the most out of every club
Built for forgiveness
Loft stamped on club head
Cons:
Large head may turn off some players
Low workability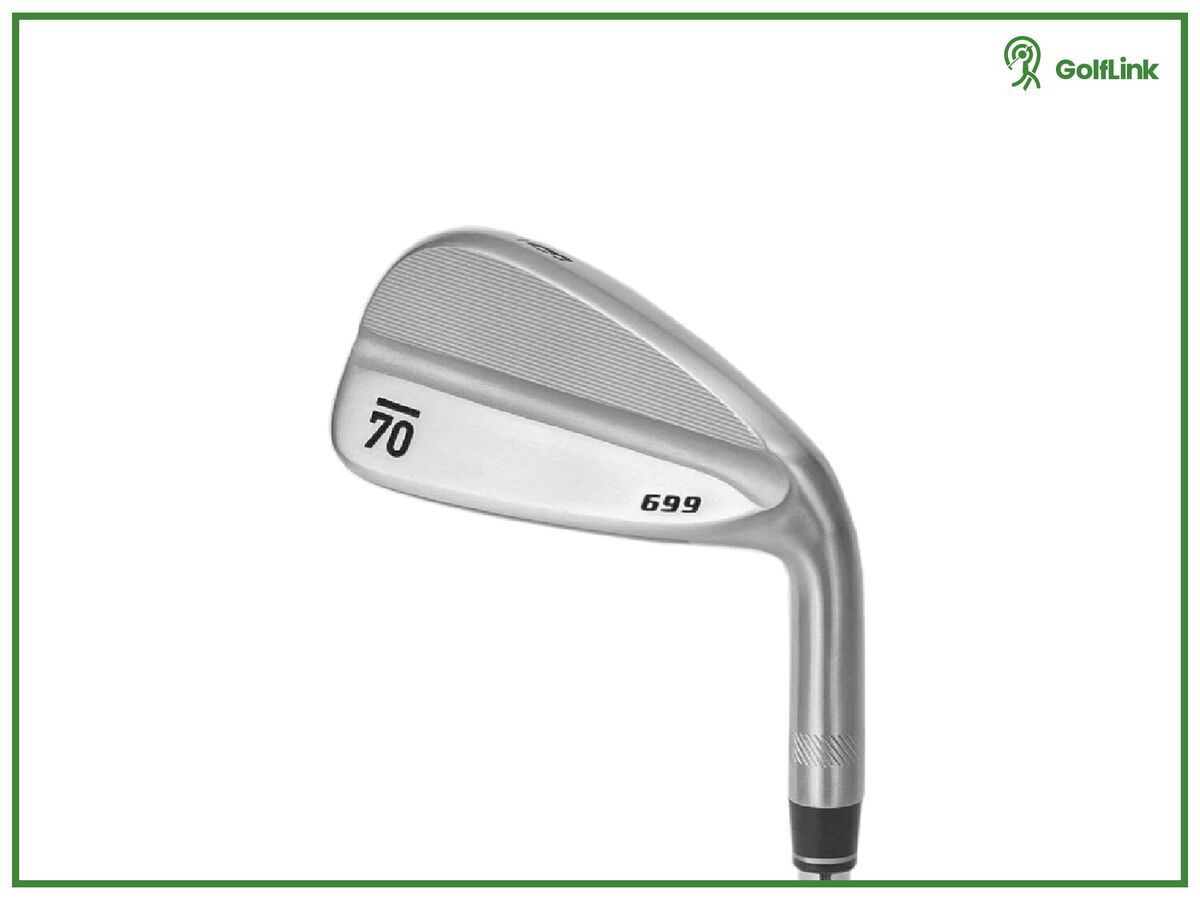 Sub 70 699 iron
| | |
| --- | --- |
| Retail Price (7 Clubs) | $560 |
| Shop Men's | |
| Shop Women's | CHECK SUB 70 (Choose appropriate shaft & length) |
| Loft: 5i-7i-PW | 24-31-45 |
| Offset: 7i | 3.4mm |
If you want a game improvement iron in a traditional-looking package at a stunningly low price, there's one obvious choice: the Sub 70 699 irons.
The 699 irons don't look like a game improvement iron, but they are. They're hollow-bodied with a thin face for maximum distance, with TPE material behind the face for premium feel at impact. On top of that, forgiving across the face.
For $560, the 699 irons perform like sets that cost double triple the price.
Don't just take our word for it. As of this publishing, 108 people have reviewed the 699 irons, and 107 of them gave them a perfect 5-star rating. The other one? A mere 4-stars.
Pros:
Very forgiving
More traditional lofts than most competition
Best value in the game improvement category
Best customer service in the industry
Industry-leading demo program
Cons:
Most golfers don't have access to a Sub 70 fitting before buying
Not the latest release of this iron line (699 v2)
Callaway Paradym: Most Accurate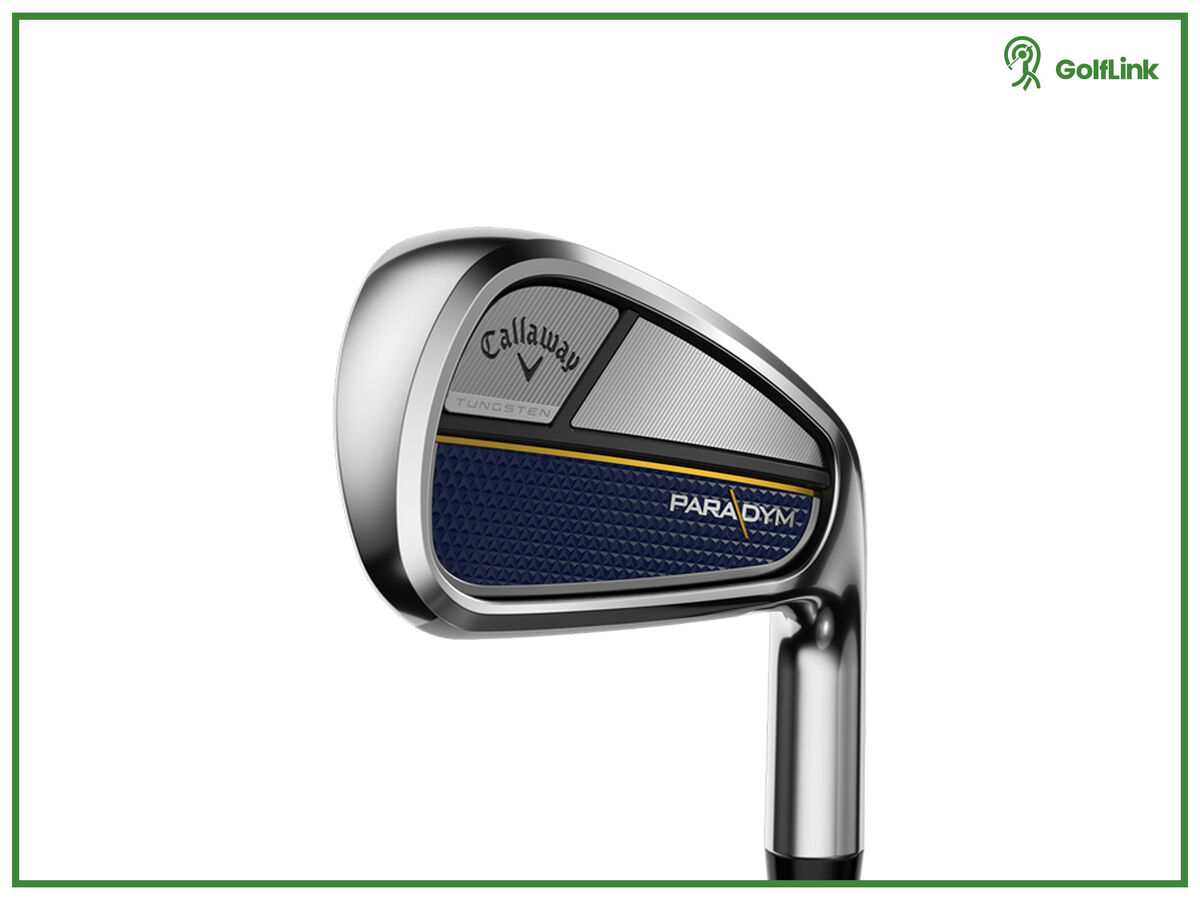 Callaway Paradym iron
| | |
| --- | --- |
| Retail Price (7 Clubs) | $1,399 |
| Shop Men's | |
| Shop Women's | |
| Loft: 5i-7i-PW | 23-29-42 |
| Offset: 7i | 2.79mm |
The Callaway Paradym irons out-performed the competition in the statistic you could argue is the most important for this category of irons: accuracy.
If you're a mid-handicapper who just needs to hit a few more greens to shoot your target scores, the Paradym irons really could help you get there. Of course, we recommend being fit before committing to such a significant purchase, but make sure to test the Paradym irons when you do.
Besides being most accurate, the Paradym irons feel great through impact, and with minimal offset, a relatively toned-down design, and medium sole width, they're great for players on the better-end of the game improvement spectrum, and even work great for single-digit handicappers. That's great news for improving golfers, because for what you pay, you'll want to keep them in your bag for a long while.
For players on the other side of the coin, the Paradym X has a touch more offset, wider sole, and larger head, and may be more suitable for the upper-mid-handicappers.
Pros:
Top-end accuracy
Great choice for players on their way to single-digit handicap
Satisfying feel through impact
Confidence-inspiring at address
Cons:
More targeted to the better mid-handicapper than the higher-mid-handicapper (consider Paradym X)
Price will turn off many shoppers
Cobra Aerojet: Easy-to-Hit Sweet Spot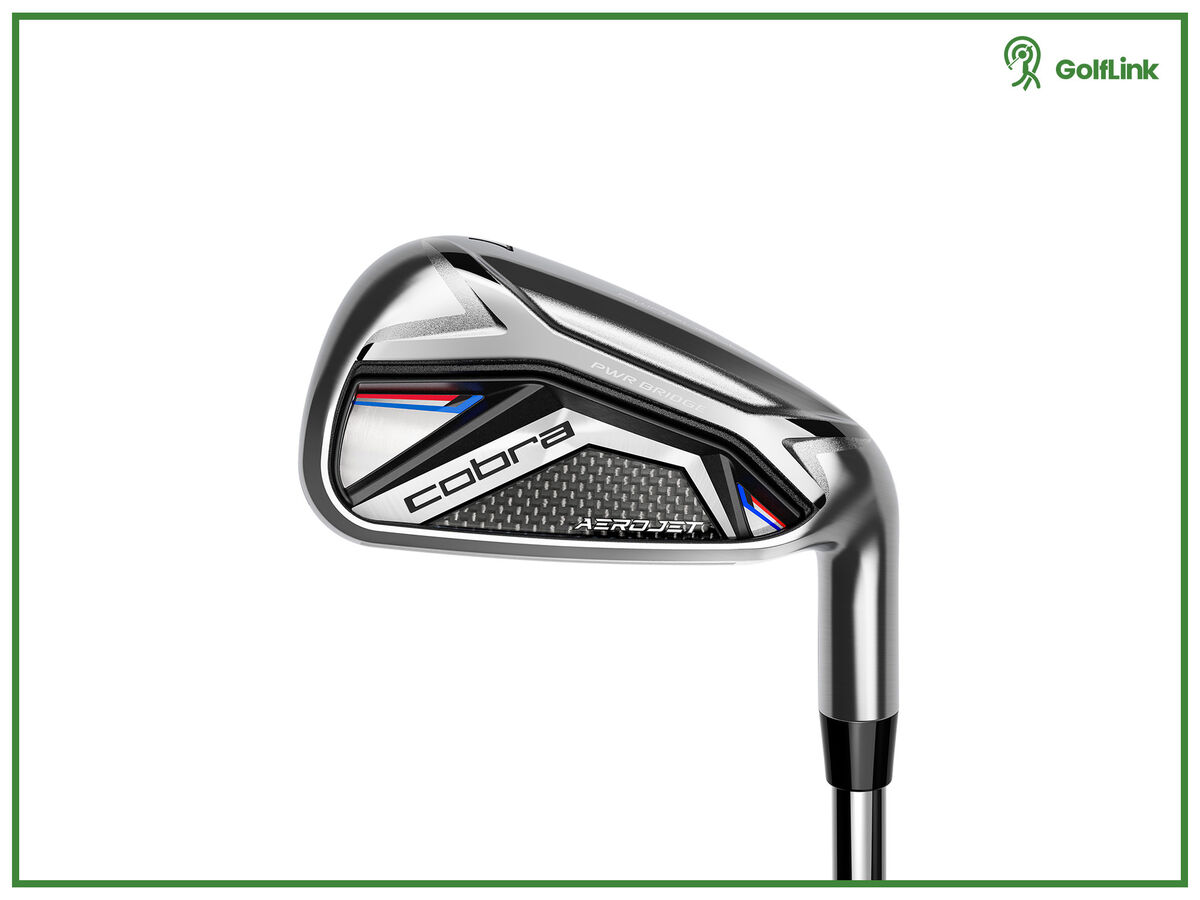 Cobra Aerojet iron
| | |
| --- | --- |
| Retail Price (7 Clubs) | $999 |
| Shop Men's | |
| Shop Women's | |
| Loft: 5i-7i-PW | 20.5-26.5-41.5 |
| Offset: 7i | 3.2mm |
For whatever reason, Cobra seems to get overlooked by golf consumers compared to some of the other top brands, but that reason is certainly not performance. If you've never tested clubs from Cobra, do yourself a favor and give them a shot, you'll see exactly what we're talking about.
The Cobra Aerojet irons were among the best game improvement irons we tested. Ball speed across the face beat almost every other competitor, and even a smooth, controlled swing cranked out some of the best distances of the irons we tested.
The reason for those increased ball speeds is Cobra's AI-designed variable thickness face, designed to produce maximum speed whether you hit it pure, or away from the center. That's a feature anybody in the game improvement segment will appreciate.
Pros:
Impressive ball speed all over the face
Satisfying feel through impact
Available in one-length sets for players looking for even more consistency (get fit first)
Cons:
Spin numbers in our testing we lower than most competitors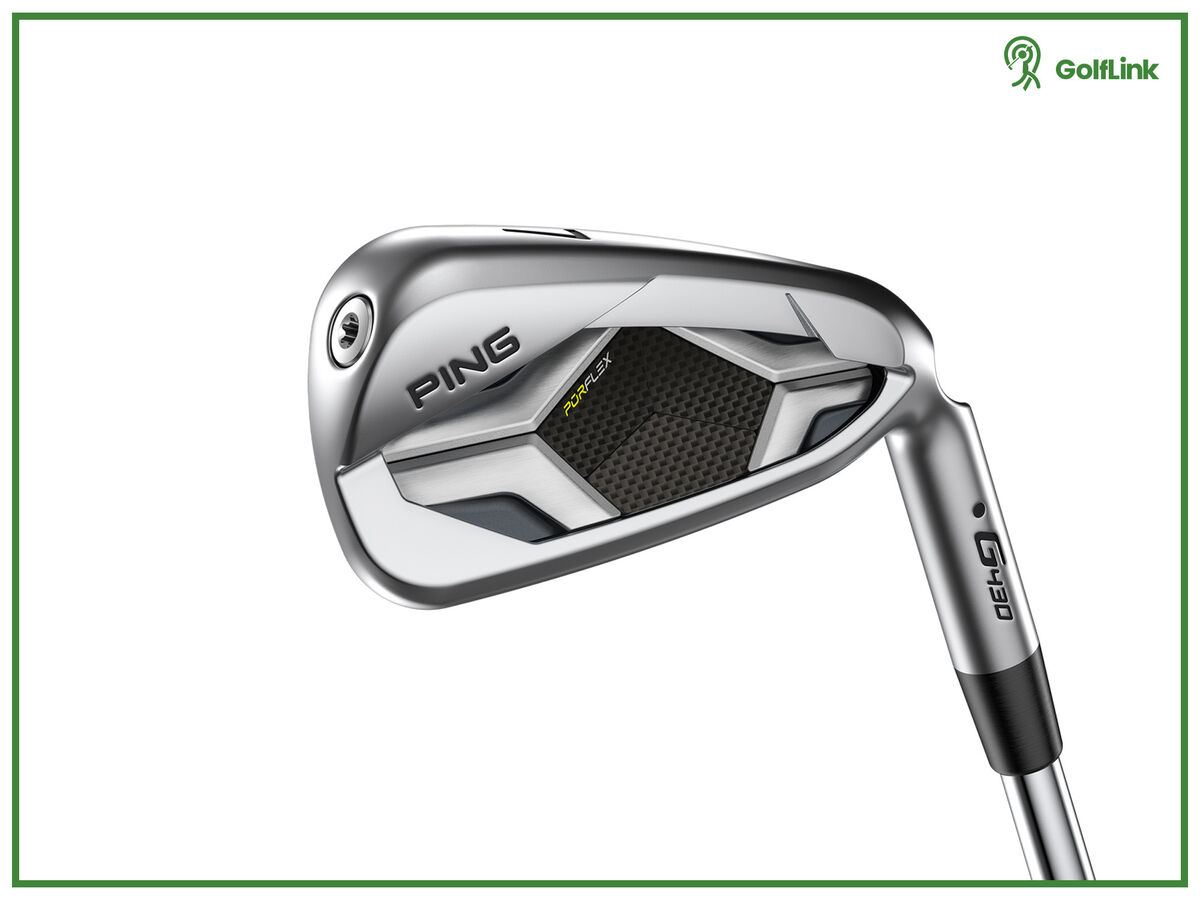 PING G430 iron
| | |
| --- | --- |
| Retail Price (7 Clubs) | $1,100 |
| Shop Men's | |
| Shop Women's | |
| Loft: 5i-7i-PW | 22-29-41 |
| Offset: 7i | 4.57mm |
PING took its mission to improve on the previous generation G425 irons seriously before it released the new G430 irons in 2023. During testing, PING engineers realized that the badge on the back of the G425 irons was causing reduced distances – by a significant amount –  so they engineered a new Pureflex badge that allows the face to flex and unleashes maximum distance.
PING also has the advantage of a partnership with Arccos, and can use data to see where PING players need the most help. This data helped introduce a new loft cadence with the G430 irons that pair increased distance with ideal gapping.
When it's all said and done, the G430 irons fly farther, spin more, and land steeper than their predecessors, all elements that will help golfers hit more greens. And in case you didn't know, hitting greens in regulation is one of the top predictors of your score. The more you hit, the lower you shoot.
Pros:
Noticeably improved distance compared to G425 irons
Impressive sound at impact
Steep descent angle helps players hold greens
Cons:
Not the best-feeling iron at impact in our testing
Strong-lofted 41-degree pitching wedge essentially requires adding one more wedge to the bag
Callaway Rogue ST Max: Great Value & Performance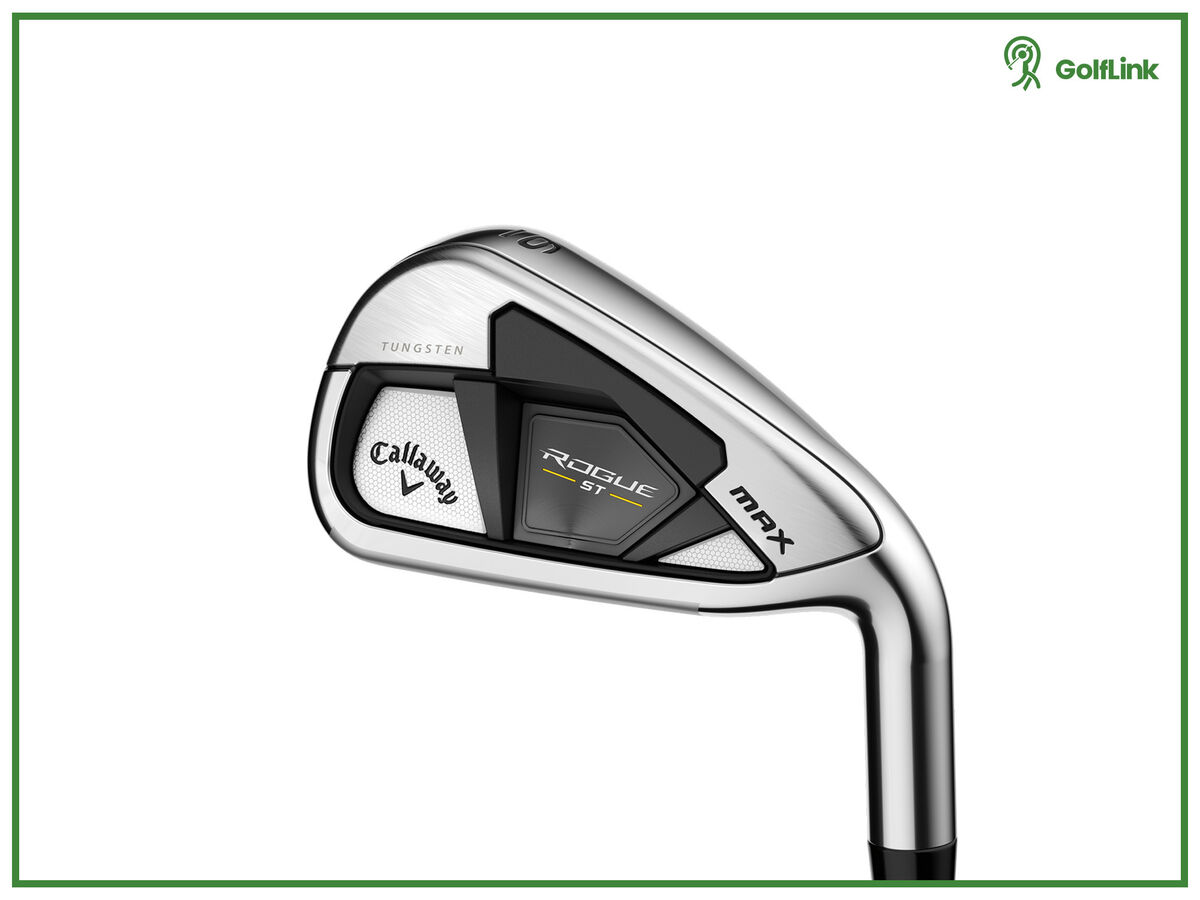 Callaway Rogue ST Max iron
| | |
| --- | --- |
| Retail Price (7 Clubs) | $799 |
| Shop Men's | |
| Shop Women's | |
| Loft: 5i-7i-PW | 21.5-27.5-41 |
| Offset: 7i | 6.1mm |
Despite releasing Paradym in 2023, Callaway is keeping its previous generation of irons, Rogue ST Max, in the rotation for another year. And guess what, they perform quite similarly to Paradym, but with a much more palatable price tag. 
There's no denying that Paradym and Rogue ST Max were two of the best-performing irons we tested. While Paradym eeked out two more yards of distance, spin numbers were comparable, and accuracy, club speed, ball speed, and smash factor were all pretty much identical. On top of that, Rogue actually had a steeper descent angle by two degrees. 
The Rogue ST Max are great irons for players shopping in the game improvement category, and now that there's a new Sheriff in town, you can grab these at a really good price. And because they're still in Callaway's cycle, you can still get custom fit for them at national fitting retailers.
Pros:
Excellent performance at a significant discount
One of the most accurate game improvement irons we tested
Steepest descent angle of our test group
Cons:
May launch too high for some players
Mizuno JPX923 Hot Metal: Best for Improving Players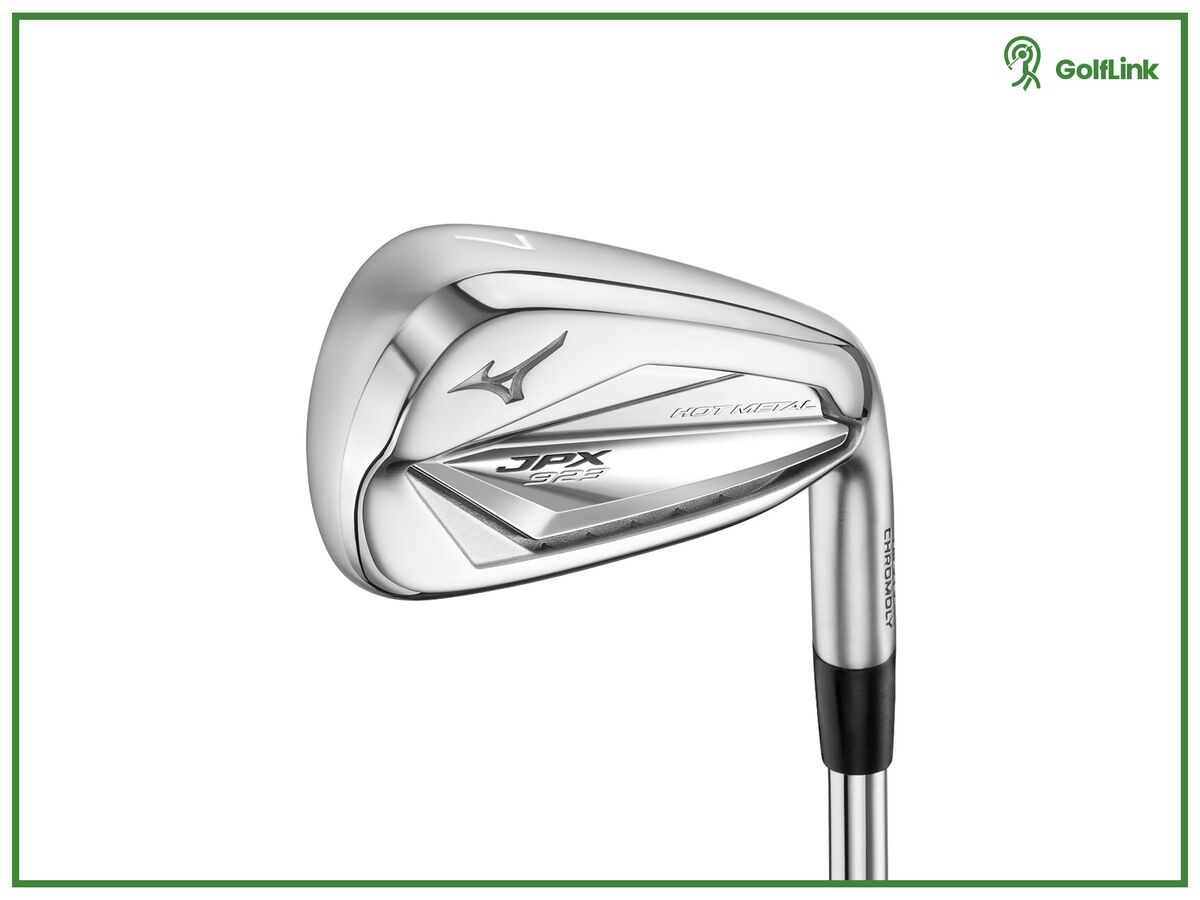 Mizuno JPX923 iron
| | |
| --- | --- |
| Retail Price (7 Clubs) | $962 |
| Shop Men's | |
| Shop Women's | |
| Loft: 5i-7i-PW | 22-28.5-42.5 |
| Offset: 7i | 4.97mm |
If you're simply passing through the mid-handicap and game improvement segment as you speed to your final destination of being a low-handicap or scratch player, you might want an iron that will bridge more of that gap than the others on this list. For those players – and anyone seeking quality, high-performing irons – there's the Mizuno JPX923 Hot Metal irons.
Ball speed on these Hot Metal irons is outstanding, and the Hot Metal line includes the Hot Metal, Hot Metal Pro, and Hot Metal High Launch. The standard and Pro editions use the same lofts, but the Pro has a more compact profile. That means for players interested in a blended set with larger heads for more confidence in the long irons, and more confidence-inspiring heads in the scoring clubs, these work perfectly.
For players with slower swing speeds who can't quite launch these strong-lofted (28.5-degree 7-iron) clubs, the High Launch edition simply offers weaker lofts for easier launch, at the expense of a little bit of distance.
However, if any version of the JPX923 Hot Metal irons are in your bag, distance won't be a concern. Mizuno has equipped these irons with Nickel Chromoly, which it says boosts ball speed so much that its engineers had to pivot their focus to feel and stopping power. What a nice problem to have.
Pros:
Penetrating ball flight
Top-end ball speed
Ability to blend a set or opt for the high-launch version if the lofts are too strong
Cons:
Doesn't offer the soft feeling of a forged iron
Wilson Dynapower: Easy Distance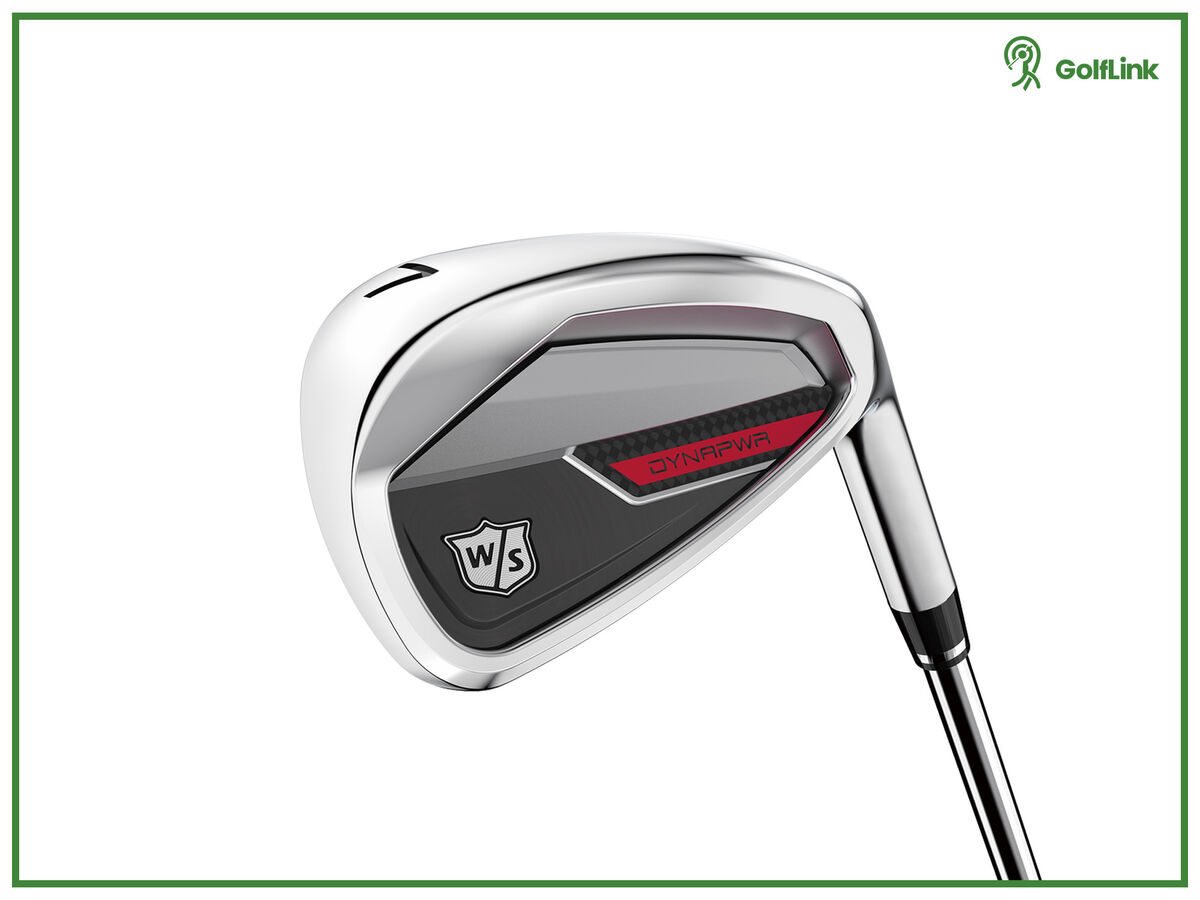 Wilson Dynapower iron
| | |
| --- | --- |
| Retail Price (7 Clubs) | $799 |
| Shop Men's | |
| Shop Women's | |
| Loft: 5i-7i-PW | 21-27-42 |
| Offset: 7i | 4.97mm |
If you're dipping your toes in the waters of 2023 game improvement irons, your job is not done until you've tried the new Dynapower irons from Wilson. These irons are easy to hit, and produce highly-competitive distance. And, they do that at a better price than any other iron on this list that was released in 2023 (the more affordable irons on this list were all released prior to 2023).
On top of easy distance, the Dynapower irons are forgiving across the club face, thanks to the AI-design and variable thickness. With a lower CG, it's easy to launch these high and stop them quickly.
Pros:
Highly forgiving
Easy to hit
Excellent price
Competitive distance
Cons:
More ball speed retained on toe misses than heel misses
Club head can appear large at address which may not suit some golfers
Improve Your Irons and Your Game
Today's game improvement irons do exactly what they say they'll do, improve your game. If you're serious about shooting lower scores, there are irons on this list that will help you. While we believe in each of these recommendations, it's important to get fit to find out how each iron performs with your swing, and determine how much you value those gains compared to the costs.