How To Play St Andrews Old Course and How Much You'll Pay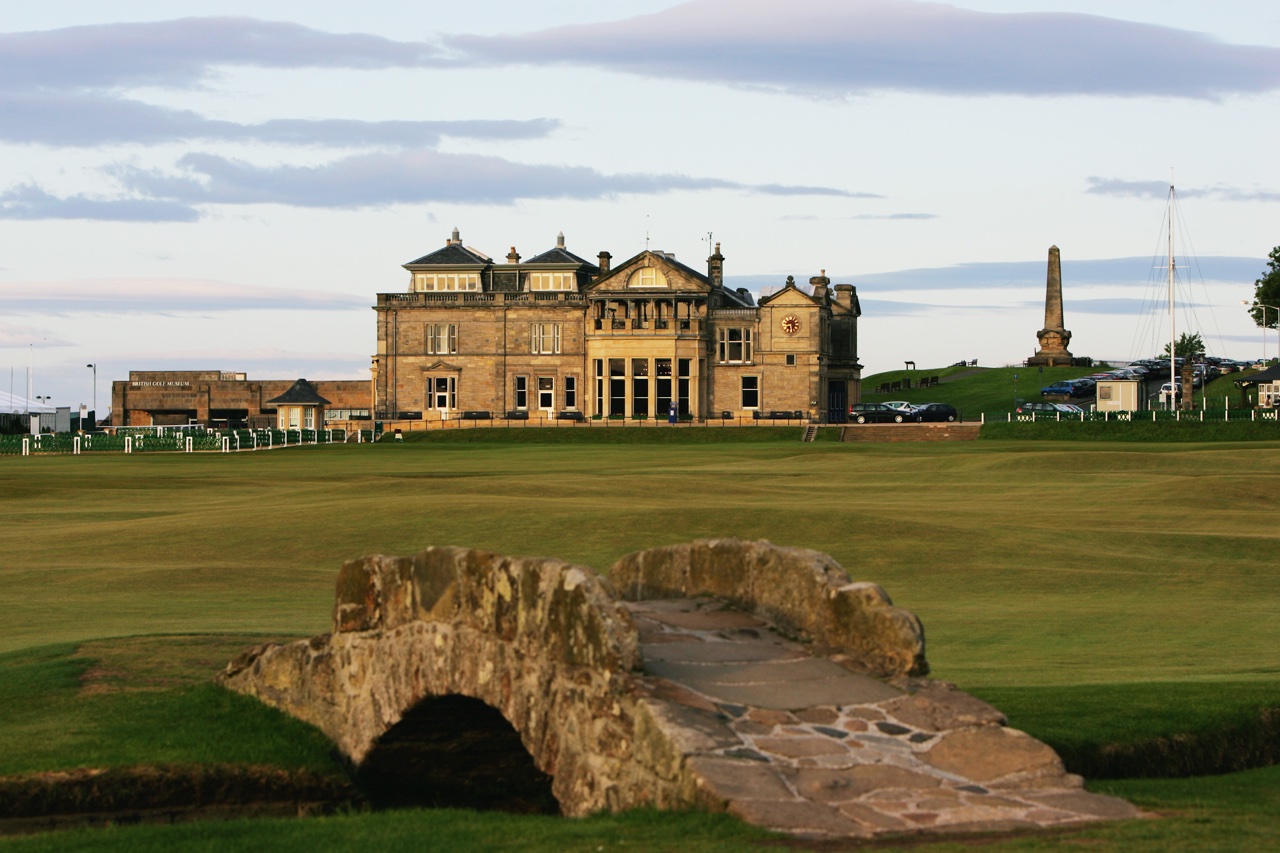 Someday you'll play St Andrews.
The Old Course at St Andrews is a bucket-list trip for just about every golfer. You won't find any Hot Deals for St Andrews tee times online, but the delightful reality is it's actually pretty straightforward to secure your dream round at the home of golf.
St Andrews is a public golf facility with seven courses, but when you dream about playing St Andrews, you picture yourself on the Old Course, playing the Road Hole and walking across the Swilcan Bridge. We can't blame you. The other courses are excellent in their own right, but you wouldn't want to leave a golf trip to St Andrews without teeing it up on the Old Course.
To get a tee time at the Old Course at St Andrews in St Andrews, Scotland, you simply need a handicap certificate (maximum index of 36 for men and women), some planning, patience, and flexibility.
How to Play the Old Course at St Andrews
There are several ways to get a tee time at the Old Course at St Andrews, and the best part is that even when one attempt comes up short, there's almost always another avenue to chase. 
RELATED: British Open Courses You Can Play
Try requesting a tee time well in advance. If your luck doesn't hit, consider booking a package trip through an authorized provider. If that's not for you, try the 48-hour draw. If that doesn't work out, wait in line to get paired with a twosome or threesome. If you still don't get your name called, try again the next day.
If all else fails, get out there on a Sunday – when the course is closed for golf and open to all as a public park – and walk the course without your clubs.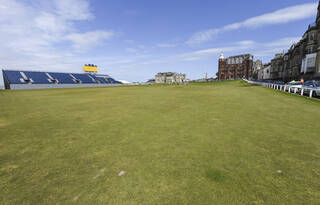 Private Advance Tee Time Booking
St Andrews Private Advance Tee Times
The ideal way to book your tee time at St Andrews is through the advance tee time booking application. Each year, around late August, St Andrews begins accepting applications for tee times for the following year. 
When you apply, you must have the names of the golfers, so your planning should begin well before the application opens. 
For the best chances of getting a tee time, be flexible with your dates and times. You can request a specific tee time for a specific day, and have the option of providing other times you're available. The more availability you have, the better your chances are.
If you apply for a tee time, you'll hear back from St Andrews by late October with your tee time for the following year, or the bad news that your application was not chosen.
Another way to stack the deck in your favor is to be willing to play during the winter months. You do have to hit off mats during the off-season, but demand is much lower and if you're willing to brave the elements, this could be your ticket. One nice bonus of playing in the winter is that rates are much lower than during peak golf season during the summer.
Guaranteed Tee Time Through Authorized Providers
If you're willing to pay for the luxury of a guaranteed tee time at the Old Course at St Andrews, you can do just that by taking advantage of one of many authorized golf tour operators.
By using an authorized provider, you can pick your dates well in advance, and plan the rest of your trip without worrying about actually securing an Old Course tee time.
The downside of using an authorized provider is that it's the most expensive way to play St Andrews. Peace of mind comes with a price.
St Andrews 48-Hour Ballot
If paying extra for the guaranteed tee time through an authorized provider is not appealing to you, or you simply can't find one that has the availability you're looking for, you still have a pretty good shot at getting a last-minute tee time at the Old Course, and you've got two more chances.
The first is through the 48-hour ballot. St Andrews holds a ballot (essentially a lottery) two days before play. With the course being closed for golf on Sundays, there are six ballots each week, Saturday through Thursday.
To enter the ballot, you must have two to four players in your group, with all players' names, home club and handicap. 
The ballot closes at 2:00 PM each day, and the results are available by happy hour, a couple hours later.
If you entered the 48-hour ballot and didn't hit, don't worry, yet. You still have one more chance to play your dream round at the Old Course at St Andrews.
Wait in Line at the Old Pavilion
Consider this your Hail Mary, buzzer-beater, walk-off, Game 7, or any other do-or-die sports analogy you'd like. Waiting at the Old Pavilion is your last chance to tee it up at the Old Course (until tomorrow).
If all previous avenues have failed you, you're encouraged to check in at the Old Pavilion on the day of play, where the staff will make every effort to pair you with a twosome or threesome on the Old Course that day.
The most important part of this wait is that you show up early. Whatever early means to you, show up even earlier. If you want it bad enough, you'll show up at midnight, or even 11:00 PM, and play the Old Course in your head hundreds of times while hoping to get your name called.
If you're less committed, you can try sneaking in at 3:00 or 4:00 AM, but, good luck. You've come all this way to cross the Old Course off your bucket list, now's not the time to be worried about missing out on a night's sleep.
It may be a Hail Mary, but your chances of success are more comparable to holing an important 5-footer. There's no guarantee, but there's plenty of reason to be optimistic.
How Much Does it Cost to Play St Andrews
Of all the things golfers will remember about their trip around the Old Course, the cost is likely to be very low on the list. Still, it comes into consideration during the planning process. Here's how much you should expect to pay for a round at St Andrews, based on the 2023 rates.
High Season: Mid-April to Mid-October
Peak golf season demands the highest rates, and the most you could pay for a round at the Old Course is £550 (about $650 American), but that price includes a second round at one of the other six courses on the property, plus £50 at the 19th hole.
The standard, single-round adult rate for the Old Course during high season is £295 ($350).
Shoulder Season: Early April and Late October
Let's be frank, the weather in Scotland is notorious for being windy, rainy, and cool, even at its best. How much worse could it be during shoulder season than high season? 
If you want to save a chunk of change and don't mind throwing on an extra layer, you can snatch the same 2 Course Package (Old Course plus a second course, plus £50 food and beverage credit) for £410, or about $490 American. That's a pretty nice savings.
The standard, single-round adult rate for the Old Course during shoulder season is £190-210 ($225-250).
Winter Season: November Through March
Winter packages at St Andrews are available to groups and single golfers, whether you're staying on property or not. For as little as £175 (about $210 American) you can play three rounds at St Andrews over three days, including one guaranteed round at the Old Course. 
Application for winter packages opens in June for the upcoming winter. You'll play off mats from the fairway on at least the Old Course, but at an average of $70 a round for three rounds, including one at the Home of Golf, who cares?
The standard, single-round adult rate for the Old Course during the winter season is £135 ($160).
Other Courses at St Andrews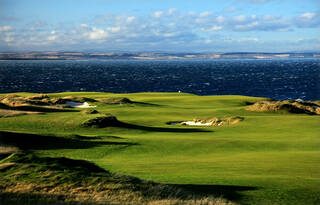 The Old Course at St Andrews is the most famous, and for good reason. It's the oldest golf course in the world, established circa 1400. No trip to play golf at St Andrews is truly complete without a round at the Old Course, but there are six more courses on property that should definitely not be overlooked.
| | | |
| --- | --- | --- |
| Course | Est. | Architect |
| The Old Course | c. 1400 | |
| New Course | 1895 | |
| Jubilee Course | 1897 | John Angus |
| Eden Course | 1914 | Harry S. Colt |
| Strathyrum Course | 1993 | Donald Steel |
| Balgove Course (9 holes) | 1993 |   |
| The Castle Course | 2008 | |
St Andrews Dress Code
You don't want to show up to your dream tee time underdressed, or worse yet, get a talkin'-to from the staff at the Old Course because of your attire.
The dress code at St Andrews is appropriate golf attire, and clearly states that your clothes should not be "scruffy or torn."
While you may need to dress warm, be sure you meet these standards on the property.
The Old Course Dream
So many golfers dream of playing a round at the Old Course, and many of them get to cross that dream off their bucket list. St Andrews, even the Old Course, prides itself on being accessible.
With friendly rates, compared to many other public-access destination golf courses, year-round availability (for the brave), and several avenues to secure your tee time, someday can be a lot sooner than you think, if you're dedicated to making it happen.