10 Best Golf Balls for Seniors & Slow Swing Speeds of 2023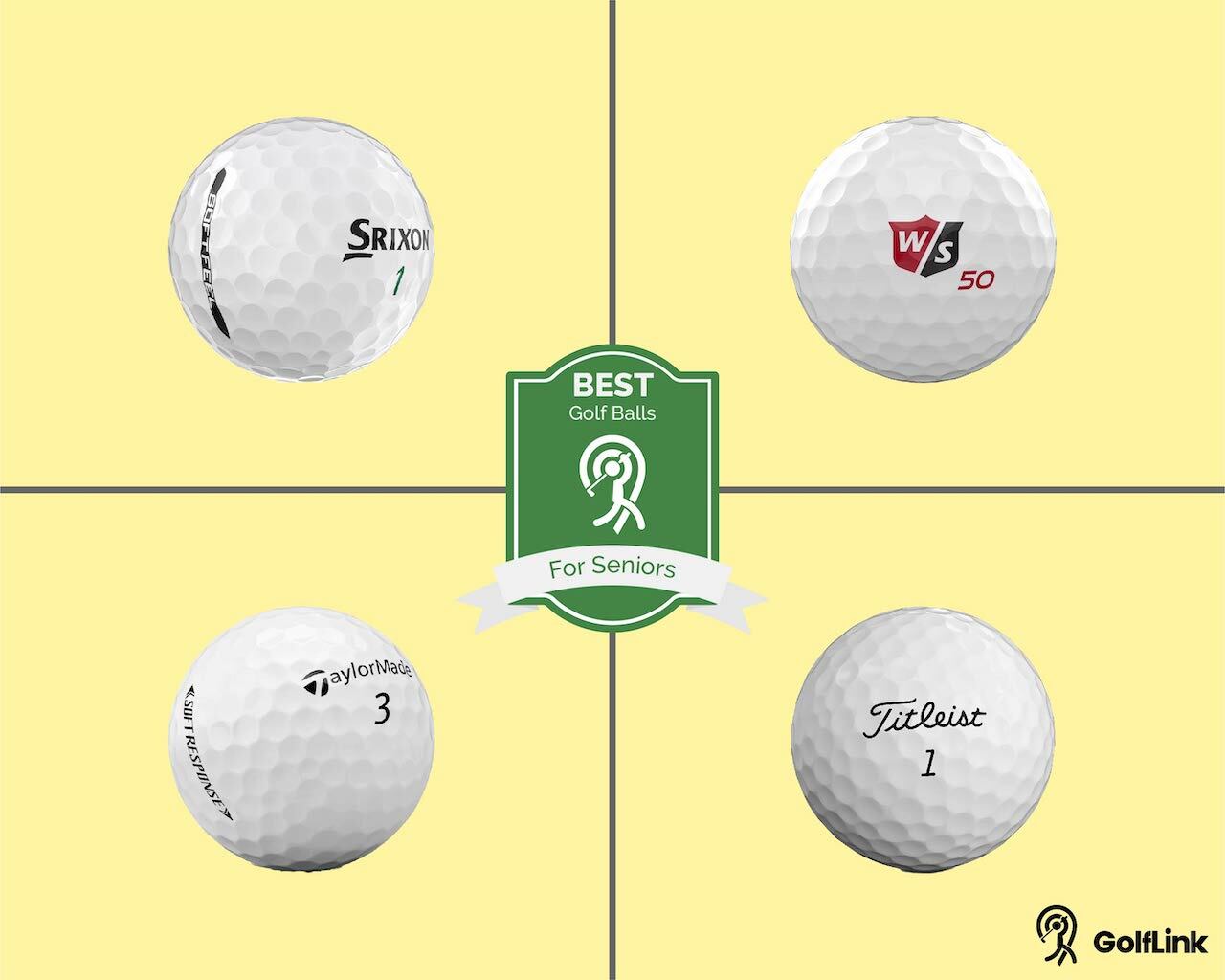 Golf is difficult enough as is, so when your swing speed begins to slow down and your yardage decreases, you need a golf ball that fits your evolving style of play. For seniors, this is a difficult road to cross, but playing the right golf ball is as important as using the right clubs and shafts. We've compiled the 10 best golf balls to help seniors and players with slower swing speeds. Let's not just get you back to hitting your previous distances, let's go beyond.
The 10 Best Golf Balls for Seniors and Slow Swing Speeds
Here is GolfLink's list of the 10 best golf balls for seniors and slow swing speeds. In addition to individual research and trials, we consulted with players that fit this category to ensure our perceptions and results were spot on. Keep reading to learn what features make a ball a great fit for seniors, and how to decide which ball on this list is best for your individual game.
What to Look for in a Senior Golf Ball
If you've decided to take action and check out what golf balls are available to help your game, congrats. You're stacking the odds of hitting it long and in the fairway in your favor. However, you might get confused by some of the technology and features that separate golf balls designed for slow swing speeds and those that are not. Here are some elements to keep an eye out for.
Compression
The slower your swing speed, the lower the compression you want. Perhaps you've played a Titleist Pro V1 for the past decade. That type of tour-caliber golf ball prohibits you from reaching maximum distance because its compression rating is around 100, meaning a slower swing speed cannot compress the ball enough to achieve peak distance.
RELATED: What Is Golf Ball Compression and Does it Actually Matter?
If you have a moderate to slower swing speed, anything 95 mph or less with your driver, the highest compression ball you should play is around 70, but you can go as low as 35 if you have a slower swing speed.
Flight
Chances are your decrease in distance is also accompanied by a lower ball flight. With a driver, your launch angle should be between 12 and 15 degrees. If it's below that, your ball never hits its optimal apex. Golf balls that advertise as being "high launch" are perfect for senior players.
Alignment Aid
Every manufacturer has new alignment aids imprinted on its golf balls to assist with putting. They can also be very useful on tee shots. Look for an alignment aid that fits your eye and one you can easily see while standing over the ball.
Color
Many golf ball manufacturers now offer balls in multiple colors for enhanced visibility. If you've never considered a yellow, orange, blue, or red golf ball, see if you can sample a sleeve rather than a dozen to test out how you like it. You might be surprised.
The Best Golf Ball for Seniors: Srixon Soft Feel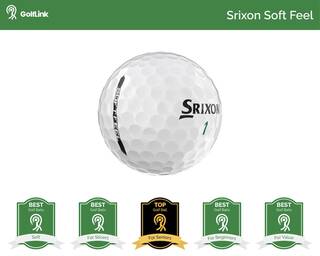 | | |
| --- | --- |
| Cost/Dozen | $23 [SHOP AMAZON] |
| Construction | 2-piece |
| Compression | 60 |
| Flight | Mid-High |
| Player Profile | Wants high launch with greenside control |
The Srixon Soft Feel is our top choice among the best golf balls for seniors and slow swing speeds. In many ways, this ball can take seniors with swing speeds below 90 mph back in time by delivering good distance and responsive command around the green. It's also a great value for the performance you get.
Srixon's FastLayer Core is one of the keys to getting this ball farther into the fairway with a slower swing. By design, the core is intended to snap back into shape quickly after being compressed. The current Soft Feel model is in its 13th generation and the compression on the 2023 model remains at 60, making it more playable than ever. Srixon also introduced a Soft Feel Lady edition in 2023 with a compression of 58.
Speed Dimples sounds like marketing jargon, but the technology is noticeable. The Srixon Soft Feel stays very stable in flight, even on windy days. The ball also gets up in the air easily and should easily get seniors into that ideal 12-15 degree launch angle window with the driver. You can still hold greens with approach shots and execute precision shots around the green with the Soft Feel's greenside spin, which is a huge plus bonus. The Soft Feel is available in white, red, green, orange, and yellow.
Pros:
Stable in flight
Value
Great feel
Cons:
Alignment aid not as bold
Bridgestone e12 Contact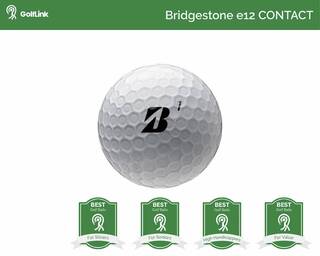 | | |
| --- | --- |
| Cost/Dozen | $35 [SHOP AMAZON] |
| Construction | 3-piece |
| Compression | 61 |
| Flight | High |
| Player Profile | Mid-High senior handicap with moderate swing speed |
The Bridgestone e12 Contact has shown up on a few of our "best of" golf ball lists. You'll find the e12 Contact to be durable, soft, great on distance, which is why it appeals to a large number of players, particularly, senior golfers who are looking for a distance ball but also want the straightest golf ball they can find.
The e12 Contact is recognized, not just by GolfLink, but by anyone who games it, as an incredibly forgiving golf ball. Its CONTACT Force dimple pattern is a really unique design that features a raised area in the center of the dimple. It's one of the first things you'll notice when you hold an e12 Contact in your hand, and it's also technology that you can see on the golf course. For seniors who fight a hook or slice, it's not a miracle worker, but it does deliver noticeably tighter dispersion.
Bridgestone's newly released 2023 edition of the e12 Contact features the FLEXATIV cover, which makes the ball react appropriately to the amount of force applied. Translation? When you hit it with a driver, it delivers faster ball speeds like a firmer ball, but when you hit a finesse shot with a wedge, it reacts like a softer ball, and produces more spin. With the FLEXATIV cover combined with the Contact Force dimples, you get 46% more surface contact with the new e12 Contact.
With a 3-piece construction, the e12 Contact performs well around the green. For seniors who still maintain a handicap in the 15 and under range, you'll notice this ball accommodates your skill shots around the green. As far as distance goes, the e12 Contact is a great fit for any slower swing speed, but players with a moderate speed (90-95 mph) will see the greatest ball speed increases.
Pros:
Straight flight
Fits many players
Improved greenside spin
Cons:
Can be tougher to hit draws and fades
Volvik Vivid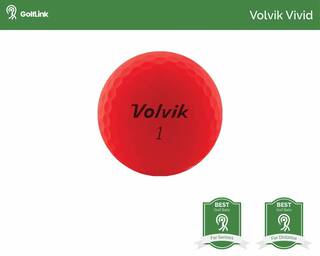 | | |
| --- | --- |
| Price/Dozen | $33 [SHOP PGA TOUR SUPERSTORE] |
| Construction | 3-piece |
| Compression | 75 |
| Flight | High |
| Player Profile | Players who don't mind non-traditional golf balls |
If you're a senior player in search of the easiest to see golf ball, look no further than the Volvik Vivid. The company that lead the charge in colored golf balls, Volvik knows how to add a pop of color to your game. Beyond the bright colors, Volvik produces high-performing golf balls that fit many different types of golfers.
The Vivid is available in purple, green, orange, pink, blue, red, yellow, and white. We're on board with all of the bright colors except green because that one is a little hard to find in the long grass. The Vivid is sold as individual colors or you can purchase a dozen that has multiple colors if you're not sure which one is best for you. The cover has a matte finish, so it's easy to see on sunny or cloudy days.
Performance wise, the Volvik Vivid is great on distance because of its 75 compression. It's also one of the hardest golf balls on this list, so it's every bit of a distance golf ball. It launches high, rolls a lot after landing, and can be a life-saver on distance in warm, dry conditions. With that distance comes a tradeoff, and the Vivid does lack in the spin category, as it has some trouble holding greens, but the higher launch helps it land soft.
The Volvik Alignment System (VAS) is a great alignment aid that's imprinted on the golf ball. It has three bold lines that are visible even on the brightest colored versions of the Vivid. Overall, it's a great ball for any senior who wants to get away from the same old, same old.
Pros:
Variety of bright colors
Alignment aid
Big distance
Cons:
Titleist Tour Soft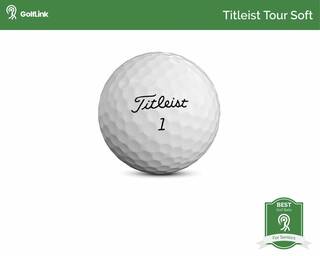 | | |
| --- | --- |
| Price/Dozen | $37 [SHOP AMAZON] |
| Construction | 2-piece |
| Compression | 60 |
| Flight | Mid-High |
| Player Profile | The Titleist fan with a slower swing speed |
Titleist typically does not create new golf ball unless it can offer its target audience a near perfect ball. So when the world's number one golf ball manufacturer debuted the Titleist Tour Soft it received rave reviews from many players, but particularly those with slower swing speeds and seniors. One of the great aspects of the Tour Soft is that it allows Titleist loyalists to play their favorite brand even after the Pro V1, AVX, and other models are the ideal fit.
The newest generation of Tour Soft has a couple of noticeable improvements over its predecessor. For one, the new version is much more stable in flight. It also has improved aerodynamics so it has a consistent ball flight with less ballooning. That all leads to increased distance with woods and irons, which is part of the reason this ball is great for seniors.
It should be no surprise that the Tour Soft is indeed soft. For that reason, the AVX and Pro V1 player will not see much benefit from this ball from a distance and spin perspective. However, the soft feel provides great response on touch shots around the green and doesn't disappoint if you're big on putting feel. You've come to expect durability from all Titleist golf balls, and the Tour Soft can withstand its fair share of punishment on the course.
Pros:
Soft feel
Titleist-standard quality
Great alignment aid
Cons:
Wilson Staff DUO Soft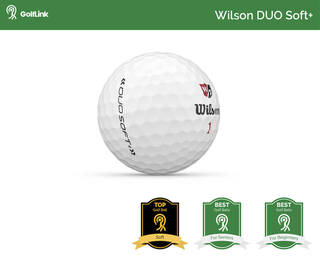 | | |
| --- | --- |
| Cost/Dozen | $23 [SHOP AMAZON] |
| Construction | 2-piece |
| Compression | 40 |
| Flight | High |
| Player Profile | Low to moderate swing speed players who want maximum distance & accuracy |
Wilson has been producing golf balls since 1954, so it knows a thing or two about making high-quality, game-improving options for all players. And while Wilson Staff might not get an abundance of tour play, the average to better player can certainly find a Wilson ball to fit their game. For seniors and slow swing speed players, the Wilson DUO Soft is among the top choices for distance and feel.
The DUO Soft earned our nod as the best overall soft golf ball, and soft usually means low compression. The new DUO Soft for 2023 has a compression rating of 40, which means it caters to seniors who require some help with distance. The new 2023 edition also has a new core, which is designed to improve ball speed compared to the previous model.
It has the softest feel of any golf ball we tested when putting or hitting chips around the green. Another area this ball comes in handy is holding greens. If you have a lower ball flight, you probably also have trouble with shots running through the green. The DUO Soft launches high and comes down soft.
As with most Wilson Staff products, value is always included. At just $23 per dozen, the DUO Soft is a great golf ball to take a flier on to see if you like it. Chances are, you will, and you will have found a new ball that will get you the most out of your game.
Pros:
Low spin, including low side spin
Good value
Soft feel
Cons:
Higher swing speeds will see distance decrease
Vice Tour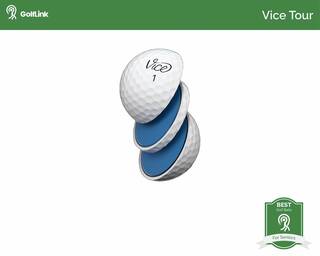 | | |
| --- | --- |
| Price/Dozen | $28 [SHOP AMAZON] |
| Construction | 3-piece |
| Compression | 90 |
| Flight | Mid-High |
| Player Profile | Slow to moderate swing speed that needs high greenside spin |
Vice Golf has done quite the job at disrupting the golf ball market with both great performance and attractive pricing. The young company believes that golf balls shouldn't cost more than a good meal, and the more Vice dozen you buy, the more you save. The Vice Tour is one of the company's flagship balls, but don't be confused by its name, you can probably play this ball as long as your swing speed isn't extremely low.
The Tour is a 3-piece ball with an Energy Speed Core, which is why players with moderate speeds will see the biggest distance gains. The Tour is a rocket if your swing speed is 90 mph or above. You will also love the mid-iron spin that the Tour provides. Even thinner shots have good spin and won't run through the green.
As a 90 compression golf ball, you might wonder why the Vice Tour is so good for a slow swing speed. Well, for the slowest of slow, it's not. For seniors who still have a little giddy up on their swings, say 90 mph or above, the ball will wow you.
Pros:
Value
Mid-iron spin
Durable
Cons:
Not intended for the slowest swinging seniors
TaylorMade Soft Response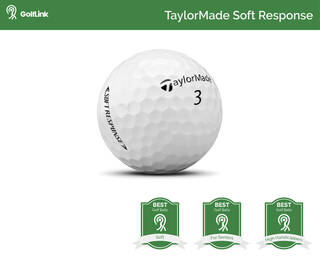 | | |
| --- | --- |
| Price/Dozen | $30 [SHOP AMAZON] |
| Construction | 3-piece |
| Compression | 50 |
| Flight | High |
| Player Profile | Players with slow to moderate swing speeds who want short game spin and full swing forgiveness |
TaylorMade golf balls have gained popularity thanks to their durability and performance. The TP5 family of balls is an undeniable tour-level ball for the best players in the world. Meanwhile, the TaylorMade Soft Response is a very good ball for players with slower swing speeds, and it even includes some of the TaylorMade's technology seen in its tour products.
The Soft Response is quite similar to another ball featured on this list, the Wilson DUO Soft+. Both balls have exceptional feel around the green. The 30 compression and overall 50 compression bodes well for the slowest of swing speeds because distance is there for the taking.
Like all golf balls with a super-low compression, the TaylorMade Soft Response won't help players with fast swing speeds very much. However, any player can appreciate the Soft Response's greenside feel. Greenside spin is very responsive, especially out of bunkers and on high-lofted chips. At $30 a dozen for a TaylorMade golf ball, the Soft Response is a good value. It definitely out-performs its price and can be played by a majority of slow-swinging amateurs.
Pros:
Value
Quality
Great distance
Cons:
Mid-iron spin falls a little short
Wilson 50 Elite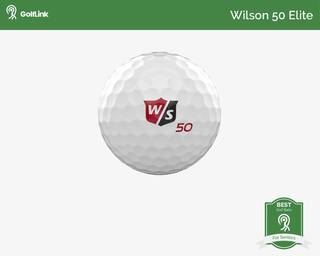 | | |
| --- | --- |
| Cost/Dozen | $18 [Buy at PGA Tour Superstore] |
| Construction | 2-piece |
| Compression | 50 |
| Flight | Mid-High |
| Player Profile | Moderate swing speed who wants a well-balanced ball |
Wilson offers the DUO Soft+, which we covered previously. It also offers the Triad, Staff Model, and Zip, but the Wilson 50 Elite would win the award (if one existed) for best under-the-radar golf ball for slow to moderate swing speeds. This ball is well-balanced with no true deficiencies. 
When you read anything about the Wilson 50 Elite you'll likely run across the word, "acceleration." That's exactly what this golf ball is built for. Off of the face of a driver, fairway wood, hybrid, or iron, the 50 Elite accelerates a ton. It also meets a perfect marriage of time in flight and roll, a testament to its 302PHD dimple pattern which is designed to be more aerodynamic. Its compression is, you guessed it, rated to 50 so it's a great fit for players who have a more moderate swing speed.
The most critical thing we'll say about the Wilson 50 Elite is that its $18 per dozen price point might actually be a deterrent to a lot of players who should be teeing this ball up. The price is a direct reflection of Wilson's value and not of its performance. As a bonus, the 50 Elite is offered in high-visibility pink, orange, and yellow. For players who need a little extra help seeing their ball fly, this is a great option. Hint: it's probably a little further up the fairway than you anticipate.
Pros:
Carry and roll combo
Color options
Value
Cons:
Slow swing speeds will have trouble getting the most distance
Noodle Long and Soft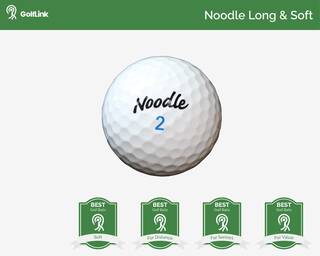 | | |
| --- | --- |
| Cost/Dozen | $17/15 balls [SHOP AMAZON] |
| Construction | 2-piece |
| Compression | 34 |
| Flight | High |
| Player Profile | Moderate to low swing speed who want max distance and feel |
The Noodle Long and Soft shows up on a couple of our golf ball lists based on its performance for the average golfer. It has shown-up in golf bags of the average player since back in 2001 when it debuted. This golf ball has withstood the test of time and while certain tweaks have been made to incorporate new technology, the Noodle Long and Soft is essentially the same golf ball that it was 20 years ago. It was good then, and it certainly is good now.
Another super-low compression ball, the Noodle is rated at 34 and players with slow swing speeds will really enjoy the extra distance this ball produces on tee shots. The Long and Soft will make a huge difference on your iron shots as well. If you're currently playing a 60 or higher compression golf ball and swing driver 85 mph or below, you will likely see a club more in distance by switching to the Long and Soft.
Of course, the other side of long is soft. One of the main pieces of feedback the Noodle received when it debuted was how soft the ball felt on short game shots. In particular,  an incredibly soft feel especially in putting.
Today, the same holds true, but with new technology the modern day Noodle spins a lot more around the green and spins lower in the long game. With that said, it won't deliver tour-level spin, but should be sufficient for most players. Don't sleep on the fact that the Noodle Long and Soft is still a tremendous bargain, as low as $22 for a 24-pack.
Pros:
Soft feel
Value
All-around reliable golf ball
Cons:
High-end of moderate to fast speeds will balloon shots
Top Flite XL Distance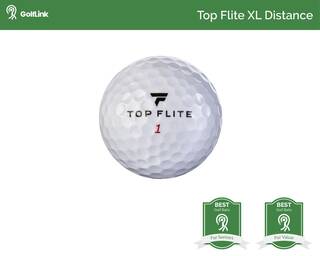 | | |
| --- | --- |
| Cost/Dozen | $20/15 balls [SHOP GOLF GALAXY] |
| Construction | 2-piece |
| Compression | 90 |
| Flight | High |
| Player Profile | Player who likes harder feel with good value |
Chances are you've purchased or played a Top Flite XL golf ball in your life. Top Flite has produced a version of its XL for nearly 30 years. Modern golf ball technology proves that softer, lower compression golf balls work best for slow swing speeds. However, some golfers just want to stick to something they know and prefer the feel of a harder golf ball, and the Top Flite XL Distance is still a good option for those players.
First off, the 90 compression rating lends itself best to moderate and slightly faster swing speeds. However, because this particular golf ball is hard, it actually produces a good amount of roll after landing, which is where most senior players will see distance gains. The flip-side to that is this ball won't be as easy to stop on the greens, unless you hit it high.
Ultimately, the Top Flite XL Distance brings two big things to the table. The first is durability. It has a cut-proof Ionomer cover which stands up well to your average day on the course. A few tree trunks, some cart paths, or the occasional house. The second is value. Top Flite's XL models have always been considered a good deal and the current model is certainly that at only $20 for a 15-pack. Perhaps no golf ball keeps it simple and true more than the Top Flite XL Distance.
Pros:
Harder feel
Value
Durability
Cons:
Slowest swings will fall short on distance
Conclusion
There's no shame in gaming a slower swing speed than you had 10 or 20 years ago. The key to combating it is by using the right equipment. The drivers, irons, and shafts of today are better than ever, but you should never overlook which golf ball you use. Playing a ball that fits your game is important to your distance, approach shots, and overall enjoyment on the golf course.