What Are the Best Golf Balls for Seniors? Top Picks for Your Swing Speed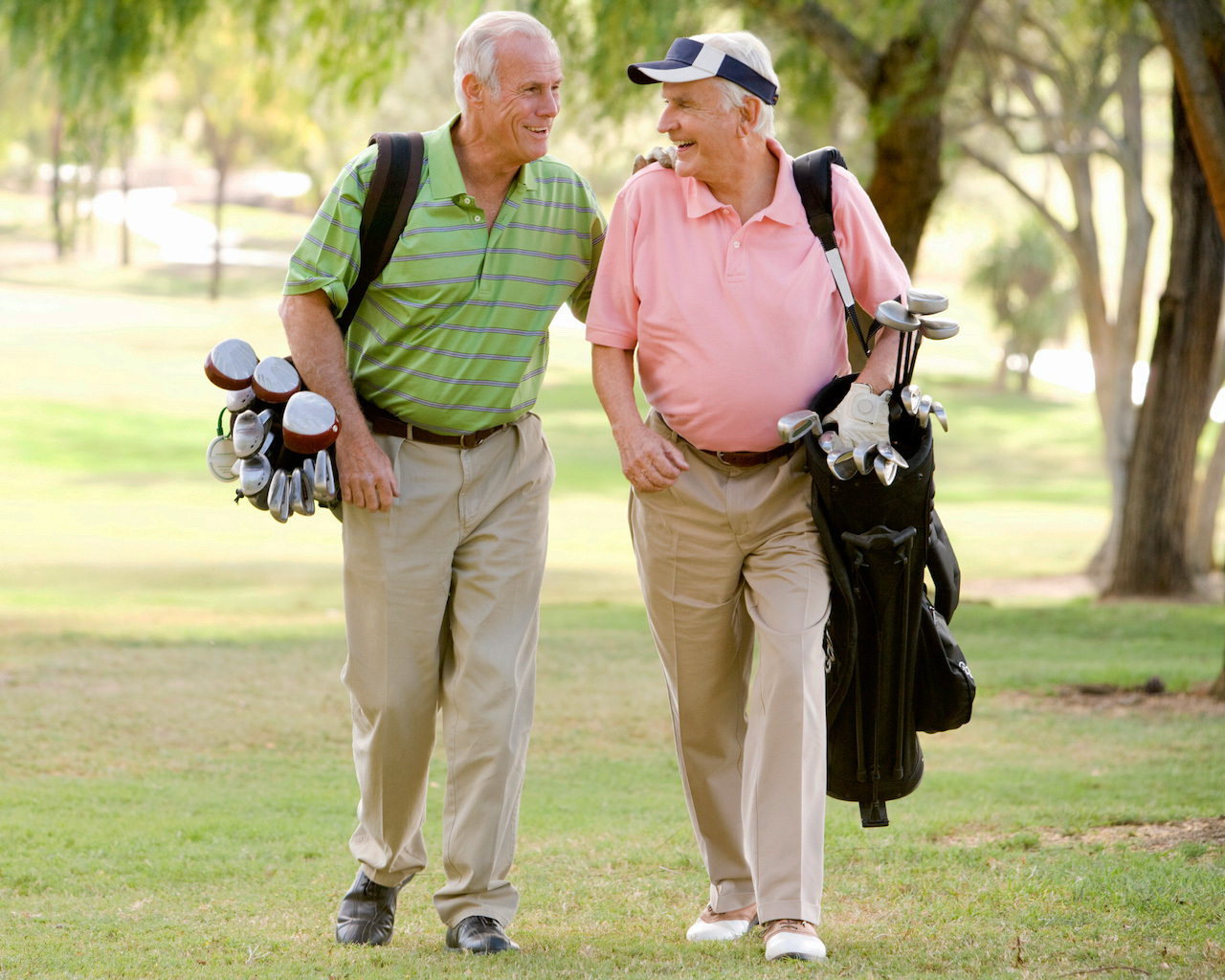 Senior golfers require golf balls that are intended for senior swing speeds. No matter how unpleasant it is to acknowledge that your swing speed decreases as your age increases, some of these golf balls can help in a big way if you're looking to get the most out of your golf game. Perhaps it could even lead to better performance than in your younger years on the golf course.
Why Should Seniors Consider Different Golf Balls?
Senior golfers should consider switching to golf balls that better fit their golf swings. Seniors will find that making this slight equipment adjustment can help get the most out of their swing speed, improve launch and sharpen visibility.
Decreased Swing Speed
It can be a touchy subject, but addressing the decrease in your swing speed early can breed success on the course. Too often, seniors stick with the same equipment year in and year out in hopes of regaining their swing speeds of years prior, but the decrease in speed is nothing to shy away from.
Golf balls designed for senior swing speeds have a compression rating that allows you to get maximum distance and optimal launch from your swing.
Decreased Launch
That leads us to our next point. Golf balls designed for a low to mid launch don't help senior golfers. Using balls with these characteristics will lead to lower shots, less hang time, less distance, and make it difficult to hold greens.
Golf Ball Visibility
As your vision takes a dip, seeing the golf ball on the course becomes increasingly difficult. Many seniors switch to brighter colored golf balls to make hunting and finding easier.
Senior Golf Ball Specs
Here are some qualities that seniors should look for when making the leap to golf balls intended for their games.
Compression
Compression is a huge factor in golf ball distance. Playing a golf ball that has a lower compression rating will help seniors tremendously because a lower compression will accommodate a slower speed. Conversely, a player that has a faster swing speed requires a golf ball with a higher compression. Look at it as the golf ball doing some of the work for you to produce maximum distance.
Seniors who swing their driver under 95 miles per hour should look for a golf ball with compression under 70. These golf balls take less power to compress and produce a faster ball speed which leads to more distance.
Optimal Launch
As mentioned above, seniors should avoid any golf ball with a low or mid-launch rating. Those golf balls do not produce the trajectory you need to maximize distance or spin properly. Golf balls that boast a high launch or at worst a mid-high launch, are right in your wheelhouse.
Color
Colored golf balls have been proven to be easier to see on the golf course. Colors such as orange, yellow, and red are the easiest to spot. Some blue golf balls can blend into the grass, and green is probably harder to spot than a traditional white golf ball, so it's best to avoid those.
Alignment Aids
Every golf ball manufacturer now imprints their version of an alignment aid on their ball, so try a few and see which one is best for you. Most alignment aids have an elongated line or a "T" shape that will make lining up putts much easier.
Best Golf Balls For Seniors
These are the five best golf ball for senior golfers.
Best Overall Golf Ball for Seniors: Bridgestone e12 Contact
The e12 Contact from Bridgestone Golf is a great option if you're looking to make a switch to a golf ball that benefits a senior golf swing. Its Contact Force dimple pattern is a raised area in the center paired with an outer portion that slows horizontal rotation during flight. The dimple pattern is strikingly different and instantly noticeable when you try this golf ball.
The Bridgestone e12 Contact is available in white, matte green, matte red, and matte yellow colors. The dimple pattern promotes 38% more accuracy in your strike and has a higher launch than any other ball made by Bridgestone.
Pros
High launch
Available in multiple colors
Dimple pattern makes the ball fly straighter
Cons
70 compression is suited for faster senior swings
Alignment aid is small
Best Value Golf Ball for Seniors: Srixon Soft Feel
The Srixon Soft Feel has been on the market for a number of years, but the company made serious improvements to this golf ball in 2020 and it's now one of the best golf balls for seniors. In addition, it's also a great value at $22.99 per dozen. Available in white, yellow, green, orange, and red, Srixon also makes the Soft Feel in a ladies model which can be pink or white.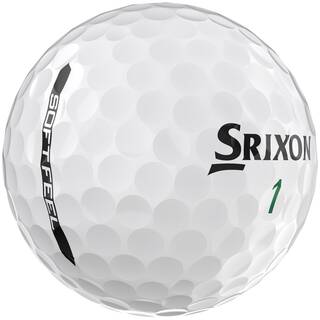 On tee shots, the Soft Feel has a soft center that gradually transitions to a firm outer edge. Its FastLayer Core gives the ball incredible distance which is a confidence-builder on the tee box. The Soft Feel has a 60 compression rating and spins very well around the green.
Pros
Available in multiple colors
Compression fits slower swing speeds
Great value for the price
Cons
Alignment aid is small
Faster senior swings can balloon shots
Longest Distance Golf Ball for Seniors: Volvik Vivid
If you're looking for the brightest and boldest colored golf balls on the market, the proof is in the name Volvik Vivid. Volvik pioneered the colored golf ball movement and many senior players, or anyone looking for a pop of color on the course, swear by them. The Vivid is available in eight different colors or you can even purchase a dozen assorted which include yellow, orange, red, and green.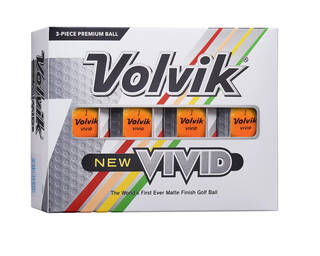 The Vivid has a higher compression in the senior category at 75, but the proof is in the distance. Volvik is consistently near the top of distance categories. Seniors with swing speeds below 70 mph probably won't see as much benefit, but those who swing it 70 mph or above are good to go. An added benefit is the Volvik Alignment System which makes for a great alignment aid on the green or when teeing it up.
Pros
Brightest color of any golf ball manufacturer
High launch
Alignment aid
Cons
Not intended for swing speeds under 70 mph
Greenside spin is less than desired
Most Versatile Senior Golf Ball: Titleist Tour Soft
You didn't think the world's largest golf ball manufacturer would ignore seniors, did you? Titleist has always had a wide range of golf balls to fit everyone from professionals to beginners. The Titleist Tour Soft is a great option to consider if you're a senior player because it produces a mid to high launch with very good greenside spin.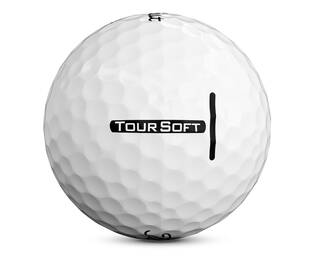 The Tour Soft has a compression of 65, so it falls right in the sweet spot for senior swing speeds. Like other golf balls listed in this article, the Tour Soft has a very soft feel on the putting green, but it is also quite noticeable in your long game as well. As with all Titleist golf balls, knowing that you're buying the highest quality is also very reassuring. The side stamp alignment is also a nice changeup to a typical alignment aid because it forms a "T" for you to get closer on long putts and drain the short ones.
Because of great performance in launch, distance, spin, and feel, the Tour Soft gets our nod for the most versatile senior golf ball.
Pros
Durability
"T" shaped alignment aid
Greenside spin is ideal
Cons
$35/dozen price point
Only available in white or yellow
Best Senior Golf Ball for Slow Swing Speed: Wilson Staff DUO Soft+
The chances a very high that at some point you've had Wilson Staff golf balls in your bag. Wilson has been producing golf balls since 1914 and has always aimed at making the game easier no matter your skill level. The Wilson Staff DUO Soft+ has a super low compression rating of 35, so all seniors can play this ball with ease.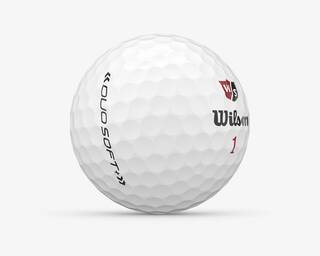 Wilson's VelocitiCOR Technology was developed to extract and amplify every ounce of power from your golf swing, meaning you get the most out of every shot.
If you're big on soft feel while putting, you'll be hard-pressed to find a better-feeling golf ball than the DUO Soft+. On chips and bunker shots the same feeling comes into play, so look for this ball to get you up and down easier. In addition to traditional white, you can also find the DUO Soft+ with the logo of your favorite NFL team.
Pros
Great value for $22.99 per dozen
Softest golf ball available
Greenside performance
Cons
Faster senior swings might launch too high
Alignment aid could be bolder
Conclusion
If you're a senior golfer and you've noticed a loss of yardage on the golf course, adjusting your golf ball is an easy adjustment to regain some of your distance. The models included on this list are all worthy of your consideration to give them a shot.