GolfLink Survey Finds Just 22.3% Approve of LIV Golf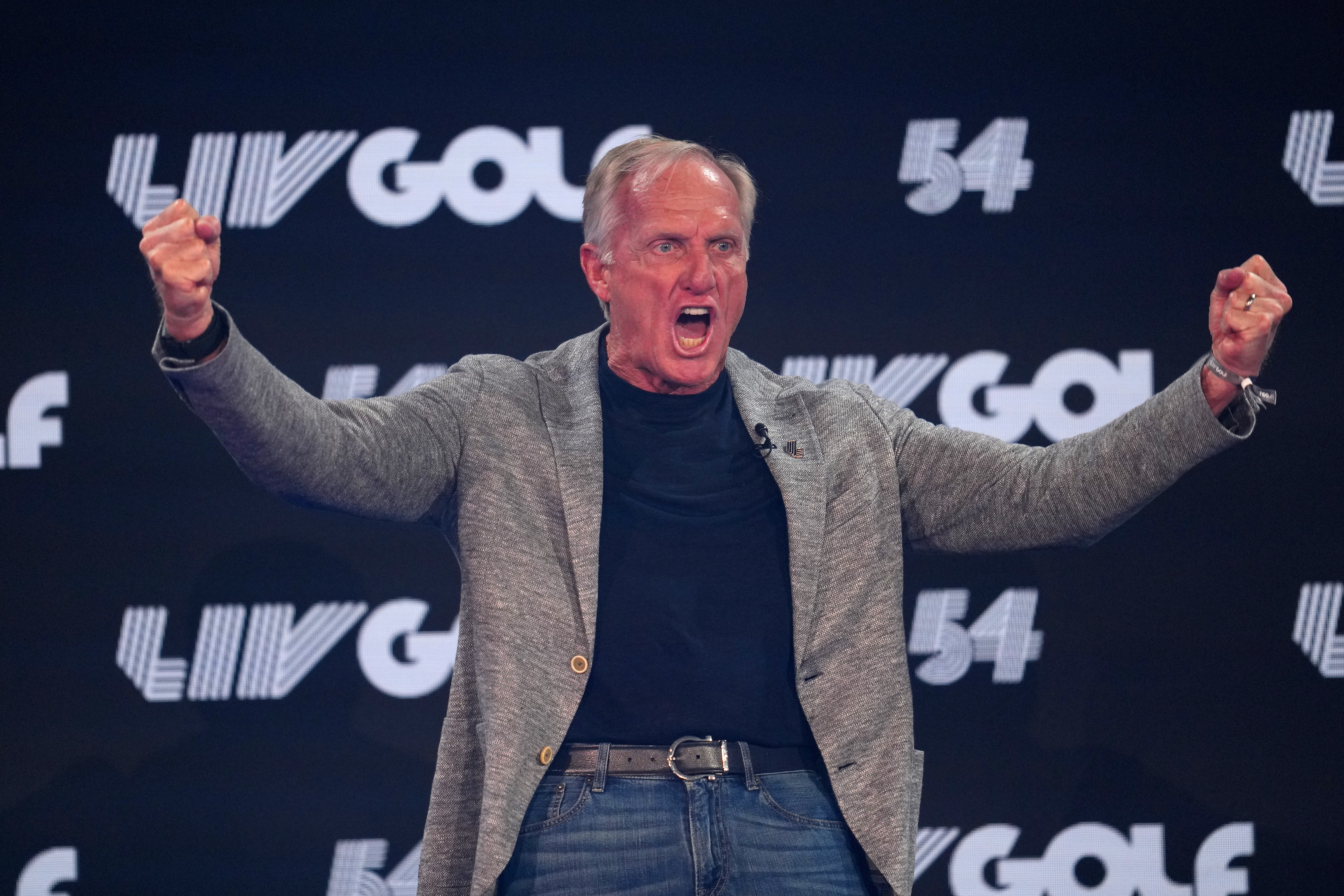 LIV Golf's approval rating is just 22.3% according to a recent survey conducted by GolfLink. The survey also revealed that the PGA Tour's actions to combat the the rival golf league, while player-friendly, may not make a difference with fans. A total of 188 GolfLink users responded to the seven-question survey June 25 and 26.
LIV Golf's Approval Rating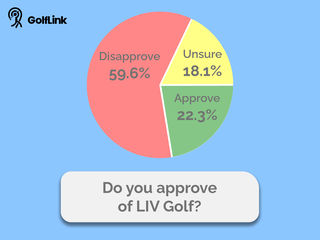 When asked "Do you approve of LIV Golf?" 59.6% of survey respondents said they "Disapprove" while 18.1% responded "Unsure/No opinion" and just 22.3% responded that they approve of the Saudi-backed golf league, led by Greg Norman.
LIV Golf, which is funded by Saudi Arabia's Public Investment Fund, has been heavily criticized as a "sportswashing" attempt to clean the country's reputation from numerous human rights violation accusations in recent years.
What Elements of LIV Golf Would You Like to See on the PGA Tour?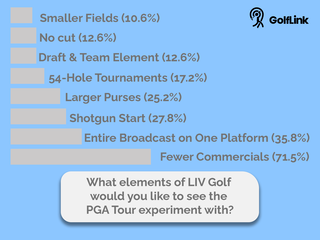 While most golf fans don't approve of LIV Golf, there are elements of the league they would like to see the PGA Tour experiment with. The two most appealing elements of LIV Golf are perhaps the toughest for the PGA Tour to navigate, as 71.5% of respondents said they would like to see fewer commercials and 35.8% said they'd like to see the entire broadcast on a single platform. LIV Golf events are streamed entirely on YouTube. However, the PGA Tour is tied into a nine-year TV rights deal that runs through 2030, making fewer commercials and a single platform or channel all but impossible. 
The next most-desirable element of LIV Golf, according to respondents, was the shotgun start and simultaneous finish, with 27.8% saying they would like to see that. Utilizing a shotgun start packs more action into a more digestible viewing window. An entire tournament round with a shotgun start can be completed start-to-finish in five hours or less. Meanwhile, the PGA Tour's current weekend rounds drag on for nearly 10 hours. LIV Golf's simultaneous finish opens the door for a more suspenseful and compelling finish.
The PGA Tour announced a new series of events that borrow some elements of LIV Golf, and while PGA Tour commissioner Jay Monahan insists the changes are not a response to the LIV Golf threat, the timing of the announcement, as marquee names and younger stars such as Bryson DeChambeau and Brooks Koepka signed to play with LIV, cannot be ignored. Among the changes Monahan announced are a three-event tournament series with smaller fields and no cut. According to the GolfLink survey, smaller fields was the least-popular element of LIV Golf, followed by no cut, with just 10.6% and 12.6% of respondents, respectively, saying they would like to see those on the PGA Tour. The team aspect and draft process tied with no cut with just 12.6% of GolfLink users hoping to see that on the PGA Tour.
Along with those changes, Monahan announced purse increases to eight tournaments worth more than $53 million, beginning in 2023. This change is likely to satisfy more fans, as 25.2% of respondents said they would like to see larger purses on the PGA Tour, the fourth-most-popular selection.
Names That Move the Needle
Led by Greg Norman, LIV Golf has lured some of golf's biggest names, including Phil Mickelson, Dustin Johnson, Brooks Koepka, and Bryson DeChambeau. So how do these key players impact fans' perception of LIV Golf?
Which Current LIV Player/Personality Makes the League Least Appealing?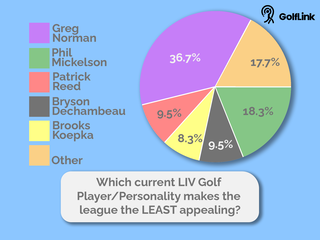 Greg Norman may be helping attract top players to LIV Golf, but apparently he's not attracting fans. In fact, 36.7% of respondents identified Norman as the personality that makes LIV Golf least appealing, while just 2.6% said he makes LIV Golf most appealing. Phil Mickelson followed Norman with 18.3% of the least-appealing vote, followed by Bryson DeChambeau and Patrick Reed who tied with 9.5 percent of respondents each. Another 9.5% of respondents wrote in that all of the players who have joined LIV Golf make the league least appealing.
Which Current LIV Player/Personality Makes the League Most Appealing?
Two-time major champion and former World No. 1 Dustin Johnson is the player who makes LIV Golf most appealing, according to the survey, with 18.6% of respondents selecting Johnson. Mickelson proved to be the most polarizing LIV player, as 17.9% of respondents said he was the most appealing player, while another 10.3% said it was DeChambeau.
While some golf fans may be drawn to individual players, many are not. Of the 156 people who responded to this question, 51 of them, 32.7%, indicated that no player makes LIV Golf appealing.
How Will LIV Golf Impact the PGA Tour in the Next 5 Years?
GolfLink asked fans which one of three overly-simplified outcomes they predict in the next five years, and 48.3% believe that LIV Golf will dilute that talent on all professional golf tours, resulting in weaker tours.
Another 40.7% of respondents believe that LIV Golf is good competition for the PGA Tour, and fans will end up with a better product from the PGA Tour within five years.
Finally, 11% said they believe that LIV Golf will drain the PGA Tour's most valuable assets and the PGA Tour will be the secondary tour within five years.
How Much LIV Golf Have You Watched?
There's no denying that LIV Golf has generated a massive buzz in the golf world, but almost all of that noise is centered around off-course activities, not on-course results or entertainment. 
We asked GolfLink users just how much of the first LIV Golf event they watched, and 81.9% said they watched none at all, while another 9.6% said they only watched a little, less than 90 minutes total. Just 8.5% of respondents said they watched more than 90 minutes, including only 3.7% who responded that they watched it closely all three days.
What Golf Fans are Saying
Many GolfLink users added their own thoughts, perspectives, and opinions of LIV Golf and the PGA Tour. Here is a selection of those thoughts.
EDITOR'S NOTE: Some responses have been edited for spelling, grammatical and clarity purposes only.
Fans Who Disapprove of LIV Golf
I don't like the idea of supporting a corrupt regime like Saudi Arabia.
I don't deny their right to do it. I understand why some players want to take advantage of the money available. I think it is a shame for the history and spirit of golf. It will make the PGA Tour offer more to their players like other sports do their players. Mixed bag. I don't plan to watch it.
It is a shame that so many people are money motivated. I will NEVER watch LIV Golf.
This is a disgusting money grab. Unfortunately money always talks, but when it comes from the Saudi's, who have no morals, it is hard to accept as a fan.
LIV is a poor imitation of a professional golf tour. Woods, Thomas, McIlroy, and other leading professionals having turned down the blood money to play LIV is a powerful statement about the true intent of LIV.
It's a mistake, but in America our only God is the almighty dollar.
I have always been told with free money there is always a hidden catch.
Unlike many of the players who joined the LIV, I won't support anything that the Saudis are involved with.
The PGA Tour will improve because of LIV. LIV will be dead in less than three years. I hope.
Fans Who Approve of LIV Golf
Interesting that there are other sports whose owners/leagues have bad actors-think China-NBA, European soccer-Russian oligarchs, etc., and not a peep or blow back.
PGA Tour lost respect for its biggest assets, the players. They now will try to buy their way back into good graces. It's unfortunate they refused to see past NBC's greed.
Players should have liberty to play any tour or tours they wish to play.
It seems the PGA Tour is afraid of losing their profits. LIV tour is just another tournament where players can compete and earn money and entertain the public.
Funny how the PGA Tour does not penalize their members for playing in leagues around the world except this one. Maybe the PGA Tour needs to re-evaluate itself concerning real world golf and future of gold instead of trying to keep a tight rein on their members!
The PGA Tour is not reading the room. Players don't want to be the only pros where half don't get paid each week
Those who stifle competition hurt the fans.
PGA/European Tour are boring. Saturdays are meaningless. Four days is too long. The political aspect of LIV is just a nonsense. Governments deal with Saudi Arabia every day and we don't get any complaints. Total self preservation on behalf of the people who run the existing Tours.