Hosting a Lucrative Charity Golf Tournament: Expert Tips
Charity golf tournaments are an absolute win-win. If you're the tournament organizer, you get to put your cause on display in front of potentially hundreds of people who are often in a giving mood. If you're playing in a charity golf tournament, you get to spend a day on a great golf course among friends while supporting a great cause, with a philanthropic excuse to escape the office to boot.
Doris Muscarella of Golf Charity Tournaments is an expert at hosting charity golf tournaments and is certified by the Golf Tournament Association of America as a tournament consultant. As someone who knows how to get the most out of a golf fundraiser, Doris shared her expert tips and tricks to help you host your best charity golf tournament ever.
Where To Host Your Charity Golf Tournament
One of the first decisions you make when planning your golf fundraiser is the golf course itself. The course you select will ultimately impact your tournament date, registration fee, and even the format of the tournament. You may think that in order to maximize revenue for your cause, you need to book the cheapest golf course you can find. However, Doris warns that thinking could be counterproductive. The more exclusive the golf course, the more money people will pay to play in your event.
"The course is important," Muscarella emphasized. "You could charge $300, $500, charities have charged $1,000 for a golf outing. If it's a good golf course, we blink and it's like 'OK here's a check.' I'm going to do Golf for a Cure for Alzheimer's. As soon as you say it's going to be at Gleneagles, we're going to sell out both courses because the golf course is key. Key!"
Golf Fundraiser Format
Many people think of a golf fundraiser and assume the tournament will be a scramble. The scramble format has its upside, as it takes the pressure off non-golfers and beginners who may be uncomfortable with the idea of competing in a golf tournament. Of course, the more people who are comfortable playing in your tournament, the better, right? Not so fast.
If you've secured an exclusive site for your golf outing, you can bet you'll attract golfers to your event who have been salivating at the chance to play that particular course. Golfers paying $300 or more for a round at a memorable course, and to support your cause, want to play their own ball and have their own score at the end of the day. A scramble is simply a deal-breaker for those players. However, if your entry fees are lower, a scramble may be appropriate.
"If you're paying $1,000 you want to play your own game. You don't want to play in a scramble, without a doubt," Muscarella said. "What you do is you give out first, second and third place (prizes). You give them value for what they're paying. If you're charging $200, then you do a scramble or team play. The more you pay, you want to play your own game."
Charity Golf Tournament Revenue Boosters
You can secure a fantastic golf facility, charge top dollar for your golf outing, sell it out and finish with a nice profit for your charity, but if that's all you do you would still be leaving money on the table. To really maximize your revenue, there are a few expert tips Muscarella suggests.
Add an Auction
Adding an auction component to your tournament is a great way to offer participants the chance to win something off the course and really increase your revenue. An auction also helps ensure fewer people leave empty-handed. Muscarella used this strategy at a recent charity golf tournament and it was a resounding success.
"If they're not golfers, why would they go? Because we have a lot to offer non-golfers," she said. "We had an amazing silent auction that was all sports-oriented. Just in the silent auction alone we sold over $50,000."
Side Competitions
Everybody has played in a golf tournament with a closest to the pin or long drive competition. Those can be fun, but Muscarella encourages you to break the mold and be different with your side games. These little add-ons can actually generate huge payoff and create some great camaraderie among the participants.
"Long drive and closest to the pin, we've been there and done that 100 times," Muscarella said. "What we did in the celebrity tournament we had a putting contest and at the end of the contest, we put an expensive bottle of gin. You have to pay $50 to putt, but because at the end of that, if you get it in the hole you get the liquor, oh my God, we had a line of people waiting to do that. That was a hit."
Create a Celebrity Buzz
Did you notice that Doris mentioned a celebrity tournament? Adding a celebrity, or a few, can create quite the buzz, and dollars, for your tournament. You don't need Taylor Swift, find a local celebrity or well-known figure and invite them to be part of your event. Muscarella has had the help of NFL players and famous musicians to take her charity golf tournaments to the next level.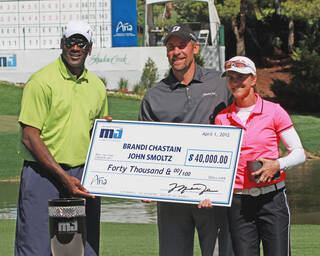 "We had Tico Torres, the drummer from Bon Jovi. He came and we had paintings that he autographed and we sold them for a couple thousand dollars," she said. "We had NFL players that came in and signed footballs, and that was a money maker. We had a step-and-repeat and in order to take a picture with one of the celebrities you had to pay. They had no problem paying to have a picture with an NFL player. I was one of them, I don't care. Nobody knows I paid for it!"
Make Your Tournament A Can't-Miss Event
If you put in the extra hours to make sure your charity golf tournament will stand out, the result will be well worth the effort. Not only will you enjoy a great money-making day for your charity, but your event will grow a life of its own. Participants will remember how much fun they had and make it a staple of their golf calendar each year, making your job even easier as time goes on.