The 11 Best Drivers for Distance of 2022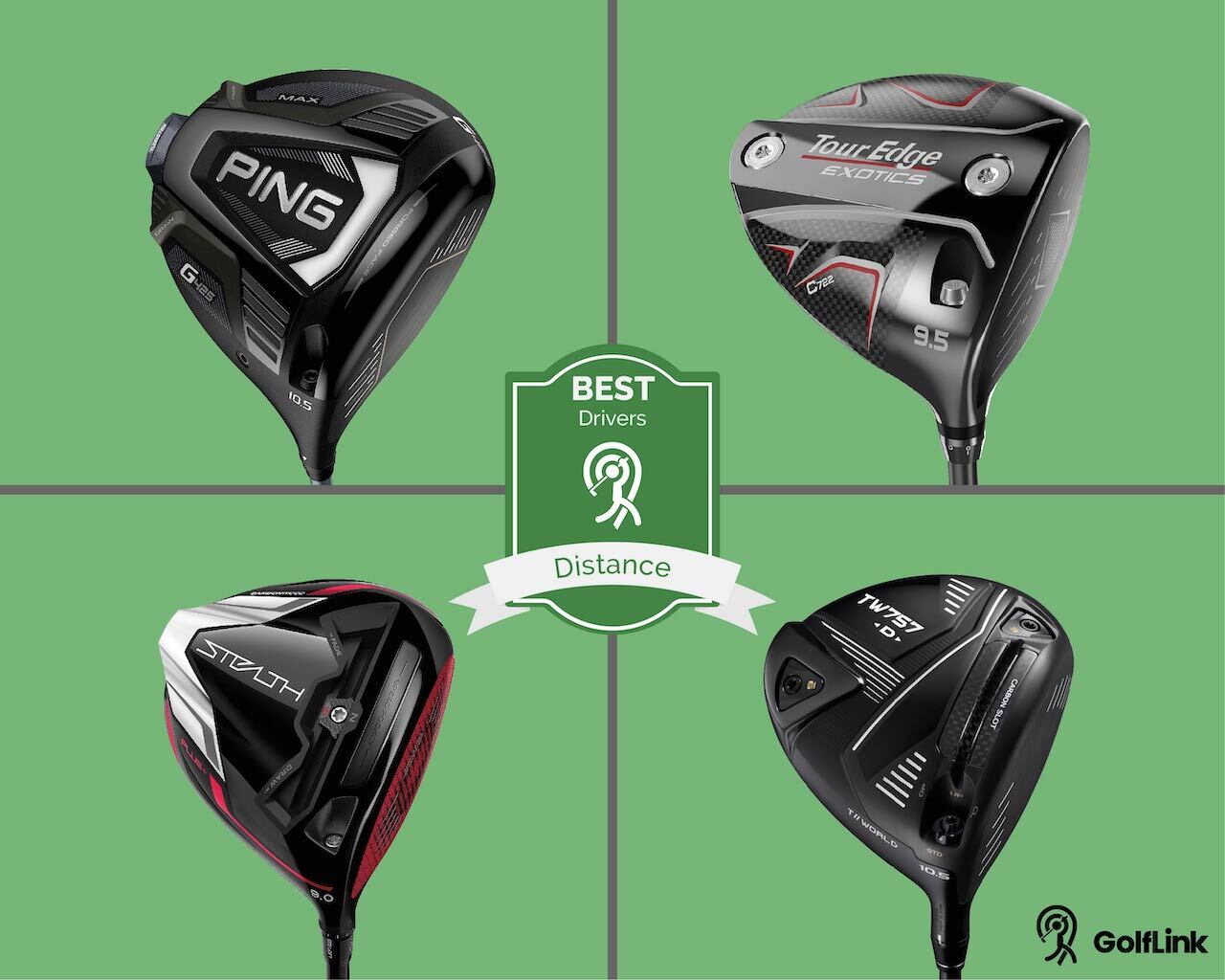 There's no substitute for out-driving your playing partners. Yes, we love a crafty short game and we putt for dough, but striping drives down the middle really hits us in the feels. GolfLink has put together this list of the 11 best drivers for distance. All of these drivers have proven results, so which is the best fit for you?
11 Best Drivers for Distance
Before we jump in, let's establish that every single driver, whether or not it's on this list, is built for distance. Through testing and additional player feedback, the drivers on this list are even longer than everything else.
Here are GolfLink's 11 best drivers for distance. All of these drivers are long, but they all have unique characteristics that make them different, meaning some will fit your game much better than others, depending on what you need out of your driver in addition to distance. If you haven't shopped for a big stick lately, you'll notice driver prices jumped significantly in the past few years, so it's more important than ever to make sure you spend your money wisely.
| | | | | |
| --- | --- | --- | --- | --- |
| Driver | Price | Adjustable? | Player Profile | Standout Feature |
| PING G425 MAX | $550 | Yes | Player who wants a reliable, high-performing driver | Moveable 26-gram tungsten weight |
| TaylorMade Stealth Plus | $600 | Yes | Looking for the latest technology and optimal launch | 60x Carbon Twist Face |
| Cobra LTDx | $500 | Yes | Player who wants mid-high ball flight and likes some added technology | Tungsten backweight and carbon create fast speed |
| Mizuno ST-Z 220 | $450 | Yes | Looking for a traditional appearance with modern technology | Low spin with penetrating flight |
| Tour Edge Exotics C722 | $430 | Yes | Wants premium feel without spending $600 | Great benefits to faster swing speeds |
| Callaway Rogue ST MAX | $550 | Yes | Callaway loyalists and first-tiime buyers will enjoy this model | Stable feeling at impact |
| Sub 70 849D | $330 | Yes | Players looking for ultimate value in a premium driver | Soft draw is effortless |
| Titleist TSi2 | $550 | Yes | Players who want a consistent, all-around bomber | Quality and performance in one package |
| PXG 0311 GEN5 | $500 | Yes | Players looking to give PXG a try, or PXG loyalists | Adjsutable weighting |
| Srixon ZX5 | $500 | Yes | Players who prioritize great feel at impact | Rebound Frame provides great spring feel |
| Honma TW757 D | $719 | Yes | Looking for a premium experience and premium feel | Custom feel all-around |
What Makes Drivers the Best for Distance?
We've established that all drivers are engineered for distance. But what makes one driver longer than another? And just how much distance can you expect to gain by sticking one of the longest drivers in golf in your bag? Here are a few key attributes.
MOI (Moment of Inertia)
Golf club makers are constantly trying to sell you on MOI (moment of inertia), a term that can be found in just about every driver's product description. Maybe it seems like a buzzword, but the science behind MOI is undeniable and a key to a great driver.
MOI, in layman's terms, is a measurement of how forgiving a driver is. The measurement represents how much the driver's head moves and twists just before impact. The more a driver can resist twisting, the higher its MOI rating. Of course, the more your driver head resists twisting into impact, the straighter you'll hit it.
Understanding MOI is great, but the problem is most club-makers don't directly specify the exact MOI measurement of each of their drivers. Instead, they simply brag that it's high, or improved, or higher than another driver in the same family. This makes it difficult to get a head-to-head comparison of all drivers.
Clubhead Size
The maximum driver head size allowed by the USGA is 460cc. Simply put, if you are an amateur golfer with a double-digit handicap, you should play a 460cc driver. These driver's heads provide the most forgiveness and distance available.
Shaft Pairing
A driver can have an infinite amount of technology that claims to make your game better, but you need to make sure you pair the correct shaft with that driver.
A driver head may be a perfect fit, but if it's paired with a shaft that's too stiff for your swing, you'll never see the true benefit. Always try to get fit by a certified club fitter from the manufacturer or at your local golf retailer.
The Best Driver for Distance: PING G425 MAX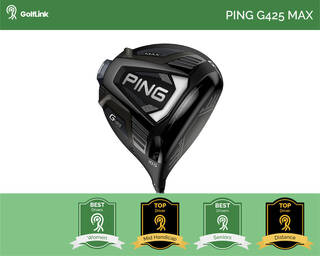 The PING G425 MAX is our best overall driver for distance, and while many other drivers on this list made a strong case for this spot, this big stick had the numbers and feel to push it over the top. In our testing the PING G425 was six yards longer than the next best driver and, not coincidentally, ball speed excelled as well. The G425 MAX has a 26-gram moveable weight in the back that not only serves a CG purpose but also offers a fade, draw, or neutral bias. Here's the main appeal, it actually works. When you set the weight where you want it, you'll see results.
It might sound funny, but the G425 MAX was also quite pleasing to the senses. The feel at impact is better than any other driver on this list, in our opinion. The pop that you feel when you connect in the center of the face is awakening, and isn't accompanied by a loud clank. That's thanks to what PING says is an internal ribbing on this Ti 8-1-1 body.
You can buy the PING G425 MAX today and keep in your bag for the foreseeable future without fear of technology passing you by. This driver continues the progress made by its predecessor, the PING G410, which was also a beast for distance.
Pros:
Ball speed
Acoustics
Outstanding distance
Cons:
Black finish top tends to scratch
TaylorMade Stealth Plus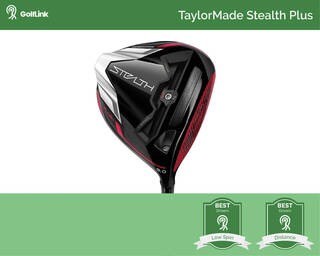 Going into 2022 there were whispers about something called "Carbonwood." Then, the TaylorMade Stealth Plus hit the golf world as part of new Stealth lineup, bringing red-faced drivers to social media and the hands of pros golfers alike. The Carbonwood age is certainly legitimate, and the Stealth Plus model from TaylorMade is the longest of the bunch due to weighting and launch. TaylorMade also produces a standard Stealth model along with an HD version (draw-bias), and a women's model.
At first glance, the noticeable differences between the Stealth Plus and its siblings are the silver weighting in the rear of the head and the Sliding Weight Track close to the face. The silver weighting is designed to get the CG low and back, leading to higher-launching tee shots. The Sliding Weight Track helps players finetune their direction to a draw, fade, or neutral bias. The weight track reminds TaylorMade fans of the R15 and some other past TaylorMade drivers. It's a very effective piece of adjustability.
The 60x Carbon Twist Face is an improvement over previous generations of TaylorMade's Twist Face design. There are 60 layers of carbon laid over the face to create more distance and more forgiviness, no matter where your mishit may occur. Ball speed numbers with the Stealth Plus are still very good on heel, toe, and low shots making this driver one of the best for pure distance.
Pros:
Forgiveness
Adjustable weight track
Clubface technology
Cons:
10-gram weight in track could be heavier
Cobra LTDx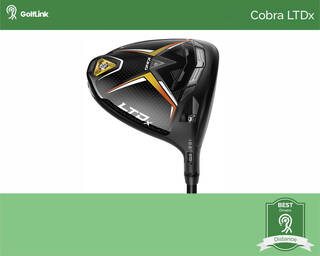 With players like Bryson DeChambeau redefining distance on tour using Cobra drivers, amateur golfers are connecting when searching for the most distance possible. Cobra's LTDx is its biggest distance driver of 2022 for players of all handicap levels.
The LTDx was engineered with two ideas in mind: lower spin and higher forgiveness. When combining those two, the natural outcome was greater distance. Players who want a consistent, mid- to-high ball flight from their driver will particularly enjoy the LTDx. In a neutral setting, you don't need to worry about losing yardage because of launch. Cobra's patented H.O.T. Face design introduced various thicknesses on the driver face to allow for better distance in the areas where most amateurs miss.
Cobra notes that the LTDx has 30% more carbon material over previous generations, what makes it lighter and faster. In addition to being adjustable at the hosel, the LTDx also has a removable weight at the back of the head, which gives you the option to bring your ball flight down a bit. The LTDx includes an Arccos Smart Sensor which, when paired with a free app, gives you a ton of great information about your game to improve along the way.
Pros:
Very forgiving
Off-center hits are still rewarded
Ideal ball flight
Cons:
Side spin could be better
Mizuno ST-Z 220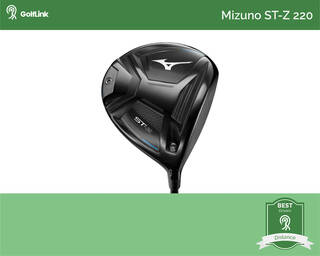 We all know that Mizuno churns out amazing irons every year or two. The "Nothing Feels Like a Mizuno" tagline is true of all Mizuno irons, from blades to game improvement sets. While Mizuno has produced some very nice drivers in the past, the ST-Z 220 driver is the first, in our opinion, that can also hold that tagline. This driver looks and feels amazing.
You'll also notice an ST-G 220 and ST-Z 220 in the new lineup of Mizuno drivers, and we highly encourage giving all of them a fair shake to see which one pans out best for you. Even though the ST-Z 220 model is touted as Mizuno's low spin option and is geared towards lower handicaps, this driver was more than accommodating for an 11 handicap. In our testing, the ST-X 220 produced the fastest ball speed and tightest dispersion.
This driver encourages a straight ball flight, but if you're a better player who can control fades and draws at will, you'll have no trouble working it to your advantage. The 20-gram back weight lends a hand in the forgiveness category by keeping a deep CG. Whether you're a Mizuno iron enthusiast or not, the ST-Z 220 is more than capable of getting you further in the fairway.
Pros:
Straight flight
Penetrating ball flight
Simple setup and look
Cons:
Low shots on clubface are less forgiven
Tour Edge Exotics C722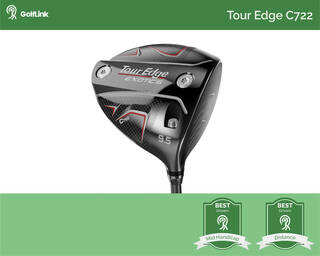 | | |
| --- | --- |
| Price | $430 [Shop at Tour Edge] |
| Forgiveness | Mid-High |
| Player Profile | Want premium feel but don't want to spend $600 |
The Tour Edge Exotics C722 is another driver that's big on distance and intended for the better player. This driver has a counterpart in the E722 with slightly larger head and higher launch, if those characteristics are important to you. The C722, however, can be absolutely smoked by faster swing speeds. It's no wonder this Tour Edge driver, along with other Tour Edge clubs, get so much play on the PGA Tour Champions.
For many years, Tour Edge produced some of the best fairway woods money could buy. While that's still the case, its drivers are now equally as hot and worth a demo. When standing over the C722, you'll notice a "T" shape that runs through the crown. This is Tour Edge's Ridgeback Technology, which is essentially a power-producing spine. When you connect in the middle of the face, or just off-center, you can actually feel ball jump off the face.
This Exotics model has 26% more carbon than previous generations, a theme we find to be quite common among the best in the business. The sound is definitely a standout feature for those of you who are particular with your acoustics. The C722 has Sound Diffusion Ribbon throughout the clubhead to give a very satisfying "clink."
Pros:
Plays just as well as more expensive drivers
Great sound
Penetrating ball flight
Cons:
Slower swing speeds won't see as much distance
Callaway Rogue ST MAX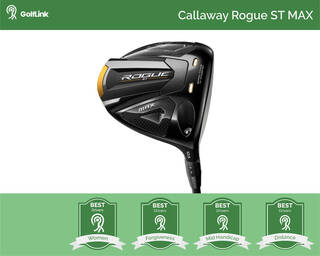 We all know the lineage of Callaway drivers. The company that given us the Big Bertha, Great Big Bertha, Epic, and more brought to consumers the Callaway Rogue ST MAX in 2022 and as far as distance goes, there's been zero disappointment. Callaway promoted the Rogue ST MAX as the highest MOI driver its ever produced.
The Rogue ST MAX also boasts a slight draw-bias, but when we tested this model it was definitely more than slight. That's not a knock on the driver, as it produced one of the best total distance numbers of anything we tested. For players with a natural draw, you may want to open the face slightly with the adjutability at the hosel.
Callaway's Jailbreak Speed Frame is a technological highlight of this driver. Its purpose it to keep the clubhead stable at impact while rewarding hits anywhere near the center of the face. In our experience, this istrue on all accounts. We felt the Rouge ST MAX stayed right in the slot as we came into the golf ball. The jump off the face was consistent with previous Callaway generations, so if you're a loyalist, you'll love the Rogue ST MAX.
Pros:
Stability at impact
Creates a nice draw
Creates a lot of roll
Cons:
Does not include a wrench for adjusting
Sub 70 849-D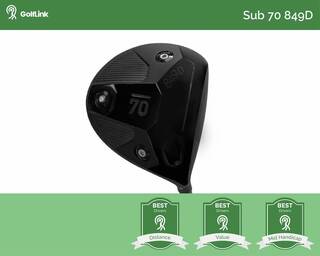 | | |
| --- | --- |
| Price | $330 [Shop at Sub 70] |
| Forgiveness | High |
| Player Profile | Player looking for ultimate value in a premium driver |
GolfLink recently took a deep dive into Sub 70 Golf and all of the great equipment the direct-to-consumer manufacturer produces. Among the irons, putters, and wedges stands a big stick that undeniably deserves a spot among the best drivers for distance. The Sub 70 849D driver is not only a great deal, but just about any amatuer player will enjoy taking their swipes with it.
The first thing you notice about the 849D is its Johnny Cash-like appearance, all black from the crown to the sole. If you're a simple design kind of person, you'll love the 849D's aestetchic. The 849D's slight draw-bias is more subtle than other drivers we tested that have the same intent. The driver launches a bit on the high side, but that's easily adjustable at the hosel to get you into the ideal launch angle of 12 to 15 degrees.
If you know anything about Sub 70 you know that they offer friendlier prices because you can't find these clubs in mass retail. At $330, this is one of the best driver deals in 2022. If you're nervous about purchasing from Sub 70 without testing the club, you can demo Sub 70 clubs for essentially the cost of shipping, and your purchase is always protected by a 60 day guarantee. But rest assured that this driver produces the distance and forgiveness you crave.
Pros:
Value
Soft draw
Simple adjustability
Cons:
Not intended for low handicaps
Titleist TSi2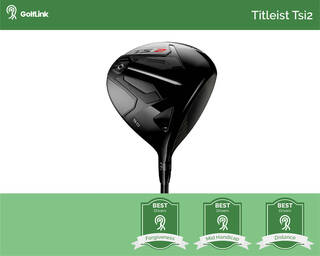 To give full disclosure, we had reservations about Titleist drivers heading into testing. Titleist, for mid to high handicaps, has not always produced the most forgiving or longest drivers. There have been a few outliers along the way, but we went into this with tempered expectations. The Titleist TSi2 was beyond a pleasant surprise and changed our opinion of Titleist drivers moving forward.
First, the TSi2 is built for pure distance. From its weighting to how it feels at impact, this did not feel like any Titleist driver we've ever hit before. Titleist works with a material no other manufacturer uses, called ATI 425 Aerospace Titanium. We don't know the science behind the material, but it feels amazing. This driver is fast, it produced the second-best ball speed (behind PING G425 MAX) in our testing, and effortlessly produced a nearly perfect ball flight.
You'll find that Titleist produces other TSi model drivers in 1, 3, and 4. All have their own target audience, but the TSi2, for mid-handicap golfers, produced the best results of the bunch, which were close to category-leading numbers in just about every way. If you typically shy away from Titleist drivers, like we did, our testing is proof that you're due for another look.
Pros:
Great distance
Ideal ball flight
Adjustability
Cons:
Sole wear over time, tends to fade
PXG 0311 Gen 5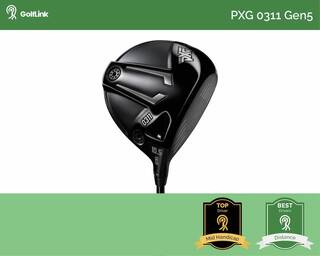 | | |
| --- | --- |
| Price | $500 [Shop at PXG] |
| Forgiveness | Mid-High |
| Player Profile | Players looking to give PXG a try, or PXG loyalists |
You see PXG commercials on TV, you read the reviews, but are they right for you? We've hit every PXG driver that's ever existed up to this point, so when we picked up the PXG 0311 GEN5 we thought we knew what we were getting. After a handful of drives it was clear that this is the best driver the industry-disruptor has produced. The 0311 GEN5 is built for distance and that was apparent with its impressive performance in every important category, including carry, roll, spin, dispersion and launch.
Aesthetically, this driver fits the PXG bill perfectly. It has character with its mix of sleek black and carbon detailing, but it's not distracting on the tee box. Interchangeable 2.5 and 7.5-gram weights allow you to finetune the 0311 GEN5 in just the way you'd like. Influencing launch and direction easily is a huge plus to this driver.
This was one of the tallest and deepest faced drivers that we tested. It certainly has the appearance of a player preferred driver, but when you take it back, you can feel its stability and at impact it's a pure launcher. PXG will have its hands full to produce another driver that outperforms this one in the future.
Pros:
Big distance
Sleek design
Tight dispersion
Cons:
Toe shots appeared to be less forgiving than heel shots
Srixon ZX5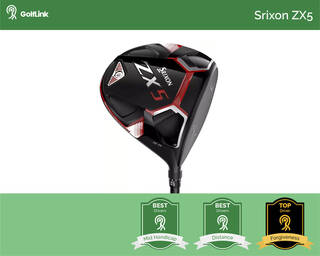 The earliest drivers from Srixon were not always the friendliest to average players. Today, Srixon makes a strong case to be in the bag of every amateru player, and is also growing its club presence on professional tours. Amateurs in search of distance should look at the new Srixon ZX5 driver, which is the sibling to the ZX7 that players such as Shane Lowry and Hideki Matsuyama use.
The Srixon ZX5 was engineered to be more flexible. For us amateurs, that's the feeling of a spring or trampoline when you connect with the middle of the face. This was created by what Srixon calls a Rebound Frame. You can really feel the ball jump off the face, even if you're just hitting range balls. If you're testing this driver on a launch monitor, you'll appreciate ball speed gains. The standard 9.5 setting that we tested did tend to launch a little too high, but adjusting the hosel a single notch lower brought the optimal launch.
Like other drivers on this list, the ZX5 is adjustable at the hosel and has a removable weight in the back of the head. This gives you plenty of options to finetune your ball flight. The distance is there for the taking with this driver.
Pros:
Simple adjustability
ZX7 model for better players
Great feel at impact
Cons:
Honma TW757 D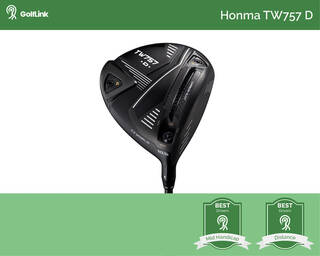 | | |
| --- | --- |
| Price | $719 [Shop at Honma] |
| Forgiveness | High |
| Player Profile | Looking for a premium experience and premium feel |
Perhaps Honma wasn't on your list of the best drivers for distance. Truthfully, it wasn't on ours either. Then we picked-up the Honma TW757 D driver, which is new for 2022, and gave it a whirl. Impressed is an understatement. This driver blew us away. Looks wise, it's no frills. Jet black with a little carbon design on the crown. Flip it over and the technology begins to reveal itself.
The straight line that you see missing is the Carbon-Slot Technology, which is designed to optimize performance from the lower part of the clubface. This allows for a thinner clubface and a ton of pop at impact. As far as construction goes, this feels like a custom-built driver. Consistent with all clubs from Honma, it's a premium-feeling piece of Japanese craftsmanship.
When Honma decided to make this innovative new lineup, they sourced a shaft that would fit perfectly. With the TW757 D driver you can choose from a multitude of VIZARD shafts which vary in weight, launch, and flex to give you the best results.
Pros:
VIZARD shafts to pair with head
Clean, sleek look
Low spin
Cons:
Conclusion
Today, more than ever, there are drivers for every type of player. If you seek distance (and let's face it, that's all of us), these drivers are the cream of the crop.
Our recommendation is to always be properly fit by a certified club fitter for the best results, don't just take our word for it.