Best Golf Rain Suits: Guide to Staying Dry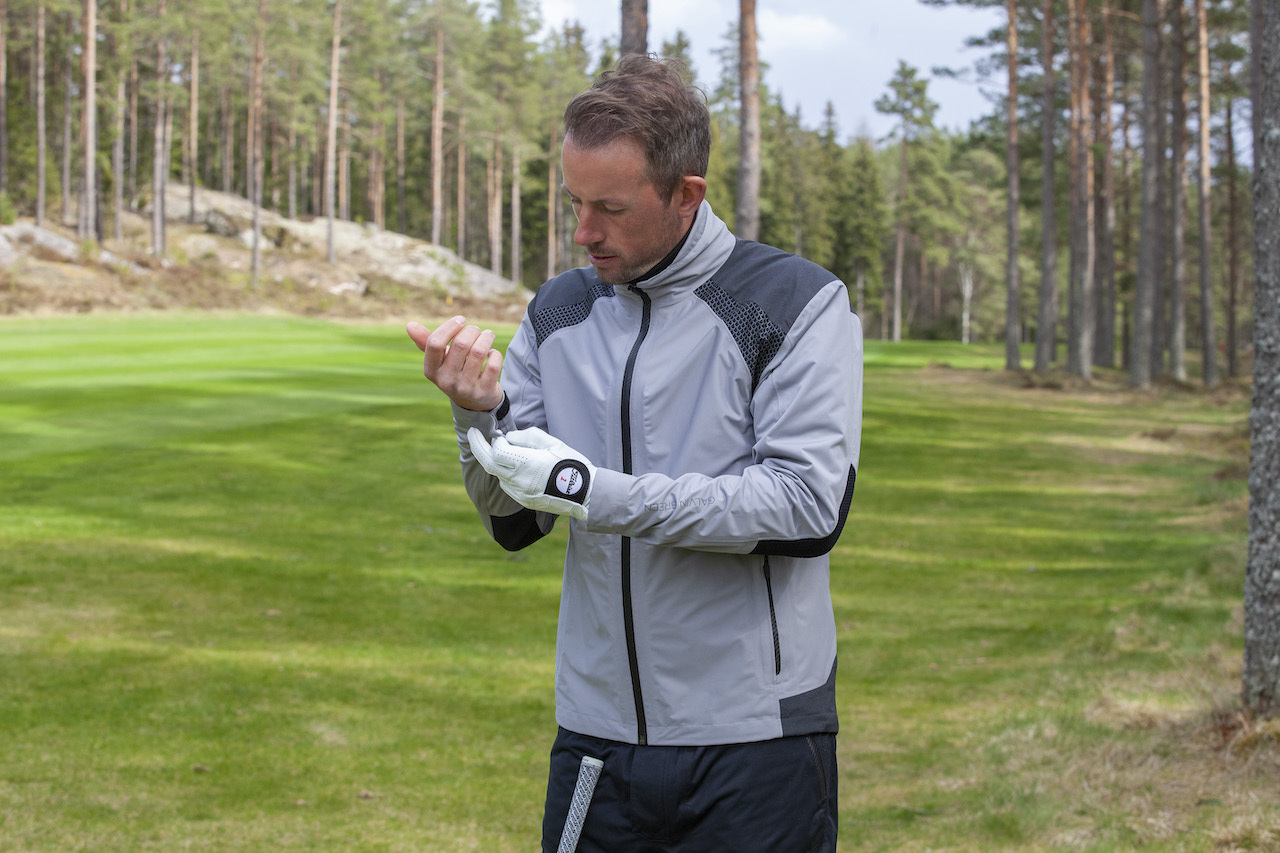 The perfect golf rain gear is a balance that's hard to strike, but once you find that ideal blend of water-resistance, warmth, movability and comfort, you can squeeze every last ounce out of your golf season, beginning in early spring and extending well into late fall. Here's our breakdown of what makes the best golf rain gear, and our top picks.

What Makes the Best Golf Rain Gear?
Having some good rain gear truly is the difference between a golf season that ends in late September, and one that trumps shopping on Black Friday. The ability to stay warm, dry and comfortable on the golf course, while still swinging freely, makes playing golf in almost any condition enjoyable.
Waterproof
Without waterproof gear, playing golf in the rain is (or should be) a non-starter. To even consider hitting the course in the rain, it's an absolute must to have waterproof, or at least water-resistant, gear.
Warmth
If you want to play golf in any sort of weather, you're going to need the gear to keep you comfortable, temperature-wise, while playing. This can be tricky because a late-September round in the rain is certainly not created equal to one in late-November. While a lightweight waterproof jacket is good for a rainy round with temps in the high 50s, it won't suffice when you decide to brave a round in the high 30s or low 40s.
To truly get the most out of your season, you could opt for a couple pieces of rain gear, a lightweight option and a warmer one for when those temperatures drop. Or, you could pick one lightweight jacket that can serve as a top-layer under multiple warm layers on those cold days.
Flexibility
The worst part about golf rain gear is its impact on your golf swing. It's hard to make a free swing in a restrictive, waterproof, full-zip jacket. Finding one that accommodates your golf swing is a real game-changer.
Pants
While many models of waterproof and water-resistant golf jackets have a matching set of pants, finding the perfect bottoms is not quite as crucial as the perfect top. A top layer needs to provide movability that many general rain jackets don't offer, but the bottoms should simply be waterproof, relatively comfortable, and preferably have pockets for some of your on-course essentials. Whether you opt for the matching pants to complete the perfect set, or choose something more generic that gets the job done is up to you.
With these elements in mind, we put together lists of the best golf rain gear for men, women, and juniors.
Best Golf Rain Gear for Men
For most guys, function beats fashion when it comes to golf rain gear. If it doesn't keep you dry, or you can't swing in it, it's not going to stay on anyways. Here is our list of the best golf rain gear for men.
Sun Mountain Men's Tour Waterproof Golf Rain Pullover
| | |
| --- | --- |
| Pro: | Dollar-for-dollar best men's golf rain jacket |
| Pro: | Half-Zip makes it easy to swing |
| Pro: | Zippered hand pockets |
| Con: | Only comes in black |


If you've ever compared a full-sip to a half-zip or pullover, you'll understand our bias towards the former. The pullover option is much easier to swing a golf club in, which is why the Men's Tour Waterproof Golf Rain Pullover from Sun Mountain tops our list.
Reviewers agree it's easy to play golf in this quarter-zip pullover, and also confirm its ability to keep water away and stay warm. Best of all, it's available in your favorite color, as long as your favorite color is black.
Callaway Swing Tech Color Block ¼ Zip Windshirt
| | |
| --- | --- |
| Pro: | Easy to swing with Swing Tech makeup |
| Pro: | Zippered hand pockets |
| Pro: | Best lightweight men's golf rain jacket |
| Con: | Not fully waterproof |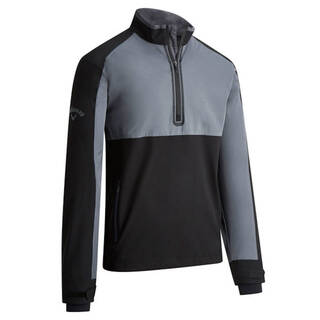 The fact that Callaway calls this jacket a windshirt is exactly what we love about it. The implication is that this top will never interfere with your golf swing. While not fully waterproof, it is wind and water resistant, and includes Callaway's "Swing Tech" design, which is a fancy way of saying their clothes are designed for you to play golf in them.
The windshirt has zip-up pockets in front for easy access to your golf necessities, and includes an elastic cord at the bottom so you can seal the warmth in at the hips.
Galvin Green Action
| | |
| --- | --- |
| Pro: | Overall best men's golf rain jacket |
| Pro: | GORE-TEX fabric with super stretch at center back and elbows |
| Pro: | 100% waterproof and totally windproof |
| Con: | $700 for a jacket |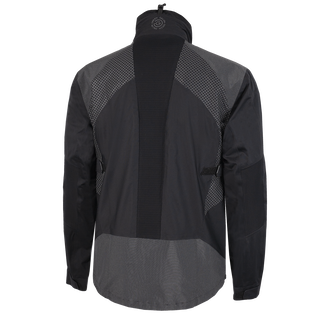 If money is no issue, the elements won't be either with the Galvin Green Action jacket. This jacket is the gold standard for golf rain jackets, with GORE-TEX C-knit fabric, including super-stretch GORE-TEX where it'll help your golf swing the center of the back and elbows.
The Action jacket is completely waterproof and windproof, and designed for excellent breathability. That's a combination that promises to keep you warm, dry, and comfortable in any conditions on the golf course.
Best Golf Rain Gear for Women
Fit plays a key role in the perfect golf rain gear, and these jackets are made just for women to give ultimate comfort throughout a rainy round of golf.
FootJoy HydroKnit Rain Jacket
| | |
| --- | --- |
| Pro: | 100% waterproof and breathable |
| Pro: | Zip-off hood |
| Pro: | Adjustable waist cinch |
| Con: | Tends to run small in sizing |


The HydroKnit Rain Jacket from FootJoy is a made-for-golf rain jacket from one of the most reputable apparel brands in the sport. We like the fact that it comes with a two-year waterproof warranty and is built from four-way stretch material.
When it comes to golf jackets, hoods can be a blessing or a curse. Of course they're good for keeping you dry from the top down, but sometimes they can be bulky and get in the way. The HydroKnit jacket offers the best of both worlds with a zip-off hood. It's there when you want it, and gone when you don't.
However, the jacket's sizing tends to run on the small side. With that in mind, it's recommended to try it on before buying if possible, or select the larger size if you're between sizes. And of course, keep the tags on the jacket until you're sure it fits properly in case you need to exchange it.
Annika Long Sleeve Rain Delay Full-Zip Jacket
| | |
| --- | --- |
| Pro: | Water and wind resistant |
| Pro: | Lightweight layer |
| Pro: | Stretch binding at sleeve cuffs |
| Con: | Not 100% waterproof |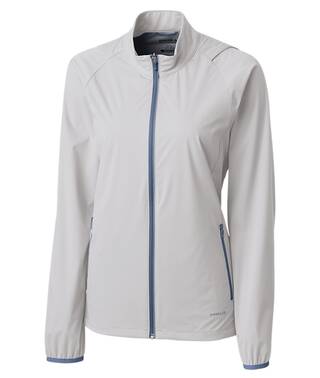 If you're looking for a nice, lightweight top layer for a spring or fall round of golf, the Rain Delay Full Zip jacket from Annika could be a great option. It's water and wind resistant to help keep you comfortable in the elements, and the stretch binding at the sleeves will keep the warmth in and the rain out.
However, this jacket is not 100% waterproof, so if you're expecting a deluge, you may want something a little more heavy duty. Likewise, its lightweight build makes this a nice option for moderate temperatures, but if you're playing in near-freezing weather, something a little heavier may be preferred.

Sun Mountain Women's Stratus Golf Rain Jacket
| | |
| --- | --- |
| Pro: | Completely waterproof and windproof |
| Pro: | Lightweight |
| Pro: | Designed for a golf swing |
| Con: | Not ideal for extra chilly rounds of golf |


Waterproof, windproof, breathable and flexible. The Sun Mountain Women's Stratus Golf Rain Jacket checks all the boxes. The stretch fabric makeup accommodates your golf swing while the zippered pockets, packable hood, and adjustable cuffs target comfort and warmth.
The Stratus is designed as a lightweight option, so even though it's waterproof and provides some warmth, you might want to throw a couple extra warm layers underneath for those extra chilly rounds.
Best Golf Rain Jackets for Juniors & Kids
High school and middle school golf seasons that revolve around the school calendar open the door for a lot of cold and rainy rounds of golf for junior golfers. In order to succeed on the course, having the proper golf rain gear to stay warm and dry, while also being able to swing freely, is critical.
Garb Boys' Harrison Full-Zip Golf Jacket
| | |
| --- | --- |
| Pro: | Water resistant |
| Pro: | Unique style |
| Con: | Not 100% waterproof |


The Garb Harrison Full Zip golf jacket is both water and weather resistant, and will keep any junior golfer warm and dry on the course. Side pockets provide easy access to tees, gloves, balls, ball markers, or hand-warmers if the weather calls for them. The jacket is designed to perform as a top layer in the unpredictable early-spring weather.
The unique pattern adds a stylish touch to this functional jacket.
Garb Girls' Brenna Rain Jacket
| | |
| --- | --- |
| Pro: | Packable hood |
| Pro: | Designed for a golf swing |


For girls who won't let the elements prevent them from working on their game, there's the Garb Brenna Rain Jacket. The lightweight top-piece will protect her from the elements without hindering her golf swing. The Brenna features a packable hood that's there when you need it, and side pockets to store all the essential accessories.
Adidas Boys Provisional Full Zip Golf Rain Jacket
| | |
| --- | --- |
| Pro: | Wind and water resistant |
| Pro: | Side pockets with zippers |
| Con: | Not fully waterproof |

The Provisional Full Zip Golf Rain Jacket from Adidas is a water-repellant, and wind and water resistant option to keep any junior golfer warm and dry on the course. The pockets zip, so any valuables, including a scorecard or golf glove, are protected from the rain. He'll also appreciate the classic look of the Adidas brand.