Understanding a Golf Scorecard and How to Use It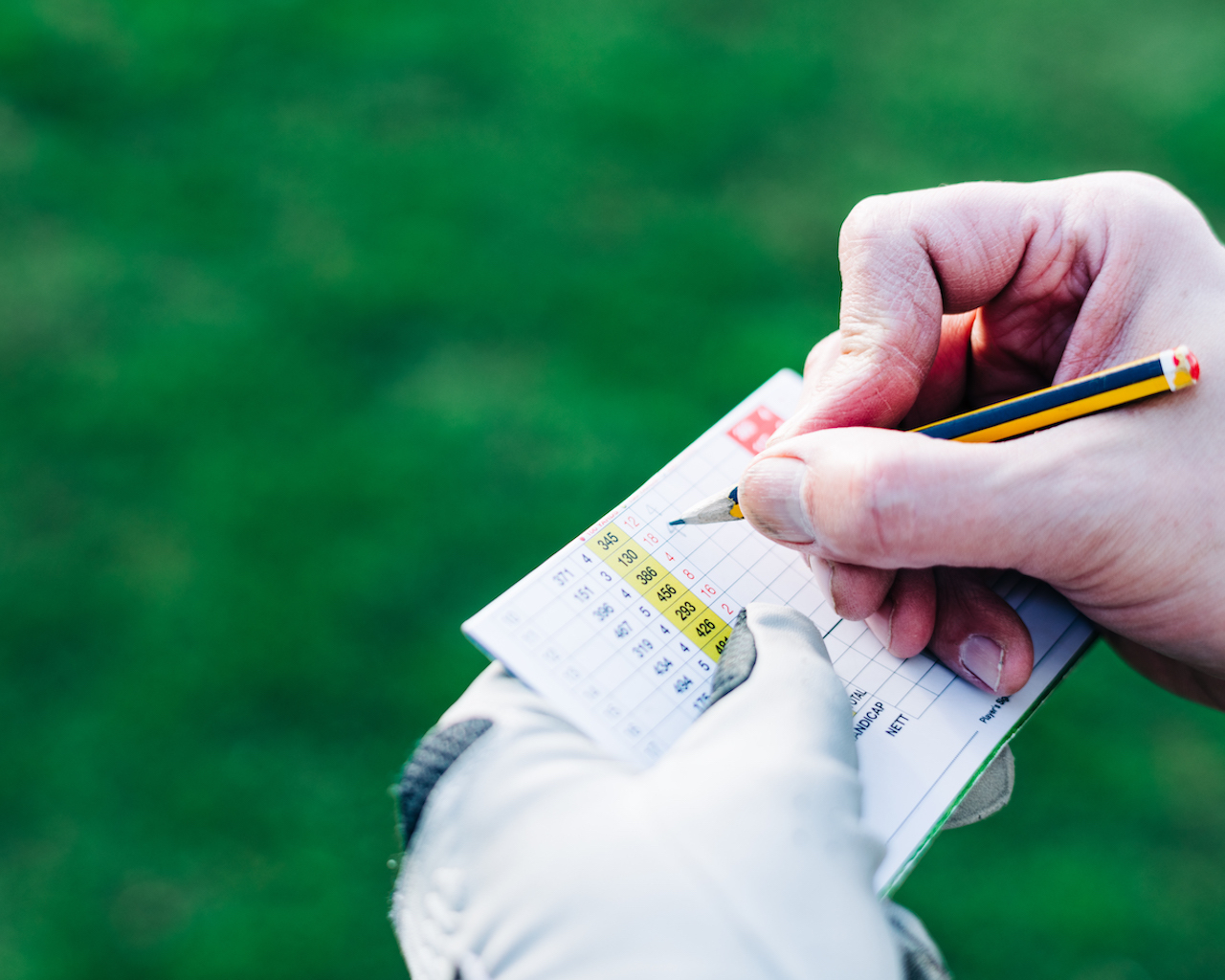 A golf scorecard packs a lot of information into a small, 6-by-8-inch card. Knowing the course difficulty, identifying the proper tees for your game, and pinpointing the easiest and most difficult holes at a glance can be a big help to your game, especially on a course that's new to you. Here is what everything you'll find on a scorecard means and how to use this information to your advantage.
Not all golf scorecards are the same. Some scorecards have more details, some take full advantage of both sides of the card, and some are nothing more than a space for numbers. There are, however, certain facts you can expect to find on every scorecard.
History and Accolades
The front of a scorecard will usually have the golf course's logo or a picture of its signature hole. The front of the card is also where courses usually recognize any important history or accolades. For example, if the course has ever hosted a professional tour event or has a national ranking from a major publication, it's likely to be noted on the front.
Tees and Yardage
A golf course's tees and yardages are always listed in descending order from top to bottom on the scorecard. Some courses have three sets of tees while others could have five or more sets of tees.
Each tee is noted by its color or symbol and shows each hole's yardage and par from left to right. At the end of holes 1 through 9, the total yardage and par for the front nine is shown, and then for holes 10 through 18 the total par and yardage for the back nine is shown. The final column has the total par and yardage for all 18 holes.
Some golf courses suggest which tees are appropriate for which handicap levels right on the scorecard. For example, a scorecard with black tees that measure a total of 7,120 yards will note those tees are appropriate for players with a handicap of 0 to 5, while the blue tees are appropriate for players with a handicap range from 6 to 11, and so on.
If a scorecard doesn't suggest the appropriate tees for your ability, a good rule of thumb is to multiply your average drive distance by 28, and find the tees that play the closest to that yardage.
Golf Course Rating
The golf course rating is also on the scorecard. The course rating is a representation of a course's difficulty expressed in the expected score for a scratch golfer. For example, if a course is listed as a par 72, but it's rated to be fairly difficult, the rating might show up as a 73.2. On the flip side, if a par 72 course is rated to actually play slightly easier the course rating could be 71.2. Each set of tees has its own rating based on what a scratch golfer would shoot on that particular setup.
Course Slope Rating
The course rating is always accompanied by its Slope Rating. When the USGA goes through the process of rating a course's difficulty for a scratch golfer, they also rate it for a bogey golfer. The difference between those two ratings is the Slope Rating. The Slope Rating tells you how proportionately difficult a set of tees are between a scratch golfer and bogey golfer.
Slope ranges from 55 (easiest) to 155 (hardest) and a slope of 113 represents a standard relative difficulty between the two golfers.
Notable courses that have the highest slope rating possible of 155 include the Stadium Course at TPC Sawgrass and Castle Pines Golf Club in Castle Rock, Colo.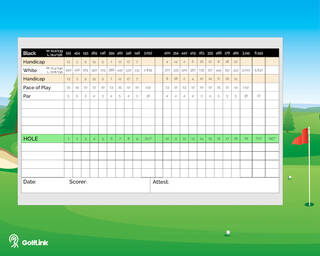 Hole Layouts
Some golf courses provide hole layouts on their scorecards, typically at the top of the card above each hole. However, this is not always the case for a couple of reasons. For high-end golf courses, there is usually a yardage book that accompanies the scorecard. The yardage book gives a much more in-depth look at each hole.
The other reason you wouldn't find hole layouts on a scorecard is simply that the cost of printing the cards goes up quite a bit. For smaller, municipal courses having hole layouts on the scorecard is an unneeded expense. With GPS now available in many golf carts in addition to apps and handheld GPS devices, hole layouts on scorecards are becoming less important.
Handicap Rankings
Another important piece of information on the scorecard is each hole's handicap ranking. On an 18-hole golf course, each hole is ranked 1 through 18 for both men and women.
Generally speaking, the rankings go from the most difficult (No. 1) to the easiest (No. 18) hole on the course, however, there are a couple other factors in play. On an 18-hole course, one side will have all the even-ranked holes and the other will have all the odd-ranked holes. The USGA also tries to avoid starting or finishing with the most difficult holes or grouping them together whenever possible, as these rankings are used to determine which holes handicap strokes are given.
If you've ever heard a golf buddy say "I birdied the No. 1-ranked hole" they are referring to the level of difficulty of the accomplishment.
Out, In, Total
After the front nine, the scorecard has a column for "Out." This column is for your total score on holes 1 through 9. After the back nine, the scorecard has a column for "In." This is for your total score on holes 10 through 18.
When you hear that a golfer "went out in 34" it means the player shot 34 on the front nine. If a player "came in in 38" it means they shot 38 on the back nine, coming into the clubhouse.
Finally, at the end, there is be a "Total" column for the sum of your front and back nine scores, your total score.
Pace of Play
To keep golfers honest with their pace of play, many courses have started to add a pace of play row to their scorecard. This tells golfers the maximum amount of time it should take their group to play each hole. If your scorecard has this information, pay close attention to how your pace aligns with the pace the course dictates, and for everbody's sake, do your best to keep up or beat the prescribed pace.
Scorer, Attest, Date
At the very bottom of the scorecard you'll notice space for a scorer, attest, and date. These can be used in casual rounds of golf, but they are mainly intended for a competition where scoring is being tracked.
In competition, players swap scorecards, meaning Golfer A keeps Golfer B's score, and vice versa. The person who has been holding and writing scores throughout the round signs the cards as the scorer. That individual's playing partner then attests and signs the card. Lastly, there's a date section to note the date the round was played.
At any junior or professional golf tournament, players must go to scoring immediately following their round to sign and attest one another's scorecards before the rounds become official.
Local Rules
In some cases, you'll find local rules noted on a scorecard. These are rules specific to a golf course that are extensions or adaptations of a USGA rule. Local rules can include specifics such as drop rules or out-of-bounds on a particular hole. There are even golf courses in the Desert Southwest that adopt a local rule which allows a 15th club which is to be used as a "rock club" to hit shots from the desert.
Conclusion
If you don't often look over a golf course's scorecard allow a couple of minutes before your round to do so. You never know what benefits or local knowledge might be lurking in the folds.