Are Golf Shoes Really Necessary? 5 Facts to Consider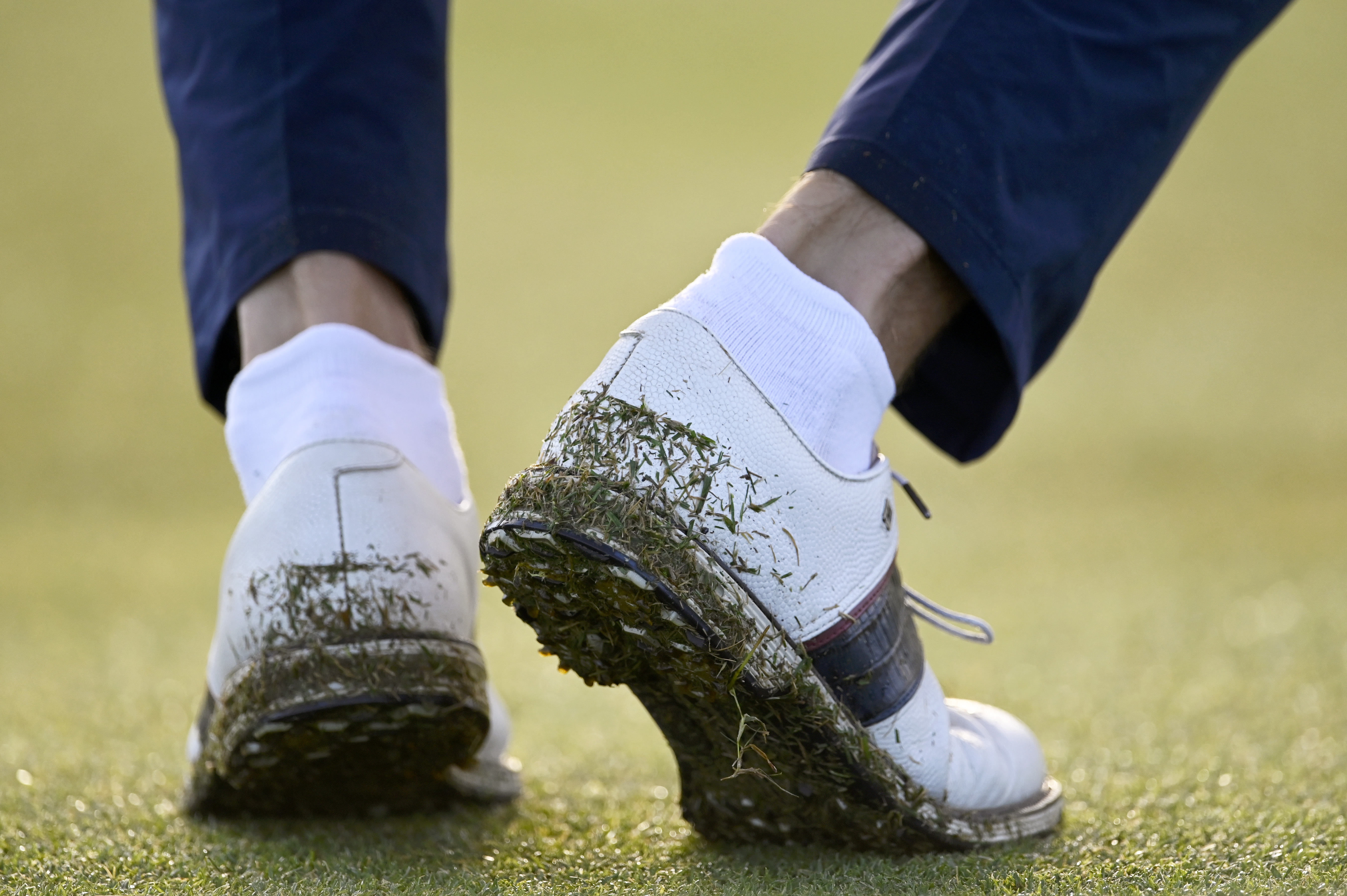 If you're wondering if you can play golf without golf shoes, the answer, technically, is yes. No authority will stop you from heading to the first tee without golf shoes, but your good friends should. Playing golf without golf shoes would be like eating a steak with a butter knife. Sure, you can probably get through, but it just won't be as enjoyable.
5 Facts to Consider About Golf Shoes
We get it. If you're new to golf, or only play occasionally, the thought of investing in a pair of shoes for one specific activity can seem almost laughable.
Once you realize the pitfalls of playing golf without golf shoes, the benefits golf shoes bring to your game, and your overall happiness on the golf course, however, you'll realize how laughable it is to not wear golf shoes. Here are five facts to consider if you're even thinking about playing golf without golf shoes.
1. Your Feet are the Foundation of Your Golf Swing
To make a decent golf swing, you're required to load your weight on one foot, then explode off of that foot, shifting all your weight to your other foot as your body rotates. Your feet are the foundation. 
This weight shift and rotation becomes infinitely more difficult when you don't have a strong connection to the ground. Golf shoes, whether spiked or spikeless, anchor you to the ground, allowing you to rotate effectively and without slipping. 
Golf shoes are designed for stability, whether you're on dry or wet grass, flat ground or a severely sloped lie. Other shoes, even athletic shoes, simply cannot do that.
2. The Course is Wet Even Without Precipitation
If you think that since it's hot and dry outside, you won't run into any moisture on the golf course, and therefore don't need the traction that golf shoes provide, think again.
Golf courses are watered every day, and most courses turn on the sprinklers in the afternoons on hot days. 
It's never a smart bet to assume you'll have strictly dry course conditions.
3. Course Conditions Vary Significantly Throughout the Property
Golf courses take up a lot of land. No matter where you play, there are high and low spots, dry and wet spots, sun-baked areas and shady patches. Throughout any round of golf, you're bound to experience conditions that normal athletic or running shoes can't handle.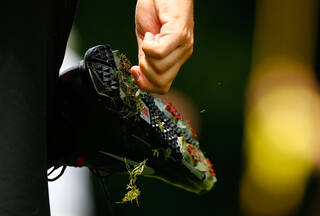 4. Golf Shoes are Waterproof in the Right Places
Not only do golf shoes specialize in anchoring you to the ground while your body twists and turns, they're designed to keep your feet comfortable and dry. 
Most golf shoes come with at least a 1-year waterproof guarantee, and it's easy to find a pair that promise to stay waterproof for two or more years. Even the more breathable, athletic-style golf shoes are waterproof around the toes and bottom of the foot to make sure your feet stay dry and comfortable whether you're walking 18 holes or using a cart.
5. 4+ Hours is a Long Time to Wear the Wrong Footwear
We all know the frustration of being stuck in the wrong footwear. A stroll through the mall in shoes that dig into your heel is enough to drive anyone mad.
That's nothing compared to wearing the wrong footwear on the golf course for a 4-or-more hour commitment. Once you get to the first tee, there's no turning back, you're stuck in the shoes on your feet. 
The regret is palatable.
The Benefits of Golf Shoes
Golf shoes help you play better golf, keep your feet dry, and help you feel great during your round, and after it.
Connection to the Ground
Golf shoes are designed to give you a strong foundation on the ground no matter what the course throws at you. That means you won't have to think about your footing from a slippery, downhill lie on 190-yard shot.
Golf shoes come in spiked and spineless versions, and both are engineered for rotational support, traction, and stability throughout a golf swing.
Golf Shoes are Waterproof
These days, it's easy to find golf shoes that are 100% waterproof and breathable. Not only is golf an outdoor sport, but it requires you to be outside on your feet for over four hours at a time. That's a pretty grueling proposition for your feet, but the technology in golf shoes targets this specific challenge.
Any modern golf shoe today will keep your feet dry throughout your round.
Built for Hours of Comfort
Did we mention that golf requires you to be on your feet for 4-5 hours at a time? Walking a round of golf is a great way to get exercise, but even if you take a cart, you're still putting incredible strain on your feet throughout a round.
With all that in mind, golf shoes have lofty standards for comfort. Walking 18 holes can leave your feet and legs achy and sore in the wrong shoes, but with a good, comfortable pair of golf shoes, your feet will feel great after your round.
Golf Shoes to Consider
We've covered some of our favorite golf shoes in other articles, so we'll stick to the basics here, but the fact is whether you're looking for a $30-50 golf shoe to get you through a handful of rounds per year, or high performance golf shoe that will stand up to dozens of rounds per year in every condition, there's a great golf shoe for you.
Best Budget Golf Shoe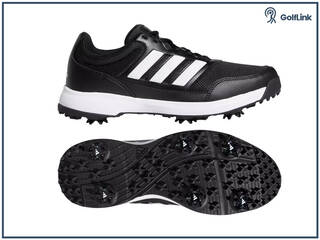 Our recommendation for a budget golf shoe is the Adidas Tech Response. For somewhere between $25-40, you can snatch this stylish and extremely functional golf shoe that will keep you comfortable, your feet dry, and your footing secure.
RELATED: Adidas Tech Response Golf Shoes: Know Before You Buy
The Tech Response offers men's and women's styles with a few different color options, and is a great choice for the budget-minded golfer looking for a golf shoe to get through the season.
Best Waterproof Golf Shoe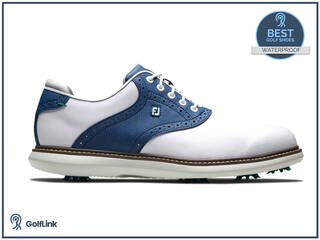 If you want to go all in on a golf shoe that will survive the summer months as well as the soggy shoulder season, a great waterproof golf shoe is perfect for you.
Our favorite waterproof golf shoes for men and women are the FootJoy Traditions. In addition to the Traditions, we hand-picked our favorite waterproof golf shoes for men and women for comfort, value, stability and more.
RELATED: The Best Waterproof Golf Shoes for Men and Women
Not only do the Traditions offer superior comfort in a 100% waterproof package, but they are among the best-looking golf shoes out there, if you like a traditional-looking (as the name suggests) shoe with modern technology.
RELATED: Tested & Reviewed: FootJoy Traditions
FootJoy is one of the most reputable golf shoe brands on the market, and is extremely popular among professional golfers and club golfers alike. 
In fact, FootJoy shoes are so good that despite his long-standing contract with notable shoe giant Nike, Tiger Woods has opted to wear FootJoy shoes in competition for much of 2022 and 2023.
Feet First
It's pretty clear, we don't recommend trying to play golf without golf shoes. Sure, you can do it, but why would you want to? Golf is hard, and it's supposed to be fun. Wearing the wrong shoes only makes it harder, and less fun.
Even a small investment into a budget-friendly golf shoe can ensure you're as prepared as possible when you step on that first tee.