18Birdies AI Coach: Improve Your Golf Swing Without Lessons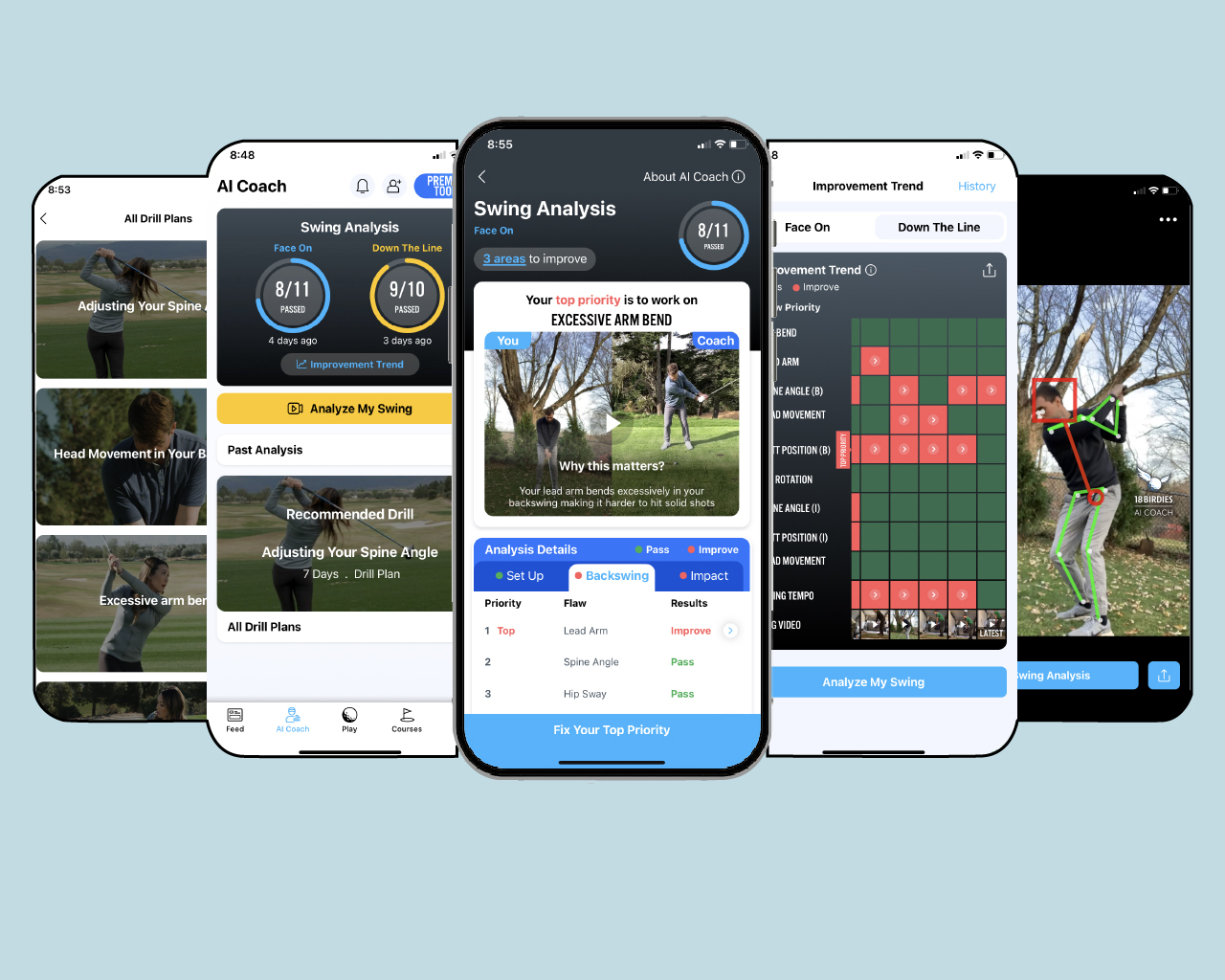 Golfers are always striving to get better, it's part of the game's addicting nature. If you want to improve your golf swing without taking lessons, you're not alone. That's exactly why 18Birdies created AI Coach.
AI Coach is a golf swing analyzer that's part of the premium offerings from the 18Birdies app. Just capture a video of your swing, from face-on or down-the-line angles, or both. AI Coach then analyzes your golf swing, identifies what's working and what needs improvement, and prescribes a series of drills that will lead to the greatest overall improvement.
When I first learned about AI Coach I was intrigued but skeptical. Like everybody else, I want to improve my golf swing when and where it's convenient for me, but I also had doubts about how easy it would be to use, or how accurate the feedback would be. So I set out to give AI Coach a try for myself to provide this complete review. Full disclosure, 18Birdies was kind enough to give me free access to the app's premium features so I could take this deep dive into AI Coach.

To give a little context, I began tracking my Strokes Gained statistics and handicap breakdown at the start of the golf season. I've learned that my 16.2 handicap is significantly hampered by my full swing, as my Driving handicap is 20.0 and my Approach handicap is even worse, at 23.6.
18Birdies reports that players who shoot 21-30 strokes over par and began using AI Coach improved by 1.5 strokes per round after just three rounds. This is appealing to me, because as far as my full swing goes, this is the group I fall into, and a stroke or two per round can be the difference between 91 and 89 (which is way more than two strokes), or the difference between a good round and a career round.
Players who averaged 31-40 strokes over par improved by 3.7 strokes, after three rounds, and players who averaged 41 or more strokes over par brought their scores down by 8.2 strokes per round after three rounds. That means for players trying to break 90 or 100, AI Coach can be the difference-maker.
Capturing Your Swing
I assumed that capturing my swing in a way that would allow AI Coach to do its thing would take some trial and error, so I ventured into the garage, balanced my phone on a few strategically stacked paint cans, hit record, and took a rip.
To my surprise, AI Coach automatically trimmed the video to just the swing and provided color-coded feedback on which elements of my swing were good and which were bad, all within seconds.
Improving Your Swing Without Lessons
Diagnosing swing flaws is only half the battle. From there, AI Coach identifies your top priority to work on and prescribes a series of drills that will address the flaw and engrain the correct feel.
"AI Coach looks at all the swing issues you have and determines of all the things you could fix, what is the issue that if you fixed it, it would fix the most other items in your swing," said Jacob Crisp, Head of Product + Growth for 18Birdies, who is a former golf instructor and helped develop AI Coach. "It's basically the most efficient way to improve your swing to help you improve faster with less effort. We found that AI Coach looking at someone's swing gives the more logical item to fix every time compared to a real human."
The prescribed drills include a "Get the Feel" drill which can be done from anywhere, and a "Make it Real" drill to take to the practice range.
It only took a few sessions with AI Coach for me to realize that I had some pretty consistent flaws. My spine angle, butt position, and tempo were all out of whack, which I never would have considered before. In addition to a series of drills, AI Coach compares your swing side-by-side with a coach to highlight how your flaw compares to what the proper technique looks like.
The instruction is simple. Instead of teaching complicated moves, AI Coach focuses on key feels and easy-to-digest fixes. Every flaw, coach comparison, and drill fed to me by AI Coach has been super easy to understand.
AI Coach identified "Butt Position" as my top priority, and after working on the prescribed drills for that flaw, I improved my butt position and also noticed an improvement in my tempo.
After taking a dozen swings that AI Coach determined passed 9-out-of-10 checkpoints, I absolutely felt more power and consistency than my swing that passed 7-of-10.
Sustained Improvement and Gamification
What I like about AI Coach is that if I don't swing a golf club for a week or a month, and completely undo the progress I've made, I'll get consistent feedback and drills to regain my progress from my next session.
On the other side of that coin, AI Coach is as good of a motivator as it is a teacher of the game. The color-coded improvement trend is constantly tempting me to turn those pesky red squares green and work towards building a swing that will truly make the app proud. It's the golf swing improvement version of Candy Crush.
What Could Be Improved?
AI Coach is limited to analyzing the full swing. A version of this that could provide tips and drills for the short game, or some insights on what your putter head does throughout the stroke would probably help a lot of golfers. My biggest gains are to be made with the full swing, so I'm content with that offering for now.
On a few occasions, AI Coach asked me to re-capture my swing. This was either because my makeshift paint can tripod wasn't quite positioned correctly, or due to my dark clothing. This was the element I thought would be the most troublesome from the beginning, but for the most part, it's seamless.
Who Should Consider AI Coach?
So, is AI Coach worth it? For a lot of golfers, yes. But maybe not everyone.
AI Coach is part of 18Birdies Premium Membership, which costs $99 a year and also includes Plays Like yardages (which also saves strokes), strokes gained stats, tee shot planner, and a bunch of other features that make the game easier and more fun.
Personally, I invest about $100-$150 a year into improving my golf swing, whether it's via books, video instruction, or live lessons. So for me, getting AI Coach with a bundle of other benefits for $99 is a steal.
If you're a low-handicapper with a consistent swing that already gets you where you need to be, AI Coach may not be the thing that takes you to the next level. But for the rest of us, I would highly recommend it.