Four-Ball in Golf: Rules & Strategies for Match and Stroke Play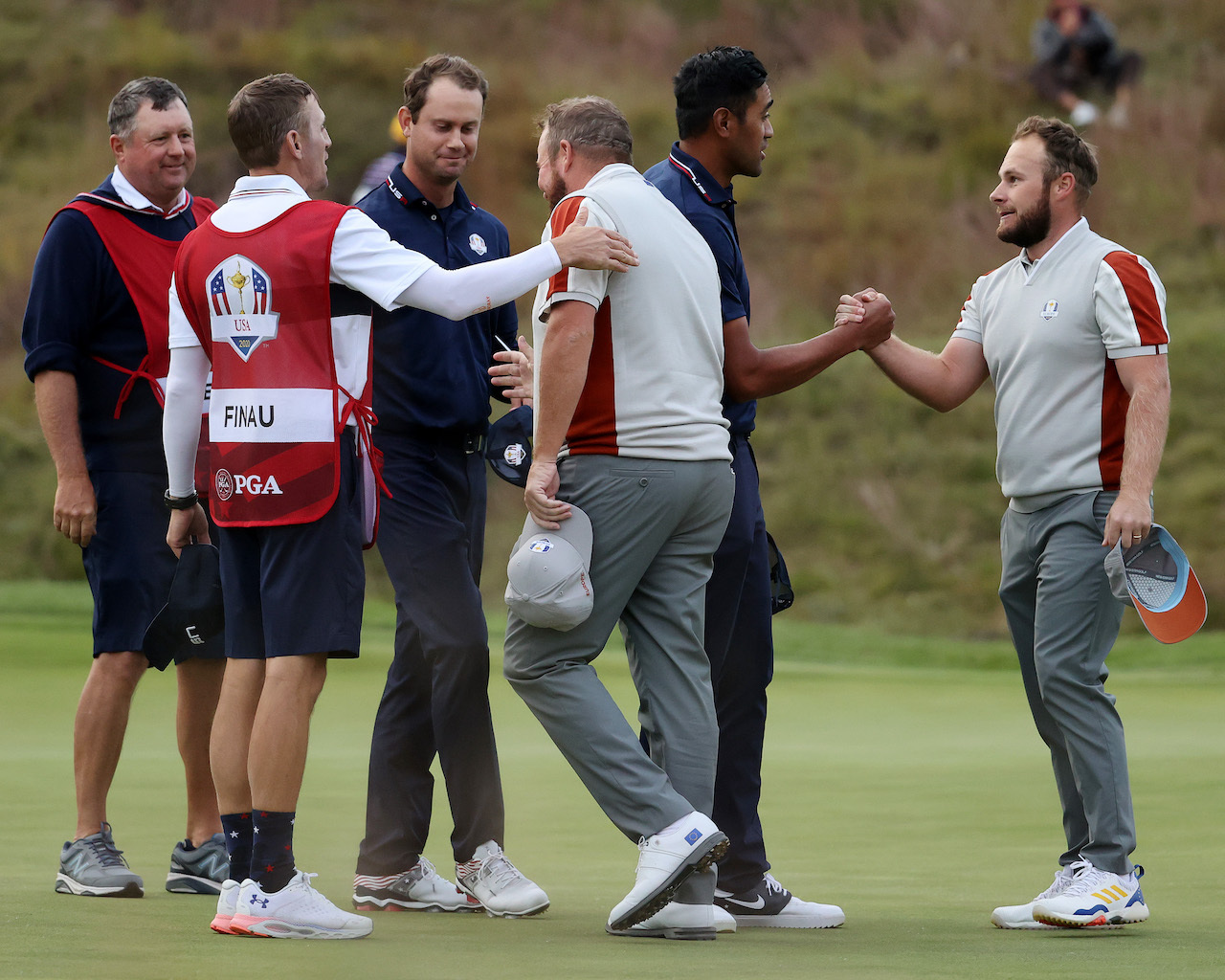 Four-Ball is a golf format played in teams of two and requires strategy in both match and stroke play. If you've ever wondered what the rules are in Four-Ball and the best way to approach a Four-Ball event, this is your guide to all things Four-Ball.
What is Four-Ball in Golf?
Four-Ball in golf is also known as best ball or better ball. The format is simple, two partners compete together, and each golfer plays their own ball throughout the entire round.
The team score on each hole is the lowest of the two players' scores on that hole. If only one golfer holes out on any given hole, that player's score becomes the team score and the other partner does not need to hole out or write down a score. Golfers can play Four-Ball in both stroke play and match play tournaments, the same way scores would be compared in individual tournaments.
Where is Four-Ball Played?
Four-Ball is one of the most popular formats of team play, and is utilized in the Ryder Cup, Solheim Cup, Presidents Cup, USGA and State Four-Ball Championships, and even the PGA Tour's Zurich Classic. The format is also popular at the club level and in other local golf tournaments.
Four-Ball, Scramble, Best Ball
Four-Ball is also sometimes called Best Ball, which can lead to confusion. That's because a completely different, but also popular golf format, the Scramble, involves playing each team's best ball after each stroke.
To eliminate confusion, it's best to avoid using "Best Ball" in reference to any golf format, and use Four-Ball or Scramble as appropriate. 
Four-Ball Stroke Play
When playing Four-Ball, the Rules of Golf apply in addition to the specifics for Four-Ball format. When competing in a Four-Ball format, here are some rules and guidelines when using stroke play.
Four-Ball Stroke Play Scoring
Scoring strokes in Four-Ball is the same as any stroke play event. Both members of the team hole their own ball and the lowest score between the two teammates is marked on the team scorecard. It's OK for one partner not to record a score in Four-Ball stroke play, the other partners score will simply become the team score. However, if neither partner records a score in a Four-Ball stroke play competition, the team will be disqualified.
Finally, the scorecard must clearly show which individual partner made each score in the team score, or else your team will be disqualified (Rule 23.2).
At the end of the round, each team will have an 18-hole score. Here's an example of how a Four-Ball stroke play scorecard would look through four holes, showing both players' individual scores, and the team score.
| | | | | |
| --- | --- | --- | --- | --- |
| Hole | 1 | 2 | 3 | 4 |
| Fred | 5 | -- | 5 | 3 |
| Brittany | 4 | 4 | -- | 4 |
| TEAM | 4 | 4 | 5 | 3 |
If you want to level the playing field by utilizing handicaps, adding net scoring in a Four-Ball tournament is simple. Simply find the course handicap of each player, and use the scorecard to determine on which holes each player receives handicap strokes.
When handicapping a Four-Ball competition within just one group, determine the lowest handicap player. That person will not get any strokes, and all other golfers get the difference of their course handicap and that player's. Here is an example:
Team 1: Brian is 5 handicap, Jeff is a 16 handicap.
Team 2: Fred is a 7 handicap, Larry is a 12 handicap.
Brian plays to a zero and gets zero strokes.
Jeff plays to an 11 and gets a stroke on the 11 lowest handicap holes.
Fred plays to a 2 and gets a stroke on the two lowest handicap holes.
Larry plays to a 7 and gets a stroke on the seven lowest handicap holes.
Four-Ball in Match Play
As mentioned above, you must follow the Rules of Golf when playing Four-Ball. This includes in match-play, which is a great addition to a Four-Ball competition.
Four-Ball Match Play Scoring
Match play assigns each hole a value of one, and instead of marking a stroke score for each hole, the team that wins the hole marks it as one. Here is an example of how a Four-Ball match play round is scored.
Team 1: Brittany and Jeff have a best score of 5.
Team 2: Fred and Larry have a best score of 4.
Fred and Larry win the hole and mark themselves as 1 up, as opposed to marking a 4 on the scorecard. In the event of a tie, neither team wins the hole. When one team is leading by more holes than remain, they win the match. For example, if Fred and Larry are up 5 holes on Brittany and Jeff, but there are only 4 holes left to play, Fred and Larry have won the match 5 & 4.
You can also adopt the handicap rules listed in stroke play as a way to further level the match play field.
For an easy example, if all four golfers make a 5 on the first hole, but Jeff was the only golfer getting a stroke on the hole, Jeff and Brittany would have a team score of a Net 4, win the first hole, and lead the match 1 up.
Four-Ball Strategies
Four-Ball competitions often come with a lot of strategy, especially in match play. Here are some strategies to consider that can help you win your next Four-Ball competition.
Pick the Right Partner
One of the biggest strategies to look at first is who you pick as your playing partner. A player who makes a lot of birdies but slips up with double-bogey or worse more often than they'd like can make a great Four-Ball partner. If you can manage par on the holes your partner squanders, you can take advantage of all those birdies without suffering from the blow-up holes.
Order on the Tee
Order on the tee is an important consideration to your Four-Ball strategy. Letting the higher-handicap or shorter-hitting golfer tee off first can help dictate how the more skilled player plays the hole.
If the higher-handicap player pipes a drive down the middle, that can free up the better player to go birdie-hunting and play the hole more aggressively. Or, if the first player hits their tee shot out of bounds, the better player knows the team is relying in their ball for that hole, and may elect to play for a safe and easy par.
If your team consists of a chill, steady golfer and a grip-it and rip-it player, let the aggressive player tee off first. This allows them to swing freely and if they miss, the conservative player can make sure to safely get them into the fairway.
Be Aggressive
Don't be afraid to take aggressive swings at risky targets. Between you and your partner, you have two shots at the flagstick. If you think taking an aggressive shot will pay off, go for it.
Conclusion
Four-Ball ball is one of the most common formats of golf on some of the biggest and smallest stages of the game. Knowing the rules and strategies will help you the next time you play Four-Ball.