How to Lag Putt With Confidence and Reduce 3-Putts
Lag putts might not be the sexiest shot it golf, but lag putting effectively is actually one of the quickest and most controllable ways to shoot lower scores. According to data from Arccos Golf, the average 20 handicap golfer 3-putts four times per 18 holes. Meanwhile, a 5 handicapper 3-putts only twice. Here's how you to perfect your lag putting with drills that will ensure you suffer fewer deflating 3-putts.
What is Lag Putting?
A lag putt is a putt that's hit with the intention of letting the ball die as close to the hole as possible, without the risk of leaving an uncomfortably long come-backer. The goal of a lag putt is to leave yourself a tap-in, rather than a stressful knee-knocker that is more likely to result in a 3-putt. If your lag putt happens to drop, that's great too.
A golfer who lags with purpose into a "safety zone" knows their percentage of making the next putt is very high. Professional golfers are nearly perfect at lag putting, which is why they rarely 3-putt. Recreation golfers, however, don't have as good of control over their speed and tend to struggle with lag putting. With a little practice, you can really sharpen your lag putting skills and leave yourself more stress-free tap-ins.
Why and When to Lag Putt
Lag putting is a skill used on longer putts (think 30 feet or more). There are several scenarios in a round of golf that call for a lag putt. You could find yourself on a large green with a lot of real estate between you and the hole. Or maybe you hit a below average approach shot that barely caught the edge of the green, but is nowhere near the hole. Greens with challenging complexes that are tricky to navigate may also require you to be a little more respectful on those first putts with a lag rather than an aggressive attempt to ram home your first putt. 
Let's take a deeper look at these scenarios.
Large Greens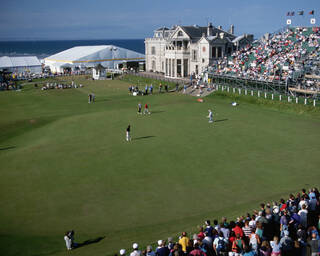 Golf courses build greens based on the amount of land available. Whether private or public, courses that aren't built within housing developments or in busy city areas usually have larger green complexes. It's common for golf courses to have greens between 20-30 yards wide, and 20-30 yards deep.
Even with middle hole locations, you can find plenty of long putts on greens that large. When pins start migrating closer to the corners, those putts get even longer. There's not much point in trying to make a putt from 60 feet, as you've got a much higher chance of 3-putting from that distance than 1-putting. Instead, see if you can get that first putt within two feet. That two-foot diameter target is much easier to hit than the 4.25-inch hole, and will almost guarantee an easy 2-putt.
Iron Misses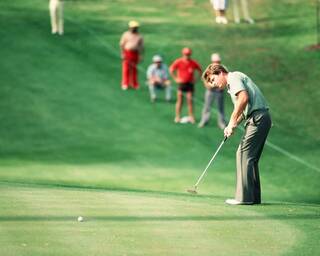 Inevitably, there's always a part of our game that's not as sharp as the others. You can have your driver on cruise control but if your approach shots with irons aren't running the same speed, you're going to face some longer putts during your round.
If you're fortunate enough for your mis-hits to still find the green, you're likley going to face a long putt. Even if you're tempted to "never leave a birdie putt short" you don't want to ruin the hole by blowing it eight feet past and missing the come-backer for par. Even PGA Tour players 3-putt from outside 25 feet more than 9% of the time, which should tell you that a 2-putt from that distance for your game is more than satisfactory. Having a good lag putt at your disposal can make up for these mediocre iron shots.
Tough Green Complexes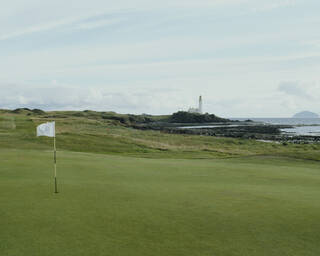 Many golf course architects combat the advances in distance, forgivenes and overall golf club and ball technology with tricky greens. Multi-tiers, subtle breaks and turtle backs a just a few of the ingredients baked into the recipe to help keep the game tough for all players.
If you're playing a course with difficult green complexes that include severe breaks and undulation, lag putting can save you from those big numbers in the "total putts" column at the end of your round.
Short Game Woes
Touch shots around the green can be a big hurdle for some players to get over. This part of your game requires a lot of practice time. If you don't have the time to practice, you may find yourself with long putts because of your inability to chip, flop, or run it closer to the hole.
Until you learn to chip and pitch it to 1-putt territory consistently, make sure you can at least salvage a 2-putt with a cozy lag putt.
Pros and Cons of Lag Putting
There are pros and cons to many aspects of golf, and lag putting is no different.
Pros to Lag Putting
Good lag putts eliminate 3-putts and allow you to make pars instead of bogies
Having a good eye for long putts can help you with mid-range and short putts
Lag putting with success gives you more confidence in your putting game
In match play, a good lag putter in never out of a hole
 
Cons
Various green speeds can lead to varying results
The more green you have to cover, the more room you have for error
On windy days, lag putting can be affected by elements more than mid-range or short putts
Risk of becoming too comfortable with 2-putting as mid-range and shorter putts call for a different approach
How to Lag Putt With Success
Lag putting is all about speed and distance control, and less about break. If you hit the putt with the ideal speed and have a general idea of the line, you're going to end up in that easy tap-in range. That's why the drills we suggest focus on improving your feel for speed on various lenghts of long putts.
Here are some helpful tips and drills that will help you get closer to the hole on your first swipe. The key with all of these suggestions is finding a practice green, perhaps at your local course, where you can work on long putts.
Drill 1: Attack From all Angles
Pick a hole location and measure off a 30-foot putt, or about 10 paces. Practice putting from that spot until you get five in a row to within three feet of the cup. Keep that three foot measurement in mind, it should be your magic number for an easy make distance on your second putt.
Once you've completed five in a row, rotate clockwise around the hole, maintaing that 30-foot distance. As you continue to move around the hole you will roll putts with multiple breaks and speeds.
Depending on how much practice time you have to dedicate to your lag putting, putt from anywhere from 4-12 locations around the hole.You can practice this drill from any distance you'd like. Once you've mastered 30-foot putts, go to 40 or 50 feet. Or, if you struggle to make those 3-footers, putt to within 2-feet instead.
 
The Hula Hoop Visual
For those of you who like to practice visualization, this age-old drill is for you. Picture a hula hoop around the hole and putt your ball to settle within the hula hoop's circumference to give you a short second putt. This drill will sharpen your focus and your distance control.
It's Polite to Stare
Stand behind your ball and stare at the hole, not your golf ball. Make your practice strokes from this spot rather than while lined up to your ball. This method trains your eye and brain to make the connection of the proper distance you'll need to roll the ball, and will help your overall distance control as the feel of each distance becomes natural.
Self Competition
Make your practice session competitive. You set the stakes, but make a deal with yourself. For example, if you hit 10 out of 12 putts to your target distance, you get to have your favorite beverage when you get home. 
If you have a golf boddy to practice with, compete with them. Play a match with putts from outside of 30 feet. This will force you to knock those long putts close, and train you to finish the job on those short putts under pressure.
Hit the Basics
This video will help you with the fundamentals of reading greens that you should be looking at on all putts, fundamentals that are also very useful on lag putts.
Follow the contours of the green to determine what break is in front of you
Read the green from the side, in addition to in front and behind the hole to help you see potential contours you can't see from other angles
Read the grain of the grass, as lag putting into the grain means the putt will be slower, while putting with the grain, the putt will move a bit faster
Additional Tools
In addition to your hard work practicing lag putts, there is some technology on the market that can help you read greens more effectively.
Stracka Line produces the most in-depth, USGA conforming green books. Whether you choose to purchase the physical book for your favorite course or use their app, Stracka Line is a great asset to putting.
Voice Caddie gives players the convenience of full-green views on their wrist with its T9 Golf GPS Watch. In addition to green views, the T9 also gives full-course GPS views, tracks a multitude of stats, and has an automatic slope calculation built-in so you always have the most accurate reading.
Conclusion
Lag putting is a skill that only gets better with practice. You can't expect to two-putt from 50 feet without getting in some practice reps. The above drills and tips will help you shoot lower scores by getting your first putts closer to the hole, and reducing unnessecary 3-putts.. Here's to hoping you drain a few bombs along the way.