The Cheapest Ways to Practice Golf: 9 Money-Saving Tips
Updated January 13, 2023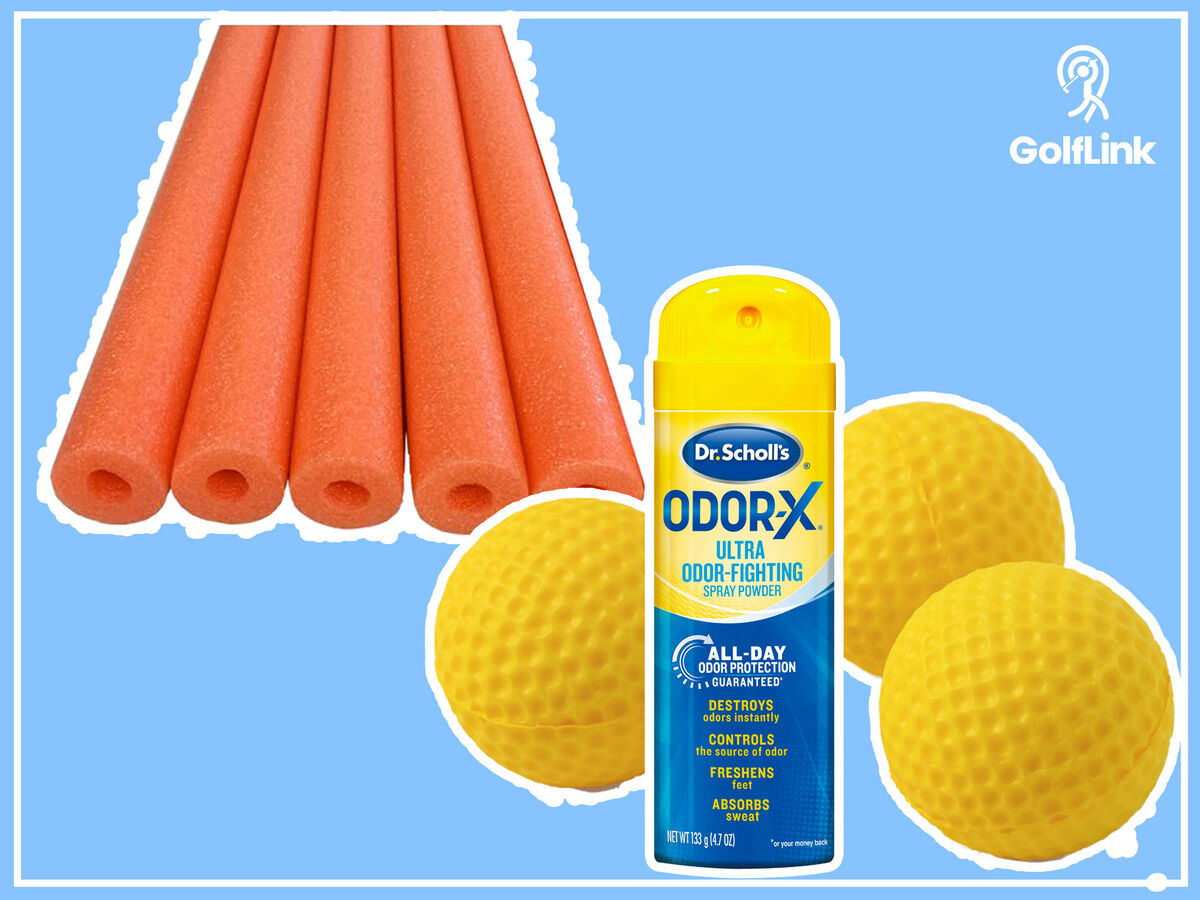 GolfLink is a participant in affiliate partnerships, and may receive a share of sales from links on this page. These partnerships do not influence our editorial content.
If you're looking to play a cheap sport, golf probably isn't at the top of your list. Golf can be frustratingly expensive, so here are nine hacks to practice and play golf on the cheap and save some dough.
Golf newcomers might have the misconception that they have to practice their golf swing at a golf facility. Not true. You just need an appropriate amount of open space to accommodate your practice. If you live in a rural area, you can take full shots as long as you don't pose a risk to bystanders.
If you live in a city or suburban area, find a small area where you can practice chipping with golf balls, or work on your full swing without balls.
The key when practicing in an open space is to always have a target. A common item like a basket or an umbrella is always a helpful target when working on distance and accuracy.
Find a local public golf course that has a good, and most importantly, free practice facility. Golf courses usually don't charge to use their practice greens, chipping areas, and bunkers. This is a great way to spend unlimited time honing your short-game skills. All it costs is your time and a sleeve of golf balls that you already own.
Bonus tip: Golfers are notorious for leaving range balls behind before they head to the first tee. If you don't want to pay to use the driving range, hang around and you'll likely snag some free range balls to get some full-swing work in.
If you feel like your best way to practice is at the driving range, we recommend heading to a non-golf course driving range. Perhaps there's a local "mom and pop" facility near you.
These driving ranges are more likely to offer a punch card or loyalty program where you can earn free golf balls the more you go. Rarely do public golf courses offer a loyalty program for using their facilities, and they're likely more expensive per bucket as well. An off-course driving range is your best bet for affordable full-swing practice.
There are plenty of free golf apps available that not only give great tips, but also allow you to record video of your swing and analyze it. Most of these apps have upgraded versions for a small fee, but as far as freebies go, we recommend checking out these to help your practice with a purpose:
If you've identified a key flaw you want to address in your golf swing, there are plenty of resources offering free tips and help with your golf swing.
In lieu of spending money on golf lessons, this can be a great route to better understanding the golf swing and common faults.
While YouTube has endless golf instruction videos, we can't help but recommend our video library for some free lessons from top professionals in every area of your game.
Two of the most useful training aids can be found right in your own home: A towel and a pool noodle.
If you don't own a pool noodle, head to your local dollar store where you can pick one up for, you guessed it, a single dollar (plus tax).
Use an alignment stick to stick the pool noodle in the ground and work on the drill in the video above to train the perfect swing path into impact.
We're guessing you already own a towel. You can tuck it under your arm to eliminate the common "chicken wing" fault. More advanced players can use a towel to help them feel proper lag in their downswing.
RELATED: The Best Golf Towels of 2023
For as little as five bucks you can pick up a can of foot spray. Go generic, you don't need a name brand.
Just a small spray on the face of your club will give you instant feedback on where you're making contact (center, heel, toe, etc.). This easy solution can add quality to your practice time. It's also a cheaper option than purchasing contact stickers which accomplish the exact same thing.
Whiffle or Foam Golf Balls
If you'd like to safely practice full-swing mechanics at home, we recommend doing so with whiffle or foam practice balls. You can typically find these for $10 or less and they're a great way to get feedback on your contact with limited flight after you connect.
You can also keep a few foam balls in your living room, and practice chipping into your couch. Do this for a 15-30 minutes every night, or at least a few nights a week, and you'll take some serious short game consistency and feel to the golf course in no time.
Twilight and Weekday Golf
Once you get past the early stages of learning the golf swing, you'll likely find that the best practice takes place on an actual golf course, where you learn to use every club in your bag situationally.
The hard part is that tee times are expensive, but not if you can play on weekdays or during twilight hours. Rates during those times are usually around half-off (or more) from the peak weekend times. Since there truly is no substitute for learning on the golf course, a reduced rate tee time is a cheaper way to tee it up on a budget.