The Best Golf Training Aids (No Matter the Club) and Keys to Picking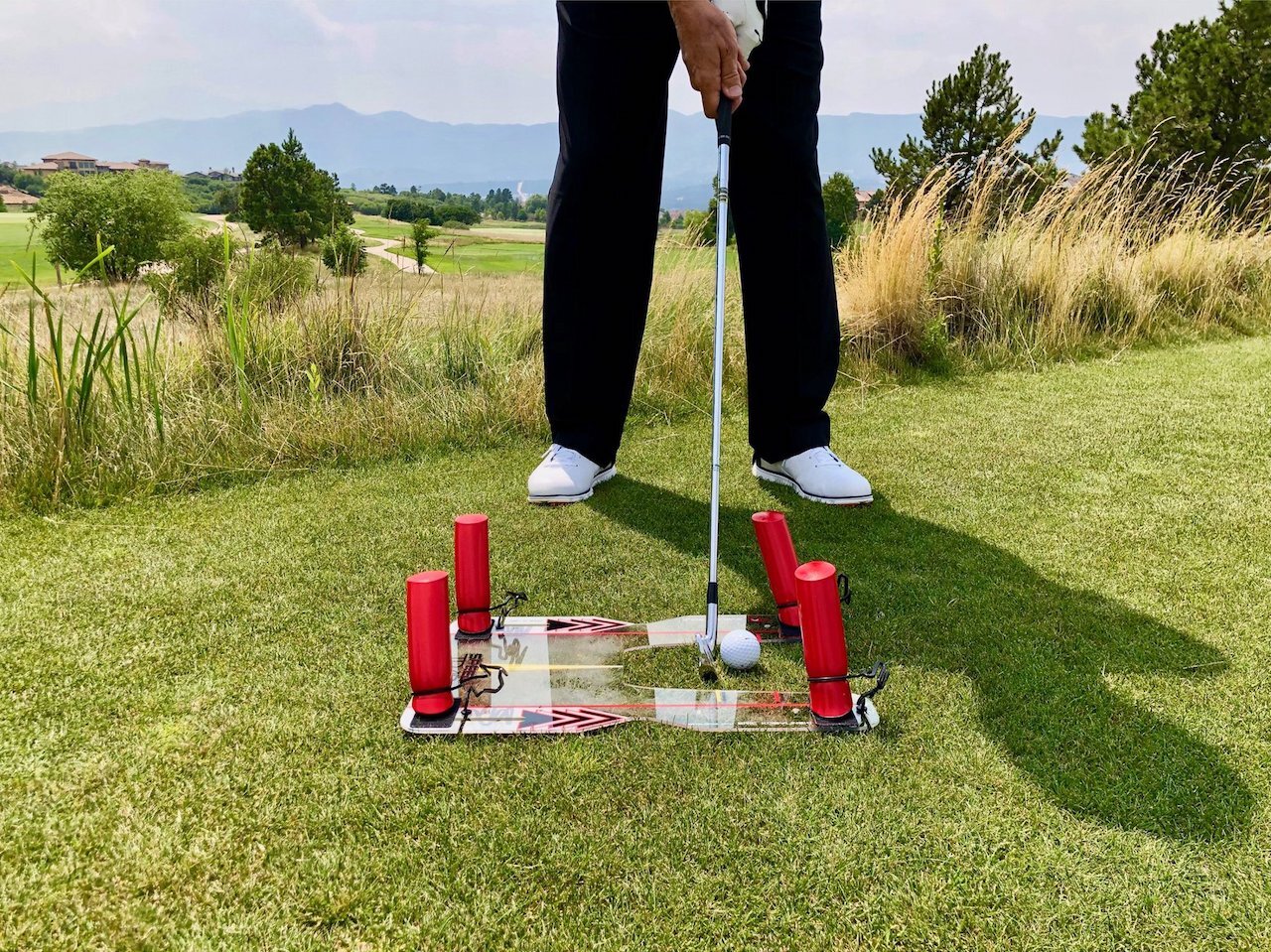 Using the right golf training aid or swing trainer can lead to significant improvement in your golf game. But if you're not sure how to find the best training aid for your game, you could waste some serious time and money practicing with an expensive gimmick that won't help you lower your scores.
We'll help you figure out how to diagnose your swing faults and misses, pinpoint what element of your swing could use some guidance, and show you the best training aid or swing trainer to get you back on track.
GolfLink participates in affiliate programs, and may receive a share of sales from links on this page.
How To Pick a Golf Training Aid
If you have a perfect and repeatable golf swing, congratulations and best of luck on the PGA or LPGA Tour. For everyone else, there is at least one common miss that rears its ugly head more often than you'd like. Whether it's a slice or hook, a tendency to hit the ball fat, missing putts offline, or skulling chip shots, most golfers have their demons.
The good news is no matter what your miss is, there's a swing trainer aimed towards helping you fix it. The not-so-good news is, for every useful training aid, there are several more that can't back up their promises for a better golf game.
We're here to help you identify the best training aid for your game, and sort out the gimmicks from the game-changers.
Identify Your Biggest Need
There may be one miss that has plagued your golf game for as long as you can remember, or there could be several flaws that seem to creep in at exactly the worst time. Whatever the case is for you, your first step is to identify the one thing that is costing you the most strokes on the golf course. Even if there are several flaws you want to fix right away, it's best to simply focus on one at a time.
If you know off the top of your head exactly what it is you need to improve, that's great. If you're not sure what area could lead to the biggest gains, estimate how many shots you're giving away for each flaw or miss over your next round or two. Or, if you use a game-tracking tool like Arccos, you'll know exactly how many strokes you're giving away in every area of the game.
Best Golf Swing Trainers to Fix a Slice
If it wasn't for the slice, most golf instructors would be out of a job. It's the oldest miss in the game, but one that plagues an astronomical number of golfers, from beginners to seasoned players. Eliminating your slice is a huge step to shooting lower scores, and there are some great swing trainers to help you do just that.

EyeLine Golf Speed Trap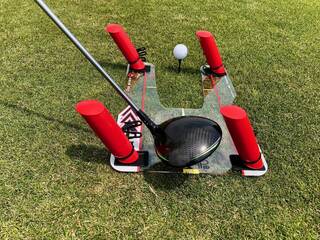 One of the primary causes of a slice is an outside-in club path. Slicers tend to bring the club from outside the target line, putting that nasty slice spin on the ball. The Speed Trap from EyeLine Golf forces you to deliver the club from inside the all-important target line or you'll be smashing the Speed Rods instead of the ball. Once you master this move, you might even start to see a little draw.
Many golfers will take advantage of the Speed Trap to eliminate their slice, but the swing trainer can actually help a variety of misses. Given its adjustability, the Speed Trap is equally effective at combating a hook as it is a slice. It also forces ball-first contact, helping eliminate another common and infuriating miss, fat shots.
Another added bonus of the Speed Trap is the fact that the feedback comes from the Speed Rods and the board, not the ball, meaning it can be used without a ball in places you can't hit a golf ball, like the backyard in a neighborhood or even indoors, if ceiling height permits.
The Speed Trap is available on Amazon for around $70-$100 and has a 4.2 out of 5-star rating with 54 percent of reviewers giving it five stars. Most users agree the Speed Trap backs up its claims, and makes a noticeable difference in swing path, which leads to straighter, longer shots.
Of course not all the feedback was positive. Of the five percent of reviews who gave the Speed Trap a 1-star rating, most of the complaints about the Speed Trap mention that when using the aid on the driving range, the feedback is very loud and distracting, and the Speed Rods fly down the range where they are difficult to retrieve.

The Hanger
While the Speed Trap will help you correct your slice-causing swing path, there's another crucial flaw that causes a slice, an open clubface. Many players need to reboot both their face and path to turn their slice into a beautiful baby draw, and the Hanger is designed to focus specifically on training the ideal club face angle.
The Hanger attaches to your irons and provides visible and tactile feedback on your club face and path. In addition to ingraining the proper club face angle, the Hanger is designed to train you to keep the club head outside of your hands during the swing. It promotes proper wrist position at the top of the backswing, which is essential for delivering a square clubface at impact.
With nearly 250 ratings on Amazon, the Hanger has a 4.1 out of 5-star rating. Most reviewers, 56 percent, gave it five stars, but the 12 percent who rated it one or two stars cited the breakable plastic material as a cause for concern.

Best Short Game and Putting Training Aids
If your short game or putting are holding you back from reaching your true golf potential, you should be ecstatic about the fact that dedicated practice to these areas of the game can result in the most immediate reward with lower scores. It's also easier to practice short shots than the full swing because more often than not you can do so in the comfort of your own home, day or night.
Indoor/Outdoor Chipping Practice
Improving your short game is all about repetition. Study proper short game technique then get busy perfecting it with the IZZO Golf Short Game Practice Set. The set includes a triple-chip net with three different targets, three indoor/outdoor foam balls, and a hitting mat. All you'll need is your favorite greenside wedge and you can spend hours perfecting your short game from your living room or backyard.
With a couple dozen reviews, this IZZO practice set has a 4.4 out of 5-star rating.

Putt Out Pressure Putt Trainer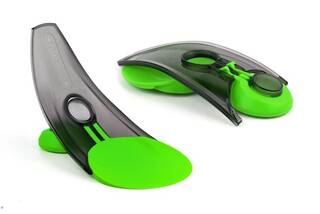 The Putt Out Pressure Putt Trainer may be the closest thing to practicing live putting that you can get away from the course. The training aid is designed to replicate results of a real putt. The cup will reject missed putts and return made putts back to you. The slope of the trainer is designed to return the ball the distance it would have gone past the hole, an important metric for honing in the perfect speed.
The Putt Out also features an optional "Perfect Putt" target. Open the target, and a center-cut, perfectly paced putt will come to rest in the target.
At less than $30, the Putt Out Pressure Putt Trainer is the #1 Best Seller on Amazon for Golf Training Putters. It has more than 5,000 reviews with a 4.6 out of 5-star rating. Only three percent of those reviewers gave it less than three stars.
Putter Wheel
Great golf training aids give instant feedback, and that's exactly what the Putter Wheel does for your putting stroke. The Putter Wheel is a wheel-shaped golf ball designed to improve your putting. If you strike it perfectly, it will roll smoothly down your line. However, hit it off the toe, heel, or with an open or closed putter face, and it will wobble and topple over. If you can roll the Putter Wheel pure, you know you're hitting putts off the center of a square face.
In addition to the feedback you get after striking the Putter Wheel, the training aid also gives some pre-shot feedback. The edges of the ball are beveled and feature a red stripe. If you are set up properly over the ball, you won't be able to see any red. However, if your head is too far inside or outside of the ball, you'll see the red stripe and can adjust before even making your stroke.
The Putter Wheel has a 4.4 out of 5-star rating on Amazon with 91 percent of reviewers giving it either four (31 percent) or five stars (60 percent).

Best Full Swing Training Aids
Learning how to consistently hit the ball straight and to predictable yardages, while keeping it in play off the tee and hitting more greens in regulation is one of the most daunting, yet rewarding skills in golf. Every golfer strives for more distance, accuracy, and consistency, and these swing trainers can help you achieve all three.
SKLZ Golf Alignment Sticks
There's no excuse to not use alignment sticks to help practice your full swing. Not every training aid needs to be a complex gadget that comes with an instruction manual. Every golfer knows that alignment and aim are imperative to a successful golf swing, so why not use alignment sticks to ensure that perfect alignment becomes second nature?
The SKLZ three-pack of alignment sticks is just $25 on Amazon. Use them to help perfect your alignment, and stick one in the ground to assist a perfect path. These are a must-have for any golfer serious about improving their game.

Orange Whip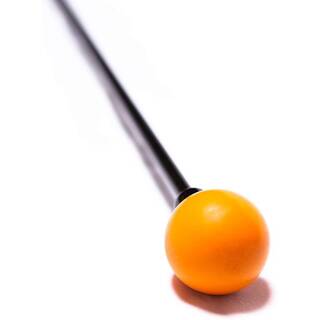 When it comes to the full swing, sequence, balance and tempo are the main ingredients. That's exactly what the Orange Whip aims to improve. If you haven't seen one before, the Orange Whip is a long shaft with a weighted orange ball on the end. The shaft is extremely flexible, even whip-like, one might say.
The combination of the weighted head and whip-like shaft force the golfer to execute great balance and tempo to swing the Orange Whip fluidly. This is the motion the device aims to build in your golf swing.
With 5-10 minutes per day of work, the Orange Whip will promote improved flexibility and strength, leading to more distance, and coordination, helping accuracy and consistency. Swinging the Orange Whip is intended to work all the golfing muscles in your body, and you may feel like you've just left the gym after your first few sessions.
The Orange Whip is just over $100 on Amazon, and has one of the highest ratings of any golf product. With over 1,500 reviews, the Orange Whip has a 4.7 out of 5-star rating, and 96 percent of reviewers gave it four (14 percent) or five (82 percent) stars.

Final Thoughts
No matter what aspect of your game you need to focus on, there's a training aid geared towards helping you improve. To really reap the benefits of your work, commit to diligently practicing and building your skills until they're second-nature. This will help keep that dreaded miss from creeping back into your game as soon as you put the training aid in the garage.