How Hard is Torrey Pines South Course? The Data-Driven Answers That Could Help Your Game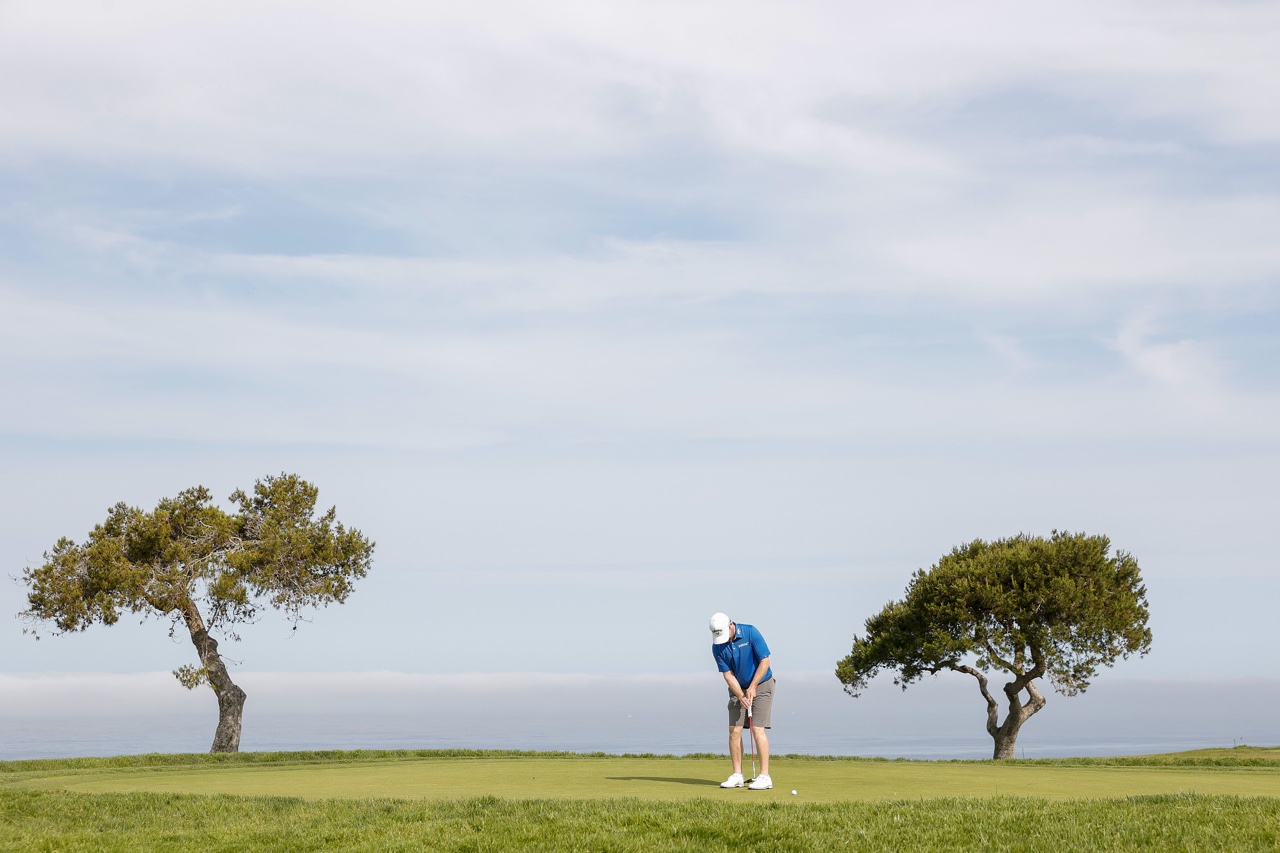 Not many sports allow the average Joe to compete in the same arena as the world's best, but golf is a delightful exception. Pebble Beach, Bethpage Black and Chambers Bay are some that float to the top of most bucket-lists. Torrey Pines South Course, which hosted its second U.S. Open in 2021 and is an annual PGA Tour stop, is on that list as well.
Torrey Pines South Course
Before we dig into the performance data, it's important to understand a few things about Torrey Pines and the South Course. The course itself is a beast, playing 7,652 yards for the 2021 U.S. Open, with a slope and rating of 79.0 and 151 for the tournament, meaning a scratch golfer could expect to break 80 about 25% of the time in the U.S. Open setup. Torrey Pines South Course includes a 223-yard par 3, 515-yard par 4, 612-yard par 5, and played to a par of 71. Of course, Torrey Pines isn't always ready to host a U.S. Open. On a typical day, the course plays to a par of 72 with a rating of 78.8 and slope of 148, and plays 7,804 yards from the tips.
The course hosted one of the most thrilling U.S. Opens in history, when Tiger Woods out-dueled Rocco Mediate over 91 holes in 2008, winning his 14th career major on a broken leg. If you don't remember Woods' birdie on the 72nd hole to force the 18-hole playoff, which itself needed a sudden-death hole to determine a winner, take a 71-second pause to refresh your memory.
As a municipal golf course, San Diego residents can tee it up at Torrey Pines for as little as $38 for a weekday twilight round. On the other end of the spectrum, non-residents who want to play on the weekend during peak times can expect to pay $160. A reasonable ask for players searching for a bucket-list experience.
Recreational Golfers at Torrey Pines South
Arccos compiled data from 2,097 user rounds at Torrey Pines South Course and compared their performance to that of a scratch golfer. The average handicap of players who made up the over 2,000 rounds is 9.54. Players shot an average of 88.35 and lost 13.1 strokes to a scratch golfer. The key takeaway? The South Course's length is the biggest obstacle to overcome.
Strokes Gained: Approach (-4.36)
On a long course, ball-striking is paramount. Approach shots from 150-200 yards, which golfers will face plenty of on a course the length of Torrey Pines if they're playing the appropriate tees, were also a major separator between the recreational player and the scratch golfer. The scratch player gained 1.51 strokes per round on those shots alone. Overall, approach shots account for the largest discrepancy between the two groups of golfers, with recreational players losing 4.36 strokes per round in strokes gained approach to the scratch golfer.
Strokes Gained: Short Game (-3.12)
The next biggest difference between the two groups of golfers is in the short game. Players in the Arccos data lost 3.12 strokes to scratch golfers in the short game. The largest portion of that discrepancy can be attributed to short game shots from the rough between 25-50 yards, where the scratch golfer gained 1.12 strokes per round over the recreational players.
Strokes Gained: Driving (-2.98)
On holes 400-450 yards, recreational players lost almost a stroke, 0.99 to be exact, driving. When strokes gained driving is broken down to hole shape, that number balloons to 2.52 on straight holes. It's not just stray drives that hurt the average player, as Torrey Pines' length factors in as well. Players lost 1.4 strokes in driving distance and 1.2 strokes in driving accuracy compared to a scratch golfer. The lesson? Better players hit the ball straighter and farther, which leads to lower scores.
Strokes Gained: Putting (-2.65)
Recreational players lost 2.65 strokes to the scratch golfer on the putting greens, the area where they performed closest to their scratch golfer counterparts. More than half of that discrepancy came on putts inside 10 feet, where scratch players gained 1.41 strokes per round. The advantage diminishes as the distance increases, until recreational players actually flipped the script and out-performed scratch golfers on putts from outside of 50 feet, gaining 0.26 strokes per round, proof that nobody is immune to three-putting from long range on championship-caliber greens.
The Toughest Holes on Torrey Pines South Course
The beastly 612-yard par-5 13th hole at Torrey Pines South Course proved to be the toughest for the average player, where scratch golfers gained 0.90 strokes per round. Things don't get much easier from there, as the very next hole, the 434-yard par 4 14th, is the third-hardest for the average Joe, where they lost 0.83 strokes to scratch golfers. The opening hole, a 446-yard par 4, is the second toughest as scratch golfers gained 0.87 strokes per round.
The par-3 16th hole, which plays as long as 223 yards, proved to be the easiest for the average golfer compared to scratch players, where the advantage for the more skilled players shrunk to 0.59 strokes per round.
Breaking Down the Data
The data illustrates that difficult shots, like bunker shots from 25-50 yards (-0.46), putts from 50+ feet (0.26), and approach shots from 200+ yards (-0.72) aren't quite so penal for the lesser-skilled players when it comes to strokes gained. Meanwhile, straightforward shots like approach shots from the fairway (-1.56), tee shots on straight holes (-2.52), and mid-range short-game shots (-1.12) are where better players really separate themselves from the average golfer.
Image: Ezra Shaw/Getty Images Sport via Getty Images