Guide to Royal St. George's Golf Club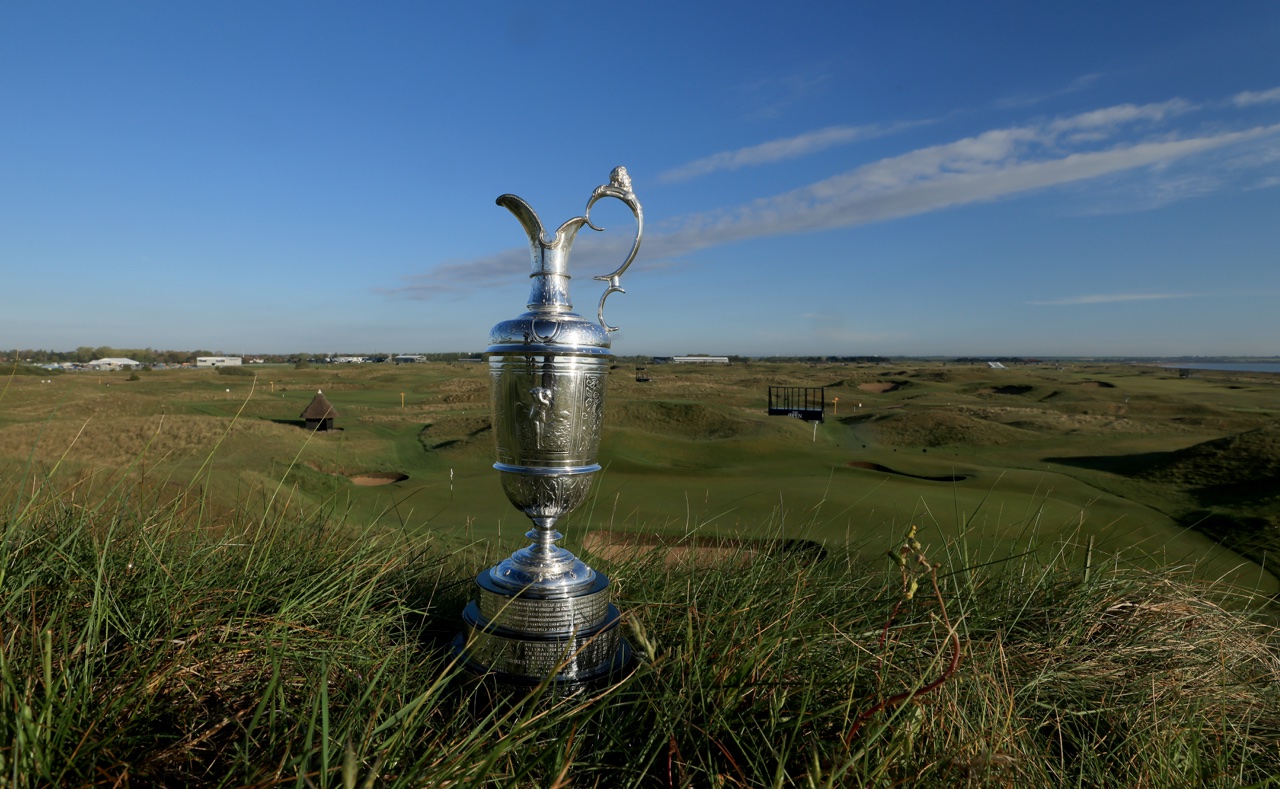 The 149th Open Championship returns to Royal St. George's for the first time since 2011 July 15-18. While the Open Championship's deepest roots are in Scotland, no course in England has more Open Championship history than Royal St. George's. Located in Sandwich, Kent, England, the 2021 Open will be the 15th contested at Royal St. Georges.
After the 2020 Open was canceled and 24 months since Northern Ireland's Shane Lowry earned the "Champion Golfer of the Year" title, the long wait is finally over and a new champion will emerge.
While many golf fans in North America refer to the Open Championship, or "the Open" for short, as the British Open, Rory MclIroy or any other international golfer would be quick to correct your mistake. With golf's fourth and final major of the season fast approaching, here is all you need to know about the upcoming Open.
The History of Royal St. George's
Royal St. George's was founded in 1887 by Dr. Laidlaw Purves, a Scot living in London, who wanted to create an English golf course to rival those in Scotland, particularly St. Andrews. Five years later, Royal St. George's hosted the Amateur Championship. As the R&A began looking to expand the Open outside of Scotland, Royal St. George's staged its first Open Championship in 1894, marking the first time the Open left Scotland.
Old Tom Morris intended to attend that 1894 Open as a spectator, but ended up playing instead. However, he withdrew prior to the final round after shooting 100 in the third round. J.H. Taylor was the first man to win an Open Championship outside Scotland and the first at Royal St. George's. He was 23 at the time and was the first English professional to win the Open.
Royal St. George's has also hosted five British PGA Championships, two Walker Cups, the 1988 Curtis Cup, and at least 13 British Amateaur Championships.
Course Layout
Royal St. George's Golf Club hasn't changed much in its 129 years, and it provides a stiff but fair test to golfers. The par 70, 7,204-yard course features a non-traditional out-and-back layout. There are six par 4s, two par 3s and one par 5 on each side. Instead of playing at its maximum length, the R&A decided to shave 22 yards so it'll play shorter than it did in 2011 when Darren Clarke won.
Despite being shortened, don't expect Royal St. George's to be overpowered. The weather is always unpredictable, and as one of the toughest courses in the Open rota, overly-aggressive players can get punished in a hurry. No two successive holes play in the same direction, which will make the ability to play shots in all wind conditions necessary.
Royal St. George's Birdie Holes
Just how difficult is Royal St. George's? Consider that during the 2011 Open Championship, only the par 5 seventh hole played under par, with a scoring average of 4.56 for the tournament. The 573-yard hole yielded 19 eagles and 202 birdies over four rounds, easily outnumbering the 192 pars.
The 379-yard par 4 12th hole was the second-easiest in 2011 in terms of scoring average, playing even-par for the tournament with 79 birdies.
The 545-yard par 5 14th hole proved to be a better scoring opportunity than the 12th, giving up 105 birdies and an eagle in 2011. But players must be careful on the 14th, as large numbers also loom. The 19 double-bogies or worse on the 14th were the third most of any hole on the course.
The Toughest Holes at Royal St. George's
The three toughest holes on Royal St. George's during the 2011 Open were the fourth, eighth and the 18th, all par 4s. The 496-yard fourth hole played closer to a par 5 than a par 4, with a scoring average of 4.52 for the tournament. The hole gave up just 16 birdies throughout the entire tournament, while forcing 177 bogeys and 26 doubles or worse.
The eighth hole played to an average of 4.37 in 2011 and the closing hole, the 456-yard par 4 18th, attracted the second-most bogeys of any hole on the course with 151, playing to an average of 4.32. That could mean trouble for anybody trying to protect a slim lead down the stretch.
Open Championship History at Royal St. George's
The first 14 editions of the Open Championship contested at Royal St. George's have delivered some iconic moments, with the list of winners including Harry Vardon, Walter Hagan, Sandy Lyle and Greg Norman.
We've seen fans return to PGA Tour events and major championships in 2021. The 2021 Open Championship plans on allowing up to 32,000 spectators per day to take in the action live, around 80% of the maximum 40,000 capacity the R&A would plan for at Royal St. George's.
| | | | |
| --- | --- | --- | --- |
| Year | Edition | Champion | Notes |
| 2011 | 140th | Darren Clarke | Clarke defeated Phil Mickelson and Dustin Johnson by three strokes to win. |
| 2003 | 132nd | Ben Curtis | Curtis beat Vijay Singh and Thomas Bjorn by one stroke and Tiger Woods and Davis Love III by two. |
| 1993 | 122nd | Greg Norman | This victory was Norman's second Open Championship. He won by 2 strokes over defending champion Sir Nick Faldo with a final round 64. |
| 1985 | 114th | Sandy Lyle | Lyle defeated Payne Stewart by one stroke and posted the first over-par winning score since 1968. |
| 1981 | 110th | Bill Rogers | In Royal St. George's first Open in 32 years Rogers defeated Bernhard Langer by four strokes. |
| 1949 | 78th | Bobby Locke | Locke was the first South African to win The Open as he beat Harry Bradshaw in a 36-hole playoff by 12 strokes after they tied at a total of 283. It was the first of four titles for Locke. |
| 1938 | 73rd | Reg Whitcombe | Whitcombe won by two strokes over Jimmy Adams and three strokes over reigning champion Henry Cotton. |
| 1934 | 69th | Hendry Cotton | Cotton ended a decade of American domination with a five stroke victory over Sid Brews. Cotton led after every round and was the fourth at the time to do so. |
| 1928 | 63rd | Walter Hagen | Hagen earned his second straight Claret Jug at Royal St. George's, and beat out Gene Sarazen by two strokes. |
| 1922 | 57th | Walter Hagen | Hagen's won his first Open title by one stroke over Jim Barnes and George Duncan. It was his fourth major after winning two U.S. Opens and the 1920 PGA Championship. |
| 1911 | 51st | Harry Vardon | Vardon won his second Open title at Royal St. George's in a 36-hole playoff by five strokes over Arnaud Massey. |
| 1904 | 44th | Jack White | White's only Open victory was won by one stroke over J.H. Taylor. |
| 1899 | 39th | Harry Vardon | Vardon became the first three-time Open Champion since Bob Ferguson in 1882. He won by five strokes over Jack White. |
| 1894 | 34th | J.H. Taylor | Taylor won the first Open held outside of Scotland by five strokes over Douglas Rolland. |
Where to Play
Royal St. George's isn't the only golf course either in the area. Avid golfers planning a bucket-list golf trip can also take the opportunity to play at the other local courses. Kent has over 80 golf courses, but some of the best courses they have to offer are London Golf Club, Prince's Golf Club, and Royal Cinque Ports and Walmer & Kingsdown Golf Club, just to name a few. There are six other prestigious golf courses in Kent that will give any golfer a memorable experience.
Kent offers championship level golf courses with a number of inland layouts in beautiful settings.
The London Golf Club is a Jack Nicklaus signature design that hosted the 2008 and 2009 European Open and the 2021 Cazoon Classic. This course provides golfers of all abilities a breathtaking test with plenty of risk-reward holes. It's tough, but beginner golfers would still enjoy this layout.
Prince's Golf Club is made up of three nine-hole courses that are right next to Royal St. George's. On the 14th hole of Sandwich, if not careful, golfers can shank their ball out of bounds and land it on a Prince's Golf Club hole. Prince's Golf Club consists of the Shore, Dunes and the Himalaya courses that have a total of 97 bunkers, rolling greens and seaside breezes that provide a challenge for golfers.
Royal Cinque Ports is an 18-hole championship links golf course that was the site of the 1909 and 1920 Open Championships. This course has rolling fairways that are fast and greens that will provide a challenge to the golfers who love links golf courses.
If it's exceptionally windy, the last seven holes are reputed to be some of the toughest in golf. Not to mention Royal Cinque Ports has a championship-level practice facility.
Walmer & Kingsdown Golf Club is on top of the White Cliffs of Dover with sea views on every hole. Golfers can see the English Channels to give them a memorable experience.
Image: David Cannon/R&A via Getty Image