Golf Lessons for Kids: Know Before You Book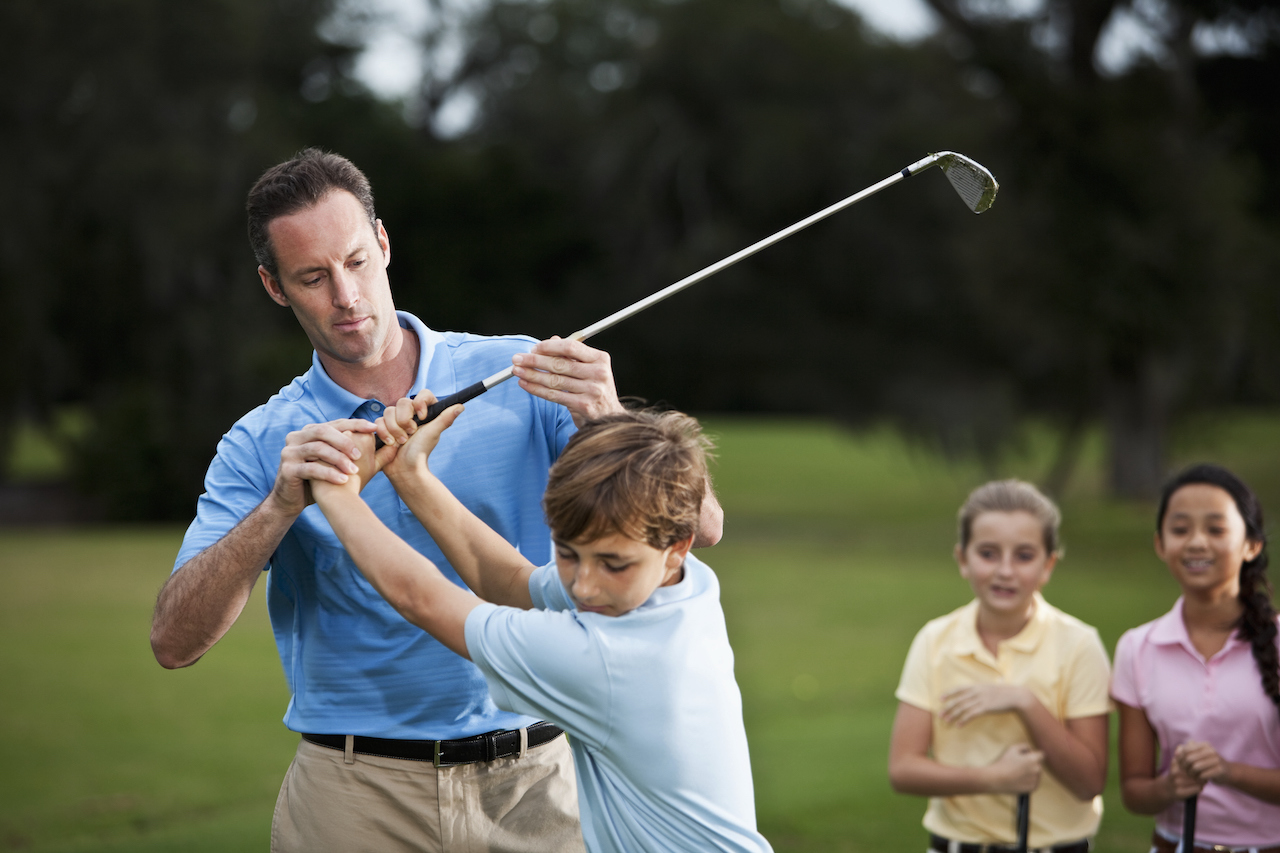 Golf is a great family activity that can be enjoyed by multiple generations, but getting little ones involved in the game can be a little tricky. Golf lessons are a great avenue for introducing kids to the game.
Why Consider Golf Lessons for Kids
A 6,000-yard golf course can be pretty intimidating for adults who have just started playing golf, so imagine how overwhelmed a child feels playing an actual course. Simple lessons on the driving range build comfort and emphasize good mechanics instead of overall score or performance.
As is the case with adults, children benefit from practice, practice, practice. Unlike some other sports where the thrill comes in actual competition, golf practice at the range or putting green can be quite fun. Sinking a long putt or hitting a solid drive feels great no matter where it happens!
Golf lessons for kids also help work out the kinks before they become habits. Children have a natural tendency to grasp a golf club like a racquet or bat which can open up a slew of swing problems later if not corrected. A trained golf professional can break down the swing into simple terms and explain why each motion is important. Kids are curious creatures and knowing why something is important makes the information stick better than just basic commands.
When to Get Started with Golf Lessons
While there is no magic number for when a child should start taking golf lessons, it is important that they are mature enough to listen and follow basic instructions. By the time children finish kindergarten, most are able to respond to simple directions.
A child's interest in golf is even more important than their age is. Before you invest in golf lessons for your little ones, introduce them to the game. Take them along when you play, watch televised golf together or, if it's an older child, have them try out caddying. When kids realize how much fun golf is, they will get the most out of lessons.
Youth Golf Lessons & Programs
There are many ways kids can take golf lessons. Some children prefer working directly with an instructor while others would rather learn in a group with their peers.
If you are interested in private golf lessons, consult with the golf professional at your country club or golf facility. Many PGA professionals offer lessons for kids as young as 5 or 6 years old.
The U.S. Kids Golf Foundation is another great resource for finding certified coaches who are not only trained to teach lessons but also how to interact with children.
Another option is to look for golf camps and clinics for young golfers. Many high school and college golf programs hold week-long youth camps during the summer. The camps appeal to a large range of ages and skills and young kids often enjoy learning from teens and older children.
A quick online search can get you started in finding the right golf camps and clinics. You may be surprised to learn of camps that are held in your area. The popular PGA Junior Golf Camp is held in more than 175 locations throughout 36 states.
First Tee is another program supported by the USGA and PGA Tour and is offered at locations in all 50 states. The First Tee program was started in 1997 with the goal of making golf accessible and affordable for all kids. While the program was mostly golf-based at inception, it grew into an overall life skills program for youth. More than 3.6 million children annually are affected by the First Tee program and many are offered access to golf courses they would otherwise not be able to afford to play.
Drive, Chip and Putt isn't a lesson-based program, but it is a great way to keep kids interested in golf. The nationwide competition is open to boys and girls ages 7 to 15. Kids who continue to qualify compete at the local, subregional, regional and national levels with the national tournament taking place at Augusta National the Sunday before the Masters Tournament. Each national finalist receives Monday practice round tickets for their immediate family at the Masters Tournament.
Through the Youth on Course program, youth members have access to over 1,500 golf courses for just $5 or less. The program has over 120,000 members and is an excellent way of providing golf opportunities to children of all economic backgrounds. Youth on Course also has a scholarship program that has awarded over $2 million to 262 students since 2008.
How Much Do Youth Golf Lessons Cost?
Many factors come into play when considering the cost of youth golf lessons. Private lessons are the most expensive but are usually priced a bit lower than adult lessons. Junior golf lessons through the PGA Superstore are priced at $39.99 for a single 45-minute lesson.
In the past few decades, the golf world has done a tremendous job of opening up opportunities for young potential golfers from all neighborhoods. What was once a sport enjoyed by primarily wealthy youth is now open to all children with an interest in the game – as it should be.
Image: kali9/E+ via Getty Images