Breakdown of Calories Burned Golfing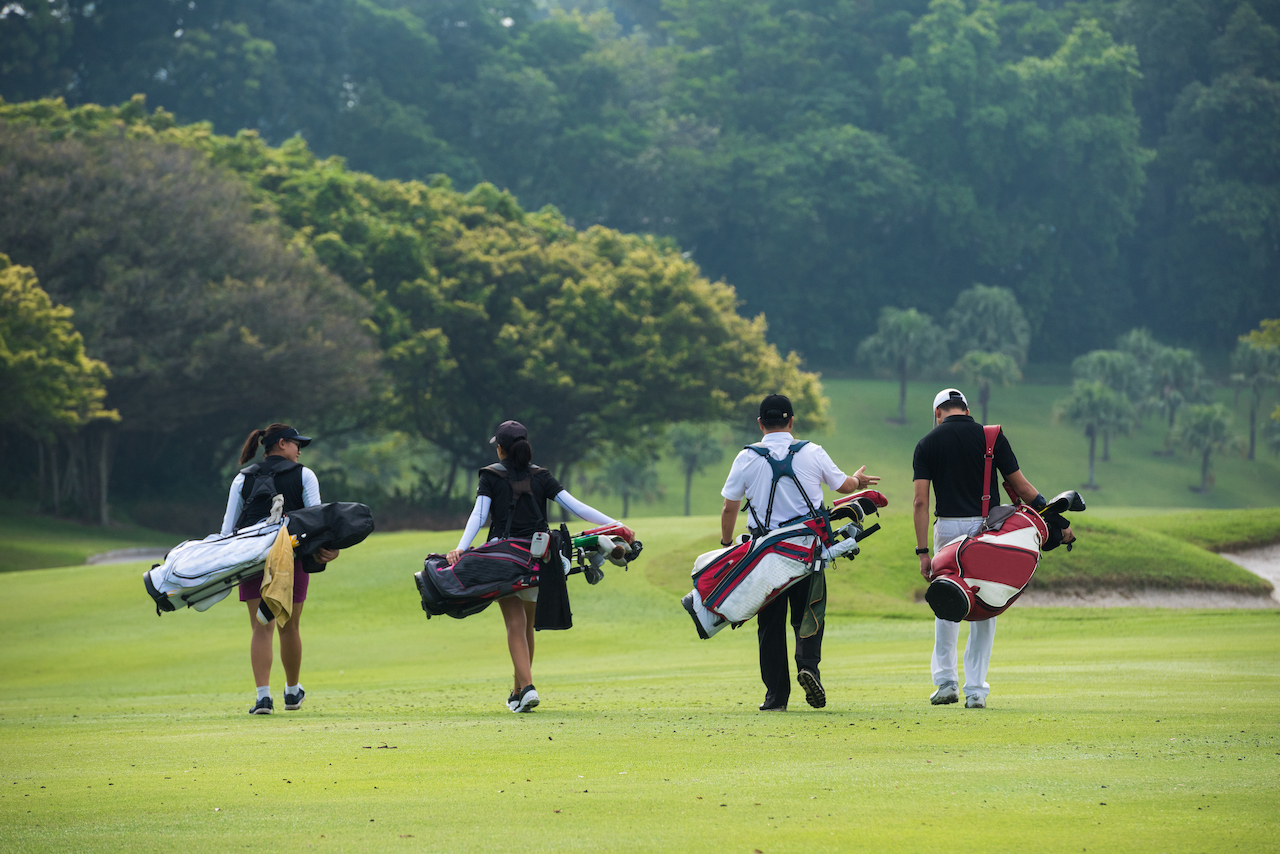 If you're looking for an excuse to play more golf, stop calling it golf and start calling it exercise. Playing 18 holes of golf burns anywhere from 800-1,500 calories, a significant amount considering the average moderately active adult male should consume between 2,200-2,800 calories per day, a range that drops to 1,800-2,200 per day for females.

The total number of calories you will burn during a round of golf depends on a handful of factors, like your weight, the length of the course, whether you walk or use a cart, if you carry or push your clubs, and how much elevation change you encounter.
Let's break down how many calories you burn playing golf, and the overall health benefits of the game.
Calories Burned Walking 18 Holes
The distance you'll walk during a round of golf is most significantly impacted by whether you walk or use a golf cart. If you walk the course, you'll walk about five miles on average. That number drops to about one mile if you take a cart.
The length you hit your driver should influence the tees you choose to play and ultimately the yardage of the course. A player who drives the ball 250 yards should play the course around 6,200-6,400 yards, which equates to a little over 3.5 miles. Of course, that number is inflated by any shot that veers to the left or right, plus the distance between every green and the next tee.
Then of course there's your golf bag. For quick reference, I threw my bag on the bathroom scale and discovered that it weighs 21.2 pounds. That's with 14 clubs, a half-dozen balls, a towel, and a few gloves, tees and ball markers. Throw in a couple granola bars and a big bottle of water and we're pushing 25 pounds.
No matter how you go about it, lugging around an extra 25 pounds will kick the number of calories you burn into overdrive.
Calories Burned Carrying Your Bag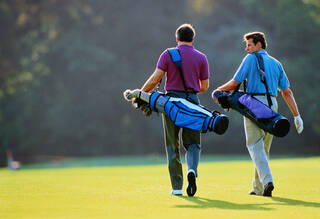 Walking 18 holes while carrying your golf bag will maximize your calories burned on the golf course, but probably not by as much as you'd think. Strapping that 25 pound bag to your back and hoofing it five-plus miles, while taking a bunch of hacks along the way, the average-sized man will burn 1,442 calories.

Calories Burned With a Push Cart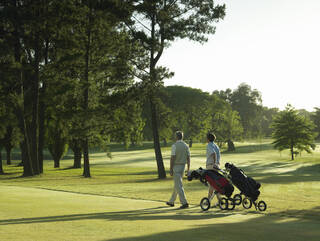 Push carts have become very popular among golfers in recent years, and restrictions on golf carts during the COVID-19 pandemic only added to the craze. Using a push cart takes significant strain off your back and surprisingly burns almost the same amount of calories as carrying your clubs. The average-sized man burns 1,436 calories walking 18 holes while using a push cart.
Giving up six calories compared to carrying your clubs will pay dividends if it gives your back the longevity to play more golf in the long run.
Calories Burned Golfing With a Cart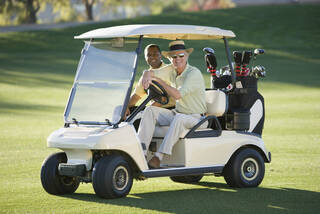 Using a golf cart will put a dent in the number of calories you burn while playing 18 holes of golf, for obvious reasons, but it still results in some pretty serious exercise. Over the course of 18 holes, getting in and out of the cart somewhere close to 60 times, walking around greens, and taking at least 36 full swings still adds up.
The average-sized male burns about 822 calories playing 18 holes of golf with a cart.
Calories Burned Golfing With a Caddie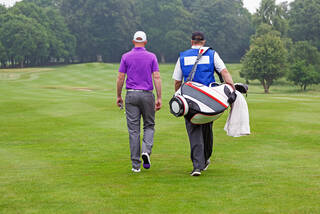 If video killed the radio star, golf carts are doing the same thing to caddies. Figuratively, of course. If you play at a course that still utilizes caddies, or if you're a tour professional, you'll save yourself from carrying or pushing your own clubs. The average-sized man walking 18 holes while a caddie carries the burden of the bag will burn 1,226 calories.
Tracking Your Calories Burned While Playing Golf
These numbers are great estimates for how many calories you can expect to burn playing golf, but as we mentioned above, there are several variables that will impact how many calories you will actually burn. Fortunately, there are many fitness trackers that can give you data on how many calories you burn on the course.
If you want to track your fitness and your golf game at the same time, consider a golf watch from Garmin. You can get yardages to the front, center, and back of the green, track your golf stats, and review your fitness stats, including calories burned, distance walked, and steps, all in one device.
Smart watches such as Apple Watch will also track your fitness stats while on the course and give you access to a variety of third-party golf apps that will give you yardages and track stats and the progress of your game.
Dedicated fitness trackers such as Fitbit will track all your fitness accomplishments on and off the golf course.
Is Golf Good Exercise?
Anytime you can burn 800-1,500 calories doing something you enjoy, it's a win-win. Golf is not only a great game, it's great exercise.
In addition to burning calories in bulk, golfandhealth.org associates playing golf with reduced risk of heart disease, increased life expectancy, and reduced anxiety.
Now there are no more excuses not to play golf. Get out there and get some exercise, and enjoy your round while you're at it.