Golf Glove Hand and Sizing Made Simple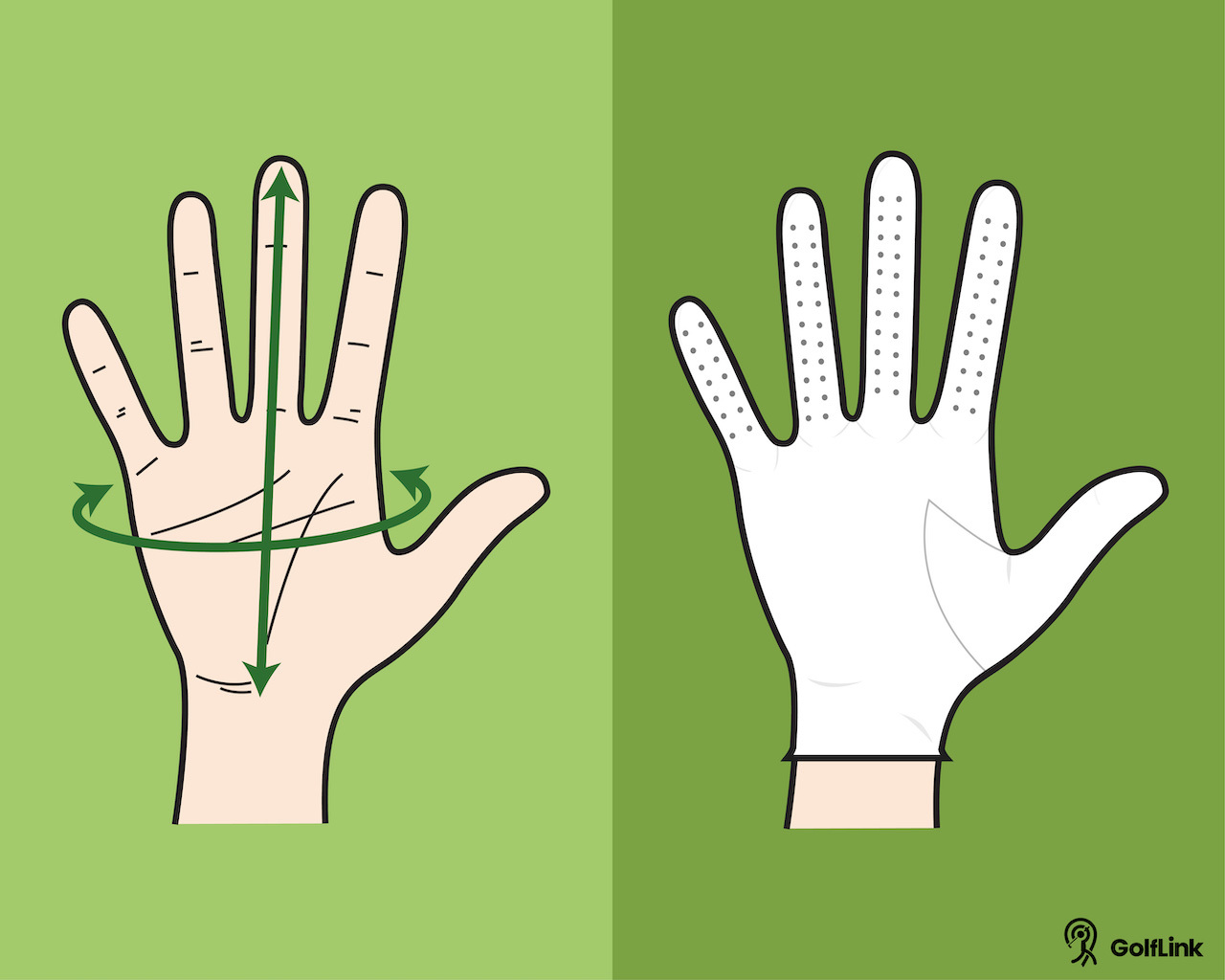 Shopping for a golf glove can be confusing, but not if you know your specs before heading to the store or shopping online. We'll will help you find the right size golf glove based on your measurements which will lead to a more comfortable day on the golf course.
Why the Right Fit is Important
Using a golf glove that fits correctly is important because it ensures you have a proper grip when you swing the golf club.
Having a golf glove that's too big can result in your hand slipping while taking a full swing. The extra material that sits between your hand at the club's grip can also influence the club into twisting open or closed at the top of your swing.
Conversely, having a glove that's too small makes for an uncomfortable golf swing. A tight glove won't allow your hand to fully close or grip the golf club. You will likely need to replace it not long after taking it out of the package because golf gloves that are too small quickly rip in the palms or fingers.
How to Measure Your Hand
Here is the step-by-step process of how to measure your hand to find the right golf glove for you.
Get a soft, flexible tape measurer. In a pinch, you can use a string to measure and then lay the string out over a ruler afterward to find your measurement.
Measure your length from the top of your middle finger to where your hand meets your wrist.
Measure your circumference by measuring around your knuckles. Note the measurement where the tape meets in the palm of your hand.
Use the provided table to determine where your measurements fall into the appropriate size.
Important Note: If your measurements lead you to be between glove sizes, always go with the larger of the two. Your hands swell, especially in hot temperatures, on the golf course. Having the extra room will ensure you don't have too small of a glove.
Junior golfers do not need to measure their circumference, as most kids' golf gloves are sized to fit finger length only.
Which Hand is Your Glove Hand?
Always wear your golf glove on your non-dominant hand. If you play right-handed, wear your golf glove on your left hand, and vice-versa.
Types of Golf Gloves
There are different golf gloves for everyone that plays the game, including men's, women's and kid's gloves. Sizes run from small to extra large, and there are even M/L and cadet sizes available to help every golfer find the right glove size.
Men's Golf Gloves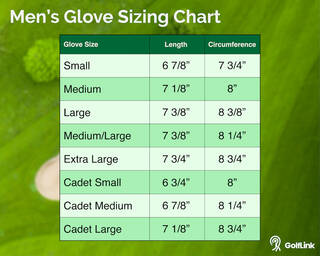 Golf gloves that are designed for men typically run in small, medium, medium-large, large, and extra-large sizes. There are also a variety of cadet size golf gloves which generally are shorter in finger length than the standard men's sizes.
Men's Glove Sizing Chart

| | | |
| --- | --- | --- |
| Glove Size | Lenght | Circumference |
| Small | 6 7/8" | 73/4" |
| Medium | 7 1/8" | 8" |
| Large | 7 3/8" | 8 3/8" |
| Medium/Large | 7 3/8" | 8 1/4" |
| Extra Large | 7 3/4" | 8 3/4" |
| Cadet Small | 6 3/4" | 8" |
| Cadet Medium | 6 7/8" | 8 1/4" |
| Cadet Large | 7 1/8" | 8 3/4" |
Women's Golf Gloves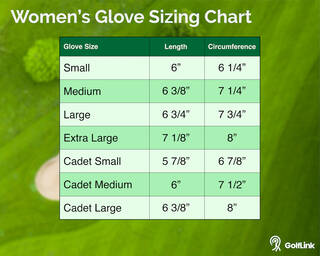 Many manufacturers make golf gloves for women that specifically cater to a smaller hand with skinnier fingers. Women's golf gloves are available in white, but also in a variety of colors. There are even fingerless golf gloves for women for ladies who prefer to not cover their nails.
Women's Glove Sizing Chart

| | | |
| --- | --- | --- |
| Glove Size | Length | Circumference |
| Small | 6" | 6 1/4" |
| Medium | 6 3/8" | 7 1/4" |
| Large | 6 3/4" | 7 3/4" |
| Extra Large | 7 1/8" | 8" |
| Cadet Small | 5 7/8" | 6 7/8" |
| Cadet Medium | 6" | 7 1/2" |
| Cadet Large | 6 3/8" | 8" |
Junior Golf Gloves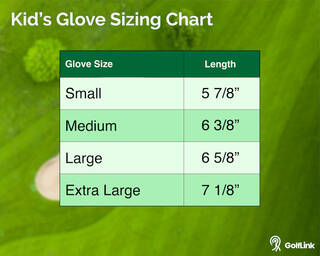 Junior golf gloves are available for younger players. They are undersized and designed to fit an array of kids playing the game today before they ultimately grow into women's or men's standard sizes.
Kid's Glove Sizing Chart

| | |
| --- | --- |
| Glove Size | Length |
| Small | 5 7/8" |
| Medium | 6 3/8" |
| Large | 6 5/8" |
| Extra Large | 7 1/8" |