A Look Into the Clicgear Model 4.0 Golf Push Cart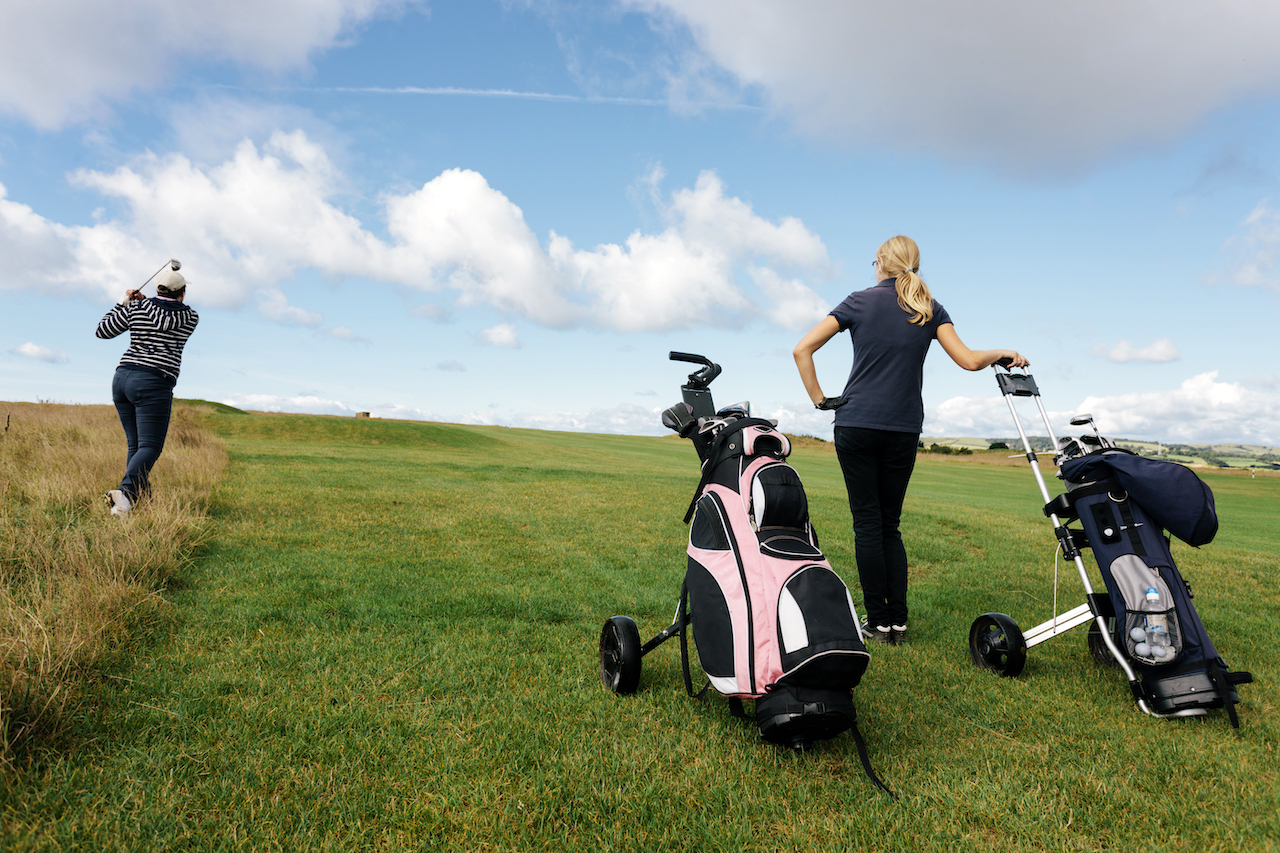 Clicgear is a household name when it comes to golf push carts. The company is widely known for producing quality push carts that you'll find on every golf course as well as at events such as the NCAA Championships. One of Clicgear's most popular models is the Model 4.0. This is a three-wheel push cart that is anything but traditional. Here's an overview of the Model 4.0 and why it might be a good choice for you.
Specs
Weight: 21 lb
Collapsed Dimensions: 13" x 15" x 24"
Price: $319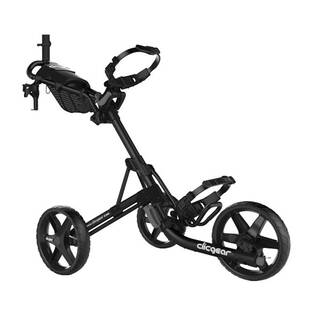 Construction
The Model 4.0 is made from heavy-duty aluminum tubing that is also scratch-resistant. That last aspect is a big deal because if you've owned a push cart that scratches easily you'll know how quickly they become worn. Not to mention, the chances of rust are significantly higher. Once your golf bag is added to the 21-pound frame, the Model 4.0 cart is very sturdy.
Brakes
One convenient aspect of the Model 4.0 is the handbrake. This brake engages the front wheel and is very secure. Some push cart models have brakes directly on the tires which require you to step on them every time you want to stop the cart.
Wheels
Clicgear features maintenance-free, airless tires on all models, meaning you'll never run into a flat tire while on the golf course. The tires are made from heavy plastic and have good tread and adjust to altering terrain. The wheels have a very modern three-spoke design, which actually ends up looking like six spokes.
Storage
The Model 4.0 has an expanded storage system over its predecessor, the Model 3.5. The main storage is the console which can hold a scorecard, pencil, tees, golf balls, and much more with ease.
There is also a large storage net under the console which is perfect for headcovers or any other accessories you'd like to keep secure. There are also four accessory mounts available to attach any of Clicgear's accessories.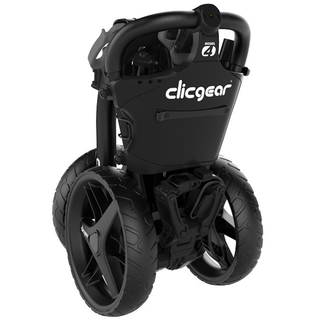 Color Options
Clicgear offers this model in eight color options. White, black, blue, lime, pink, red, silver, and teal. The wheel color matches the body color no matter which one you choose.
Warranty
Clicgear offers two warranties from the date of your purchase. You get a three-year warranty on the frame and a one-year warranty on parts. This covers manufacturer or material defects.
Accessories
Clicgear is a popular company not only for push carts, but push cart accessories. Most of these accessories attach to the cart's accessory mounts. Some of the most popular options include:
Cart seat
Additional storage net
Cooler bag
Shoe brush
Wheel covers for storage
Travel bag
Rangefinder bag
Sand bottle
Conclusion
Clicgear models are a great option if you're in the market for a push cart, no doubt about that. The Model 4.0, along with all Clicgear models, are on the higher end of the spectrum but it's up to the shopper to determine if the additional cost and warranty outweigh a push cart that might be less expensive.