How to Clean a Golf Bag: Instructions & What to Avoid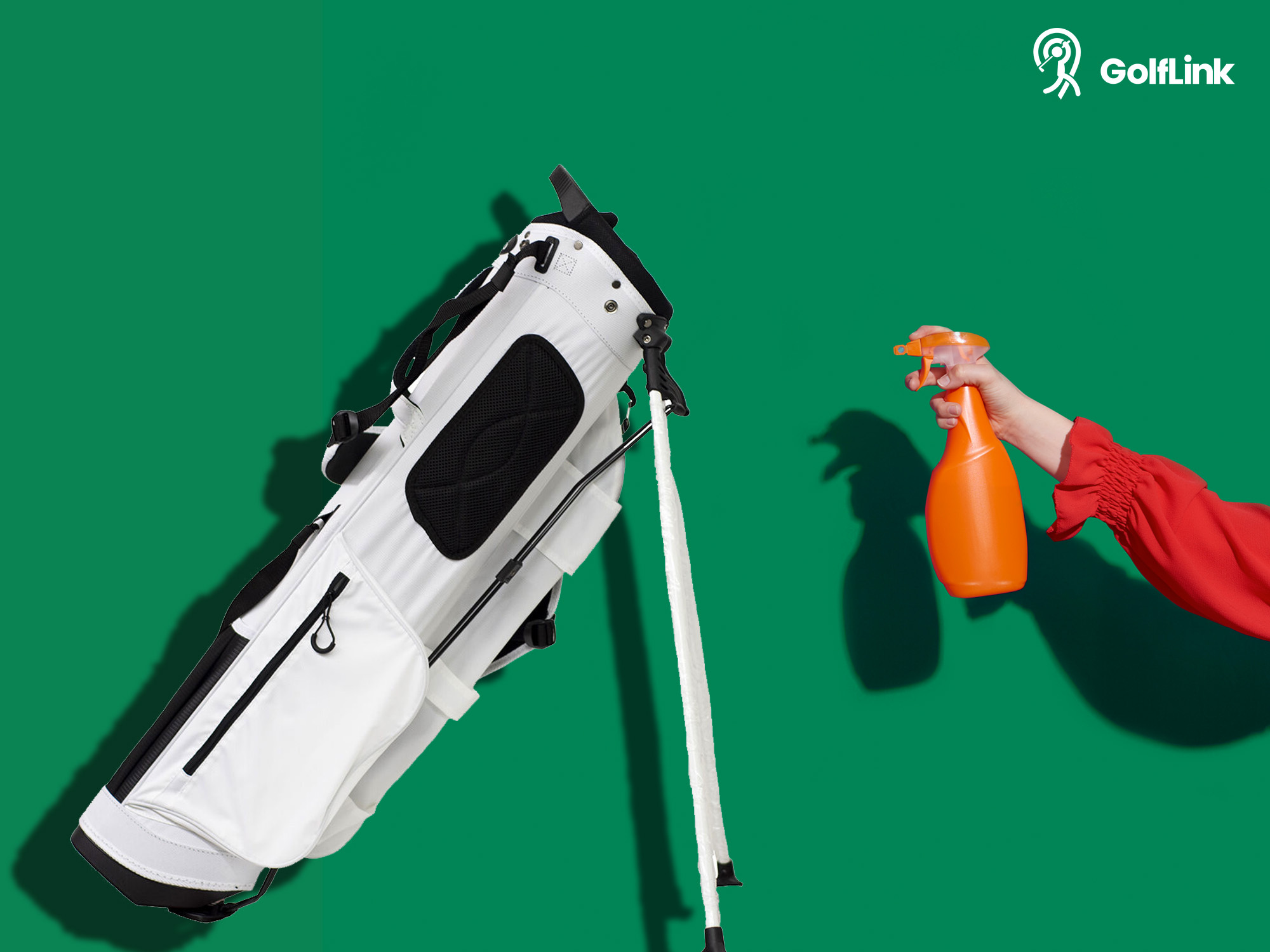 As golfers, we subject our golf bags to quite a bit. Think about all the grass clippings, mud, and rain you expose your bag to. The food or drink spills from slamming a hot dog on the 10th tee or hastily rehydrating before pulling a club. It's no surprise that golf bags get dirty quickly, but no matter how gnarly your golf bag is, you can have it looking good as new when you follow these step-by-step instructions on how to clean your golf bag.
Supply List for Cleaning Your Golf Bag
First things first, you'll need to round up a few supplies before you clean your golf bag. Here's the complete supply list:
Vacuum, preferably with crevice cleaner attachment 
Spray bottle
Dish soap
Washcloth
Stain remover (if applicable)
Once you have everything you need, let the golf-bag-cleaning fun begin.
Step-by-Step Instructions to Clean Your Golf Bag
Step zero when cleaning your golf bag, as with cleaning anything else, is to turn on some music and get into the zone. But that's not required for a clean golf bag. The rest of these steps, however, are.
Step 1: Completely Empty Your Golf Bag
This one is obvious, but before you start scrubbing, you need to take every last club and accessory out of your golf bag. 
That includes every golf club, ball, ball marker, and divot tool. All those old scorecards and crusty gloves need to go, too. If you have any forgotten granola bars or stinky water bottles tucked away, this is a great time to address those as well.
If it's been a while since you cleaned out the inside of your bag, you'll probably notice that quite a bit of junk has accumulated. If you only re-pack the accessories you need, you'll enjoy a noticeably lighter load the next time you play golf. 
Be sure to check every pocket thoroughly. The corner of those smaller pockets can be a haven for old ball markers and crumbs.
Step 2: Vacuum the Inside of Your Golf Bag
Grab your vacuum and crevice cleaner attachment and vacuum out every pocket of your bag to get rid of those dried blades of grass and clumps of mud.
To make sure you get every last spec of dirt out, you can tip your bag upside down or use a stick attachment on your vacuum to get everything out of the bottom of your bag.
Step 3: Spray Down and Scrub Your Bag
For leather golf bags, check out the tips below for cleaning your bag safely. For everyone else, it's time to grab that spray bottle.
Put some warm water in your spray bottle and spray down the outside of your bag. You could also use a hose for this step, depending on how dirty your bag is, and what it's made out of, but for routine cleaning, a spray bottle works just fine.
Next, rub a little dish soap into your washcloth and begin scrubbing your bag. You may need to add a little elbow grease on stained areas, but other than that, a light scrub will do you good.
Step 4: Rinse Your Bag
A hose is your best bet for rinsing your golf bag. If you don't have convenient access to a hose, run it under a faucet or even rinse it off in the shower.
Step 5: Apply Stain Remover (If Applicable)
Once you've cleaned and rinsed your bag, it's time to check your work. Look for any stains that didn't come out in your first pass. If your bag didn't pass this quality control check, apply stain remover to any stains, and wipe away with a cloth.
Step 6: Dry Your Bag
Before you re-load your bag with your clubs and accessories, it needs to dry. You might assume that sticking it in the sun for a few hours will get the job done, but that's actually the last place you want to dry your bag. Leaving it to dry in the sun will cause it to fade and leave sun spots. Instead, make sure all the pockets are open, and dry your bag in the shade or in a warm, dry room indoors.
Step 7: Re-Stock Your Golf Clubs and Accessories
After your bag is clean and dry, you're free to re-load it with all your clubs, balls, and accessories. You'll appreciate the lighter load once you get rid of any junk that was weighing your bag down. By now, your bag should be looking fresh and clean.
RELATED: Must-Have Golf Bag Accessories
Tips for Cleaning Leather Golf Bags
While almost all modern golf bags can be cleaned using the steps above, there are exceptions to every rule. Here are some tips for cleaning leather golf bags.
If you're cleaning a leather golf bag, keep it simple. We don't recommend soaking it with a hose or scrubbing it with dish soap.
Instead, after you've emptied your bag, simply vacuum it out thoroughly, then use a cloth dipped in rubbing alcohol to wipe it down.
Dos & Don'ts of Cleaning Your Golf Bag
To reiterate some of the key details we mentioned above, here are the important dos and don'ts of cleaning your golf bag.
Do:
Empty your bag out completely before cleaning it
Vacuum out all pockets
Wash your bag with soap and water
Dry your bag before reloading it
Don't:
Soak a leather bag
Use bleach
Dry your bag in the sun
Keep it Clean
Keeping your golf bag clean can help its longevity, and is important to keep it looking nice on the course. Whether you clean your bag every month, once a year, or only after a serious spill, these steps will have your golf bag looking like new.