The 8 Best Low Spin Drivers for High Octane Golfers of 2023
Updated January 9, 2023
GolfLink is a participant in affiliate partnerships, and may receive a share of sales from links on this page. These partnerships do not influence our editorial content.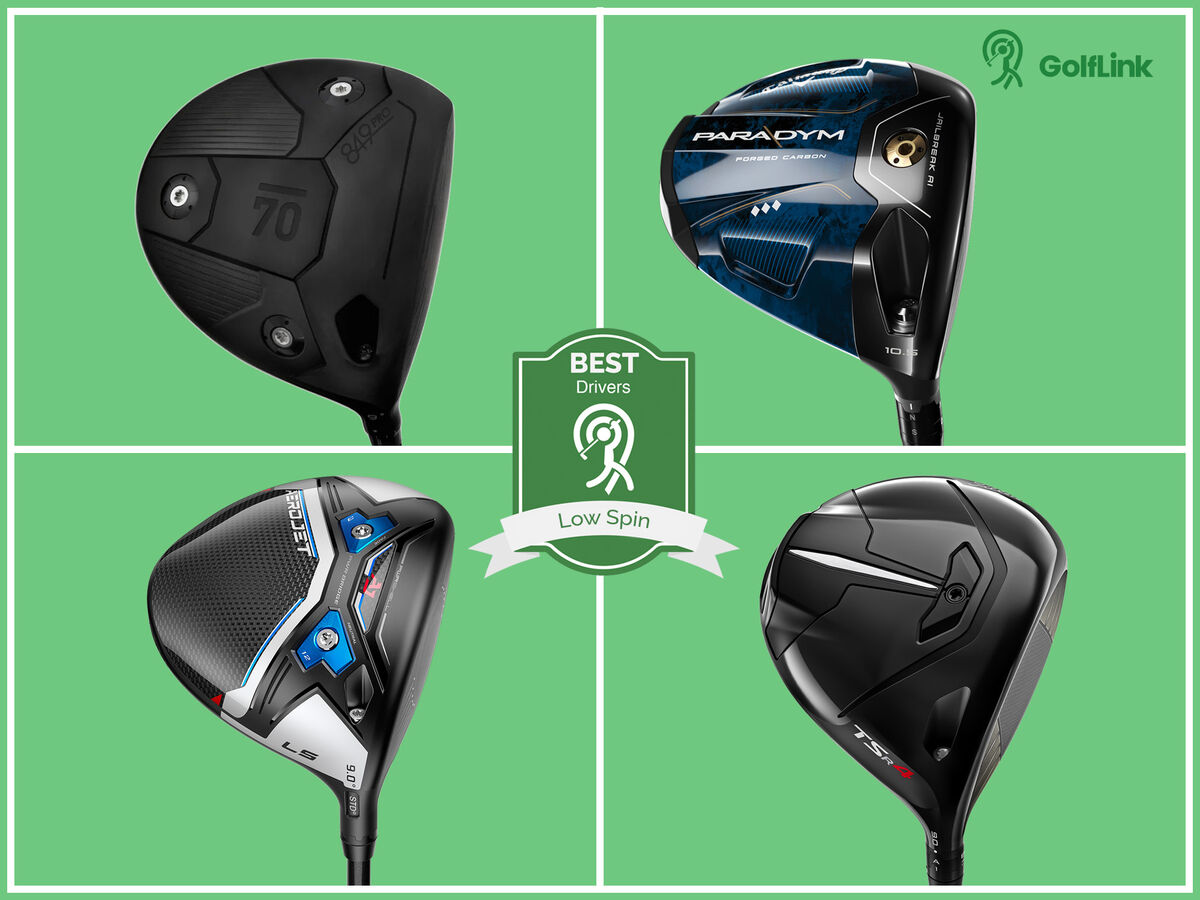 Have you ever wondered if you should play a low spin driver? Better question, do you know what signs to look for that signal it's time to put a low spin driver in the bag? Believe it or not, low spin drivers can benefit a large range of players. If you've ever considered a low spin driver, or wonder if you should, GolfLink has compiled our list of the eight best low spin drivers, and how to tell if one is right for your game.
The 8 Best Low Spin Drivers
After working with several players who currently fit the low spin driver mold, and thorough testing ourselves, these eight low spin drivers outperformed the rest in key categories including distance, launch, spin, dispersion, and overall feel. Some of our findings may surprise you and some may not, but we are positive these drivers stand superior.
| | | | |
| --- | --- | --- | --- |
| Driver | Price | Player Profile | Standout Feature |
| Sub 70 849 Pro | $279 | The better player who wants ultimate performance at a reasonable cost | Sneaky good in all categories |
| TaylorMade Stealth 2 Plus | $629 | Looking for the latest technology and optimal launch | Adjustable weight track |
| PING G430 LST | $579 | Players who prioritize distance and acoustics | Powerful, yet muted, center strikes |
| Callaway Paradym Triple Diamond | $599 | Players who want consistent trajectory and reliable distance | Outstanding ball flight |
| Titleist TSR4 | $599 | Looking for the classic pear-shaped, low spin driver | Overall, sleek look |
| Cobra Aerojet LS | $549 | Players who want lower spin with higher forgiveness | Tight dispersion |
| Srixon ZX5 LS Mk II | $499 | High swing speed players who hit all over the face | Forgiving face |
| Mizuno STz 230 | $500 | Players who want a straight-bias and workability | Improved face for more ball speed |
Who Should Play a Low Spin Driver?
If you're wondering whether or not you should consider a low spin driver, that's the first question you need to answer. So who should play a low spin driver? Low spin drivers can produce more distance than their standard counterparts, but that distance boost can be challenging to realize given that low spin drivers are more difficult to control and hit accurately. Therefore, if you consistently hit the center of the face with your driver and control your face angle at impact well, but lose distance because your drives launch too high with too much spin, a low spin driver will give you more distance without much sacrifice.
However, if you already hit ideal spin rates (more on that in a minute) with your driver without the help of a low spin driver, even if you control your impact location and face angle well, you may not have much to gain from a low spin driver, seeing as you don't have excess spin that you need to reduce.
Furthermore, if you hit your drives too high but struggle to deliver the face square consistently and strike the center of the club face consistently, a low spin driver will probably introduce more problems than it solves, including drives that fly much further offline than you're accustomed to.
Consider a low spin driver if your driver swing speed is 105 mph or more. You can find this data point on just about any launch monitor. Most low spin drivers feature "LS" (for low spin) in one form or another in the name, and they claim to be made for high speeds.
What's A Good Driver Spin Rate?
The best way to determine if your driver spin rate is good, too high, or too low is to hit on a launch monitor with a golf professional or club fitter who can evaluate and interpret your numbers. For a quick and dirty baseline, Trackman explains that with a 94 mph driver club head speed and neutral attack angle (0 degrees), a spin rate of 2,772 rpm will produce the optimal carry.
Higher swing speeds should look for a little less spin for ideal distance, while lower swing speeds need a little more. Of course, your attack angle is a key ingredient too, hence our suggestion to have a professional who can consider all the variables and evaluate your numbers.
If your drives tend to balloon, but you consistently hit your driver solid and straight, that's a good sign you could gain distance with a low spin driver.
What Makes a Driver Low Spin?
There are several characteristics that influence a reduction of spin in a driver and appear in many low spin drivers. Heads with a more forward CG and a more rounded shape, and stiffer shafts influence your driver's spin rate. Here's how and why these features show up in low spin drivers.
Most standard driver heads are the USGA maximum size of 460cc, including some low spin driver heads. But many low spin driver heads are actually less than 460cc. In addition, low spin drivers also boast a "player preferred" or "traditional" shape. This refers a more compact and rounded head as opposed to a larger, more elongated head.
The smaller head size and more rounded shape brings the CG closer to the club face, which reduces spin. Even low spin drivers that feature a rear weight, the CG is still closer to the face than a driver with a larger, more elongated head.
A smaller driver head means a smaller margin for error and less forgiveness, which many better players will gladly exchange for the additional workability.
Low spin drivers are often paired shafts intended for faster swing speeds. For that reason, low spin drivers typically pair with stiff and extra stiff shafts around 65 grams and higher with a mid to low launch profile.
Best Overall: Sub 70 849 Pro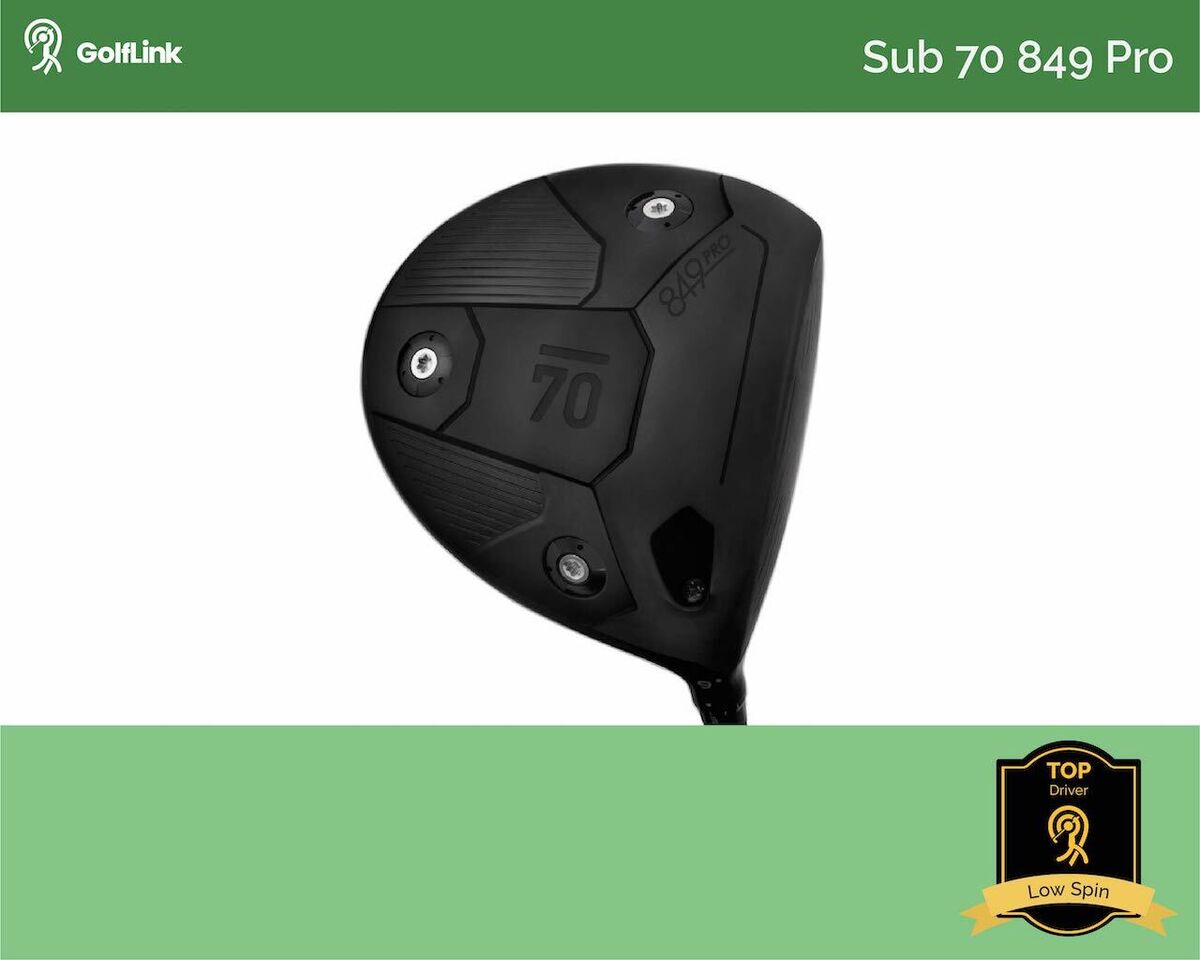 Sub 70 849 Pro Driver
| | |
| --- | --- |
| Price | $279 | SHOP SUB 70 |
| Lofts | 9, 10.5 |
| Player Profile | The better player who wants ultimate performance at a reasonable cost |
The Sub 70 849 Pro driver was a long shot to take our top prize (there's not an actual prize) for the best overall low spin driver. In fact, we probably wouldn't have even tested this model had we not recently had the opportunity to visit the Sub 70 headquarters in Sycamore, Illinois. The 849 Pro definitely requires a higher swing speed to rip it, but those who can love how easy this driver is to hit.
"After hundreds of fittings at The Seventy, we are confident that either model can compete with any driver option on the market," said Jay Armour, Sub 70's Director of Marketing. "We take extreme pride in making sure each player gets the head, shaft, grip, and specs that will perform best for their swing."
Even with a swing speed on the cusp, this driver showcased a penetrating ball flight in our test. That got us thinking that players with extremely fast swing speeds will most likely opt for the 9-degree head which can notch down to as low as 7 degrees. There are also 20 grams of adjustable weight on the sole of the driver, located in the heel, toe, and rear which allows you to fine-tune to your specs.
Appearance-wise, the 849 Pro is very unassuming and lets its performance do the talking. With carbon fiber detailing on the crown with a matte jet black sole, the Sub 70 849 Pro is all business, but sure is fun to hit. The low handicap player will also appreciate how easy this driver is to maneuver into your specific shot shape. No matter what your handicap, we can all appreciate that the 849 Pro is only $279, but certainly warrants a price tag much higher than that. You even get 60 days to try it per Sub 70's satisfaction guarantee. If you're in the market for a low-spin driver, the 849 Pro is our top recommendation.
Pros:
Highly playable
Cost
Workable
Cons:
TaylorMade Stealth 2 Plus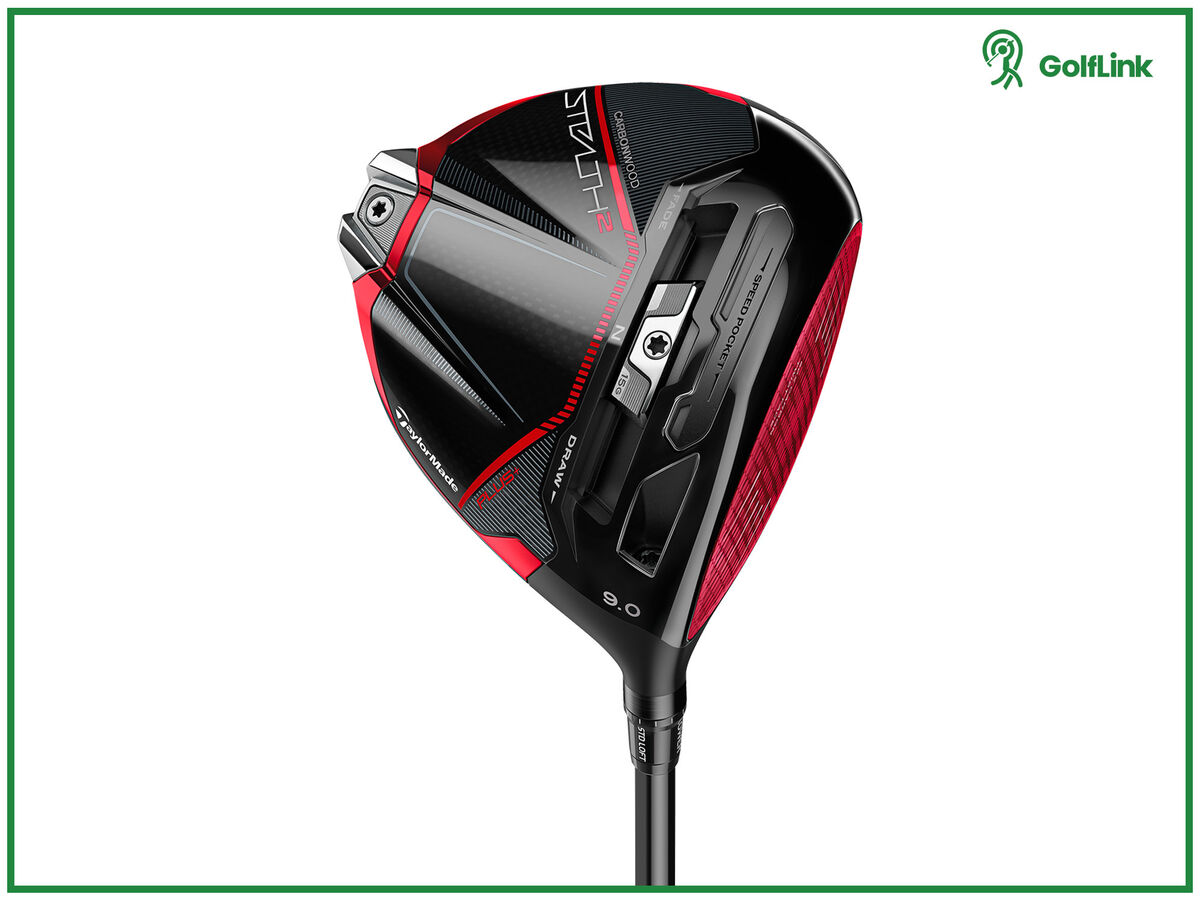 TaylorMade Stealth 2 Plus driver
The TaylorMade family of Stealth 2 drivers are the sequel to TaylorMade's wildly popular Stealth line that debuted in 2022. The Stealth 2 Plus driver is designed for the low spin crowd. This driver was very close, in almost every category, to being our top choice.
In the past, TaylorMade has produced lower spin versions in 440 and 450cc heads, but the Stealth 2 Plus is a full 460cc head with a more rounded and player-preferred shape. Another big differentiator, and one of our favorite aspects, is its Sliding Weight Track which allows for 15g of weight to be adjusted to your place of concentration, up 50% from the previous generation Stealth Plus driver, which had a 10g sliding weight.
As far as distance, the Stealth 2 Plus is a beast. You don't need to be a TaylorMade professional tour staffer to understand the ball simply jumps off of the clubface. What impressed us was how forgiving it was. Shots that we purposely took off of the toe or heel still traveled quite a ways and, we noticed the Stealth 2 Plus does a great job staying online. Given that the biggest knock on low spin drivers is a sacrifice in forgiveness, the Stealth Plus really impressed us in this category.
Pros:
Forgiveness
Adjustable weight track
Clubface technology
Cons:
Red accents may not appeal to golfers who prefer a traditional style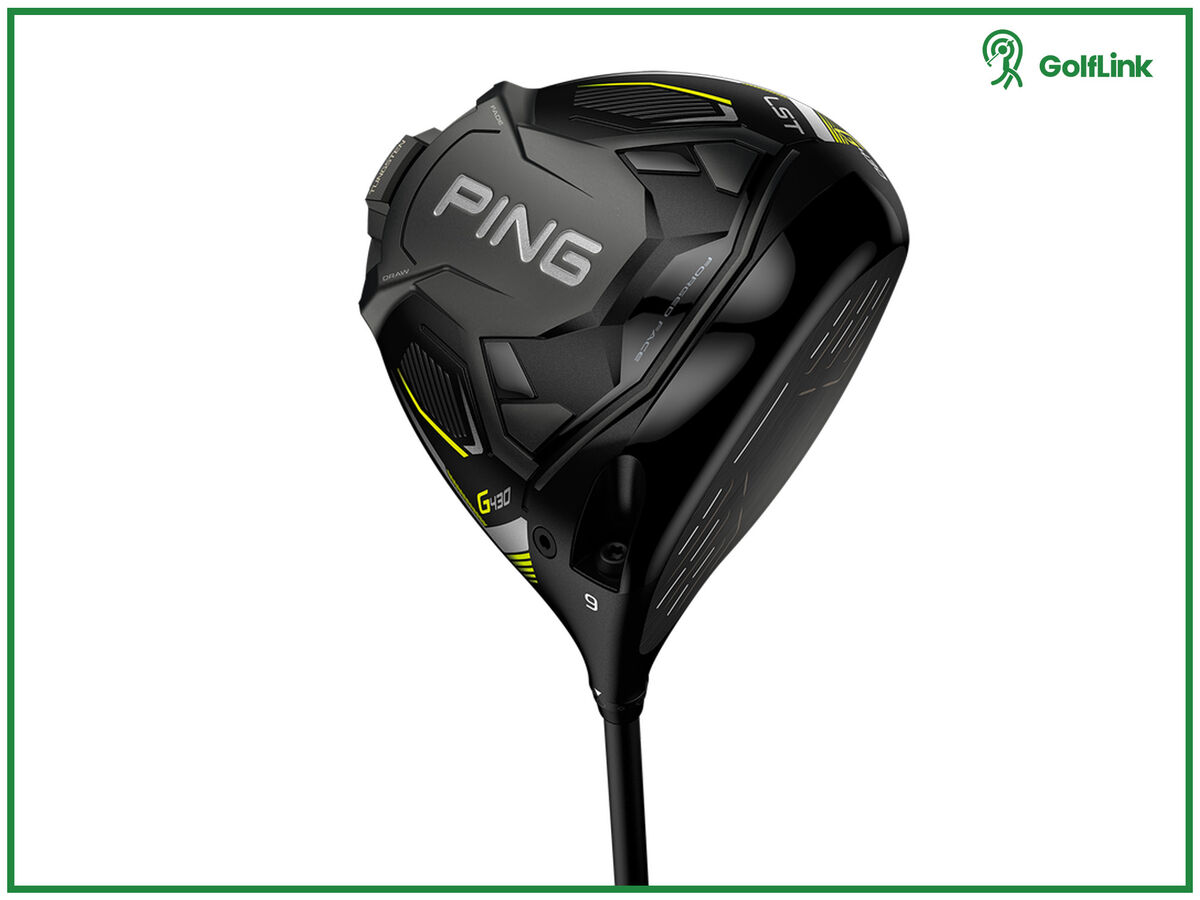 PING G430 LST driver
PING was one of the first manufacturers to embrace low-spin models of its standard driver releases. Players, particularly on professional tours, liked them so much that PING continues to roll out an LST (Low Spin Technology) version that delivers the best of both worlds and fits lower handicap players. 
The PING G430 LST is a true player's driver and you'll find it in the bags of players such as Keegan Bradley and Sahith Theegala.
The G430 LST features a 440cc head, one of the smallest you'll find. In fact, its 5cc smaller than its predecessor, the G425 LST, which featured a 445cc head. That smaller footprint is actually quite noticeable, especially when in side-by-side comparisons with other low-spin drivers. It's not the biggest confidence booster, but players who succeed with this driver probably aren't concerned with the smaller head, especially considering the middle of the face is a rocket launcher.
The G430 LST, like all G430 drivers, has a new internal rib structure designed to optimize sound at impact. The LST, however, is the only one of the G430 drivers with PING's Carbonfly Wrap that saves weight from the crown, that is then re-positioned to optimize ball speed and forgiveness.
To get you in the exact right place, a 22-gram adjustable weight allows you to get your draw, fade, or neutral shot shape in order. That's 3-grams lighter than the G430 MAX, which helps the LST lower spin.
Pros:
Distance
Acoustics
Workability
Cons:
Noticeably smaller head than other low-spin drivers
Callaway Paradym Triple Diamond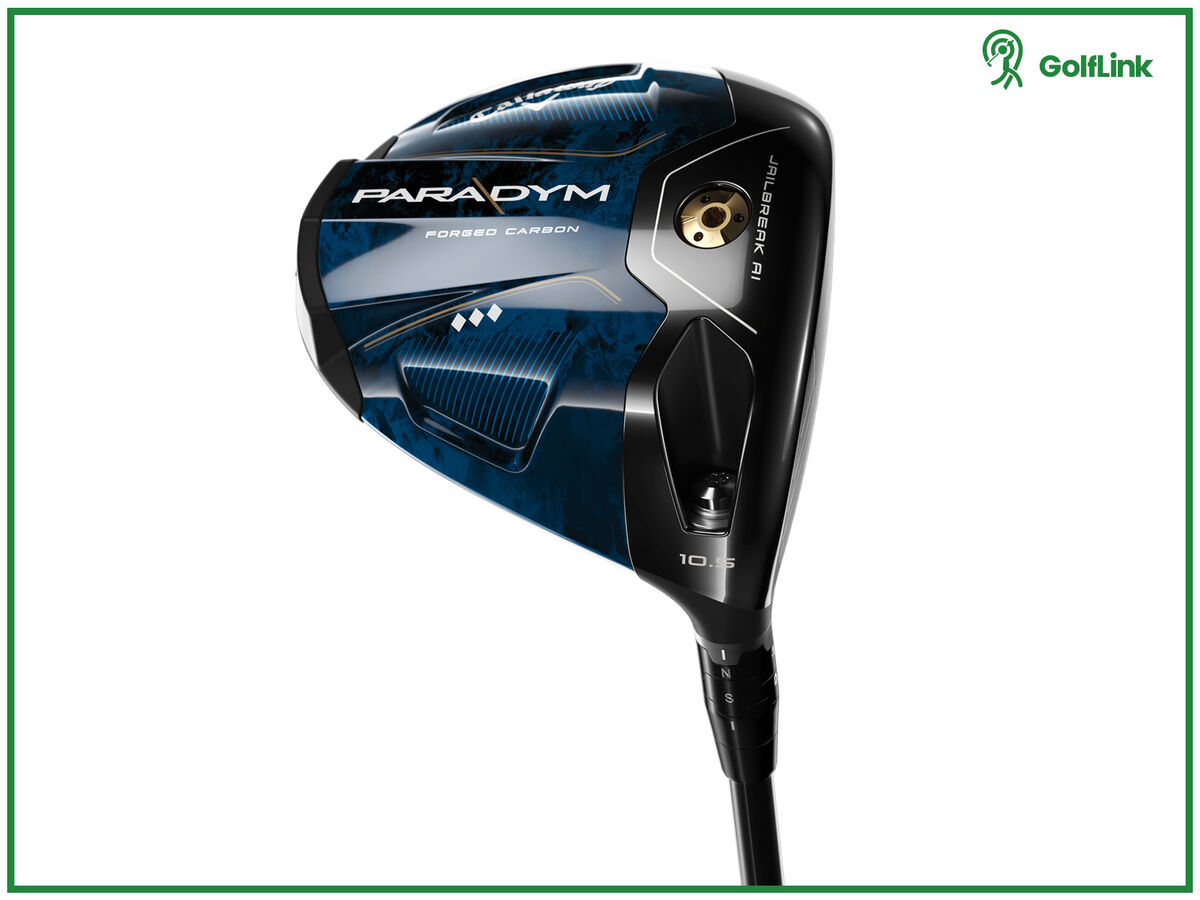 Callaway Paradym Triple Diamond driver
Callaway arguably made the most noise of any major OEM during a busy driver-release season in early 2023 with its brand-new line of drivers, the Paradym. The low-spin Paradym driver is tabbed the Triple Diamond.
The Paradym Triple Diamond has a 450cc head and is the lowest-launching of the Paradym line. It delivers a neutral ball flight, giving better players the opportunity to shape it however they'd like.
Perhaps the biggest breakthrough with the Paradym is the 360 Carbon Chassis, which gave Callaway the opportunity to re-position weight to optimize stability. That's part of what makes the Paradym more forgiving than Callaway's previous drivers.
Paradym also features some of the tech we're used to seeing from Callaway, including Jailbreak, which now has the benefit of AI. AI was also tasked with improving the face by optimizing dispersion, speed, launch and spin.
Testing shows the Paradym Triple Diamond out-performs its predecessor, the Rogue ST MAX LS, in distance, dispersion, and ball speed.
The Triple Diamond includes two interchangeable weights, 14g and 2g, with weight ports in the back and front of the sole of the club.
Pros:
Improved forgiveness in the form of tighter dispersion than its predecessor
Carbon crown
Interchangeable weights
Cons:
Performance gains may not justify the cost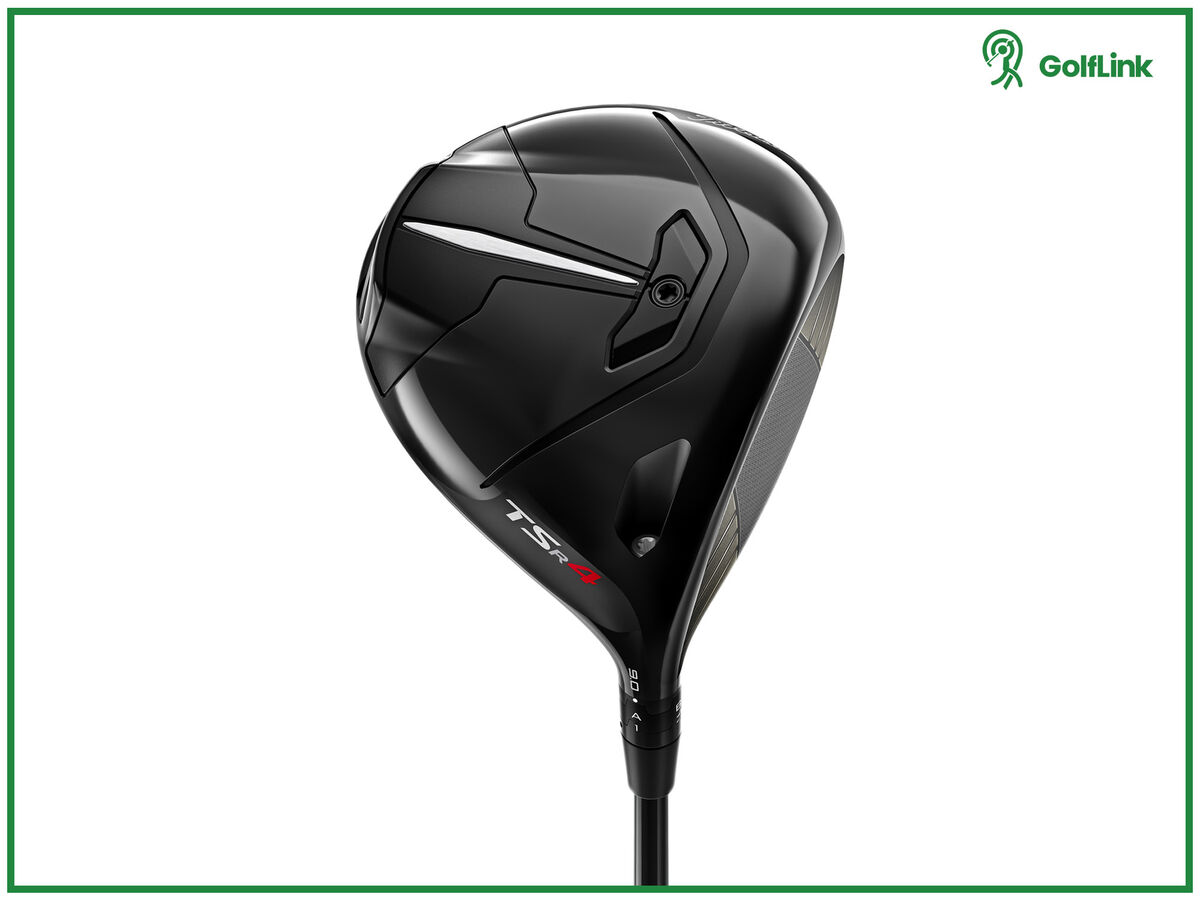 Titleist TSR4 driver
| | |
| --- | --- |
| Price | $599 | SHOP PGA TOUR SUPERSTORE |
| Lofts | 8, 9, 10 |
| Player Profile | Looking for the classic pear-shaped, low spin driver |
The Titleist TSR4 driver is not for the faint of heart. There are three other models in Titleist's TSR lineup, all of which are more forgiving and appeal to the mid- to high-handicaps players. The TSR4 is a true player's driver and has all of the features a tour-level golfer wants on every tee.
Let's start with the shape and size. The TSR4 has as traditional of a driver head shape as you'll find. This pear-shaped design is a bit of a throwback, but the technology surrounding it is anything but. The head itself is only 430cc, and takes some getting used to if you're accustomed to a 460cc head. Titleist does a great job of adding a sleek, eye-catching design into this blatantly obvious player's driver.
If you don't have the game to swing the TSR4, you won't be happy with it. However, players with faster swing speeds and some serious consistency in hitting the sweet spot will find the TSR4 to be a tremendous asset to their bag.
Pros:
Traditional pear-shape
Simple, sleek design
Good blend of modern and classic
16 different hosel settings to optimize loft and lie
Cons:
Very little room for error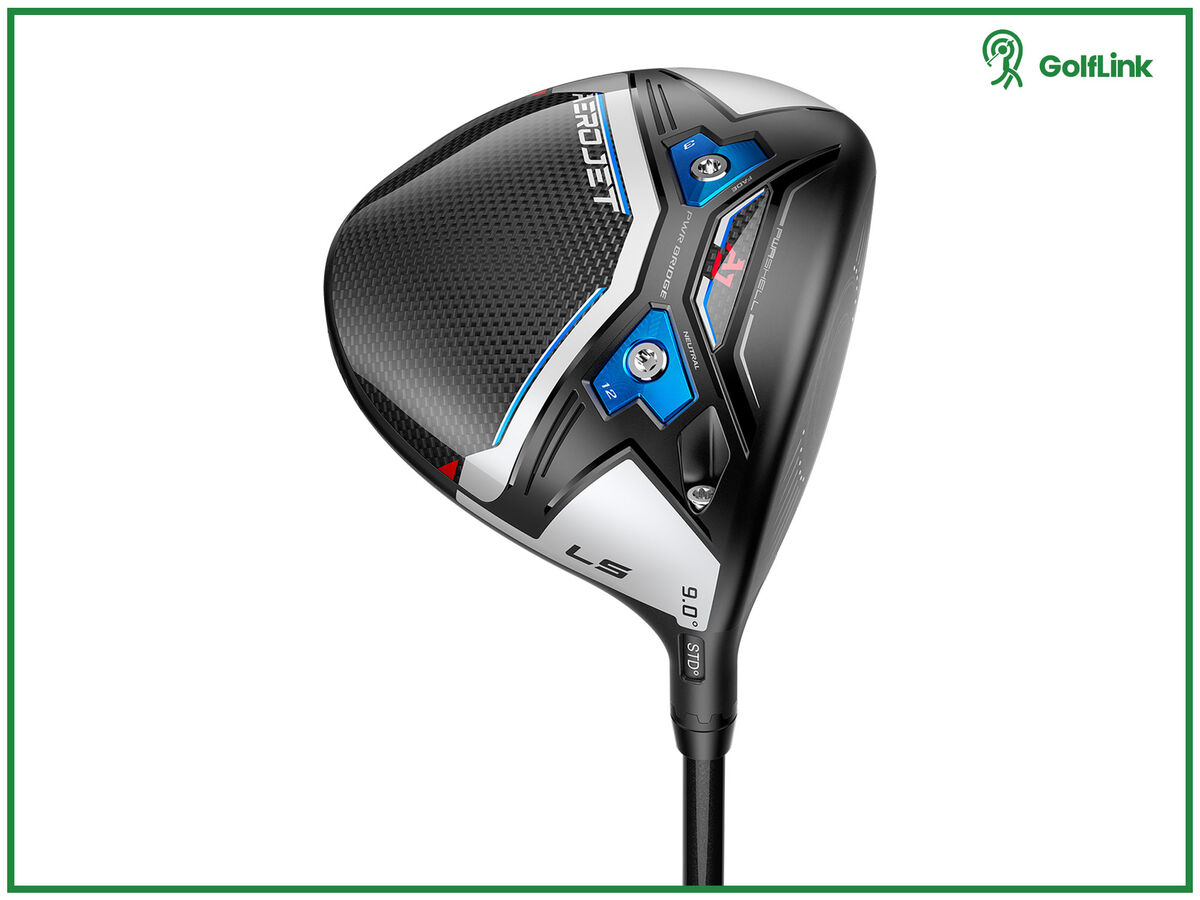 Cobra Aerojet LS driver
Cobra launched its newest lineup of drivers and woods in 2023, Aerojet, and the Aerojet LS driver is targeted to the better player who needs to reduce driver spin to maximize distance. 
While low-spin drivers are inherently less forgiving than their standard or "max" (think max forgiveness) counterparts, Cobra's Aerojet LS is more forgiving than most LS drivers. The AI-designed face has a variable thickness to optimize ball speed across the face. 
The head also includes Cobra's PWR-BRIDGE, which is a suspended weight inside the club head which helps churn out faster ball speeds.
The Aerojet's adjustable weighting offers neutral or fade settings and is forward in the club head, making the driver workable in either direction.
The club head on the low-spin driver got a tweak compared to its predecessor, the LTDx LS, based on feedback from top players.
Pros:
Optimized spin with higher launch
Adjustable weights to promote desired shot shape
Adjustable hosel
Lightweight for higher ball speeds
Cons:
Not as low-spinning as some of the competition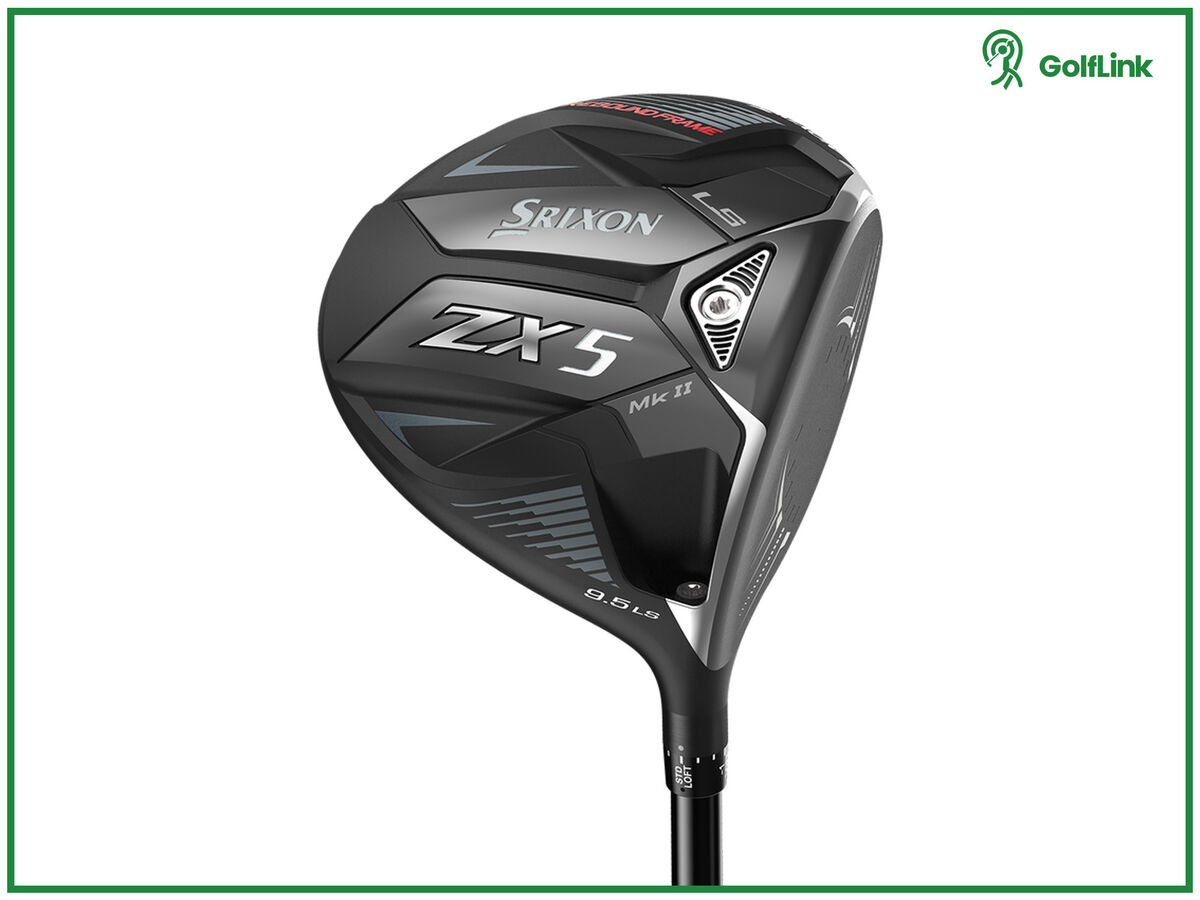 Srixon ZX5 LS Mk II driver
| | |
| --- | --- |
| Price | $499 | SHOP PGA TOUR SUPERSTORE |
| Lofts | 8.5, 9.5, 10.5 |
| Player Profile | High swing speed players who hit all over the face |
Srixon might not be the first equipment company you pick up to demo, but it should certainly be in the mix. Srixon's quality and performance in recent years are worthy of the industry's attention. With players like Brooks Koepka and Hideki Matsuyama gaming Srixon drivers each week, there's got to be plenty of merit.
The ZX5 LS Mk II is one of the lowest-spinning drivers for the fastest-swinging golfers. If you have a very fast swing speed, The ZX5 LS Mk II driver should be one of the first that you test. The stability of the head throughout the swing, and particularly at impact, is very impressive. You're always in control of this club.
The ZX5 LS Mk II has an adjustable hosel, allowing you to optimize loft, lie, and face angle to cater to your desired shot shape and trajectory. It also has a variable thickness face to high COR across the entire face, not just the sweet spot.
Rebound Frame is in the DNA of any driver under the Dunlop umbrella (Cleveland, Srixon, XXIO), and the technology is easy to get behind because you can feel the difference. Rebound Frame essentially adds a second layer onto the face for added flexibility and pop. 
One peculiarity of Srixon's ZX5 LS Mk II is that it's this driver's sibling, the ZX7 Mk II, that's the "Players Driver" in the lineup. That's usually the head that's the best fit for Low Spin edition in a driver lineup, since it's typically the better players who swing upwards of 105 mph and need a low spin driver. The ZX5, however, is the more forgiving driver, so the ZX5 LS Mk II could be a great driver for players who swing fast but need maximum forgiveness. The adjustability of the club also means it can fit a larger segment of golfers.
Pros:
Overall feel
Balance
Neutral head
Forgiveness
Cons:
Could be too low-spin for many players
Not available for left-handed players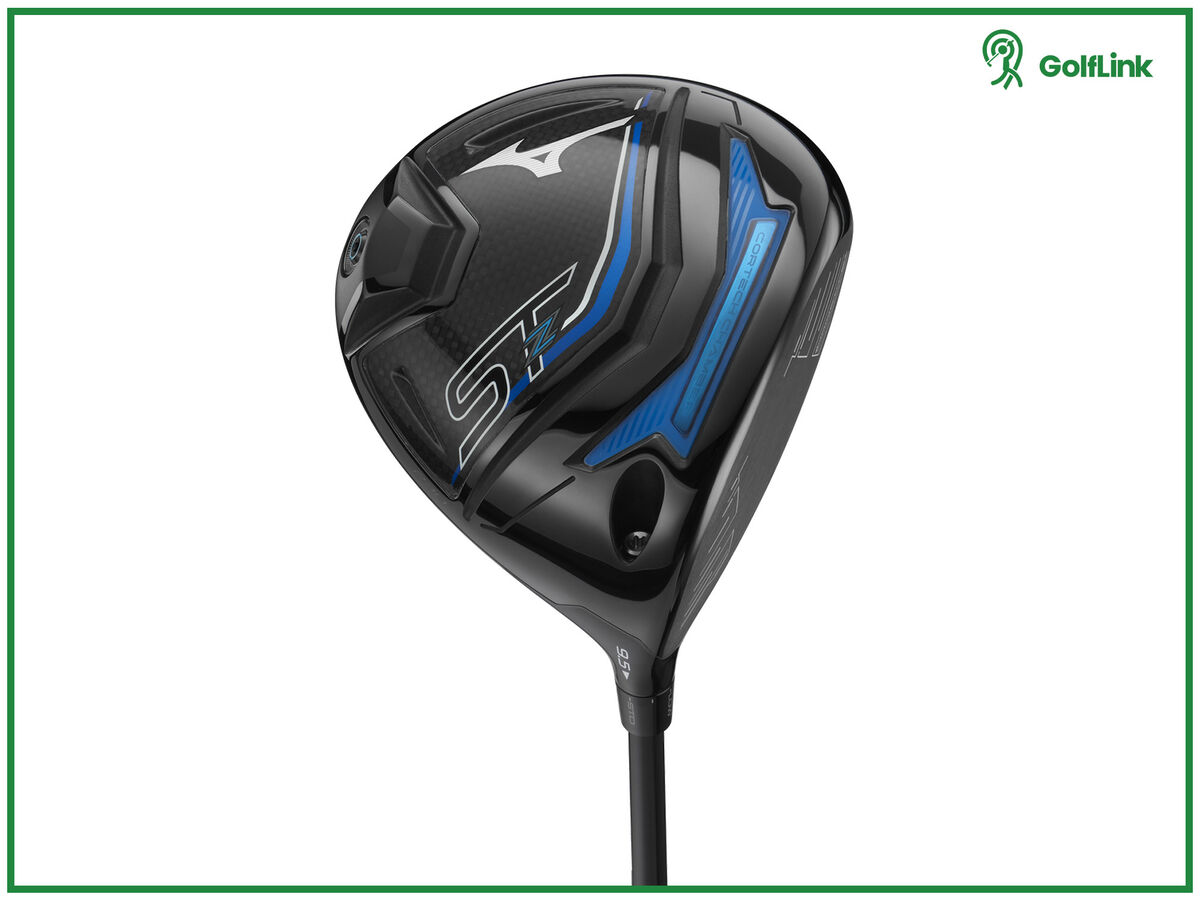 Mizuno STz 230 Driver
It's not a low spin, player preferred driver list without club from Mizuno, right? The Mizuno STz 230 driver is the low-spin edition of the lineup, and Mizuno has given the 2023 driver a boost of ball speed with its Coretech Chamber just under the face. Not only is it fast, but it has a ton of technology and adjustability, which makes it a great blend of traditional and modern.
Players seeking workability will appreciate the straight-bias head, along with satisfying acoustics at impact.
Mizuno could have easily made the ST-G 220 into a small head, but instead went with the full 460cc head and threw in some great adjustability features. The hosel allows for 4-degrees of adjustability with the option to dial in the lie and face angle as well.
The company claims "Nothing feels like a Mizuno," a quote typically used to reflect its irons, but we are going to let the STz 230 driver use it as well. 
Pros:
Adjustability
Straight bias
Acoustics
Cons:
Less Spin for More Distance
You may not have considered a low spin driver before, but you'd be surprised how many players benefit from less spin, usually with noticeably more distance. We always recommend being fit for your golf clubs, and that advice is particularly true when considering a switch to a low spin driver, because the drawbacks putting an ill-fit low spin driver in your bag to chase more distance could make finding fairways even tougher.