Who is Vijay Singh? A Look at the Controversial Legend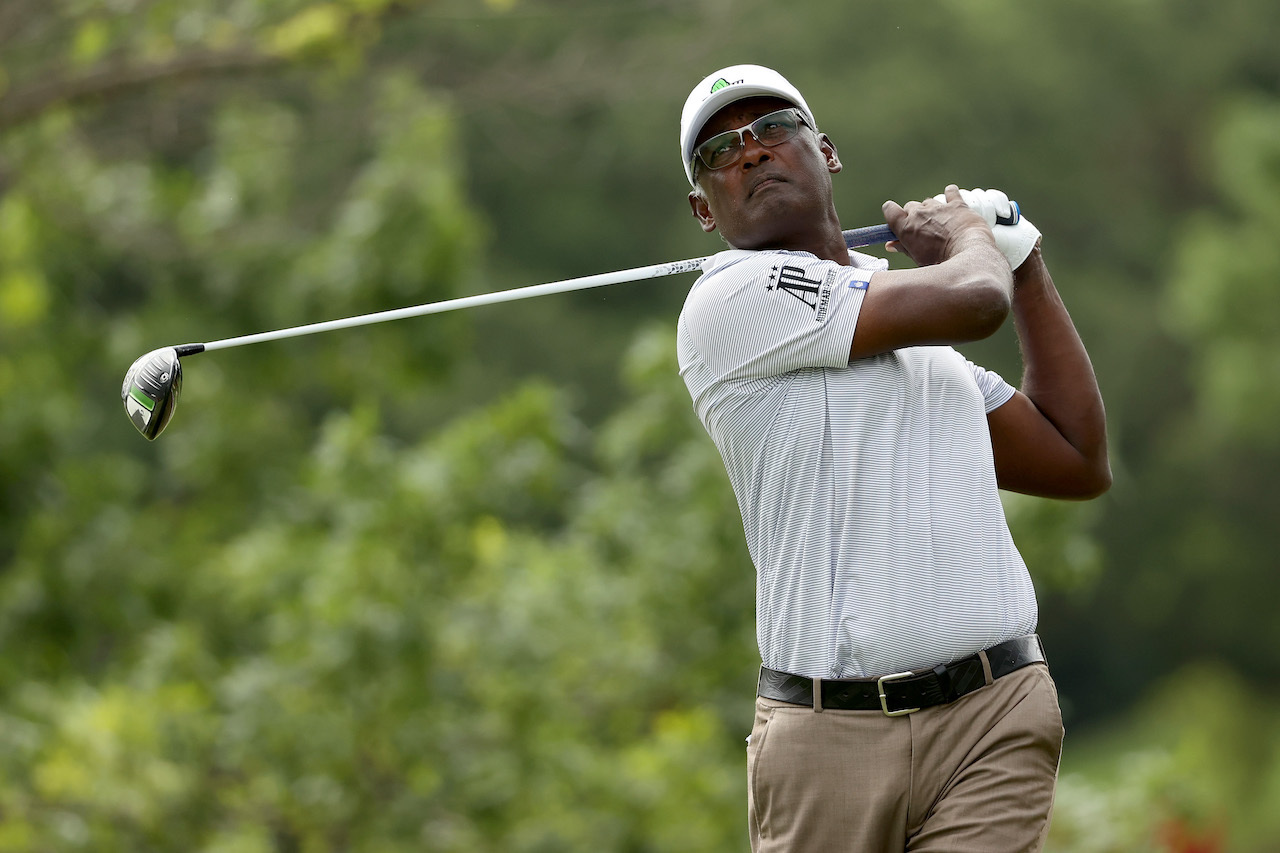 Vijay Singh has one of the most unique careers in the history of professional golf. The Fijian golfer nicknamed "The Big Fijian" is one of the few in history to topple Tiger Woods in his prime, and has one of the most complete golf resumes of any of his contemporaries.
But Singh's career is also full of controversy. Singh has been accused of cheating in multiple ways and at multiple stages of his career. So let's break it all down with a deep-dive into the controversial golf legend Vijay Singh.
Early Life of Vijay Singh
Vijay Singh was born on February 22, 1963 in Lautoka, Fiji, the second-largest city in Fiji. His father worked for the airport, which was also home to an 18 hole golf course. His father was an experienced golfer, and quickly passed his love of the game to his children. Vijay became obsessed with golf and spent most of his afternoons working on his swing at the Airport Country Club until dark. Singh's dedication helped him become Fiji's best golfer by the age of 17, and after playing the World Amatuer Team Championship at Pinehurst at age 18, Singh decided to turn professional.
Vijay Singh's Professional Career
In 1982, at the age of 19 Singh went to play professional events on various Australian mini-tours. Singh experienced success in Australia, which gave him the confidence to step up to the Asian Tour, where, at age 21, he won the 1984 Malaysian PGA Championship, his first ever Asian Tour event.
After a hiatus from professional golf for a couple years during the mid-1980s, Singh won the 1988 Nigerian Open and later in '88 earned European Tour status through qualifying school.
Once he began competing on the European Tour full-time, the wins started to pour in for Singh. He earned his first career European Tour victory at the 1989 Volvo Open, and won four times that year.
After three more European Tour wins between 1990-1992, Singh joined the PGA Tour in 1993. Singh experienced immediate success on the PGA Tour, winning his debut, the 1993 Buick Classic, and eventually garnering 1993 PGA Tour Rookie of the Year honors.
Major Championships
Vijay Singh, who stands 6-foot-2, has three major championships to his credit. He won his maiden major championship at the 1998 PGA Championship where he earned a two-stroke win over Steve Stricker.
Less than two years later, Singh added a Green Jacket to his closet, winning the 2000 Masters. Singh shot a final-round 69 to secure a three-stroke win over Ernie Els.
He added the third and final major of his career at the 2004 PGA Championship at Whistling Straits. Singh is one of 20 players in history to win multiple PGA Championships.
Singh has finished top-3 in each of golf's four majors, with a T2 Open Championship finish in 2003 and a T3 performance in the 1999 U.S. Open.
Honors and Awards
In addition to earning 1993 PGA Tour Rookie of the Year honors, Vijay has won the PGA Tour money list three times (2003, '04, '08) and captured the FedEx Cup in 2008.
Singh's 2004 season was arguably the best of his career. Not only did he win the PGA Championship and PGA Tour money title, he collected PGA Tour Player of the Year and European Tour Player of the Year honors, and won the Vardon Trophy for the PGA Tour's lowest scoring average, and the Byron Nelson Award, for lowest adjusted scoring average. He also ascended to the No. 1 spot in the World Golf Rankings in 2004.
In 2006, Singh was inducted into the World Golf Hall of Fame at the age of 43.
Vijay Singh vs. Tiger Woods
Vijay Singh experienced great success throughout his career, despite his prime overlapping with that of Tiger Woods. On September 5, 2004, Singh became the 12th golfer in history to earn the World No. 1 ranking. Even more impressive is the fact that Singh dethroned Tiger Woods from the World No. 1 ranking during Woods' prime after Tiger spent 264 consecutive weeks in the top spot. Vijay and Tiger ping-ponged the No. 1 spot six times and Singh ultimately held the top spot for 32 weeks during 2004 and 2005.
PGA Tour Champions Highlights
Singh made his PGA Tour Champions debut at the 2013 Pacific Links Hawai'i Championship, where he tied for sixth. Through 2021, Singh has four wins on the senior circuit, including one major, the 2018 Constellation Senior Players Championship, where he beat Jeff Maggert in a playoff.
Vijay Singh Controversies
Despite all of his on-course success, controversy will always be part of Vijay Singh's legacy.
Unpaid Phone Bills
While playing professionally in Australia early in his career, Singh became known for leaving unpaid phone bills for frequent calls back to Fiji. This became such a big issue that Ray Graham, head of the South Pacific PGA, confirmed that Singh was temporarily banned from playing in Australia, adding that he was personally owed money at the time (Singh would eventually settle all his Australian debts).
Asian Tour Ban
Vijay Singh was accused of altering his scorecard at the 1985 Indonesian Open in Jakarta. Singh maintains it was a mistake made by the Indonesian amateur with whom he was playing and was also keeping score. Despite pleading his innocence, the Asian Tour issued Singh a lifetime ban.
Singh continues to maintain his innocence, though other professionals from the event stand by the Asian Tour's version of events. Singh played no professional golf over the next two years, and instead took jobs as a club professional at remote resorts in the heart of Borneo. He credits this time for refocusing himself on his career.
Deer Antler Spray and PGA Tour Suspension
Singh was controversially suspended from the PGA Tour in 2013 after he admitted in an interview to using deer-antler spray to help treat nagging injuries. Singh was unaware that the spray contained a banned substance, but the PGA Tour banned him for 90 days.
Later, after the World Anti-Doping Agency said it did not consider deer-antler spray to be a prohibited substance, the PGA Tour dropped the ban.
Still, Singh was furious at the charge and felt it should not have led to a sanction that damaged his public reputation. He chose to sue the PGA Tour for damages, a lawsuit that was later settled.
Vijay Singh Net Worth
Singh has earned $76.1 million on the PGA Tour and an additional $4.9 million on the Champions Tour. According to Celebrity Net Worth, Singh has a net worth of $75 million.
Family
Singh married Adrena Seith in 1985 and has one son, Qass Singh.
Legacy
For all the off-course shenanigans, Singh has one of the greatest golf resumes of all time. Inside the ropes, it all adds up to 64 professional wins, including 34 PGA Tour wins and 13 European Tour wins, three majors championships, and 32 weeks as World No. 1.

Image: Dylan Buell/Getty Images Sport via Getty Images