Bridgestone e12 CONTACT Golf Balls Review
Bridgestone's new e12 CONTACT golf ball is the complete package, offering forgiveness that straightens your hooks and slices, better feel at impact and longer shots with every club. What makes the e12 CONTACT so special? The answer is in the dimples.
How are the Dimples Different on the e12 CONTACT?
One look at the e12 CONTACT golf ball and you'll notice the unique dimple pattern. Each dimple on the e12 ball has a raised center which provides 38 percent more surface contact between the ball and the clubface. The added contact (see where the ball gets its name?) allows for more efficient energy transfer so your shots will be more powerful and you'll have better control.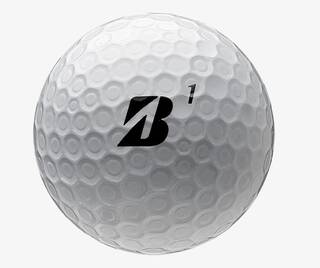 Traditional golf ball dimples are hollow, empty spaces between the ball and the club face. With the new CONTACT Force dimple, Bridgestone is promising faster ball speed and more distance with every club in the bag.
"Bridgestone has long been a pioneer in bringing to market unique dimple shapes, sizes and constructions in the golf industry, but up until this point that has primarily been a means of achieving optimal aerodynamic performance," said Elliot Mellow, Golf Ball Marketing Manager for Bridgestone Golf, in a recent press release. "In the new e12 CONTACT, dimples actually serve as a source of increased power and distance as well. They also contribute to minimizing hooks and slices, making the newest e12 a golf ball that provides performance you can actually see in terms of straight distance."
You'll See Improvements in Your Short Game Too
Those special dimples do more than add distance as the increased contact time with the clubface on pitches and chips also enhances spin for more control on your shots to the green.
Bridgestone's Golf Ball Innovation
The new CONTACT Force dimple is the latest in Bridgestone's cutting-edge golf ball development. Changes to the cover of the popular Tour B Series golf balls in 2020 were well received and top golfers like Bryson DeChambeau, Tiger Woods and Fred Couples all use the ball. The Tour B golf ball is best known for its Smart Reactiv urethane cover.
The updated version of the Bridgestone e6 golf ball was released just before the new e12 CONTACT golf ball; it is known for its thin Surlyn cover.
Price
The Bridgestone e12 CONTACT golf ball retails for $29.99 per dozen. The ball is available in traditional white, matte red, matte green and matte yellow colors.