How Golfers Get Paid, Including How Much Pros the Pros Make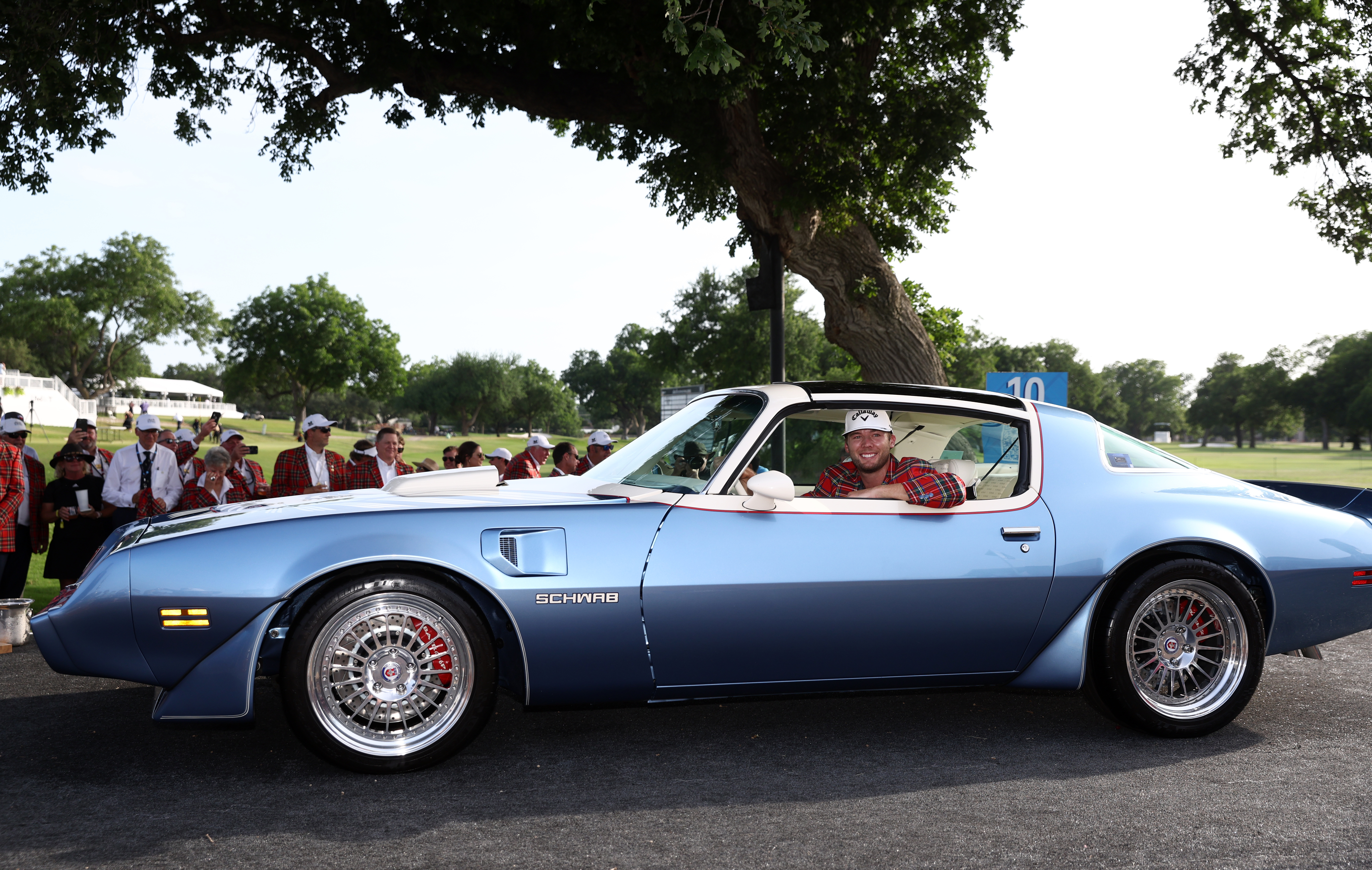 For the top golfers in the world there is serious money to be earned, but dissecting how much professional golfers make and how they earn it is tricky. The better the player, the more options that present themselves, but all players in a tournament field have the same chance of winning a big check. This article details how professional golfers make money with some fun financial details that might make you rethink your career choice.
Many golfers who pick up their clubs and muddle through a round of 18 holes can't fathom the idea of ever being good enough to get paid to play as a professional golfer. There are less than 3,000 touring pros on the major tours around the world, but those who are good enough to become household names can make millions of dollars--and not just from prize money.

Do Professional Golfers Earn Salary?
In most professional sports, an athlete signs a contract and earns a combination of a salary and a signing bonus. They are employees of the team and receive a W2, just like many of us, when tax time rolls around. The PGA Tour, however, considers its players to be independent contractors. Players who earn tens of millions of dollars receive a 1099 tax form, which is amazing in itself.
Paying for all expenses related to your job comes with being an independent contractor. This means professional golfers pay for their airfare, meals, lodging, tournament entry, and more. Multiply many of those costs by two to pay for a caddie. For the most successful players on tour, these expenses aren't as much of a worry for reasons we'll detail below. For players who are struggling to keep their tour status, these expenses only magnify the pressure to make cuts and finish high on leaderboards.
Average Earning on Tour
According to pgatour.com, the average PGA Tour player earned just under $1.5 million in 2021. That number spans from that year's money leader, Jon Rahm, who earned a cool $7,705,933 million, to the PGA Tour's 250th place earner, Parker McLachlin, who earned $6,090.
2021 was a monumental year in that the top four players earned over $7 million (Rahm, Patrick Cantlay, Bryson DeChambeau, and Collin Morikawa).
Purse and Winning Share
Each PGA Tour event has a purse, which is the total amount of money paid out to the field of players. The tournament then pays each individual player by the order in which they finished.
The average PGA Tour purse for 2022 is $9.1 million. The Player's Championship offers the largest payout on tour with a total purse of $20 million. Cameron Smith's win in 2022 earned him a staggering $3.6 million for that event alone.
How Pros Earn Money
Now that we have some baseline information, let's take a deeper look into how professional golfers get paid.
Tournaments
As detailed above, professional golfers make their biggest financial gains by competing in tournaments. The winner's share is typically 18 percent of the total purse and a top-20 or top-10 finish secures a healthy payday.
Players who compete in events like the Ryder Cup and Presidents Cup are not compensated, and thus, if they're a part of the winning team they do not win prize money. In fact, those players pay their own expenses to compete in the event.
In recent years, The Match has become a popular televised golf event that takes place around Thanksgiving. The 2021 edition featured Brooks Koepka against Bryson DeChambeau. Neither player was paid to compete in the event and both Koepka and DeChambeau donated their "winnings" to charity as has become the norm with the event.
Endorsement Deals
In many ways, professional golfers survive and thrive on endorsement deals. The possibilities of what a professional golfer can endorse are seemingly endless. Some examples of industries represented by professional golfers include:
Golf Equipment
Clothing
Financial Businesses
Auto Manufacturers
Medical Businesses
Alcohol
Technology Companies
As sports betting becomes more mainstream, you can find professional golfers like Jordan Spieth representing brands like FanDuel.
A large part of the endorsement deal for a professional golfer includes logo placement and visibility. For example, a company will pay a player a premium to have its logo on their hat or the chest of their golf shirt, which is reported to run as high as $500,000. Golf bag logo placement is also a premium location and even caddies can earn some extra money by wearing a sponsored hat or a logo on their shirt sleeve.
Using Tiger Woods as the ultimate example, he earned less than $200,000 on the PGA Tour in 2021 due to injuries. Yet, TIger managed to earn nearly $62 million that year due to his lofty endorsement deals with Nike, TaylorMade, Bridgestone, Take-Two Interactive Software, Hero MotoCorp, and more.
Larger equipment companies such as Titleist are known to have a base amount for new players of around $200,000. The incentives and actual details, however, are rarely disclosed. DeChambeau took up a dual sponsorship with Cobra-Puma in 2016 so he earns from exclusively playing Cobra equipment and wearing Puma apparel. Similar contracts are drawn up for Titleist and its sister brand, FootJoy.
Appearances
Depending on the endorsement deal, a player may be obligated to attend a certain number of events throughout the year. For a player like Morikawa, whose sponsors include Omega and Cadillac, this can include appearing at company meetings, golf outings, and more.
Players who don't have the top lucrative deals are free to earn as they please when it comes to appearances. Companies can contact the player's agent and arrange for them to attend an array of events from black-tie dinners to company outings.
According to allamericanspeakers.com, even players such as Jim Furyk and Fred Couples earn $100,00 or more to attend a single event today.
Player Impact Program
New for 2021 was the Player Impact Program, in which the PGA Tour paid players for their impact on social media and surrounding platforms. The PIP was a hot topic because the PGA Tour did not provide a clear formula as to how individuals could win the prize money. In the end, the payout amounted to $40 million dollars spread across the top-10 finishers and it was reported to include aspects such as television coverage, social media, and internet searches, among others. Here is how the inaugural payout went in 2021.
1. Tiger Woods ($8 million)
2. Phil Mickelson ($6 million)
3. Rory McIlroy ($3.5 million)
4. Jordan Spieth ($3.5 million)
5. Bryson DeChambeau ($3.5 million)
6. Justin Thomas ($3.5 million)
7. Dustin Johnson ($3 million)
8. Brooks Koepka ($3 million)
9. Jon Rahm ($3 million)
10. Bubba Watson ($3 million)
The PGA Tour announced that the 2022 PIP would be increased to $50 million dollars. This has added a new revenue stream for PGA Tour players.
How Much Money Does the PGA Tour Make?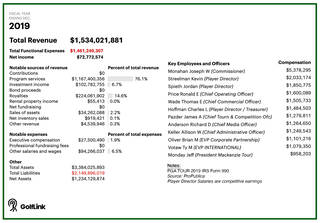 In 2019, the PGA Tour reported a net income of $72,772,574 with total revenue of over $1.5 billion and over $1.4 billion in operating costs. With revenue in the billions, there's no denying that the PGA Tour is a big business. Here are a few of the highlights from the PGA Tour's 2019 balance sheet.
| | |
| --- | --- |
| Total Revenue | $1,534,021,881 |
| Total Functional Expenses | ($1,461,249,307) |
| Net Income | $72,772,574 |
| Total Executive Compensation | ($27,500,490) |
| Jay Monahan (Commissioner) Salary | ($5,378,295) |
| Program Services | $1,167,400,356 |
| Royalties | $224,061,902 |
Jay Monahan's Salary
As the Commissioner of the PGA Tour, Jay Monahan earns a hefty $5,378,295 salary as of 2019. His pay went up each year since he took over the role in 2017 through 2019, the most recent year with financial data. For comparison, if Monahan's 2019 salary were included on the 2019 official PGA Tour money list, he would have ranked eighth, between Dustin Johnson, who finished seventh with $5,534,619, and Justin Thomas who won $5,013,084. 
| | |
| --- | --- |
| Year | Jay Monahan's Salary |
| 2019 | $5,378,295 |
| 2018 | $4,372,910 |
| 2017 | $3,914,941 |
Comparatively Speaking
Let's take a look at the reported net worth of several top-name PGA Tour players compared to some other big names in the world of sports. The information on this list was obtained from celebritynetworth.com.
| | | |
| --- | --- | --- |
| Athlete | Sport/League | Net Worth |
| Michael Jordan | NBA | $2.2 Billion |
| Michael Schumacher | Auto Racing | $600 Million |
| Tiger Woods | Golf | $800 Million |
| LeBron James | NBA | $500 Million |
| Floyd Mayweather | Boxing | $450 Million |
| David Beckham | Soccer | $450 Million |
| Phil Mickelson | Golf | $400 Million |
| Jack Nicklaus | Golf | $400 Million |
| Greg Norman | Golf | $400 Million |
| Tom Brady | NFL | $250 Million |
| Aaron Rodgers | NFL | $200 Million |
| Stephen Curry | NBA | $160 Million |
| Rory McIlroy | Golf | $150 Million |
| Jordan Spieth | Golf | $110 Million |
| Alexander Ovechkin | NHL | $80 Million |
| Sidney Crosby | NHL | $75 Million |
| Mike Trout | MLB | $60 Million |
| Mookie Betts | MLB | $50 Million |
| Annika Sorenstam | Golf | $40 Million |
| Patrick Mahomes | NFL | $40 Million |
| Justin Thomas | Golf | $30 Million |
| Jon Rahm | Golf | $16 Million |
LPGA Statistics
The LPGA has come a long way not only in popularity but also in the amount of money professionals earn on and off the course. Here are some statistics from 2021 according to lpga.com.
The average on-course earning for an LPGA professional in 2021 was just under $142,000.
Jin Young Ko led the LPGA in money with a total of $3,502,161
The five players below Jin Young Ko all cleared over $1.5 million dollars (Nelly Korda, Nasa Hataoka, Minjee Lee, Lydia Ko, and Yuka Saso).
The LPGA saw a massive jump in total purse money for 2022, up from $76 million to $87 million for the year.
The largest single event purse for the LPGA in 2022 is the U.S. Women's Open at $10 million.
Conclusion
No matter how you look at it, getting into the world of professional golf takes immense talent and dedication. Once you reach the big show, however, nothing is guaranteed and you need to produce results in order to continue your journey. For the top players in the world, golf as a job seems to be a dream come true, but it's all about sustainability.