Remembering Pro Golfer Payne Stewart's Life and Legacy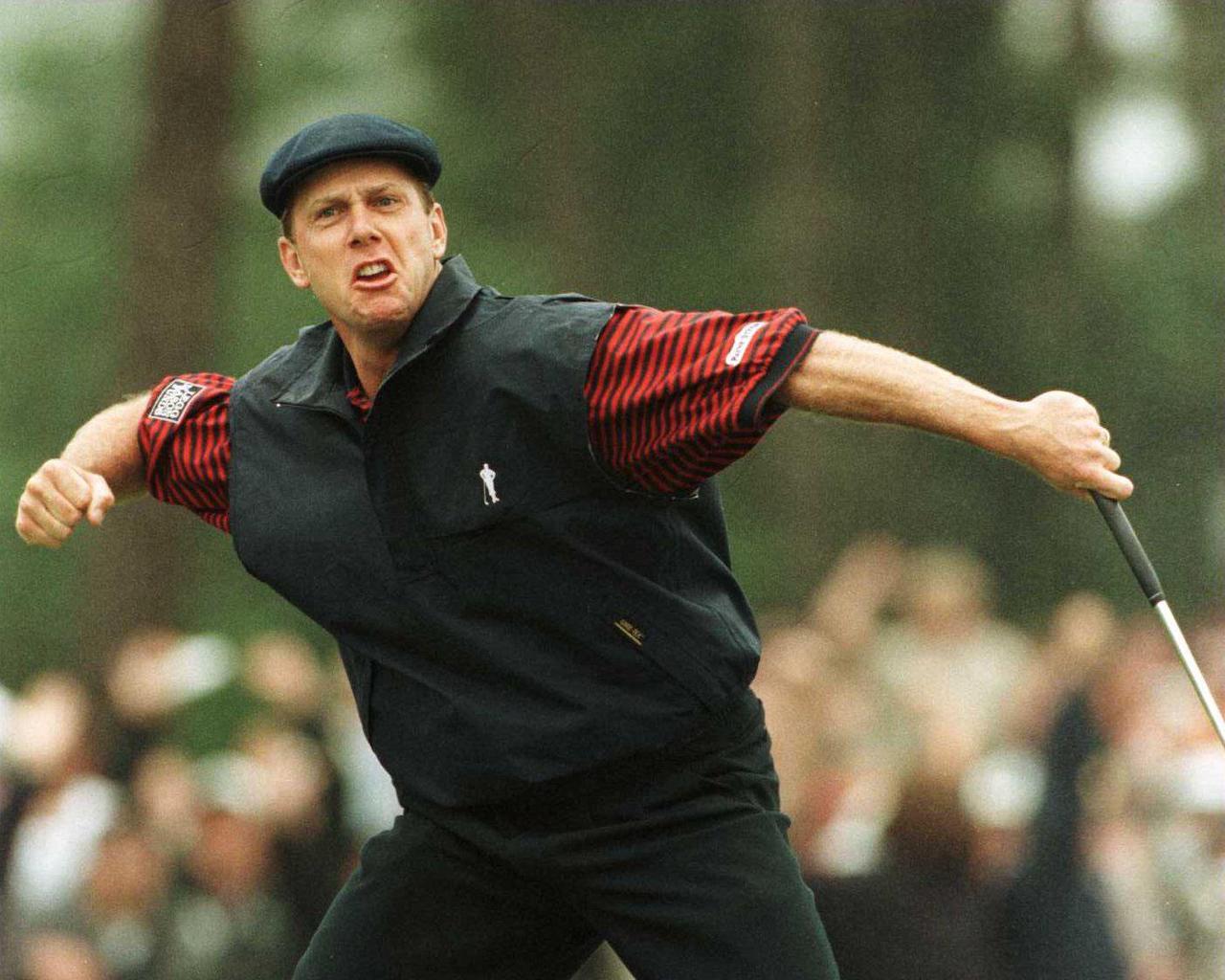 Through nearly 20 years of winning on the PGA Tour, Payne Stewart left a lasting mark that has stuck with the game of golf more than 20 years after his tragic death. Stewart is remembered for his charisma, vibrant style, and the fierce competitive spirit that helped him win 11 times on the PGA Tour from 1982 to 1999, including three major championships.
Who Was Payne Stewart
Payne Stewart was born January 30, 1957 in Springfield, Missouri. He was raised by his parents in Springfield where he learned the game of golf from his father Bill. His father worked as a traveling furniture salesman, and was also an exceptional golfer, earning a spot in the 1955 U.S. Open.
Bill spent many afternoons walking local courses with his Payne and the hard work paid off when Stewart earned a golf scholarship to Southern Methodist University. While at SMU, Stewart won the individual Southwest Conference Championship in 1979 and was a second-team All-America selection that season. He graduated from SMU in 1979 as a two-time all-conference honoree.
Throughout his career, Stewart stood out for his unique dress, wearing driver's caps and knickerbockers that made him look like he stepped out of the 1920s and onto the course. It wasn't just his style that gave Stewart flair on the golf course. Stewart had a fierce competitive streak and a signature celebratory fist-pump.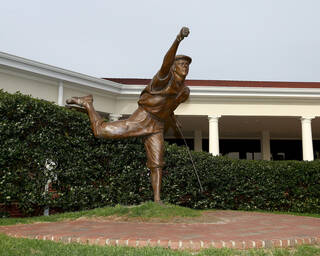 Payne Stewart's Professional Career
Stewart turned professional after graduation in 1979 but failed at PGA Qualifying School that year so he competed on the Asian Tour while honing his game and adjusting to life as a professional golfer. Stewart found success in Asia, winning twice in 1981 before returning to America to pass Qualifying School later that year.
Stewart started his PGA Tour career brightly, winning in his rookie season at the 1982 Quad City Open and picking up another win at the 1983 Walt Disney World Golf Classic.
Stewart notched his first major championship in 1989, winning the PGA Championship at Kemper Lakes GC, topping Curtis Strange, Mike Reid and Andy Bean by one stroke. It was his fifth and final win of the 1980s.
Stewart picked up six PGA Tour wins throughout the 1990s, including the 1991 U.S. Open at Hazeltine and the 1999 U.S. Open at Pinehurst to bring his career major total to three. Stewart never won the Masters, but he often played his best golf in April, the month he earned three of his 11 wins, including winning the Heritage twice, which is contested the week following the Masters.
Triumph at the 1999 U.S. Open
Stewart holed one of the most famous putts in U.S. Open history on the 72nd hole of the 1999 U.S. Open. Leading Phil Mickelson by one stroke, Stewart had 15 feet left for par on the final hole after Mickelson's birdie attempt narrowly missed.
Stewart hit a no-doubter and walked it into the cup with his historic standing-on-one-leg fist pump. In fact, that legendary fist pump is immortalized in a statue that lives at Pinehurst.

Payne Stewart's PGA Tour Wins
Here is a complete breakdown of Payne Stewart's PGA Tour wins.

| | | | |
| --- | --- | --- | --- |
| Year | Tournament | Score | Margin (runner(s) up) |
| 1982 | Miller High Life Quad City Open | -12 | 2 (Brad Bryant, Pat McGowan) |
| 1983 | Walt Disney World of Golf Classic | -10 | 2 (Nick Faldo, Mark McCumber) |
| 1987 | Bay Hill Classic | -20 | 3 (David Frost) |
| 1989 | MCI Heritage Golf Classic | -16 | 5 (Kenny Perry) |
| 1989 | PGA Championship | -12 | 1 (Andy Bean, Mike Reid, Curtis Strange) |
| 1990 | MCI Heritage Golf Classic | -8 | Playoff (Steve Jones, Larry Mize) |
| 1990 | Byron Nelson | -8 | 2 (Lanny Wadkins) |
| 1991 | U.S. Open | -6 | Playoff (Scott Simpson) |
| 1995 | Shell Houston Open | -12 | Playoff (Scott Hoch) |
| 1999 | AT&T Pebble Beach Pro-Am | -10 | 1 (Frank Lickliter) |
| 1999 | U.S. Open | -1 | 1 (Phil Mickelson) |
Payne Stewart Ryder Cup History
Payne Stewart represented Team USA on five Ryder Cup teams, competing against Team Europe in 1987, '89, '91, '93, and '99. In those years, he helped the United States to a 3-1-1 record including Team USA's dramatic 1999 come-from-behind win in 1999 at The Country Club.
Payne Stewart Plane Crash
Payne Stewart died at the age of 42 on October 25, 1999, just four months after his 1999 U.S. Open triumph and a month after he played his part in the American team's 1999 Ryder Cup comeback win. Stewart and three associates chartered a private jet to fly from his home in Orlando to Dallas, Texas, before heading to Houston for the Tour Championship later that week.
The Washington Post reported that just 25 minutes into the flight, which departed Orlando at 9:19 a.m., air traffic controllers lost contact with the plane. The plane's significant altitude changes prompted air traffic controllers to initiate radio calls to the plane, which went unanswered. At some point early in the flight, the cabin apparently lost pressure, leading to a severe lack of oxygen that incapacitated or killed every person on the plane.
Once it became apparent that something was awry with the flight, multiple Air Force and Air National Guard jets shadowed Stewart's plane but had no recourse to take further action. The plane continued to fly on autopilot until it ran out of fuel over rural South Dakota, crashing in a cattle field.
Stewart, three other passengers, and two pilots all perished in the crash. Along with Stewart on the plane were agents Robert Fraley and Van Ardan, golf course designer Bruce Borland, and pilots Michael King (43) and Stephanie Bellegarrigue (27). Stewart left behind his wife and two children.
Despite the tragedy, the Tour Championship ensued that week, with several players paying homage to Stewart during the tournament. Notably, Bob Estes honored Stewart by using his putter to hit his opening tee shot of the tournament 15 feet, the length of Stewart's iconic U.S. Open-winning putt at Pinehurst earlier that year.
Payne Stewart's Legacy
More than 20 years after his death, Payne Stewart's legacy is as strong today as ever. Multiple posthumous Hall of Fame inductions followed Stewart's death, along with a prestigious PGA Tour award, and a golf course that bears his and his father's name.
On top of all that, Payne's son Aaron Stewart followed his father's footsteps to play golf at SMU, where he won one collegiate golf tournament.
The Payne Stewart Award
The PGA Tour created the Payne Stewart Award in 2000 to recognize the player who exemplifies Stewart's best attributes: sportsmanship and commitment to charity. The award is given at the end of each PGA Tour season during the week of the Tour Championship. Fittingly, the inaugural Payne Stewart Award was shared by Byron Nelson, Jack Nicklaus and Arnold Palmer.
All-Time Payne Stewart Award Winners
| | |
| --- | --- |
| Year | Winner |
| 2021 | Justin Rose |
| 2020 | Zach Johnson |
| 2019 | Hale Irwin |
| 2018 | Bernhard Langer |
| 2017 | Stewart Cink |
| 2016 | Jim Furyk |
| 2015 | Ernie Els |
| 2014 | Nick Faldo |
| 2013 | Peter Jacobson |
| 2012 | Steve Stricker |
| 2011 | David Toms |
| 2010 | Tom Lehman |
| 2009 | Kenny Perry |
| 2008 | Davis Love III |
| 2007 | Hal Sutton |
| 2006 | Gary Player |
| 2005 | Brad Faxon |
| 2004 | Jay Haas |
| 2003 | Tom Watson |
| 2002 | Nick Price |
| 2001 | Ben Crenshaw |
| 2000 | Byron Nelson, Jack Nicklaus, Arnold Palmer |
Payne Stewart Hall of Fame Induction
On November 12, 2001, just two years after his death, Payne Stewart was inducted into the World Golf Hall of Fame in a class that also included Greg Norman, Karsten Solheim, Judy Bell, Donna Caponi and Allan Robertson.
Stewart was also inducted into the PGA of America Hall of Fame in 2015, alongside Lee Trevino, Charlie Sifford, Tommy Bolt, Michael Doctor and Ray Cutright.
Bill and Payne Stewart Golf Course
Bill and Payne Stewart are honored by a Springfield, Missouri, municipal golf course that bears their name. The Bill and Payne Stewart Golf Course opened in 1947 and was designed by Perry Maxwell.