Which Top Flite Golf Balls Fit Your Needs?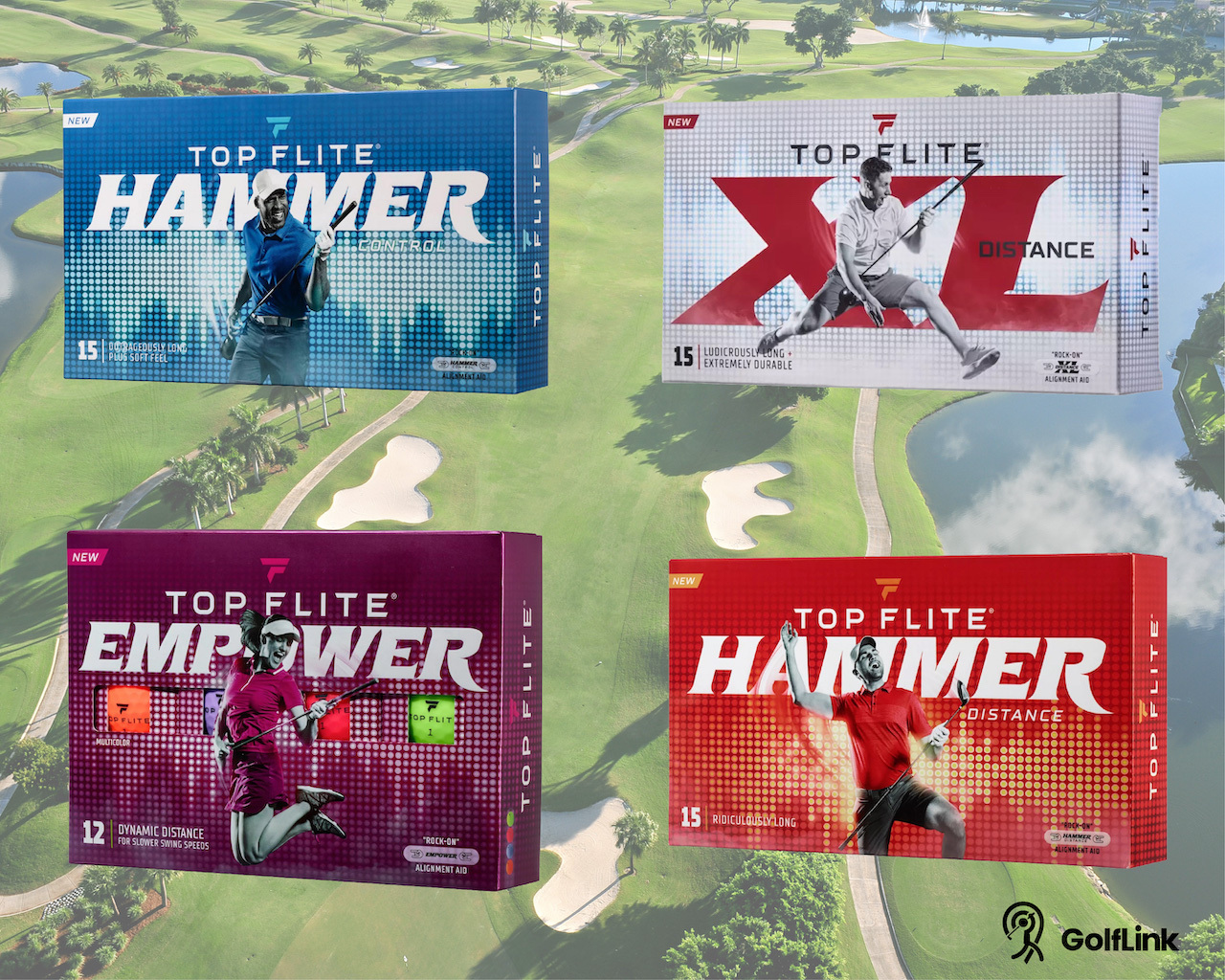 Top Flite golf balls are widely played by amateur golfers. The brand has always offered distance golf balls aimed at giving golfers great value and durability. Top Flite's current lineup carries those same ideals, so which model is right for you? This article will detail Top Flite's four current models.
Top Flite Background
Top Flite began in 1971 under the umbrella of its parent company, Spalding. After Spalding went out of business, a pair of changes in ownership occured and Callaway briefly owned Top Flite. In 2012, Callaway sold the Top Flite brand to Dick's Sporting Goods, which still runs it today. Dick's and Golf Galaxy are currently the only retailers that carry Top Flite golf balls and golf equipment.
Top Flite endorsed several players throughout its height in the 1990s and early 2000s, and earned time on the big screen in 1996 when Lee Trevino famously wore a Top Flite hat in Happy Gilmore.
Past Top Flite Models
Here are some of the more popular Top Flite golf balls from years past. Stumble into the woods at your local muni and you're bound find at least one of each over the course of your golf season.
Top Flite XL II
Top Flite Magna
Top Flite Infinity
Top Flite D2
Top Flite XL 2000
Top Flite XL 3000
Top Flite XL Ti
Top Flite Gamer
Current Top Flite Golf Balls
Here are the four models currently offered by Top Flite. Each of these balls has different characteristics and are designed for different player profiles. Check out what each ball has to offer and find which one is best suited for your game.
Top Flite XL Distance
Top Flite has produced a version of the XL golf ball for over 30 years. XL stands for "extra long." The current XL golf ball doesn't stray far from its original intention in that the ball is designed for distance above all else. It also has a cut-proof Ionomer cover so the XL is a very durable golf ball, it can stand up to tree trunks and cart path skids quite well. 
The Top Flite XL has the softest feel of any Top Flite ball and has a compression rating of 90. Players with faster swing speeds can compress the XL well and enjoy good distance off the tee. 
All Top Flite golf balls can be distance machines, but the XL is one of the more playable models in all areas of the golf course. The XL is sold as a 15-pack, which caters to players who want value in their golf balls.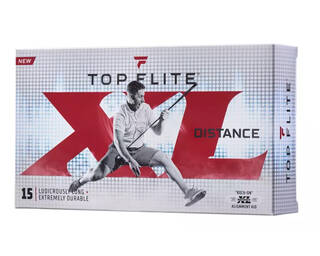 Top Flite Empower
The Top Flite Empower is a great golf ball for ladies who are just getting into the game and want as much distance as they can get. Ladies with faster swing speeds might find the Empower ball to be a bit too soft and lag in distance, but for the vast majority of beginners the soft, thin cover has a great feel on all shots, especially while putting.
The Empower golf ball has a high-speed core that pairs with that thinner cover to combine for optimum performance. For ladies who appreciate traditional style, the Empower comes in white, but there is also a multi-color option with a combination of orange, red, purple, and green colored balls.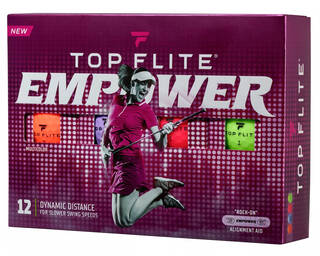 Top Flite BOMB
Top Flite leaves little to the imagination for its longest golf ball, the BOMB. This model is the official ball of two-time World Long Drive Champion Tim Burke, so you know it possesses some serious distance qualities. The BOMB has a firmer cover so it minimizes spin and a larger core to produce those big measurements.
Players with a faster swing speed can really move this golf ball, but players with moderate to slow swings should probably look at another model. The BOMB is sold as a 24-pack, usually around $30, so for just over a buck a ball, you get a lot of ammo for your money. It is also available in white or sold in a explosion of colors with a combination of blue, pink, orange, and green.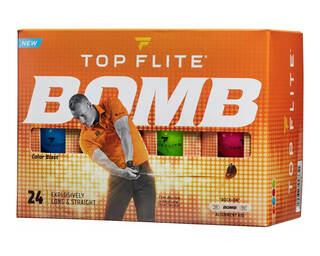 Top Flite Hammer Control
The Hammer Control is designed for players who want big distance from their golf ball but still need it to perform around the green. Too often with distance golf balls, lack of spin becomes an issue on approach shots, making holding greens a real challenge. The Hammer Control has a soft, Ionomer cover that provides elevated greenside control and improved touch.
Highly skilled players shouldn't expect to see the Hammer Control spin like a tour caliber golf ball, but it will perform well on chips and around the green for the high handicap player. 
The Hammer Control is sold as a 15-pack and is available in white or yellow.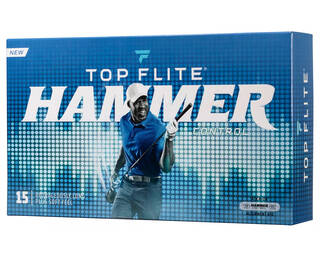 Top Flite Hammer DIstance
The other end of the Hammer model is the Hammer Distance which is higher in overall distance than its Control counterpart, but also sacrifices the greenside spin and performance aspect in lieu of the added yardage. It's a better option for players with slower swing speeds looking to add or regain some yardage.
Like the Control, the Distance version of the Hammer is sold as a 15-pack for ultimate value and is also available in white or yellow. It won't be quite as long as the BOMB, but it's still going to produce good numbers if you're looking for a pure distance ball.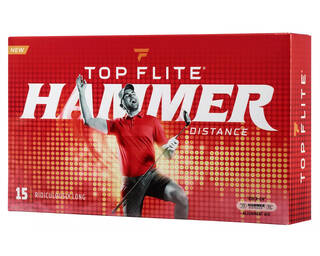 Choosing a Top Flite Golf Ball
Here's how each Top Flite golf ball model compares within the brand's lineup, and which models you should test out for yourself.
| | | | | |
| --- | --- | --- | --- | --- |
| Model | Swing Speed | Distance | Green Spin | Handicap |
| XL Distance | Slow-Moderate | High | Mid | 20+ |
| Empower | Slow | High | Low | 30+ |
| BOMB  | High | Highest | Low | 20+ |
| Hammer Control | Moderate | High | High | 18+ |
| Hammer Distance | Slow-Moderate | Higher | Low | 25+ |
Conclusion
The current collection of Top Flite golf balls have one thing is common: distance. The brand has never tried to be something its not, so you'll likely never see a modern Top Flite golf ball that aims to give Titleist ProV1-type spin rates. For beginners, high handicaps, or seniors, Top Flite makes a selection of quality golf balls that fly far at a friendly price. That certainly has value in today's game.